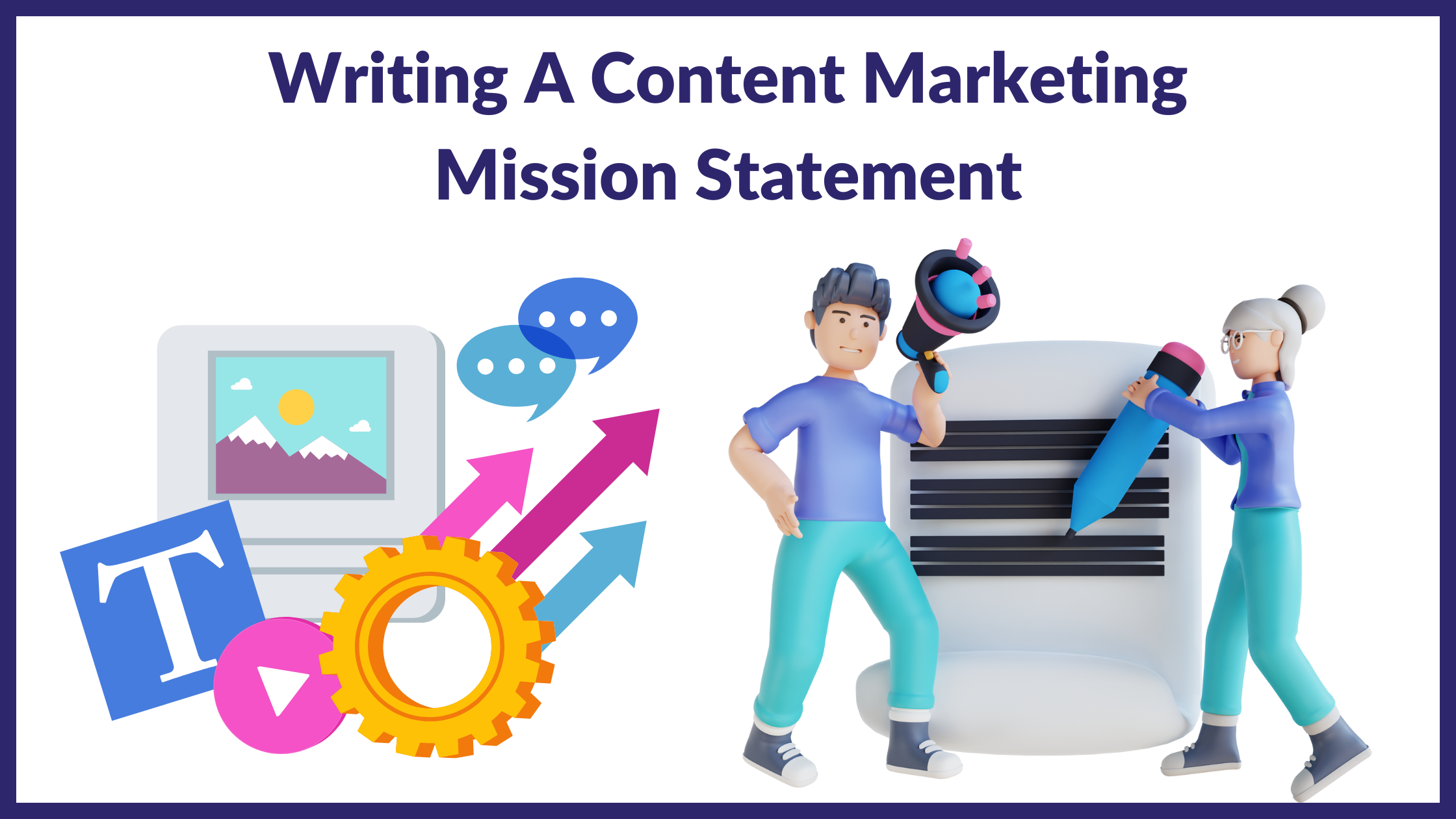 It takes time to become relevant. Yet it all begins with this straightforward initial step: we state our objective. Our content marketing mission statement, contained in this brief passage, serves as the cornerstone of our content strategy.
Here is where we'll declare our position.
The foundation of our content strategy is this. It explains what we're going to publish, who it's for, and why they should care.
In our previous blog, Everything You Need To Know About Content Marketing, we clearly mentioned how content is an essential part of any marketing campaign. Today with this blog, we will learn about creating a content marketing mission statement in easy steps.
Before this, let's see what a content marketing mission statement is.
Content Marketing Mission Statement: An Overview
A company's content marketing strategy should have a clear mission statement that explains its purpose and objectives. It acts as a guide for developing, disseminating, and marketing material that supports the goals and ideals of the brand.
A clear, succinct, and simple-to-comprehend mission statement is essential for successful content marketing. Also, it should align with the corporate objectives and overall marketing plan. Companies should ensure their content marketing activities consistently and successfully engage their target audience and foster business growth by creating a clear goal statement.

A content marketing mission statement should include the following elements:
Purpose:

The reason for creating and distributing content.

Target audience:

The specific group of people the content is intended to reach.

Key message:

The content aims to communicate the main idea or value proposition.

Tone and voice:

The style and personality of the content, including the language and tone used.

Goals and objectives:

The measurable outcomes the content marketing efforts are designed to achieve.
Your brand's goals, values, and objectives for your content marketing activities are condensed into a mission statement for marketing content. Your plan will get direction and purpose from it, enabling you to produce audience-relevant, effective content. The brand story serves as an umbrella for every message that comes from every sector of the business. It influences how businesses communicate the value they provide to customers, what they sell, and how they address issues. Additionally, it directs the creation of new products, customer service, organizational culture, and hiring practices. It serves as the standard by which all choices are evaluated.
The mission statement for content marketing elaborates on the specific types of material you will regularly produce that will benefit customers to support the brand story.
Without initially developing your brand story, you cannot have an effective mission statement for your content marketing. When looking for content marketing services, ensuring the draft is clearly stated with the content ideas as shared is essential.
Here are some of the steps to follow to create a perfect content marketing mission statement.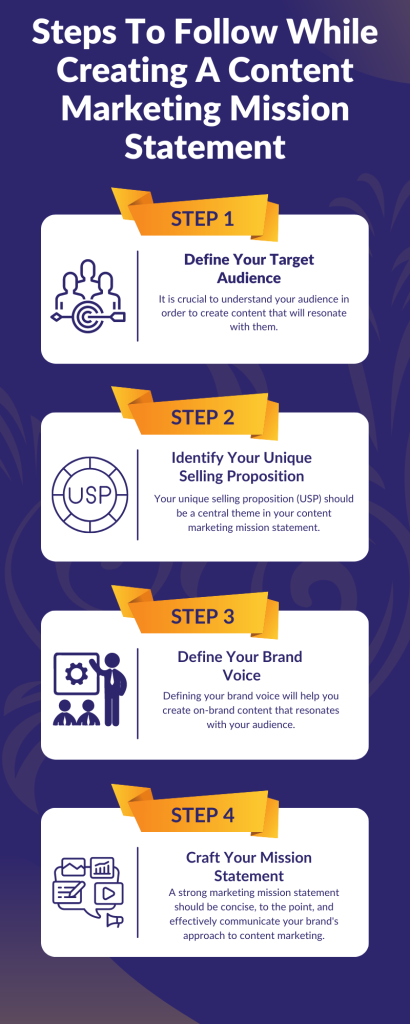 Step 1: Define Your Target Audience
Before you start writing your content marketing mission statement, you need to define your target audience. Who are they? What are their pain points? What are their interests and hobbies? It is crucial to understand your audience in order to create content that will resonate with them.
Step 2: Identify Your Unique Selling Proposition
What makes your brand unique? What sets you apart from your competitors? Your unique selling proposition (USP) should be a central theme in your content marketing mission statement.
Step 3: Define Your Brand Voice
Across all your content, your brand voice should be consistent. Are you serious and professional or more lighthearted and humorous? Defining your brand voice will help you create on-brand content that resonates with your audience.
Step 4: Craft Your Mission Statement
Now that you clearly understand your target audience, USP, and brand voice, it's time to craft your mission statement. A good marketing mission statement should be concise and to the point, capturing the essence of your brand's content marketing strategy.
Content marketing mission statements look like this:
"At BetterGraph, our mission is to provide valuable and engaging content resources to our target audience, helping them to solve their problems and achieve their goals. We aim to be a trusted source of information and inspiration, providing informative and entertaining content. Our commitment to excellence drives our content, and we strive to deliver the highest quality content possible. Our content aims to build a community of engaged and loyal customers who see us as a valuable partner in their journey to success."
Step 5: Refine and Test Your Mission Statement
Once you have drafted your content marketing mission statement, it's important to refine it and test it with your team and other stakeholders. Ask for feedback and suggestions for improvement, and make any necessary revisions.
Finally, test your mission statement by applying it to your content marketing efforts. Is your content aligned with your mission statement? Does it resonate with your target audience? Keep refining your mission statement and content marketing strategy until you achieve your desired results.
Essence Of Creating The Mission Statement For Content Marketing
The purpose and objectives of a company's content marketing initiatives should be explicitly stated in a mission statement for marketing the content. The target audience, the kinds of material that will be produced, and the expected results should all be succinctly and clearly described. The company's strategy's distinctive value proposition and how it will set it apart from its rivals should also be spelled out in the mission statement. All content development activities should ultimately be guided by a clear marketing mission statement, which will also help guarantee that the content created aligns with the company's overall marketing goals.
At The End
Your mission statement serves as a directive and offers your content efforts a more substantial meaning. By using your brand's blend of knowledge and skill, you're not just writing content to boost leads or drive more traffic—you're doing it to assist a particular type of individual in achieving a specific goal.
Also, putting your content mission in writing and communicating it to your team will serve as a unifying force and give everything you do more meaning.
When you develop your content strategy, rely on your content mission, and refer back to it as you produce content and carry out your plan. In turn, it will direct you toward the desired outcomes.
Any content marketing plan must have a mission statement for the approach. You can produce a content-based strategy that connects with your audience and create commercial outcomes by defining your target market, determining your unique selling proposition, and developing a clear and simple mission statement.