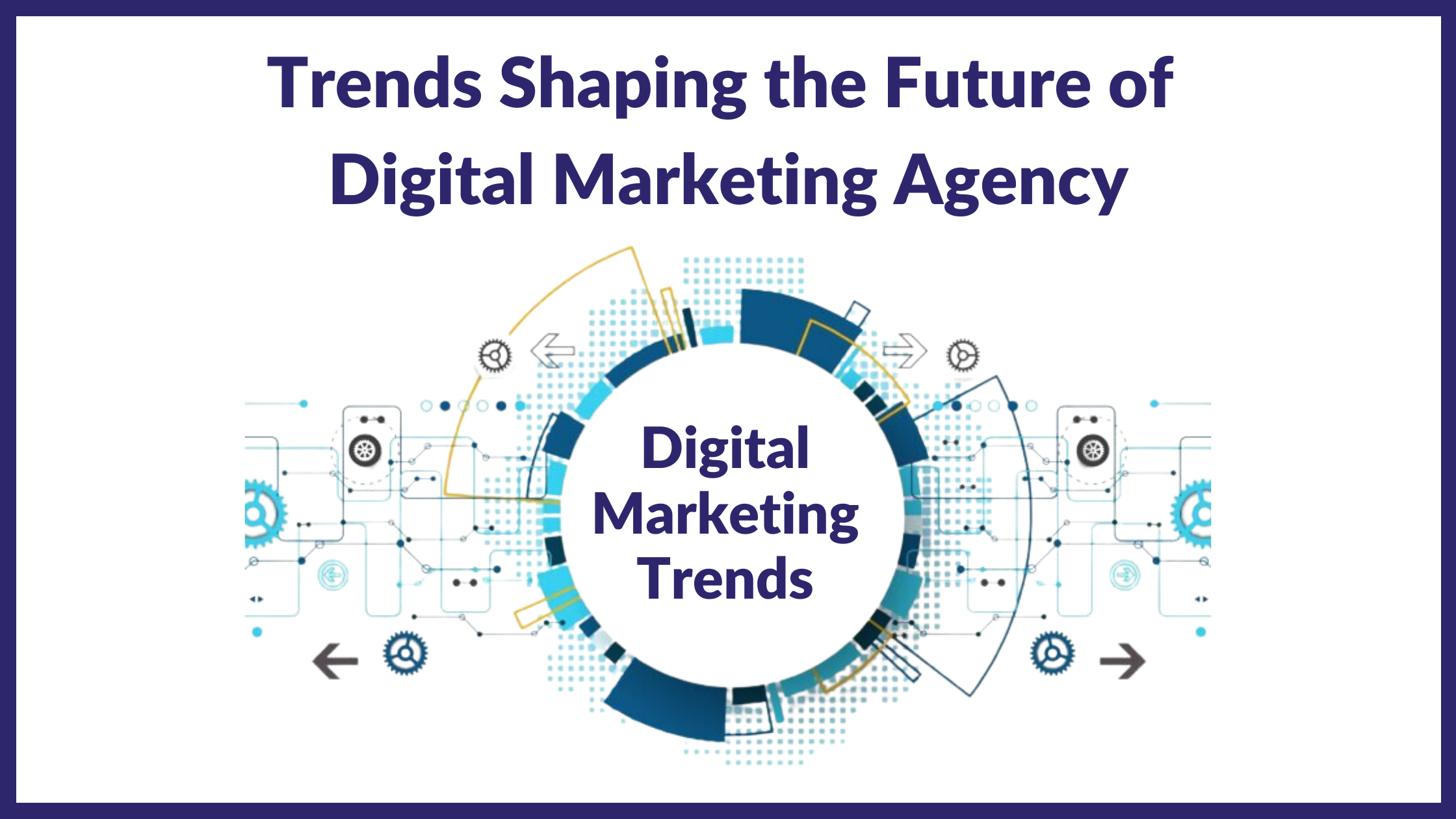 The market is dynamic!

Without a doubt, the dynamic market needs a proper analysis if you want to win at every edge. With this, BetterGraph always aims to add every minute detail to get the best. There are many doubts in mind while looking into various trends flowing in the market.
We leave it to clairvoyants to predict the future, but we can already look at and evaluate current and upcoming trends in digital marketing. 
Do you have a question? 
The top digital marketing trends for 2023 are here.
Previously, we have been working on different trends like AI and even made clear-cut aspects of tools like ChatGPT.
Let us jump in and start our journey in the market, where we bring you the best trends that have helped us as a digital marketing company to strive in the market. These trends are not only a pro in marketing but are also a must-be-taken action to work on the market edge.
Digital Marketing Trends In An Agency
The field of digital marketing is always changing, so firms that want to remain competitive online must stay on top of the most recent developments. By putting the most recent techniques and technology into practice, a digital marketing agency may assist organizations in staying ahead of the curve.
So here are the trends that can bring you up in the market.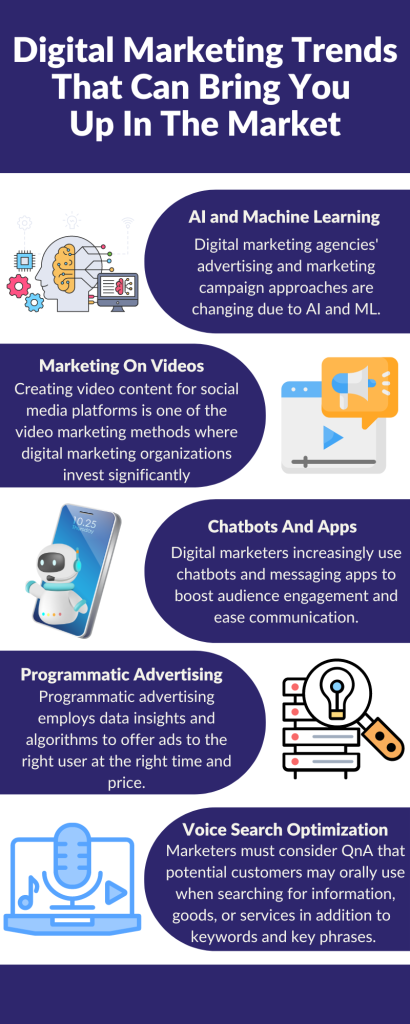 1. Artificial Intelligence And Machine Learning
Digital marketing agencies' advertising and marketing campaign approaches are changing due to artificial intelligence (AI) and machine learning (ML). Agencies may now design more individualized and targeted ads that address the needs and interests of certain clients, thanks to AI and ML. Analyzing customer behavior and demographic data by AI and ML algorithms can be used to forecast customers' purchasing patterns and develop more successful advertising campaigns.
Artificial intelligence (AI) technology has recently become more widely available, making it a topic marketers and consumers can no longer ignore.
The technology not only greatly enhances data analysis and trend forecasting for marketers but also enhances the consumer experience. After seeing an AI-generated product suggestion, we're all guilty of adding a last-minute item to our Amazon cart. The most recent updation in AI is ChatGPT, which we have already worked on with our blog ChatGPT And SEO: An Introduction To AI Content In 2023.
2. Marketing On Videos
Since it has gained ground over the past few years, video marketing has become an essential component of digital marketing. Creating video content for social media platforms, YouTube, and other video-sharing websites is one of the many video marketing methods in which digital marketing organizations invest significantly. Thanks to video marketing, agencies may provide visually beautiful and engaging material that appeals to their target audience. The capacity of video to engage consumers and convey messages in a more dynamic and captivating fashion than text or images alone is one of its main advantages. Videos may be quickly shared on social media and other internet platforms, which broadens their audience and perhaps increases their impact.
Businesses need to understand their target demographic to design content that will appeal to them and result in successful video marketing campaigns. 
3. Chatbots And Apps For Messaging
Digital marketers increasingly use chatbots and messaging apps to boost audience engagement and ease communication. While messaging apps are platforms that let users send and receive messages in real time, chatbots are computer programs that replicate human communication using artificial intelligence and natural language processing.
The capacity of chatbots and messaging applications to deliver personalized and timely engagement with clients is one of their primary advantages for digital marketing. They can respond to frequent queries, provide product recommendations, and even manage transactions without human assistance. Businesses may benefit from this by increasing revenue and increasing consumer happiness.
Additionally, chatbots and messaging applications can be utilized to automate marketing campaigns and send tailored messages to particular audience segments.
4. Programmatic Advertising
The use of automated technologies to purchase advertising space is programmatic advertising. Programmatic advertising employs data insights and algorithms to offer ads to the right user at the right time and price, as opposed to a marketer manually bidding, placing content or copy, and selecting the timing for a particular ad. With these systems, marketers only need to supply content, campaign goals (such as maximizing brand awareness), budget constraints, and other campaign constraints (such as location and demographics), and the system will optimize the campaigns to produce the highest returns possible given the stated goals and constraints. Programmatic advertising can produce higher returns, greater efficiency, a larger reach, and more ad places because computers can monitor, evaluate, and adjust to market changes faster than most humans. 
5. Voice Search Optimization
A recent PwC study found that 65% of people aged 25 to 49 speak to voice-enabled gadgets at least once daily. More and more people are asking voice-enabled gadgets like Google Nest or Amazon Alexa for information or speaking into their mobile devices to do it. Therefore, voice and oral searches will become more important in the consumer discovery process. Marketers must consider questions and sentences that potential customers may orally use when searching for information, goods, or services in addition to standard keywords and key phrases. Since people are adopting voice search when typing is unsafe, such as when driving or just not convenient, it has become a hot topic in mobile SEO optimization.
What's The Thought
The digital marketing sector is always changing and advancing to incorporate new technology and trends. Digital marketing services are now crucial in helping businesses reach their target audiences and accomplish their objectives as more companies move their activities online. The expanding significance of social media, the advent of mobile marketing, the application of artificial intelligence and machine learning, and the rising need for personalized and interactive content are some of the major themes influencing the future of digital marketing agencies.
A digital marketing agency needs to consistently develop and adjust to these new trends if it wants to stay ahead in this cutthroat market. Agencies can create powerful marketing plans that can assist their clients in achieving their business goals by utilizing the most recent technologies and techniques.
---
FAQs
---
What are digital marketing trends?
---
What is Programmatic Advertising?