Every business wants to provide valuable content to its customers or audience. This content should organically reach the audience. Using content marketing, businesses can attract, engage, and convert their target audience.
As a result, you can increase conversions, enhance brand awareness, boost revenue, and position yourself as an industry leader when you connect with a leading content marketing company.
Whether this is your first time creating a strategy or refreshing an existing one, there's no harm in reassessing your approach and coming up with new ways to share the content your audience wants. The following guide will give you a comprehensive view of content marketing, types of content marketing, examples, and how to get started.
What Is Content Marketing?
Content marketing refers to creating, sharing, and distributing content through various channels such as social media, blogs, websites, podcasts, apps, press releases, and more. Reaching your target audience is a must to increase brand awareness, sales, engagement, and loyalty.
The key to creating quality content is to create relevant, accurate, search engine-friendly content that your audience wants. You can build long-term relationships with your audience by regularly delivering high-quality and valuable content through content marketing.
Types Of Content Marketing
The following are some of the most common types of content marketing you may incorporate into your strategy: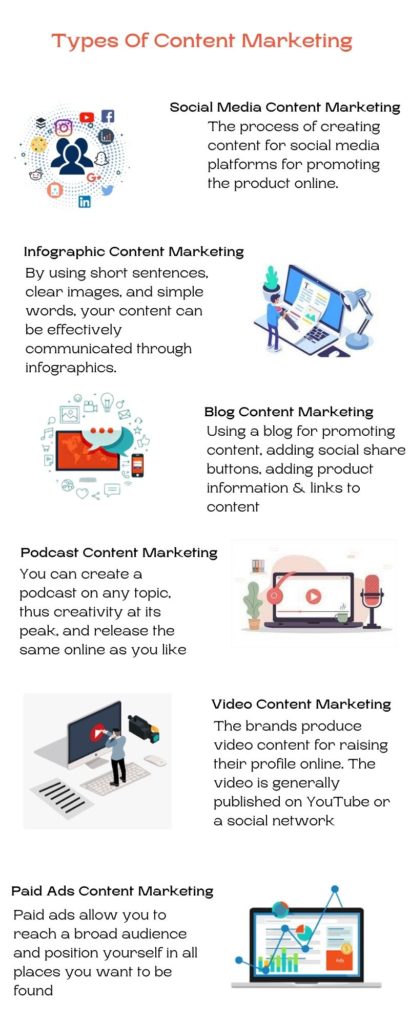 Social Media Content Marketing
Social media marketing includes the creation of content for social media platforms to promote your products and services, build a community with your target audience, and drive traffic to your business. Using social media for marketing is all about meeting your target audience and customers where they are and interacting with them across social networks.
Use Case: The Lush Cosmetics Instagram account matches their marketing content – even if the profile didn't say "Lush Cosmetics" anywhere, customers would still know the account belongs to Lush.
In addition to displaying the Lush product line, the Instagram page shows different color and scent options as well as showing how each product can be used in multiple ways. Lush's profile looks colorful and distinct and depicts a wide variety of its customers.
Infographic Content Marketing
An infographic is a graphic representation of data or information that presents complex information in an easily comprehensible way. Using them helps you simplify an educational or complex topic so all audiences can understand it. A mix of short sentences, clear images, and simple words provides an effective way to communicate your content through infographics.
Use Case: The launch of IBM's Cloud marketplace was accompanied by an infographic. The infographic is well-organized, on-brand, and easy to understand. They clearly describe what they're doing with their Cloud marketplace and how it will benefit customers. Additionally, it explains how audience members can access and use the marketplace.
A blog is a powerful type of inbound content that lets you be extremely creative with its topic and purpose. Blogging is the most frequently updated section of your site that keeps readers engaged because it contains new posts and information. Content on your blog often attracts people to your site and helps build your brand's audience. You can use a blog to promote internal and external content, add social sharing buttons, and include product information.
If you wish to get your guest blog published, then you can connect with Modern Technology Blog.
Use Case: Travel-related information is shared on Expedia's "[Out There Starts Here]" blog, including hotel recommendations, great places to visit, and travel-related activities you can participate in worldwide.
To keep their readers interested and engaged, Expedia regularly publishes content on their blog. You can find information about any type of trip you could imagine.
Podcast Content Marketing
The act of creating and distributing audio content for the purpose of marketing yourself, your product, or your service is known as podcast marketing. Sharing free audio content will ideally influence your listeners in a way that will lead them to buy your products or realize the value you provide. You can release your podcast to several directories and major listening apps like Spotify, Megaphone, and so on.
Use Case: Every week, Harvard Business Review hosts a podcast called HBR IdeaCast, which features business and management experts. If you subscribe, you will receive hundreds of podcasts every week; otherwise, you can pick and choose from them.
Video content marketing is based on the principle of creating and distributing valuable & consistent video content to your target audience with the objective of attracting, engaging, and converting qualifying leads.
Video content marketing involves integrating video into every stage and channel of your marketing strategy, along with other types of content like blog posts and podcasts. It can boost conversions, boost ROI, and help you build relationships with your audience.
Use Case: Video content from Dollar Shave Club has gone viral. They use hilarious and entertaining marketing tactics. A Dollar Shave Club video on YouTube has over 27 million views. Dollar Shave Club has achieved impressive brand recognition and growth due to its online video content.
Paid Ad Content Marketing
By running paid ads, you can reach a broad audience and position yourself in all places you want to be found. Paid advertising allows you to reach out to a wide audience and position yourself in all of the places you want to be seen. Among the many ways to share paid ads are social media, landing pages, banners, and sponsored content.
Use Case: Revolve — a clothing and accessories company — uses sponsored ads on social media (like the one on Facebook) to target their target audience. To drive target audience members to their site (and, hopefully, convert them into paying customers), they include product images and details about their free shipping and return policy.
Benefits Of Content Marketing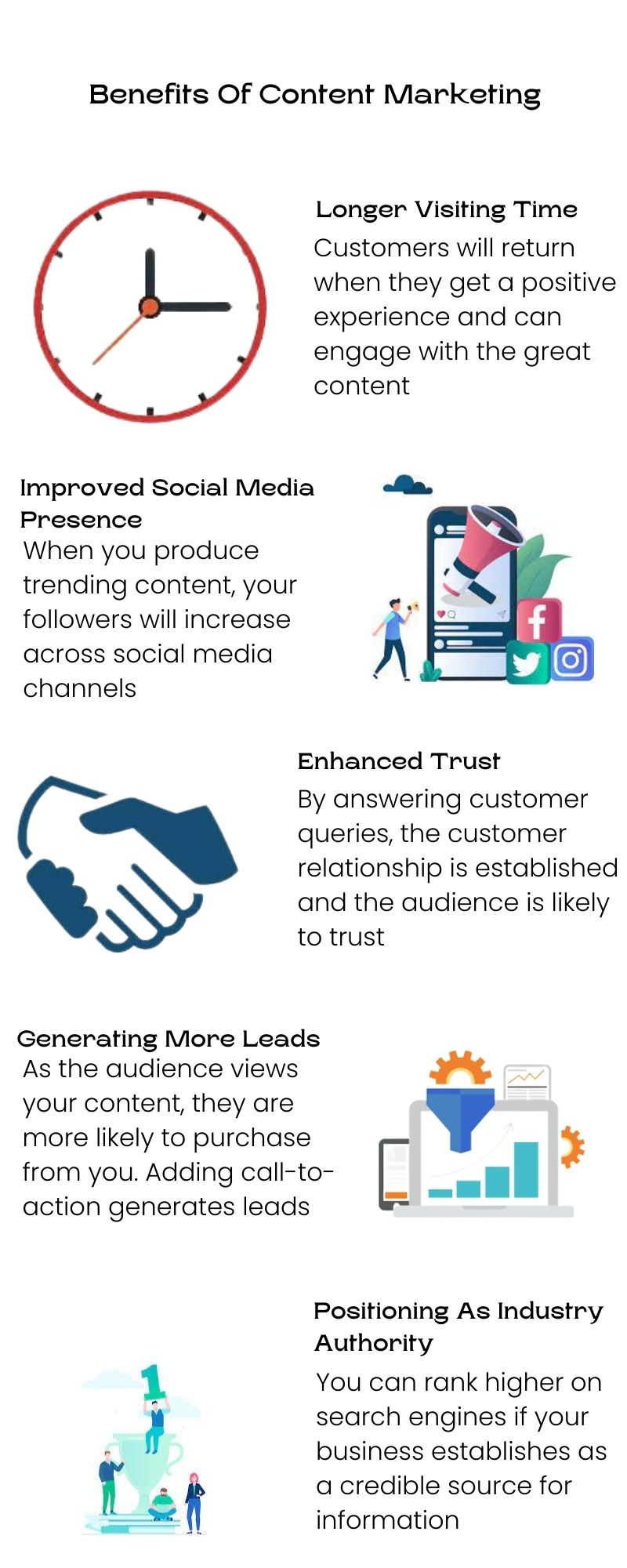 The consistency of your content strengthens your reputation, establishes your credibility, and builds trust. Here are some of the potential benefits of content marketing:
Audiences Will Stay Longer On Your Site.
The importance of great content cannot be overstated. Customers are likely to return for more when they have a positive experience with your company. Keeping your audience engaged and reinforcing your brand impression is your ticket to success.
Your Social Media Presence Will Improve.
One important thing is to increase the number of followers you have across multiple social media, but quite another thing is to produce trending content. It's time to put trending content marketing in a unique way if you are a business that doesn't see much traffic despite having a following.
You Will Gain The Trust Of Your Audience.
Your business can build relationships with its audience by creating content. By answering customer questions, you can establish a relationship with them. When your advice and recommendations are free of charge, your audience is more likely to trust them. By answering their questions, you can establish a relationship with them.
In the end, your brand's reputation will improve when your content appears at the right place and at the right time with the right audience. You will be more likely to associate with your company if you positively provide quality content to your customers.
The Leads You Generate Will Be Better And More Relevant.
Leads can also be generated by content marketing. The more your audience views your content, the more likely they will buy from you in the future. You can also generate new leads for your sales team by placing calls-to-action (CTA) within your content.
Your Company Can Position Itself As An Industry Authority With Excellent Content.
You can also build your authority online by creating quality content. You are more likely to rank higher in search engines if your business is established as a credible resource for information.
Your customers will trust you more if they see you as an expert in your field. You should provide your audience with valuable answers to their questions using content demonstrating your expertise.
The Content Marketing Funnel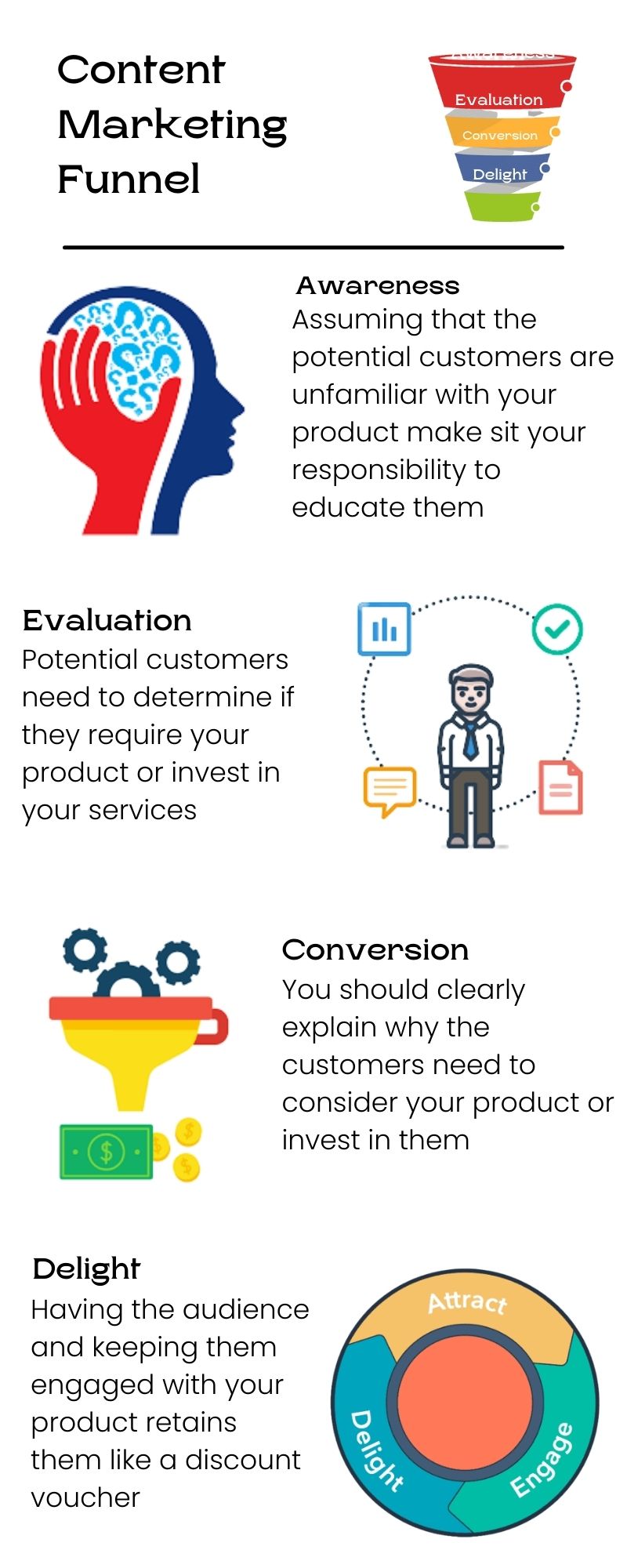 Content marketing funnels visualize customers' potential journey when considering a purchase, and they are part of a larger overall content marketing strategy. As your leads progress through the customer journey stages, good content pushes them towards conversion.
Awareness, evaluation, purchase, and delight are the four stages of the content marketing funnel. Customer journey stages should be accompanied by specific content suited to that stage.
Awareness
You should assume that potential customers are unfamiliar with your company or the solution that you provide when they first enter the content marketing funnel. It is now your responsibility to educate them. The purpose of top-of-funnel content (TOFU) is to educate your audience. For example, you could use:
Shareable blog posts
Social media posts
Infographics
Videos
E-books
Podcasts
Do not get stressed out – you do not need to try all content types. Analyze how well they resonate with your intended audience by testing a few. For every piece of content you create, consider the following:
Is the content being viewed, interacted with, and shared by prospects?
Is my content interacting with my target audience?
What follow-up has been done after the interaction?
Use metrics like time on page, number of reviews, and bounce rate, and dig into Google Analytics to answer these questions. Turn around your content if you find it doesn't meet the needs of your audience. You don't have to stick to one path because you started on it.
Evaluation
Potential customers determine whether they need your product or service in the middle of the funnel (MOFU). During the evaluation stage, you're also trying to establish trust with your customer. It's impossible to do business with or buy from a company you don't trust, so find ways to develop that relationship.
Content that explains why consumers should choose your product or service is what consumers look for:
Case studies
White papers
Emails
Useful resources/downloads
Events/webinars
Again, ask yourself if your content is fulfilling its intended purpose:
How many people are converting from this content?
How many sales or leads am I generating through this content?
What is the effect of this content on my end goal?
A well-written piece of content can help a prospect gradually move toward a purchase. One piece does not accomplish everything, so don't expect it to be done all at once. That's why it's vital to have a comprehensive content strategy and use different types of content marketing.
Conversion
A purchase should be a confident one. Clearly explain why your customers should buy your product or invest in your service. You can easily influence a purchase decision by comparing your product with similar products and demonstrating how yours is superior. To this point, your content funnel has been focused on getting customers interested in your product. Provide them with a reason to buy at the bottom of the content marketing funnel (BOFU).
Please keep the following in mind:
Is my content calling for action?
How can I make the purchase process as simple as possible?
In some cases, offering a free trial can also result in a purchase, as long as you don't give the whole thing away. The purpose of an initial attempt is to give potential consumers a taste of what you do but leave them wanting more because the goal is to turn them into customers.
Delight
Adding steps to the content marketing funnel can be helpful to retain or delight customers, even though it isn't part of the traditional funnel. Having an audience and keeping them engaged are the two main goals of your content strategy. It extends beyond the stage of purchasing.
You should provide your customers with easy ways to stay engaged and share feedback with your business. Consider these points:
Are customers encouraged to leave feedback when they read this content?
Are there reasons for readers to refer their friends to the content?
How does this content demonstrate real customer success?
You can reward your audience with special promotions or early product previews. The people in your customer's social circle can influence others, even if they don't repeat customers.
Differentiating Between Content Writing, Content Marketing, And Branding
You need to relate to the differences between content writing, content marketing, and branding to clarify these terms' fundamental aspects and definitions. But, before that, let us understand these terms.
An Explanation Of Content Writing
Content writers work for marketing firms mainly to create engaging content to improve their clients' digital outreach. When you write content for your client, you must learn about their target audience and determine what combination of words and information can best be used. Content must be relatable and ultimately profitable to the client to be effective.
It is essential that a content writer creates content that acts as more than just another advertisement. It is also a piece of writing that conveys necessary information to the audience before they consider buying the product or service that your content is intended to promote. To accomplish this, a content writer should always visualize their target audience to understand their needs and the things that can persuade them.
An Explanation Of Content Marketing
The strategic process of determining what format of content to create for a specific business or service is determined in content marketing. The aim of content marketing is to evaluate the products or services provided by clients and encourage the target market to purchase them by utilizing informative and relevant content served both on and off the website. Search Engine Optimization, search engine marketing, social media marketing, blogging, and other types of strategies are included in content marketing strategies. Using content that satisfies the audience's needs, a plan is developed to create touch-points and encourage them to make a purchase.
Most of the time, you're solving your customers' problems through your product. You engage your customers by providing valuable content and promoting your products, increasing customer loyalty and conversions at the same time.
Explaining Content Brand Marketing
A brand is directly associated with content brand marketing. Typically, content marketing does not involve promoting a single product. In contrast, it conveys the company's mission and gives the reason for its existence. The supersonic freefall video from Red Bull is an excellent example of content-based brand marketing. The primary goal of this campaign is to increase brand awareness and build relationships with potential customers.
Let us, for example, take the Red Bull promotional video. The Red Bull energy drink is not mentioned once in the whole video. Nevertheless, they emphasize the brand's mission – to promote sport and risk-taking among its consumers. It shows their uniqueness and their love for adventures and provides a greater understanding of who they are and what their brand represents. Additionally, it is very catchy and engaging and appeals to the customer's emotions. Red Bull is a great company to associate with if you enjoy sports and risks.
Difference Between Content Writing And Content Marketing
Objective
Content writing: Content writing is all about introducing your company to your a in the most effective way. It's all about engaging, entertaining, and informing your audience.
Content marketing: Here, the goal is to engage and educate your audience. The emphasis is on creating content that is unique and useful for the audience so that they can easily engage with it.
Types
Content writing: The direct marketing field encompasses a number of categories, including direct mail, sales pages, landing pages, and infomercials. It is possible to easily persuade audiences toward your product by posting content on such sites.
Content marketing: Content can be produced in many forms, including articles, blog posts, videos, podcasts, newsletters, and email marketing. Producing content here can be cumbersome since not every writer can be a content marketer. Therefore, you can hire a content marketing company to help you create great content for your company.
Key Performance Indicator (KPI)
Content writing KPIs: A plagiarism-free paper, style, number of words, articles, error-free, etc.
Content marketing KPIs: Amount of email subscribers, likes/comments/shares, page views, search engine ranking, SEO-friendly.
A Lengthy Process
Content writing: There's no time-consuming process associated with creating content. The writer should know how to research before writing content, have a good command of the language, and have good writing skills. Once this is done, the content can be published.
Content marketing: Contrary to popular belief, this is actually a long and time-consuming process where not only does the writer research a particular topic, but he also makes it search engine friendly. Excellent writing skills (persuasive writing), knowledge of search engine optimization, keywords, social media skills, email marketing tools, automation tools, and other skills relevant to this field are all required.
Planning
Content writing: Content writing requires the creation of engaging content, serving information to clients and audiences, understanding the audience's needs, and much more.
Content marketing: These strategies include search engine optimization, search engine marketing, social media marketing, blogging, and other types of content distribution for delivering information to target audiences and generating sales leads.
Difference Between Content Marketing vs. Content Brand Marketing
Storytelling Plays A Much Greater Role In Brand Content
In content marketing, it is common to throw in a few story elements here and there to engage viewers – but branded content is the master of immersive storytelling that immerses readers into another world.
Instead of simply writing another journalistic article, the content is presented as an immersive experience that combines interviews, seamless animations, and a narrative to show what it may be like living as an African-American felon in America today.
The Product Is Woven Into The Content Through Content Marketing
In contrast to branded content, content marketing is focused on driving leads and sales – this means strategically integrating their product into the content they produce. Don't confuse this with direct advertising, it's done tastefully and the content should accomplish its main goal of helping viewers solve a challenge or problem – after all, that's why they're even looking at it in the first place.
Branded Content Delivers Faster Results
Content marketing is about building brand trust and generating tangible leads/sales, whereas branded content is all about brand awareness and brand engagement.
Thus, you can launch branded content as a one-off campaign and distribute it widely (through big publications, YouTube, Facebook Ads, and PR agencies) and get results (if the content is appropriate).
Distribution Strategies Are Different
Both brands and content marketers can arrange branded content on their own platforms, like their YouTube channel, blog, podcast channel, or website. However, branded content has more distribution options. Due to its primary objective of brand awareness, branded content can be distributed on platforms such as Hulu, HBO, Huffington Post, and the New York Times.
As a result, branded content is a staple for large companies such as Starbucks and Red Bull rather than startups focused on revenue where ROI on every dollar spent on marketing is scrutinized and measured.
There is no doubt that content marketing content can be distributed widely on various platforms (such as Facebook, Instagram, and publications), but these will be targeting niche audiences.
Copywriting & Content Marketing
The answer to the question, "What is the difference between content marketing and copywriting?" is straightforward from the perspective of traditional marketing." In content marketing, you create and share free content to attract and convert prospects into customers – and customers into repeat customers.
Copywriting motivates readers to take specific actions. The customer may have made a purchase, but it may also be that they subscribed to your email list or called you for further information. Advertising, direct mail, and sales pages are examples of copywriting. Blogging, podcasts, and email marketing are examples of content marketing.
They might look like two different terms, but they are not if you know you are using them right. Let us see how!
Good Content Is Wasted If It Does Not Include Copywriting
The content on some blogs is excellent – but there are very few readers. There are many good articles people would love to read (yours could be one of them). If you don't get the traffic you want, the problem might be ineffective copywriting:
There might be something wrong with your headlines. You don't want your headlines to be boring since they're unlikely to motivate people to click through to the rest of your writing.
You might be too clever in your headlines. In this case, you are simply demonstrating your intelligence without providing anything meaningful to your readers. You need to learn to write magnetic headlines if yours are dull or too clever.
You haven't explicitly considered how your content can benefit readers. In the same way that a product must have a benefit to the buyer, your content must be intrinsically rewarding to readers; otherwise, they will not return to your website.
Relationships and trust aren't being built by your content. Being a brat, a pest, or a train wreck on social media will always bring you attention, but the attention will not translate into subscribers or customers.
It's not clear what you want the reader to do. Include a call to action that explains what you want the reader to do.
A copywriter's job is to convince their readers to do something specific.
Copywriting is still copywriting when it's done through a podcast or video if it's done well. Using copywriting techniques in your blog post ideas will encourage readers to subscribe to your content, sign up for your email list, and share your great articles with their friends. Your audience will be loyal to you when you do that.
Difference Between The Two!
Take into account the buyer's journey. To put it simply, a copywriter attempts to pique interest as soon as possible, with a focus on branding. A content marketer, on the other hand, focuses more on educating the customer and building trust. The content marketer plays a larger role in the consideration and evaluation stages.
The majority of companies are looking for marketers who are good writers and storytellers. Taking a closer look at the job descriptions, however, you will be able to see how they differ.
The connection, however, can be differentiated in a few ways. Clients measure the effectiveness of digital advertising by the number of impressions and clicks accomplished through paid media. In the content marketing world, top-funnel metrics like unique visitors and time spent are used to gauge performance.
There are a few similarities worth noting when it comes to ROI. When creating email campaigns or referral links that influence a customer's purchase decision, copywriters and content marketers may care equally about leads captured and (in some cases) revenue.
People are increasingly specializing in their field of expertise as content marketing becomes more established. For example, most copywriters become creative directors at advertising agencies and internal marketing departments.
Writing content for marketing can lead to becoming a content strategist, a content director, or a chief content officer. Marketing professionals may come from or go to fields such as journalism.
The Process Of Content Marketing 
Ensuring that the right content is delivered at every stage of the sales cycle – from awareness to purchase- will improve the campaign's effectiveness. This method is the process, so you need not be concerned about how complicated it sounds.
These are the ways companies use content marketing throughout the sales cycle to engage and sell.
Awareness Stage
You should focus your content on your audience's primary concerns during the first phase of the sales process. Your best chance of engaging with them is to discuss their challenges, pain points, and questions. Educative and how-to content is the best approach during the awareness stage. A good choice of content for this stage would be articles, blog posts, e-books, videos, and newsletters. Selling should be reserved for consideration and closing.
Some examples are:
Restaurants write about how to plan menus for graduation parties in the spring.
A company that organizes bike tours creates a short video on the topic of "3 Ways to Choose the Right Bike Trip."
"Questions to Ask Before Hiring an Architect" is an e-book produced by an architecture firm.
Consideration Stage
Content during the consideration stage should provide a combination of helpful information and marketing tactics. The content should educate the reader about what features or functions they should consider and how various features can be utilized to meet their needs. The content you use should be related to the services your business offers.
This stage is best served by case studies, how-to articles, how-to videos, checklists, and worksheets.
Some examples are:
It details the features and functions that make excellent customer service possible in a checklist called "8 Ways to Improve Your Phone Customer Service," created by a cloud-based phone system provider.
The landscaping company creates case studies to help people learn about "The Biggest Mistakes Most People Make When Hiring a Landscaper."
Usually, catering company sites offer case studies of successful events with a focus on the benefits they offer, such as "How to Accommodate Food Allergies at Your Next Event" or "How to Ensure Your Caterer Uses Sustainable Practices."
Closing Stage
Content marketing is essential when a prospect is close to making a purchase. The focus here should be on sales, not just how wonderful your services or products are—continuing to drive home why you are the best choice matters most at this stage.
Here you should emphasize the benefits of what you sell, your expertise, and your knowledge. The best content for this stage includes case studies, user-generated content, buyer's guides, product videos, and research reports.
Some examples are:
According to a consulting firm, businesses that engage in strategic planning, assessments by outside experts, and other services based upon their services experience higher growth.
An agency specializing in design works across various industries creates short videos to show off its expertise across multiple fields.
Orthodontists encourage their patients to provide testimonials about their state-of-the-art equipment and excellent service.
The Right Way To Do Content Marketing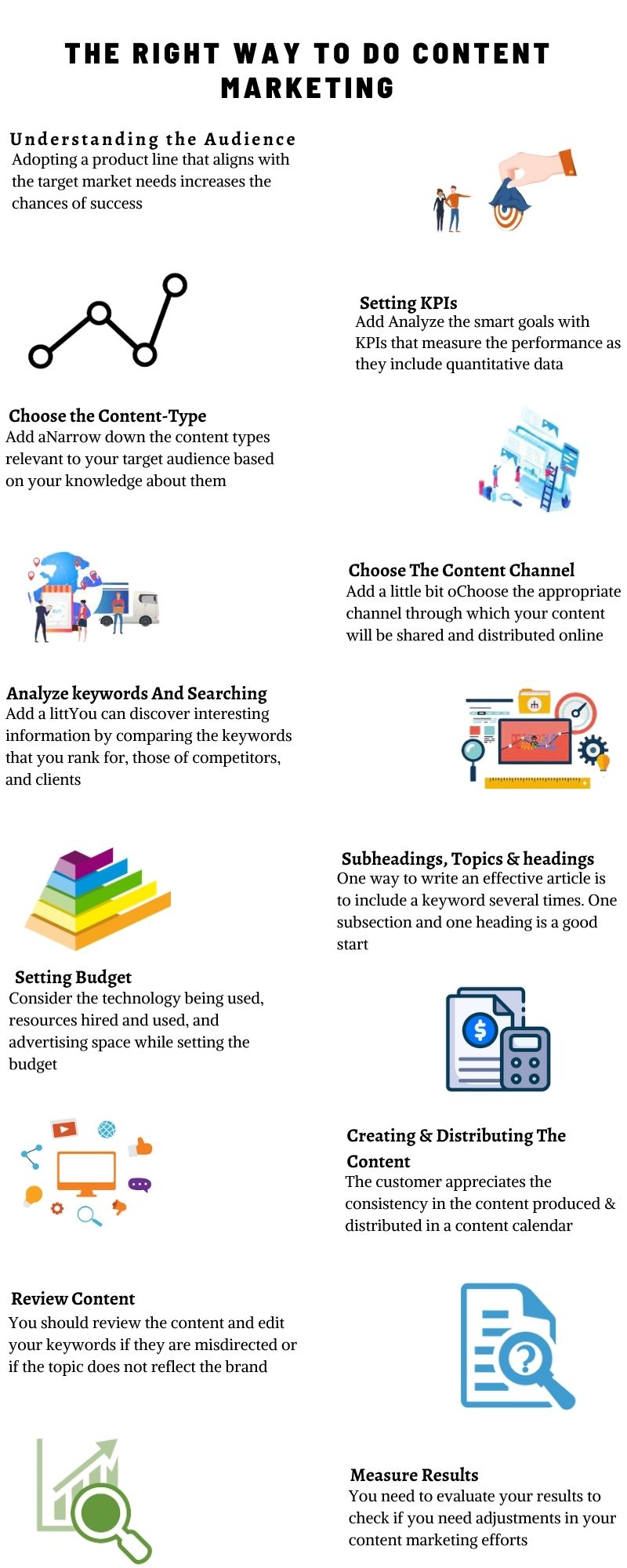 Content marketing strategies go beyond what you're going to manufacture and distribute. They tell you how to make it, distribute it, and ultimately use it to attract, retain, and convert viewers and readers into paying customers. Below are some of the prominent strategies to follow by the leading content marketing company.
Be Aware Of Your Audience
Your industry and your product and service are key factors that affect how your audience views them. Adopting a product line that aligns with the needs of your target market will increase your chances of success.
KPIs: Setting Them
SMART goals should be measured using key performance indicators (KPIs). Performance can be tracked through KPIs that include quantitative data.
Traffic to the website, social media followers, subscriptions, and mentions by customers and partners are ways to measure brand awareness.
The site generates revenue and traffic every day: revenue and traffic
The conversion rates, shopping cart abandonment rates, shipping costs, and competitive pricing of different products
Determining The Type Of Content
Choosing the type of content you want to create is the next step. You need to determine your target audience by creating buyer personas. Here are some ways to narrow down the content types most relevant to your target audience based on your knowledge about them:
What do they expect from you?
What strategies do they plan to use to overcome challenges?
Which of your products or services are needed by them?
Would you be able to make a difference in their success?
Where do they spend most of their time?
If you have determined the type of content you want to create, then it is time to review the various content types and decide on the right content marketing services.
Content Sharing Channels: Choosing One
Now that you have selected the type of content you will use to market, it's time to select the distribution channels through which that content will be shared. Where will that content be distributed? For some types of content, you will be able to identify the appropriate channel. The social media site itself is your channel if you are creating content for Facebook, for instance.
Analyzing Keywords And Searching
To understand a successful content marketing campaign, SEO marketing companies recommend Google Analytics and SEO. By comparing the keywords you rank for, those of your competitors, and those of your clients, you may discover intriguing data.
Subheadings, Topics & Headings
As your article is now balanced evenly in your alternate and secondary keyword phrases, it is ready to be published. Your headings should incorporate the keywords you choose as soon as possible. The key to writing an article that makes sense is to include a keyword (or a string of keywords) several times – a good starting point is once per subsection and once per heading.
You should remember to include a clear call to action at the end of your article. You have a reader who has read all the way through. Now, what do you want them to do?
Plan Your Budget
Setting a budget is now necessary. The type of content you create, and the channels you use to market it must be considered. You should then set a budget by answering the following questions:
Can you use any specific technology to create the content (e.g., graphic design software such as Adobe Photoshop, Canva subscriptions, or a camera for taking high-quality photos and videos)?
Is it necessary to hire a content marketer or designer (for instance, an artist, a writer, an editor, or a designer)?
Is advertising space a fee-based service?
Is it necessary to have access to particular tools or resources so you can improve or measure the content you offer?
Monitor how your responses affect your budget – whether they increase or decrease from what you had previously estimated.
Creating And Distributing Content
Your content must be created and distributed so that your audiences can consume it – and possibly convert. Your prospects and customers will appreciate consistency in the content you produce and share with them through a content calendar or social media calendar. In addition, scheduling your content ahead of time will make it easier for your team to stay up to date on all the content being produced.
Examine The Content
Almost all websites use WordPress as their content management system. Posting, editing, and deleting content with WordPress and other platforms is easy. You should edit your keywords if they are misdirected or if the topic doesn't reflect your brand. Adding an updated section or reworking old content can revitalize a blog that performed well a year ago. The use of video transcription with text overlays can be a great way to rejuvenate videos that have lost popularity.
Analysis Of The Results
Finally, you should evaluate and measure your results to determine whether adjustments to your content marketing efforts are necessary to reach more audiences.
To evaluate the success of your content marketing campaign, you need SMART goals and key performance indicators. Did you successfully implement the content marketing strategy? Have you achieved your goals, or did you miss the mark?
Final Thought
A great piece of content is a valuable asset. Customers are more likely to return for more if you can create a positive experience. Capturing your audience's attention and continually reinforcing a positive brand perception is your ticket to success.
Your customers or audience members want valuable content from your business. And that content needs to reach audience members naturally and organically versus being disruptive. Content marketing helps businesses do this, and it describes the process of attracting, engaging with, and delighting your target markets.
By honing in on effective content marketing, you can do just that — and as a result, increase conversions, improve brand awareness, boost revenue, establish yourself as an industry leader, and more. You can use all of these content marketing strategies to help you on your marketing journey. Try out new methods and adapt as needed to reach your audience. Make sure you understand your audience's needs and teach them when necessary.
---
FAQs
---
What is content marketing?
---
What does a content marketing agency do?
---
Which is the best content marketing agency?