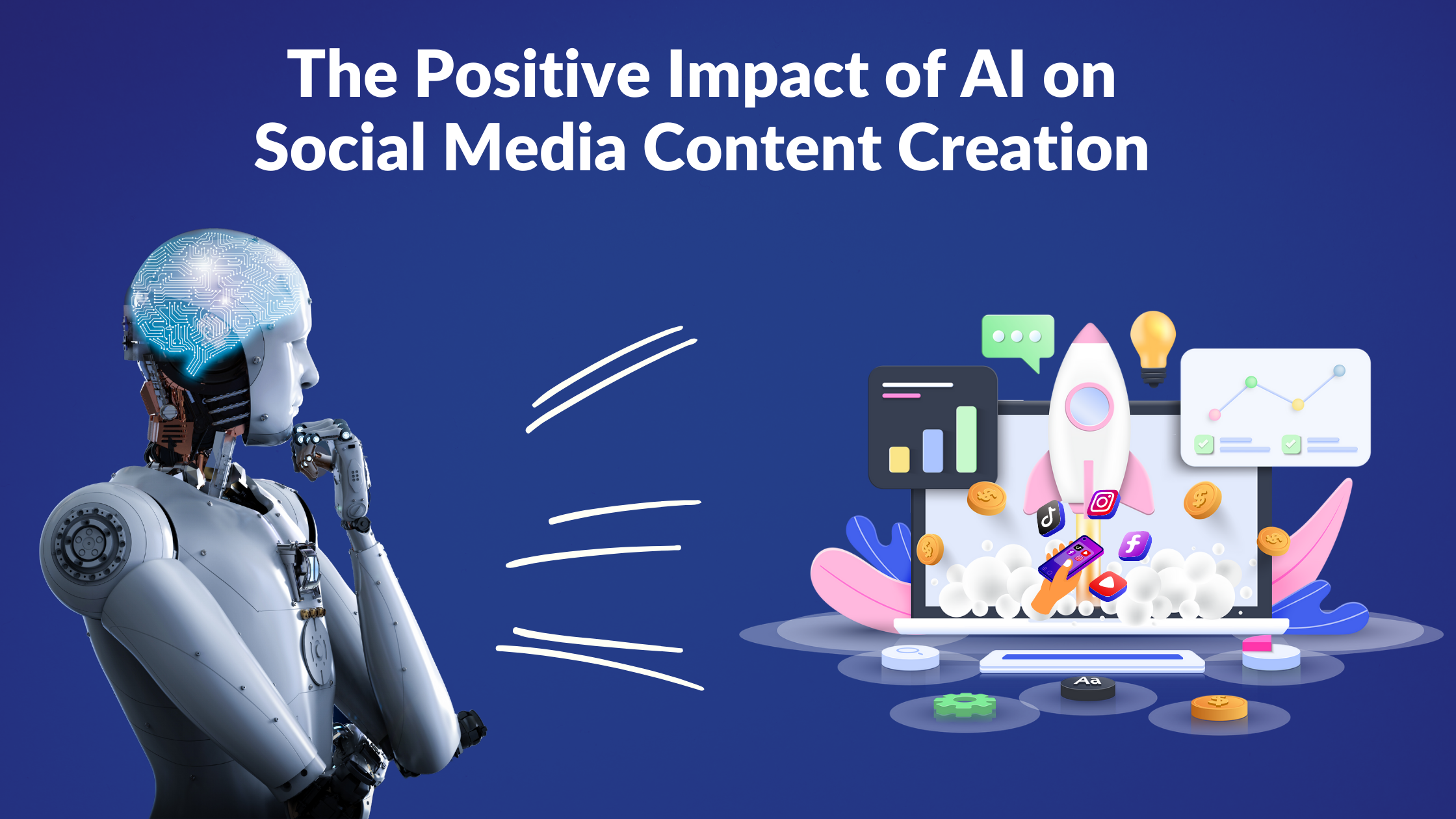 The craze of AI technology is on. With the arrival of AI-based chatbots like ChatGPT and Google's Bard, without a doubt, content creation has got many pros and cons. 
The rise of AI-generated chatbots has significantly impacted subject creation for organizations and individuals. These chatbots replicate human-like communication and offer automated customer support, lead generation, and other services using natural language processing and machine learning algorithms.
Let's take an example,
Smart assistants on phones aren't powered by magic. Instead, AI enables it to respond to your inquiries. Do you see advertisements for things you recently looked at when you search on Google? AI is also responsible for this. The AI revolution won't end there, either. AI will enable future technologies like autonomous automobiles to operate.
All businesses are hopping on the AI train. Why not, then? Thanks to AI advancements like machine learning, organizations may be more effective than ever. This opens up brand-new, interesting channels for communicating with audiences, accelerates internal operations, and does much more. Also, we observe AI in user testing applications and product planning.
The necessity for an excellent, pertinent, and interesting work presentation that these bots can understand is one of the most important consequences of AI-generated chatbots on content development. Our blog Content Marketing Trends To Follow shows how AI has been a set trendsetter in the world of content marketing. Social media creators must ensure their work complies with these guidelines because chatbots need accurate and structured data to work properly.

This blog will discuss how social media content creators can take words to the next level through AI-based technologies.
Are Social Media Content Creation Agency Using AI Technology?
As a social media marketing agency, we use AI-based technology to process the extra effort to add streamlined human skills to work towards better results.
Many media content creation companies use AI technology trends to enhance content creation and distribution procedures. AI technology can automate various duties, including posting schedules, curation, audience data analysis, and theme creation.
To produce graphics, animations, and videos appropriate for social platforms, some agencies, for instance, use AI-powered tools. These tools can analyze user engagement statistics and make recommendations for improving the performance of the content. Other businesses engage with customers and react to inquiries in real time using chatbots that are powered by AI, freeing up human staff to work on more difficult duties.
In general, artificial intelligence (AI) technology can assist media subject production companies by streamlining their processes, increasing the quality of their content and efficiency.
Impact On Social Media Marketing
Intelligence is significantly impacting SMM. Online media marketers can analyze enormous amounts of data and obtain insightful knowledge that they can use to improve their marketing plans by utilizing the power of AI. Additionally, it is used to provide customer support, personalize information for media users, and enhance user experience.
On Instagram, Artificial Intelligence
As a social networking tool in 2010, Instagram swept social media like a typhoon. It claims to have a user population of around 1 billion as of 2023. But because of its rising engagement rate, businesses have also found it a fantastic social marketing tool. According to data from 2023, almost all companies have an Instagram account. Instagram Marketing competition is at a great pace, and the AI-based approach has a great impact.
The Instagram photos posted daily have a major impact on the search function. The network receives about 1.3 billion photo uploads daily, and leveraging hashtags and trending news builds up a sizable database. Using AI, users can find photographs linked to their preferred experiences, activities, events, restaurants, etc.
Facebook's Use Of Artificial Intelligence
Understanding the behavior of its user group is a major part of the strategy on which Facebook bases its business. However, data enthusiasts find it challenging to make sense of such a sizable quantity of unstructured data, with over 2.38 billion users active each month and sharing 4.75 billion pieces of work daily. In this situation, where no precise data from a picture is required, deep learning technology saves the day. These films and photos' context can be recognized using deep learning. Also, the text and metadata that make up the media's other information can be examined through that analysis.
What Are Social Media Content Creators Upto?
Content pros use AI chatbots to generate subjects, which is a great way to get creative and unique suggestions. Here are some of the ways how creators are using AI technology.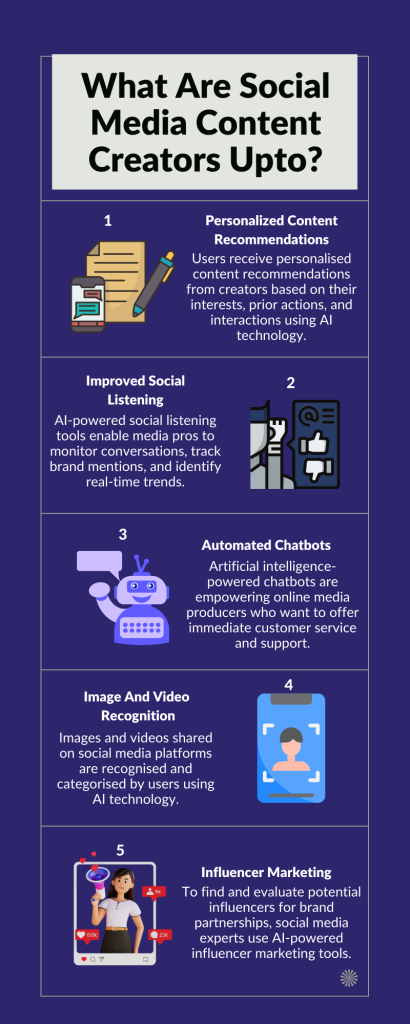 Personalized Content Recommendations: 
Creators use AI technology to deliver personalized content recommendations to users based on their interests, past behavior, and interactions. By analyzing user data, AI algorithms can recommend relevant presentations to users, increasing engagement and creating a more satisfying user experience.
Improved Social Listening:
AI-powered social listening tools enable media pros to monitor conversations, track brand mentions, and identify real-time trends. These tools use Natural Language Processing (NLP) to analyze user-generated content and sentiment analysis to determine the tone and emotion of the conversation. This data can inform content strategies, identify potential issues, and make data-driven decisions.
Automated Chatbots: 
Chatbots powered by artificial intelligence are enabling online media creators intending to provide instant customer service and support. These chatbots use machine learning algorithms to understand natural language and provide personalized responses to user queries. Chatbots can help businesses save time and money by automating routine tasks, such as answering frequently asked questions and improving customer satisfaction.
Image And Video Recognition: 
Users use AI technology to recognize and categorize images and videos shared on media platforms. This technology uses computer vision algorithms to identify objects, people, and scenes in visual content, allowing media pros to analyze user-generated content more effectively. This data can be used to identify trends, understand user behavior, and inform content creation.
Influencer Marketing: 
Social pros use AI-powered influencer marketing tools to identify and vet potential influencers for brand partnerships. These tools use machine learning algorithms to analyze influencer data, including audience demographics, engagement rates, and brand affiliations, to identify the most relevant and effective influencers for a campaign. This data can help creators make more informed decisions when selecting influencers and improve the ROI of influencer marketing campaigns.
A Helping Hand Indeed
AI's influence on social platform material production has been nothing short of amazing. Artificial intelligence (AI) has completely changed how we produce and watch online media content, from producing personalized content to examining consumer behavior. AI has made it possible for us to produce material that connects with our audience and encourages engagement by combining the strengths of machine learning and natural language processing.
The potential for even more creativity and innovation is perhaps the most intriguing element of AI's influence on online media. We anticipate seeing a new wave of innovative material pushing the limits of what we previously believed was possible as AI continues developing and gaining new capabilities. Social media marketing services are well transformed with the introduction of chatbots, where the edge of animation and content is taken to the next phase. Therefore, while the effects of AI on stuff on social platforms have been positive so far, it is very clear that the best of it is yet to be seen in the future.
---
FAQs
---
What is social media marketing?
---
Are Social Media Content Creation Agency Using AI Technology?