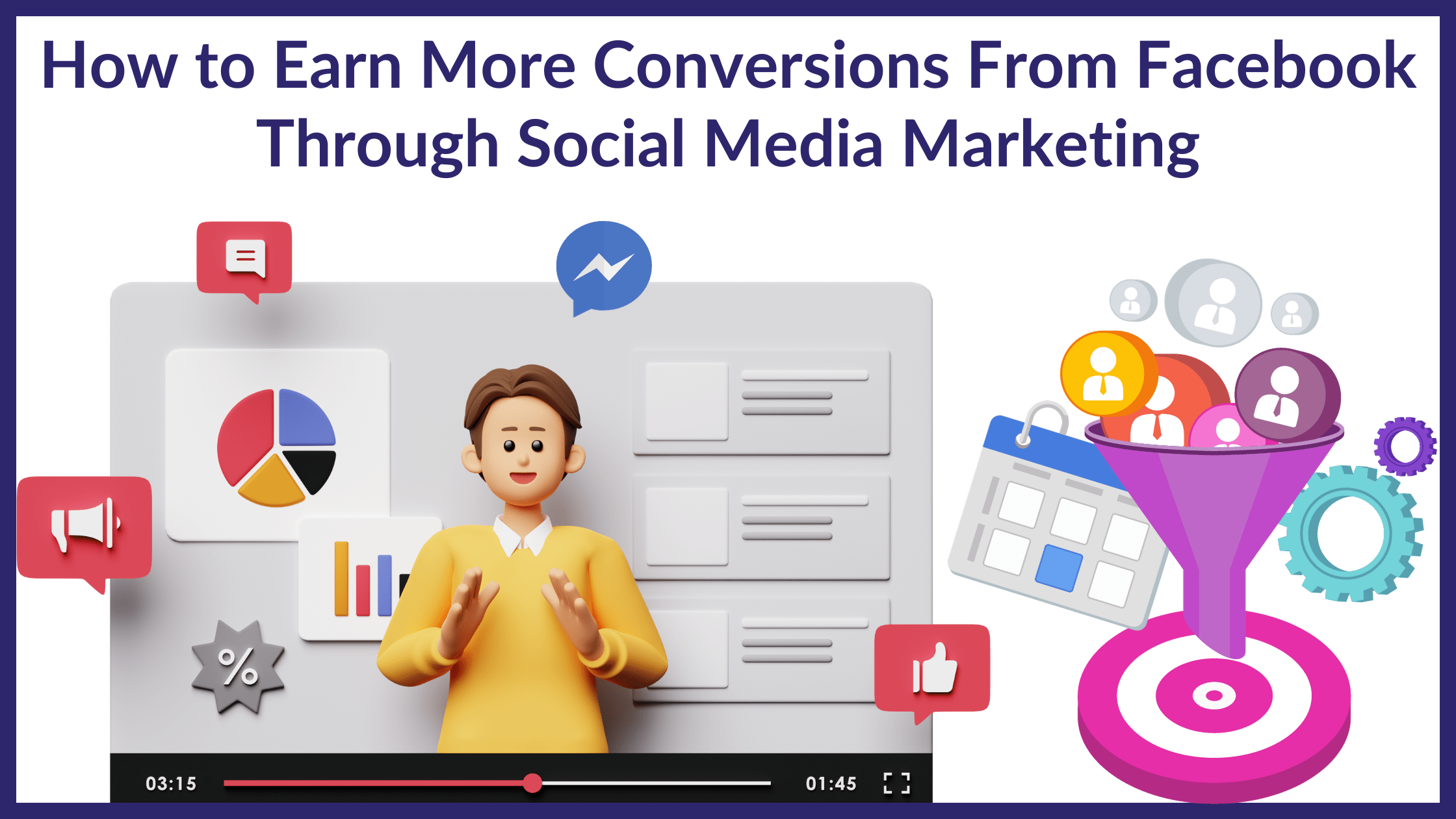 Nowadays, sophisticated social media marketing techniques are available on modern advertising platforms, making them robust solutions for digital problems. Facebook advertising is getting harder to use because of the variety of ad types, objectives, and targeting options available. Creating a compelling advertisement that draws traffic and developing an advertisement that converts are two different things.
The most well-known and effective medium for businesses to engage with their target market and boost conversions is Facebook. It has a vast user base of 3 billion+ active users monthly, which can be effectively addressed through social media marketing strategies.
In this blog, we will discuss how to use Facebook Marketing Services, efficiently implement social media marketing techniques, and collaborate with a social media marketing agency to increase conversions from Facebook. 
Understanding The Power Of Facebook Marketing Services
Facebook ads with a high conversion rate motivate your audience to take beneficial activities. Depending on your goal, you can want to boost the number of landing page views, purchases, phone calls, or messages. Try one of these eight Facebook ad optimization tactics if your conversion rates need to meet expectations.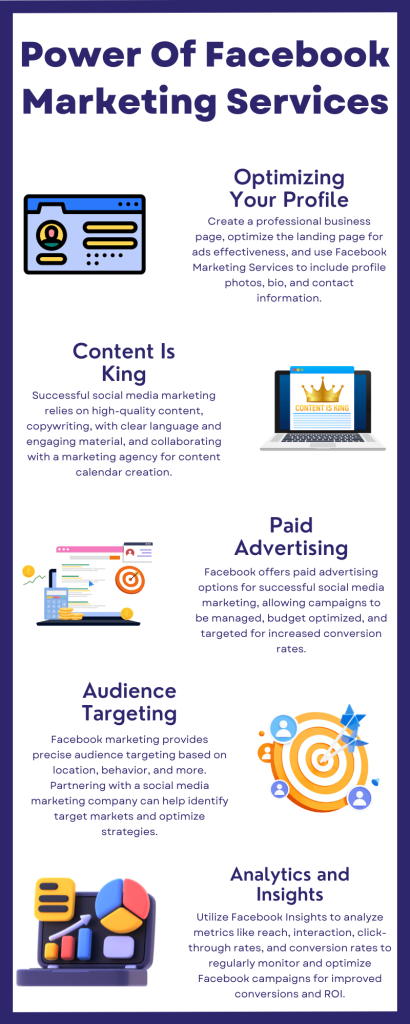 1. Optimizing Your Facebook Business Page: 
Creating a professional and engaging business page is the first step towards earning more conversions from Facebook. One of the most frequent mistakes made with Facebook adverts is when businesses spend a lot of time and effort crafting an amazing Facebook ad but occasionally need to catch up when it comes to the landing page. The effectiveness of your adverts depends heavily on your landing page. Think of your advertisement as a shortened version of your landing page. Create landing pages that will convert well and motivate action. Utilize Facebook Marketing Services to optimize your page, including profile and cover photos, a compelling bio, and relevant contact information. Ensure that your page reflects your brand's identity and values.
2. Content Is King: 
High-quality content is the most crucial aspect of successful social media marketing. Although the visual component is vital for producing well-performing Facebook advertisements, copywriting is equally critical. Content can excite and inform while motivating behavior simultaneously. To lead with value, use straightforward language that your audience can grasp. Your ad's copy should complement its visual components. Post engaging and informative material that regularly appeals to your target audience to increase conversion rates. Among them are blog entries, movies, pictures, and infographics. Work with a social media marketing agency to develop a content calendar that supports your marketing objectives. 
3. Paid Advertising: 
Facebook offers a range of advertising options to help you reach a broader audience. Paid advertising on Facebook is a cornerstone of successful social media marketing aimed at earning more conversions. Use Facebook Marketing Services to create and manage ad campaigns targeting your ideal customers. You can choose from various ad formats, including image, video, carousel, etc. A social media marketing company can help you allocate your budget effectively and optimize ad performance. Leveraging its precise targeting, versatile ad formats, budget flexibility, and analytics capabilities can significantly boost your conversion rates.
4. Audience Targeting: 
One of the most significant advantages of Facebook marketing is its precise audience targeting capabilities. Leverage this by using custom audience and lookalike audience features. Facebook allows you to target users based on location, behavior, and more. You can identify your target market and develop specialized programs with the aid of a social media marketing company. You can also optimize your audience targeting strategy by working with a social media marketing agency with experience in Facebook advertising. 
5. Analytics and Insights: 
Regularly monitor the performance of your Facebook campaigns using Facebook Insights. Keep checking on statistics like reach, interaction, click-through rates, and conversion rates. Make data-driven decisions and strategy adjustments using these findings. Facebook Marketing Services can help you interpret these metrics effectively. It offers a comprehensive set of statistics and insights tools to assist you in evaluating the success of your social media marketing initiatives. You can optimize your Facebook marketing campaigns for improved conversions and ROI by routinely monitoring these KPIs, experimenting with various approaches, and making data-driven tweaks. 
Collaborating With A Social Media Marketing Company
Collaborating with a social media marketing company can give your business a perfect scope to reach your target audience. You can also get advantages that are:
1. Expertise and Experience: 
Collaborating with a social media company brings expertise and experience to your requirements. These professionals understand the intricacies of Facebook marketing and can help you navigate the platform effectively.
2. Customized Strategies: 
A social media marketing company will tailor strategies to your specific business goals. They will conduct market research, competitor analysis, and audience profiling to create a customized plan that maximizes conversions.
3. Creative Content Creation: 
Social media marketing companies have a team of skilled content creators who can produce high-quality content that resonates with your target audience. This includes creating visually appealing graphics, engaging videos, and compelling ad copy.
4. Campaign Optimization: 
The companies are adept at optimizing ad campaigns for maximum ROI. Saving you time and money, they regularly assess and tweak campaigns to ensure they operate at their peak.
5. Scalability:  
Social media marketing's development and the expansion of businesses go hand in hand. A social media marketing company can scale your strategies accordingly, ensuring you continue earning more conversions on Facebook.
Conclusion
Known as the most prominent advertising platform, Facebook has the ability to interact with millions of individuals. Facebook advertising can be a huge asset to a business if they are used correctly. However, Facebook advertising is incredibly competitive, and you risk investing money in your ads without seeing a significant increase in conversion rates. 
Your social media marketing strategy should be centered on creating Facebook ads that convert well. You can assess your existing Facebook marketing approach by determining where your advertisement could need help. We recognize that you are in a sector where businesses have significant expenditures and digital marketing teams devoted only to Facebook ads. Nevertheless, you may employ a few crucial techniques to optimize your adverts for improved results without spending your time and money.
---
FAQs
---
What is social media marketing?
---
Can Social Media marketing increase conversion rate?