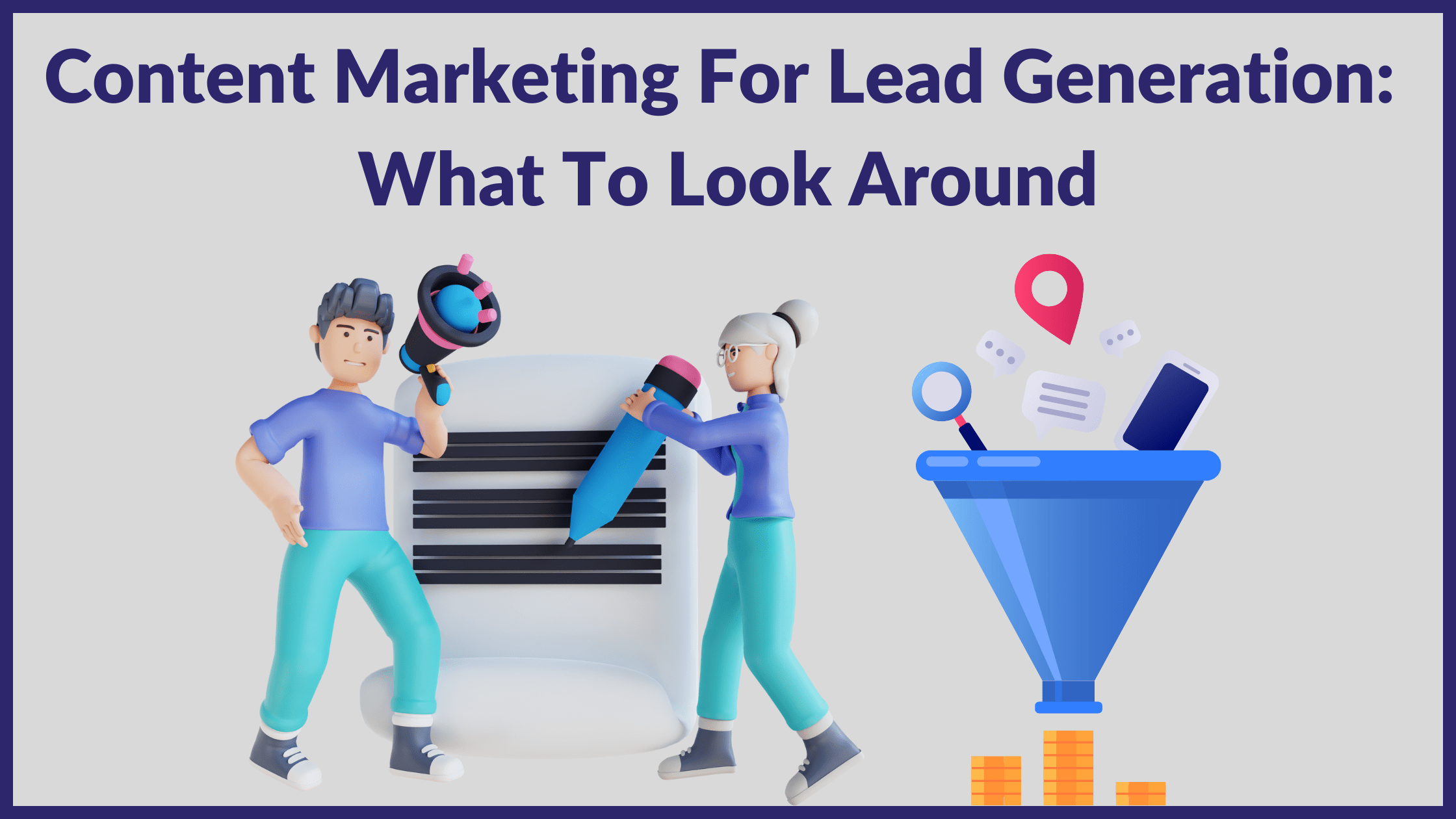 Step into the world of content and learn how content marketing for lead generation can be a successful gamer changer.
Content marketing for lead generation is a strategic technique that extends beyond traditional advertising and promotions. It combines the subtle strands of persuasion, facts, and storytelling to make a tapestry that appeals to potential buyers. It involves sharing insightful information, responding to pressing inquiries, and delivering answers that pique interest and build rapport.
But how can you stand out in this enormous content ecosystem when every company seems to have a voice? What should you be on the lookout for to guarantee that your content marketing efforts result in leads? Fasten your seatbelts as we set to discover the crucial components and secrets of effective content marketing for lead creation.

We will explore the numerous elements of a great content marketing plan. From writing attractive blog articles, making captivating videos, optimizing landing pages, and utilizing social media. We will explore the secrets of SEO and harness the power of narrative to create stories that connect with the audience.
Prepare to unleash the lead-generating potential of content marketing. Join us as we explore the always-changing world of digital marketing, where creativity, strategy, and analytics come together to produce a symphony that connects with your target audience and creates a favorable environment for the growth of a harvest of worthwhile leads.
Content Marketing For Lead Generation
Content marketing has become a potent tool for organizations to create leads and drive growth in the current digital era. In our previous blog, 7 Reasons Why Content Marketing is Important to Your Business, already adds an edge. The days of intrusive advertising are long gone, and customers today demand meaningful, educational, and interesting content that meets their requirements and solves their issues. The art of creating and disseminating appealing content for lead generation that attracts and converts potential consumers into qualified leads.
Businesses may become thought leaders in their field by producing useful content such as blog posts, videos, infographics, and e-books. This attracts the target audience's attention while also establishing credibility and trust. Businesses can reach a wider audience through distribution and advertising on various platforms, such as social media, email marketing, and search engine optimization. This can also drive traffic to their content.
Understanding Content Marketing Funnel
The content marketing funnel is a structure that describes the phases of potential customer experiences as they progress from being aware to making a decision to buy. The proper material must be supplied at each level to drive prospects toward conversion. This is a deliberate approach to guiding and nurturing leads.
The goal of the awareness stage at the top of the funnel is to draw in a larger audience. This content creation stage focuses on spreading awareness of a company, item, or service. It could include blog articles, social media postings, videos, and infographics that discuss industry-related subjects and offer helpful information. The objective is to draw potential customers and introduce them to the brand.
We arrive at the deliberation stage as we proceed down the funnel. The main goal is to engage leads who have expressed interest in the brand or solution. At this point, the content aims to enlighten and educate potential customers about the qualities and benefits of the item or service. Case studies, whitepapers, comparison charts, and webinars that illustrate how the brand may address its problems may be included. 
The decision stage, the last stage of the funnel, is where the emphasis changes to turning leads into customers. Here, the content is more sales-oriented and geared at convincing potential customers to act. This could include product demos, endorsements, no-risk trials, or one-time deals.
To determine what is effective and what needs improvement, it is crucial to analyze and monitor the effectiveness of the content along the content marketing funnel. Marketers can improve their content strategies, hone their messaging, and produce more specialized and efficient content at each funnel level by utilizing analytics and data insights.
Why Does Your Business Require Content Marketing For Lead Generation?
Marketing content generates leads, enabling businesses to connect to the right people. Here are a few reasons why your business requires content marketing for lead generation:

Establishes Authority and Trust:
You establish your company as an authority by continuously producing high-quality content that informs and helps your audience with problems. This increases credibility and trust, increasing the likelihood that prospective clients will interact with your brand and eventually become leads.
Drives Organic Traffic: 
Your search engine rankings are boosted by relevant, well-optimized content, boosting natural website traffic. You draw qualified prospects who are likely to become leads when you offer useful content that aligns with what your target audience is looking for.
Nurturing Relationships:
You may interact with your audience through content marketing at several points in their purchasing process. You cultivate connections and drive prospects through the sales funnel by giving relevant content catered to requirements and pain areas. This will eventually increase the possibility of lead conversion.
Encourages Social Sharing and Engagement: 
On social media platforms, compelling and shareable content has the potential to go viral, increasing reach and luring new customers. Additionally, it creates chances for relationship-building and lead generation when your content prompts debates and exchanges.
Supports Lead Capture and Conversion:
Content marketing offers several ways to collect leads, including gated content, email subscriptions, and contact forms embedded in your articles. You may successfully convert website visitors into leads by providing worthwhile materials in return for contact information.
Content marketing improves lead generation and conversion, boosts organic traffic, fosters relationships, promotes engagement, and positions the company as an expert. You may efficiently attract, engage, and convert leads by utilizing the power of content, resulting in business development and success.
Get More Leads With A Solid Content Marketing Agency
In the blog above, we already discussed how content marketing could be a great source of generating more productive leads. With every business segment, not a perfect match to provide quality content, you can definitely look around our content marketing services.
Finding the ideal partner to realize your brand's goal for content marketing is essential. Making BetterGraph your content marketing partner is like setting out on a perilous journey into the world of fantasy.
BetterGraph has the ability to use language to create content that connects with your target audience on a deep level. Their crew of gifted content producers has a miraculous ability to turn concepts into interesting and shareable content. Your brand's narrative will blossom under its professional direction in a spellbinding symphony, winning hearts and minds in its wake. BetterGraph is a creative partner as well as a service provider in the field of content marketing. 
So where are you? Team BetterGraph awaits you here!!!
---
FAQs
---
What is Content Marketing?
---
Why Use Content for generating leads?
---
Why Choose BetterGraph For Content Marketing Services?