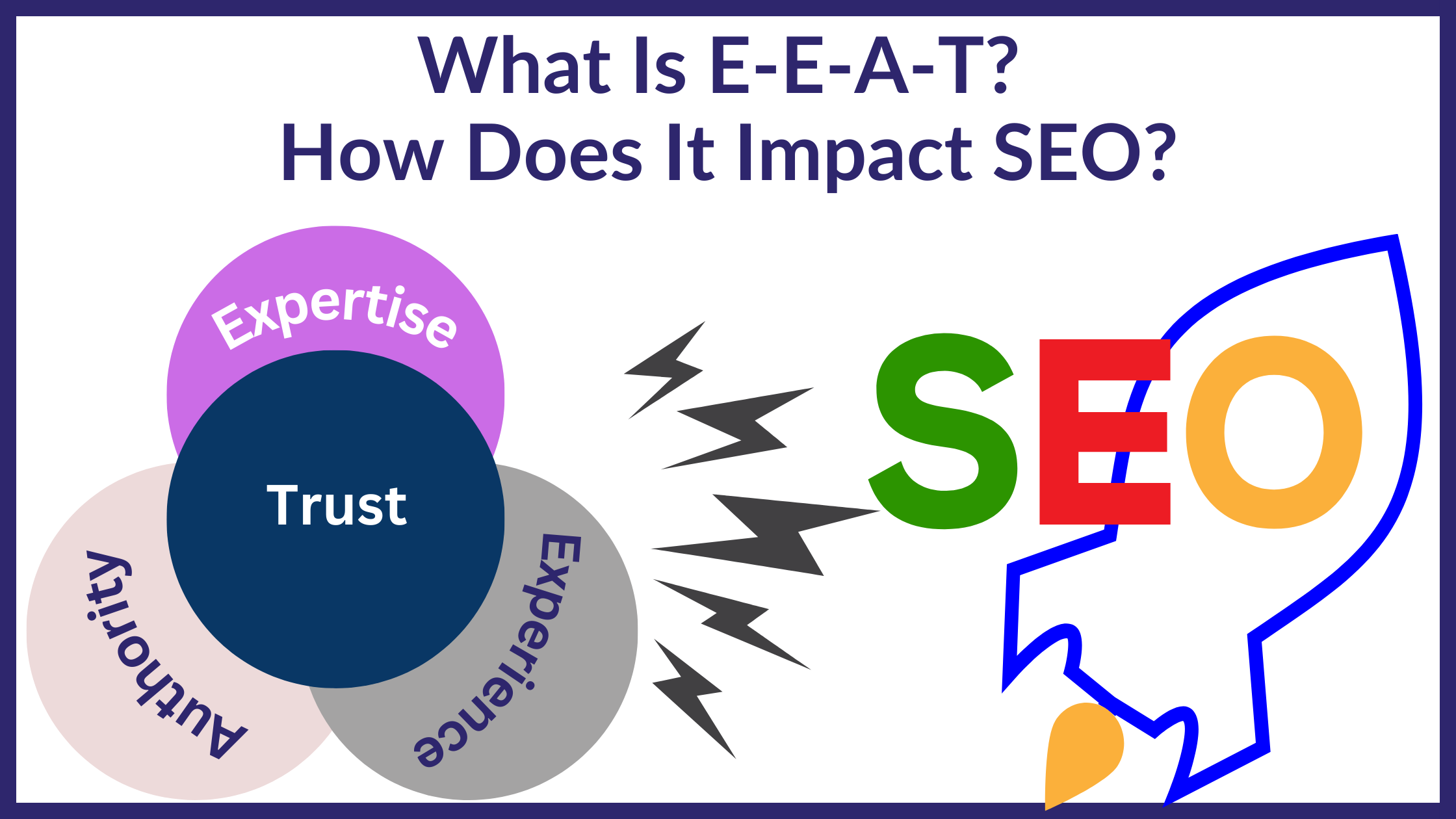 Let us share further details on how E-E-A-T holds a position in SEO in determining a website's ranking on search engines.
Within the broad field of SEO (Search Engine Optimization), you may have encountered the word "E-A-T." Although it has nothing to do with eating, this idea is indeed important for raising your website's search engine ranking on platforms like Google." E-A-T represents Expertise, Authority, and Trust, and it is a set of guidelines used by Google to put a value on the quality as well as credibility of a website's content. 
Google first made this article visible on the internet in 2013 so it could help those who provide SEO content writing services by outlining the meaning of what Google searches for on a webpage. 
The formal addition of "Experience" to the mix in the December 2022 update was simply Google's attempt to highlight the importance of material created by authors who are genuinely knowledgeable and have something worthwhile to contribute.
E-E-A-T was taken from Google's Search Quality Rater Guidelines, a 176-page manual review guide used by real human reviewers when assessing the overall quality of Google search results.
Experience Goes For Real-World Or First-Hand Experience With The Topic.
In a perfect world, nobody would write anything about a subject they were not deeply familiar with. As a result, shifting away from simply technical SEO services in the past, Google's quality reviewers have begun to actively reward material written by authors who have demonstrated knowledge of the topic at issue. 
Therefore, there can be various ways to prove that you're skilled in articulating on a topic, including:
Use your author bio to tell about yourself (provided you have the experience to talk about that is meaningful)

By mentioning the unique insights from your own observations that are absent from content rankings. 

Try to use original photos or video material to bring the reader more value.
Expertise Stands A Step Further Than Experience — It Denotes A Deep Level Of Knowledge And Skill In Some Specific Areas. 
This might take the form of displaying your qualifications on your website, constantly publishing in a certain niche for years, or working with other authorities.
Moving forward, expertise is a set of skills you gain while working in a particular field. Google divides topic types into two groups to distinguish between, which we will discuss in the following paragraphs below: 
Expertise while talking about YMYL topics Google likes content writers with more formal and actual qualifications when working on the majority of YMYL themes, inclusive of education and certificates. 
Expertise While talking about Non-YMYL topics, Google defines expertise differently —- in the form of real-world experience rather than official credentials. 
Authoritativeness Goes A Step Ahead Of Expertise. 
You need to be more than just an expert in order to be respected as an authority in a certain field. There are a few examples of authoritativeness:
User ratings, professional suggestions, and other reliable opinions expressed by those who supply information about the website.

Indicators of repute, including honors and prizes or participation in the news or current affairs. 
The Key To Being Trustworthy Is Being Consistent. 
Unfortunately, delivering false information or being inconsistent with our brand can create cracks in your trustworthiness. Being transparent from the start is a great way to develop trustworthiness amongst your customers and site visitors every time. For more information, trustworthiness includes a few helpful examples:
Appropriate contact details

Content correctness and precision 

References from reliable sources

Details on the content creators
The Way Google Asses Your E-E-A-T
This happens because E-E-A-T informs both Google and people about the quality of your site. Sites that invest in it are more likely to draw visitors, build links, and eventually rank organically on search engine results pages.
Google hires a group of Search Quality Raters to score sites after each algorithm change in order to determine E-E-A-T. These Search Quality Raters are the ones that review the E-E-A-T of your web page. To determine where you rank, they follow Google's thorough Search Quality Evaluator Guidelines.
Google defines what it means by E-E-A-T in these guidelines:
The

expertise

of the primary Content creator's level of skill.

The website, the Main Content, and the person who created it all have

authority

.

The

trustworthiness

of the website and the person who created it.

The actual

experience

content creator has about the topic they are writing about.
As you can see, Google looks closely at the writers of the article as well as your website and its content.
What Exactly Makes E-E-A-T Important To Google?
Let's say you are considering getting a loan and you are searching the internet for financial help.
All you find as you scroll through the items on the SERP's first page are little blogs written by people without college degrees. You read opinions written in a stream-of-consciousness style regarding what to do with your money when you open a page. 
It would not work.
One of Google's tools for SEO to make sure this doesn't happen is E-E-A-T. It is Google's civic duty to deliver answers that give users accurate and useful information.
"We have a huge obligation to our users and the communities we participate in, and part of that responsibility is to take action against the goals of those who would exploit our platforms to spread false or misleading information," reads the 2019 Google white paper titled "How Google Fights Disinformation."
Since people frequently rely on major decisions in their lives on what they read online, exposing information that doesn't adhere to the E-E-A-T standards might endanger individuals as well as their communities. This would be detrimental to Google's credibility as well as maybe the communities it supports.
Moment to E-E-A-T
Like many other approaches, E-E-A-T might occasionally feel puzzling, much like several other elements of search engine optimization (SEO). It is possible that the actions you do to improve your E-E-A-T. Ranks may not have an immediate impact on your rankings.
E-E-A-T is, above all, an investment in the image of your content marketing company. Make an impression on your clients, and Google will follow you around.
Start by crafting a fantastic author bio that showcases your experience and knowledge as you aim to position yourself as an authority in your field.
---
FAQs
---
Can E-E-A-T impact my website's ranking on Google?
---
Is E-E-A-T a one-time effort, or do I need to maintain it continuously?