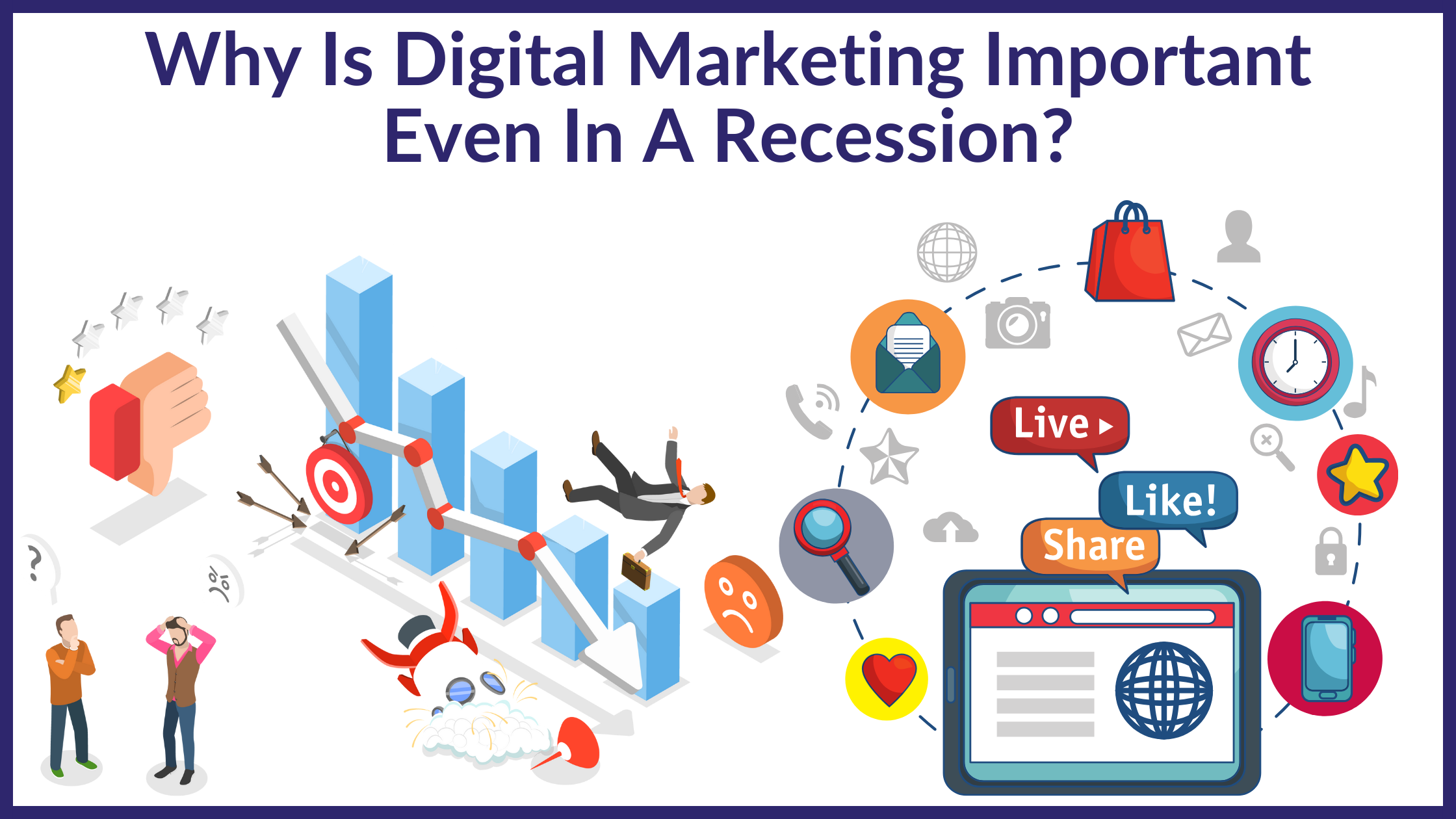 Let's communicate the essential role of digital marketing during economic downturns.
In times of economic uncertainty and recession, businesses often tighten their belts and cut down on various expenses to weather the storm. Because consumer spending usually declines during recessions and companies are compelled to adjust to survive, such times can be tricky. While slashing marketing budgets during such times may be tempting, doing so could be a grave mistake. Digital marketing becomes even more critical in a recession. 
This article explores why businesses should continue investing in digital marketing during economic downturns and how it can help them weather the storm and emerge stronger.
Utilising internet platforms and content management systems (CMS) effectively helps broaden digital marketing reach while lowering costs.
Harnessing The Power Of Online Platforms For Cost-Effective Reach In Digital Marketing
One of the key reasons why online marketing is essential during a recession is that it is economically feasible. Traditional marketing methods like television and print ads can be expensive and less targeted. Online advertising, social media marketing, and email campaigns provide scalable and budget-friendly options, ensuring that marketing efforts remain efficient. 
Lower Marketing Expenses
In tough economic situations like recessions, many businesses must cut their expenses. However, digital marketing offers a range of cost-effective tactics, including email marketing, content marketing, and social media marketing, which can be moulded to suit the available budget.
Audience Specification
The power of audience definition is a turning point in the world of digital marketing. Digital marketing allows businesses to target their audiences with remarkable precision. Companies can reach specific demographics, locations, Google Ads, and social media advertising. This precise targeting helps maximize the return on investments (ROI) and ensures that marketing efforts are well-spent on relevant audiences. Digital marketing offers targeted techniques based on one's gender, age, area, interests, or online activity. This helps boost ROI and reduces waste, ensuring that marketing resources are directed where they are most needed. 
Analytics In Real Time
The capacity to monitor and review project effectiveness in real time is one of digital advertising's primary benefits. Website traffic is one example of a key performance indicator (KPI) that businesses can examine. 
Data-driven insights from real-time analytics enable businesses to make quick adjustments and optimizations to improve campaign performance. Moreover, conservative marketing often lacks the ability to grab and optimize campaigns due to the swift absence of actual-time analytics based on data insights. 
A shift in consumer behaviour is a key shift in how people and groups pick, would like, and make purchases, often caused by a variety of external factors.
A Shift In Consumer Behaviour
Recessions often lead to a notable shift in consumer behaviour. People turn to the internet for various reasons, making it a suitable time for businesses to catch up with their audience through digital marketing channels. 
Spending and Research
Throughout economic downturns, buyers tend to be more cautious with their spending. They turn to the internet to research products and compare prices before purchasing. Businesses that maintain a solid online presence through content marketing, search engine optimization (SEO), and e-commerce platforms can capture these consumers actively searching for value and information.
Use Of Social Media 
Social media platforms see an increase in consumption during times of crisis. People visit these channels for news, updates, and social interactions. By employing a social media marketing company, businesses can harness the power of social media to navigate challenging times and enhance their relationships with customers. Engaging content, community development, and client support may foster loyalty and trust even under challenging circumstances. 
Consumption of Content and E-learning
Recessions can spark an increase in interest in self-improvement and personal development. Many individuals turn to e-learning platforms and consume digital content to enhance their skills or seek new opportunities. Businesses can line up their digital marketing strategies with these trends, providing educational content, webinars, and resources that address the evolving needs of their audience.
Digital Marketing Contributes To Long-Term Business Sustainability By;
Over time, this translates into brand loyalty, repeat business, and stability. A few points that can be considered are mentioned below:
Building Brand Loyalty:

Consistent online engagement and value delivery foster brand loyalty, ensuring repeat business even during challenging times.
Data-Driven Decision-Making:

Digital marketing provides valuable data for informed decisions, helping you make adjustments for long-term success.

Online Reputation Management:

Effective digital marketing strategies help protect and enhance your online reputation, a critical asset for long-term success.

Cost Efficiency:

Unlike conventional marketing, digital marketing offers a more cost-effective way to reach and retain customers.

Diversifying Customer Base:

Digital marketing can expand your reach, reducing dependency on a single customer segment or geographic area.
The terms "adaptability" and "creativity" reflect the capacity to respond successfully and produce creative solutions in a variety of contexts.
Adaptability And Creativity
One of the most exceptional aspects of digital marketing is its adaptability and potential for innovation. In times of recession, businesses that can pivot and innovate are more likely to thrive.
Flexible Strategies
When market conditions are uncertain, the adaptability of digital marketing agencies helps organizations quickly change their plans in reaction to unproductive tactics, reallocating resources towards more successful efforts.
Building Content
Creating valuable content that resonates with the audience is fundamental to digital marketing. Businesses can concentrate on creating content that addresses current issues, gives solutions, and inspires hope during a recession. As a result, the company's brand is strengthened, and its customers perceive it to be a resourceful and sympathetic organization.
Strategies that maintain business growth under difficult economic downturns while obtaining effective digital marketing results. 
Tips for Digital Marketing Success During a Recession
To constitute most of your digital marketing efforts during a recession, consider the following tips:
Create fresh content for the buyer's journey.

To target qualified leads, use sponsored social and LinkedIn advertising. 

Prioritize SEO to make your content stand out.

Keep your audience engaged with email marketing.

Focus on conversion rate optimization

.

Review your budget to ensure you are spending your money wisely.

Understand your audience and create targeted content for their current needs.
By implementing these strategies, you can navigate the challenges of a recession while maintaining a strong digital marketing presence.
Conclusion
As it turns out,  the importance of digital marketing during a recession must be considered. Due to its cost-effective reach and agility with increased online activity, it is an essential asset for businesses attempting to survive and prosper in difficult economic times. Maintaining a robust digital presence, companies survive a recession and position themselves for long-term success, ensuring they remain competitive in an ever-evolving business landscape.
---
FAQs
---
Can digital marketing save money during a recession?
---
Is it too late to start digital marketing during a recession?