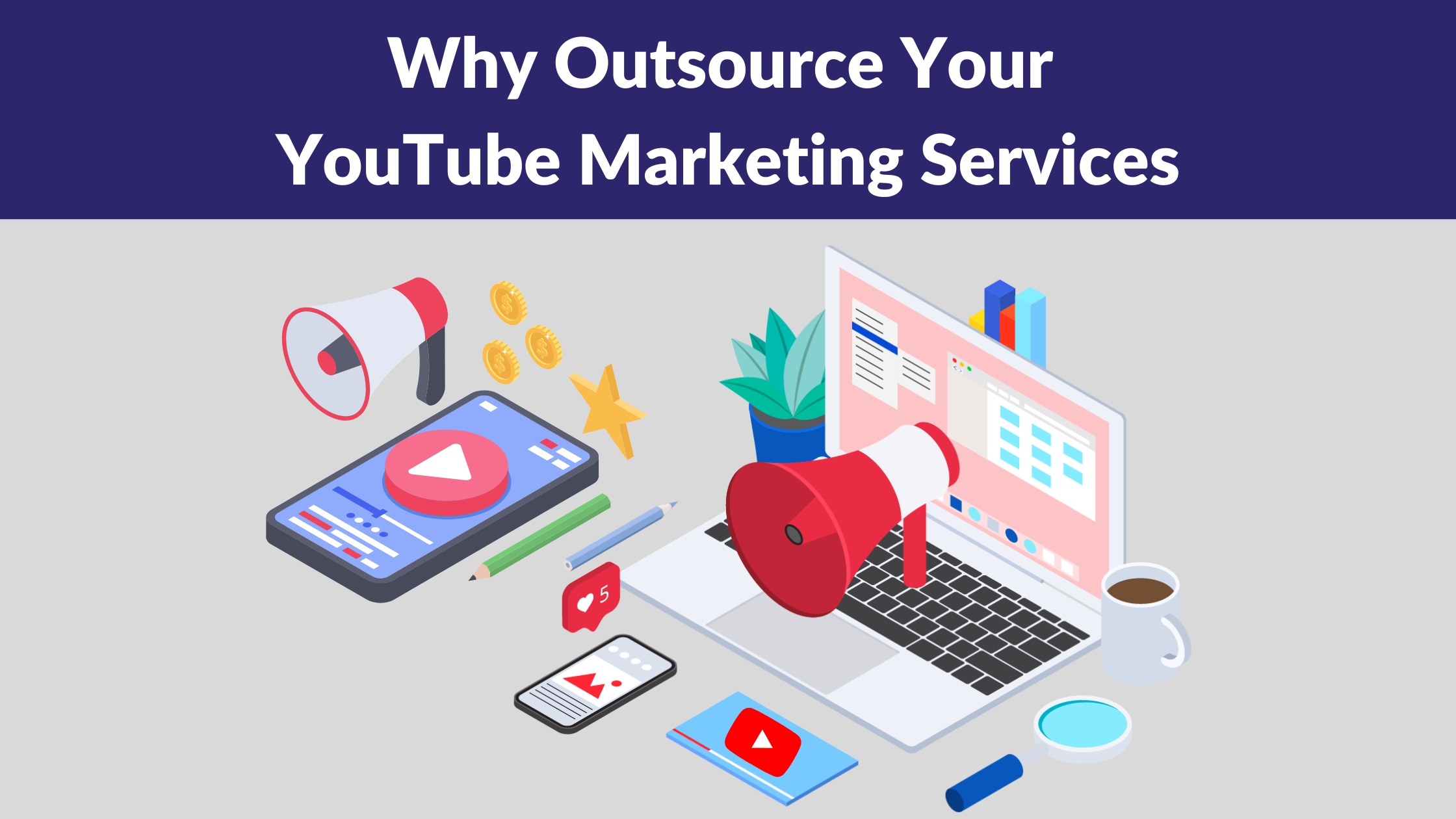 Welcome to the world of YouTube, where creativity meets engagement and brand awareness. Whether a startup or an established brand, YouTube offers many opportunities to showcase your products, services, or ideas to a global audience. From product demonstrations and tutorials to entertaining vlogs and behind-the-scenes glimpses, the possibilities are endless. 
So join us as we explore the exciting world of marketing on YouTube and unlock the power of video content to drive your business forward.
YouTube has become a dominant force in the digital marketing landscape. With over 2 billion monthly active users, it has established itself as the go-to plan for video content. The platform is an excellent opportunity for businesses looking to reach new customers and build their brands. 
However, creating a successful YouTube marketing strategy requires time, effort, and expertise. You can review our blog, 12 Staggering Ways To Improve Your YouTube Marketing Strategy, to learn more about building. This is where outsourcing YouTube marketing to a professional service provider comes in.
How To Choose A Perfect YouTube Marketing Agency
Choosing the right YouTube marketing service is crucial for the success of a channel. Here are some factors to consider when selecting a service:
Experience and Expertise:
Look for services with a proven track record of creating successful YouTube channels and videos. Check their portfolio and client testimonials to gauge their level of expertise.
Services Offered: 
Different services for marketing on YouTube offer different solutions. Ensure the service you choose offers the specific services you need, such as video production, SEO optimization, channel management, or advertising.
Cost: 
The cost of services can vary greatly depending on the level of service and expertise. Consider your budget and choose a service that offers the best value for your money.
Communication: 
Clear communication is essential for successful outsourcing. Choose a professional service provider that communicates clearly, responds promptly, and informs you of its progress.
Cultural Fit: 
Finally, choosing a service that aligns with your values, mission, and brand image is essential. Look for services that share your vision and can represent your brand effectively.
Handling out your marketing for YouTube can greatly expand your reach and increase your video views and subscribers. 
Here are some benefits and best practices to consider when working with YouTube marketing services:
Benefits Of Outsourcing Your YouTube Marketing:
Your business can benefit in various ways from outsourcing. First, it enables you to benefit from the knowledge of experts who adapt to developing interesting content, optimizing films for SEO, and advancing your brand on social media channels. This can boost your exposure and help you reach a larger audience, resulting in more views, likes, and subscribers. By allowing you to concentrate on your primary business operations, deploying can also help you save time and resources.
Access To Expertise: 
The marketing agency typically has a team of experts who are well-versed in YouTube's algorithms, audience targeting, and video optimization techniques. You can tap into their knowledge and experience by utlizing your YouTube marketing to create more effective and engaging videos. At BetterGraph, we provide you with over 10 years of expertise in digital marketing.
Time Savings:
Managing a YouTube channel can be time-consuming, especially if you're trying to create high-quality videos regularly. By handling your marketing, you can free up time to focus on other aspects of your business or personal life.
Cost Savings:
Hiring a full-time employee to manage your YouTube channel can be expensive. Outsourcing your YouTube channel management can be a more cost-effective, especially if you only need occasional support.
Best Practices For Working With Services For YouTube: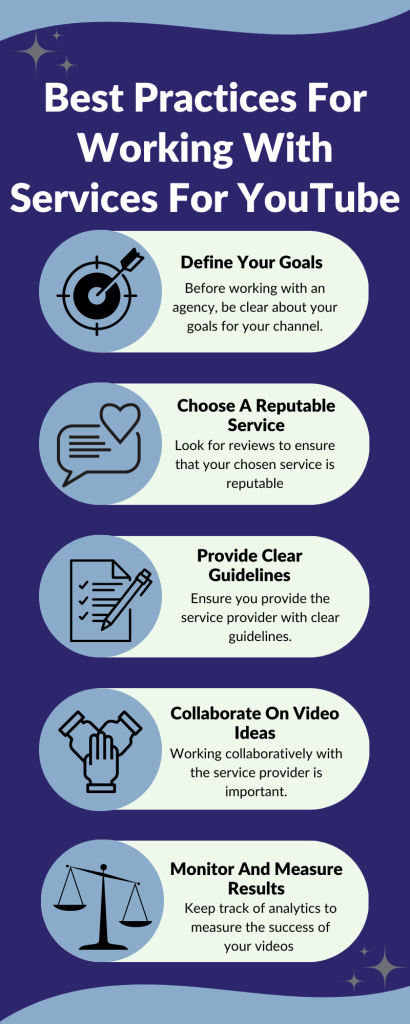 Define Your Goals: 
Before working with an agency, be clear about your goals for your channel. Do you want to increase your views and subscribers, drive more traffic to your website, or promote a specific product or service? Ensure your goals align with the services offered by the services you choose.
Choose A Reputable Service:
Many YouTube marketing services are available, so research before selecting one. Look for reviews, testimonials, and case studies from other clients to ensure that your chosen service is reputable and has a track record of success.
Provide Clear Guidelines: 
Ensure you provide the service provider with clear guidelines for your brand voice, messaging, and target audience. This will help ensure their videos are consistent with your brand and resonate with your target audience.
Collaborate On Video Ideas: 
While you may be outsourcing your YouTube channel, working collaboratively with the service provider to develop video ideas that align with your goals and brand is important. Provide feedback on video scripts and concepts to ensure they align with your vision.
Monitor And Measure Results:
Keep track of your YouTube analytics to measure the success of your videos and the impact of the service taken on for YouTube. This will help you make informed decisions about future video content and marketing efforts.
Video Out On YouTube With BetterGraph
Handling out the management of your YouTube channel for marketing to a professional marketing agency can be a smart investment for businesses and individuals looking to grow their brand, increase engagement, and drive traffic to their YouTube channel. The services offer a wide range of expertise, including audience research, content creation, optimization, and promotion.
By working with a YouTube marketing agency, businesses and individuals can save time and resources by leaving the work to experienced professionals who can manage campaigns, optimize content, and track metrics for success. This not only improves the efficiency of the marketing process but also ensures that campaigns are effective and impactful.
Moreover, YouTube marketing services also bring fresh perspectives and creative ideas, helping businesses and individuals stay ahead of the competition and adapt to changing trends and algorithms. With expert guidance and support, businesses and individuals can build a strong presence on YouTube and drive business growth.
Ultimately, managing your YouTube channel management can be a strategic decision that pays off in the long run. By partnering with a reliable YouTube marketing agency, businesses, and individuals can access the expertise and resources they need to succeed on the world's largest video-sharing platform.
---
FAQs
---
Why should you outsource your YouTube marketing?
---
What to look for when outsourcing a YouTube Marketing agency?