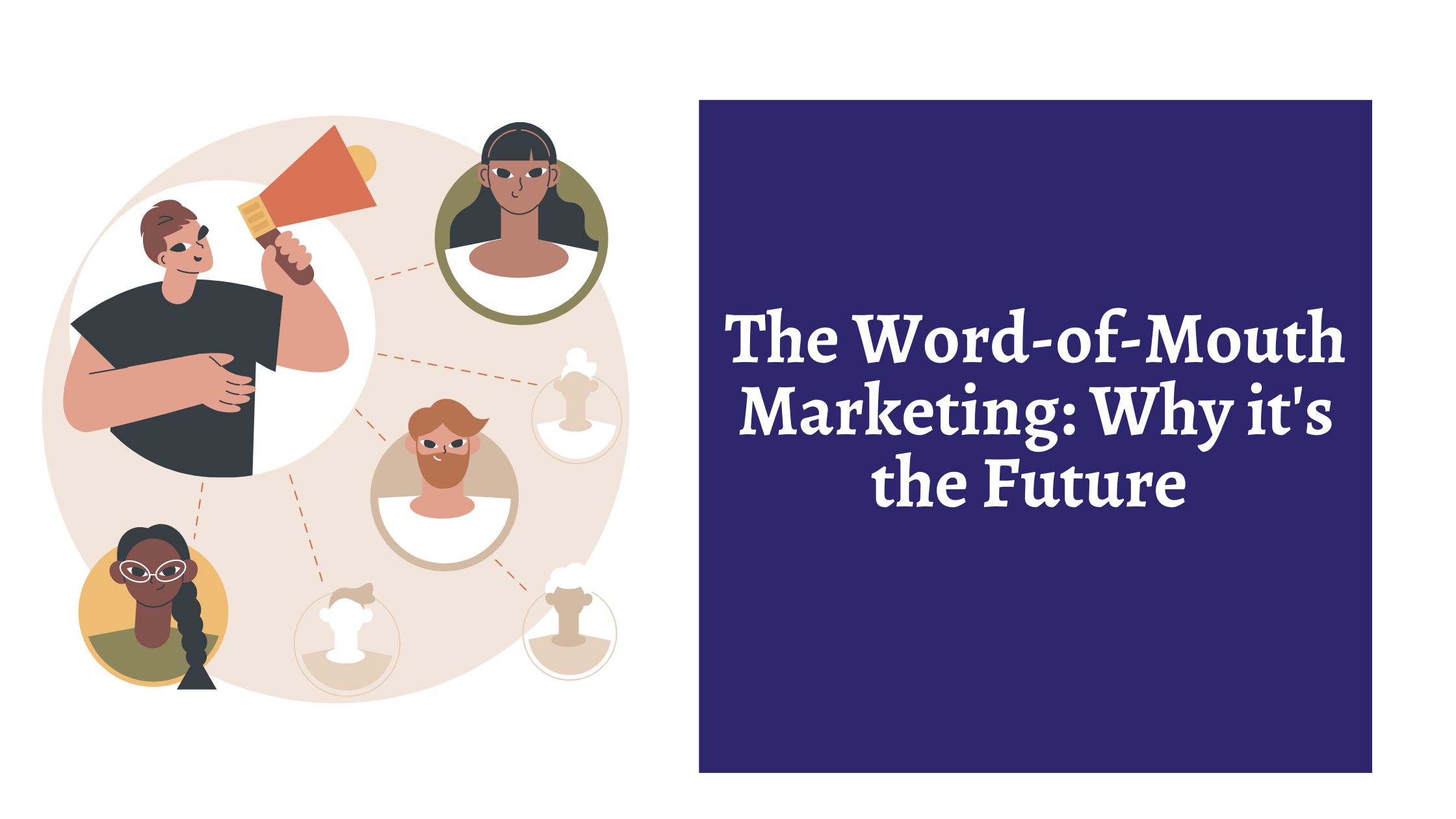 As long as language and commerce have coexisted, word-of-mouth has existed. People relied on others to decide what to try regardless of the era, especially before advertising was a formal activity.
Word-of-mouth marketing (WOMM) was first defined in the 1970s, before the advent of the internet, as a happy customer (or prospective consumer) making an oral or written endorsement for a company.
This used to involve holding product-focused teleconferences, including client testimonials in catalogs, flyers, TV or radio commercials, or any other outbound marketing technique that was once the norm.
The age at which old age and new age collide The beginning of the internet was WOMM.
When social media took off, almost every company built a website, and the internet inexorably became a part of our daily lives, WOMM underwent a complete transformation. Brand tales are now widely shared online, both good and bad.
Let's study about Word of Mouth Marketing
Understanding Word of Mouth Marketing
Word-of-mouth marketing, sometimes known as "seeding," differs from organic word-of-mouth recommendations of a company's goods and services. It may emerge from a company's promotion, encouragement, or influence.
Word-of-mouth advertising includes situations like when a customer has a nice dining experience because their expectations were fulfilled and tweets about it later or when a user has a terrific product experience and tells everyone they know about it. Also, word-of-mouth advertising usually results in additional interactions after the initial one.
Word-of-mouth marketing is exactly what it sounds like: it occurs when pleased customers tell their friends, family, and coworkers about a product or service. These suggestions can be given verbally or in writing, including through social media posts and online reviews. WOMM is more significant than ever in the digital era because consumers trust peer recommendations more than any other kind of advertising.
What Makes It The Future Of Marketing
In today's digital age, businesses constantly search for new ways to connect with customers and generate sales. While traditional marketing tactics like TV and print ads can still be effective, they often come with a high price tag and don't always deliver the results companies need. Many businesses are turning to word-of-mouth marketing (WOMM) as a powerful tool to promote their brand and boost sales.
So what makes WOMM the marketing of the future? Here are a few justifications why companies ought to think about utilizing this potent tactic:
1. It's Cost-Effective: 
Word-of-mouth marketing is generally less expensive than formal advertising, which frequently carries a large price tag. Although you might need to spend money on technologies to track and assess the results of your WOMM efforts, obtaining glowing recommendations from pleased clients actually costs very little. This implies that regardless of their financial constraints, companies of all sizes can benefit from WOMM.
2. There's No Doubt About It:
Authenticity is more crucial than ever in a world where customers are inundated with commercial messages daily. Customers sincerely believe in the goods or services they recommend to their friends, family, and coworkers. This sincere recommendation may have more impact than any sophisticated marketing strategy.
3. It Can Be Scaled: 
Even while WOMM could initially only have a few happy clients, it has the potential to expand greatly. Your word spreads as a result of those customers telling others about their satisfying experiences. Businesses may convert their delighted consumers into brand ambassadors who help spread the word about their goods or services by putting the proper tools and strategies in place.
4. It's Quantifiable: 
WOMM might be challenging to track and gauge, but some tools and approaches can help firms comprehend the results of their efforts. There are various ways to gauge the success of your WOMM efforts and make data-driven decisions about maximizing them, from monitoring online reviews and social media mentions to implementing referral programs to promote word-of-mouth referrals.
5. It Builds Trust: 
In today's digital age, trust is more important than ever. When customers see positive reviews and recommendations from their peers, they're more likely to trust and do business with a particular brand. This can lead to increased customer loyalty, higher retention rates, and, ultimately, more sales.
Famous Brands That Are A Current User Of The Technique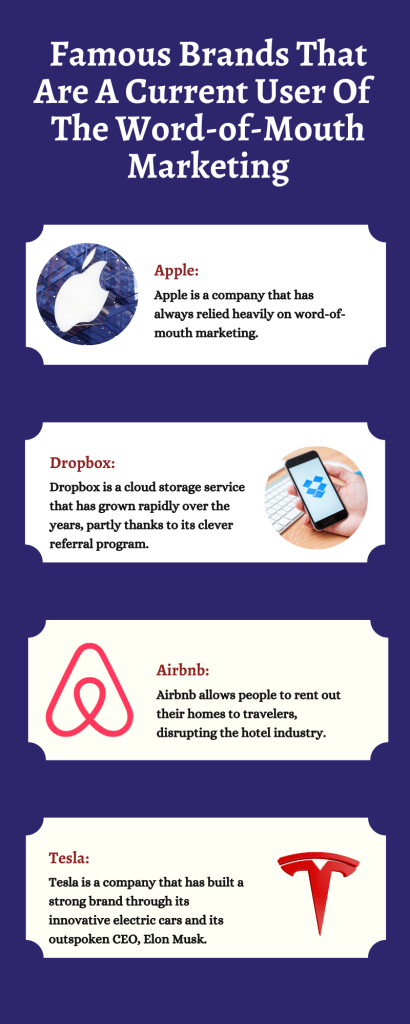 Apple: 
Apple is a company that has always relied heavily on word-of-mouth marketing. By creating innovative and visually striking products, Apple has built a loyal following of customers who are happy to recommend their products to others.
Dropbox
: 
Dropbox is a cloud storage service that has grown rapidly over the years, partly thanks to its clever referral program. By incentivizing customers to invite their friends to sign up for the service, Dropbox has grown its user base through word-of-mouth recommendations.
Airbnb: 
Airbnb allows people to rent out their homes to travelers, disrupting the hotel industry. The company has built a strong brand through its user-generated reviews and recommendations, which have helped to build trust among potential customers.
Tesla: 
Tesla is a company that has built a strong brand through its innovative electric cars and its outspoken CEO, Elon Musk. By creating products that are both eco-friendly and visually stunning, Tesla has built a loyal following of customers who are happy to recommend the company to others.
From Word To Market
In conclusion, word-of-mouth marketing is the future because it's cost-effective, authentic, scalable, measurable, and builds trust. As businesses search for new and effective ways to connect with customers and generate sales, WOMM will likely become an increasingly important tool in their arsenal. By investing in strategies that help them harness the power of their satisfied customers, businesses can build strong, authentic relationships with their audience and drive sustainable growth for years to come.