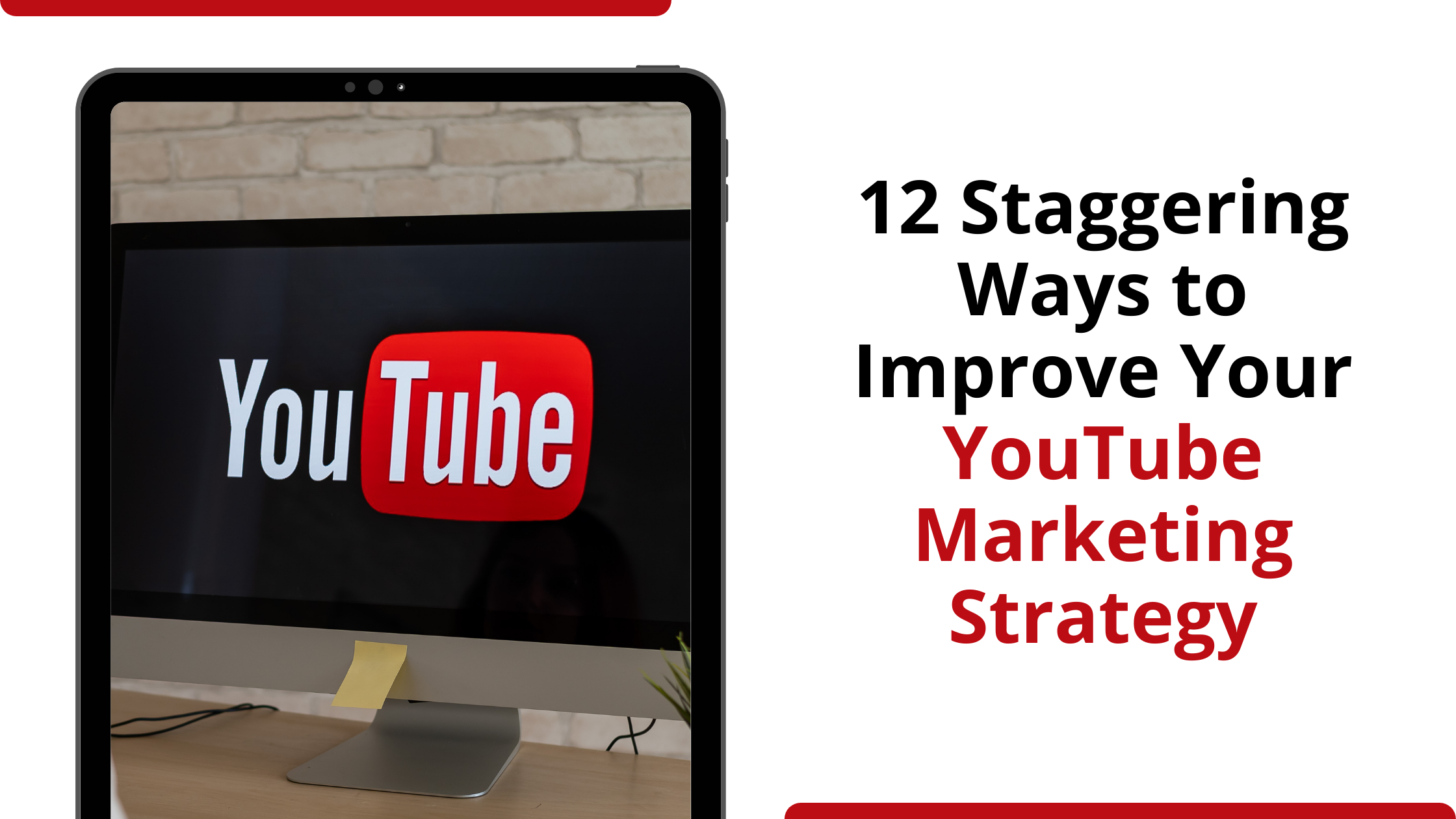 Everyone watches YouTube. With over 75 percent of Americans aged 15 and up using it, YouTube has over 2 billion monthly active users, making it the most popular website behind Google.
You can advertise your business on YouTube by using its large audience. Without a strategy, yelling about your things from the rooftops will not get you anywhere.
YouTube has a large audience. To reach out to key audience segments, you must use it correctly. The key to winning over your audience is to set up a great YouTube marketing strategy. Create a good YouTube marketing strategy to help you gain traction with your target demographic.
Here are a few effective tactics to ensure that your channel's visibility improves over time. But, before that, let us understand what youtube marketing is. 
What Is YouTube Marketing? 
The process of the promotion of a business or product on YouTube's platform by posting valuable videos on a company's channel or by employing YouTube advertising is known as YouTube marketing.
You may promote your business on YouTube with YouTube marketing services. Even though video is a powerful medium, YouTube continues to develop quicker than any other website. Since its launch, YouTube has seen a tremendous growth of 2 billion users worldwide. If you want to diversify your traffic sources or get in front of your target audience, YouTube marketing is the way to go.
Let's get started on the YouTube marketing approach.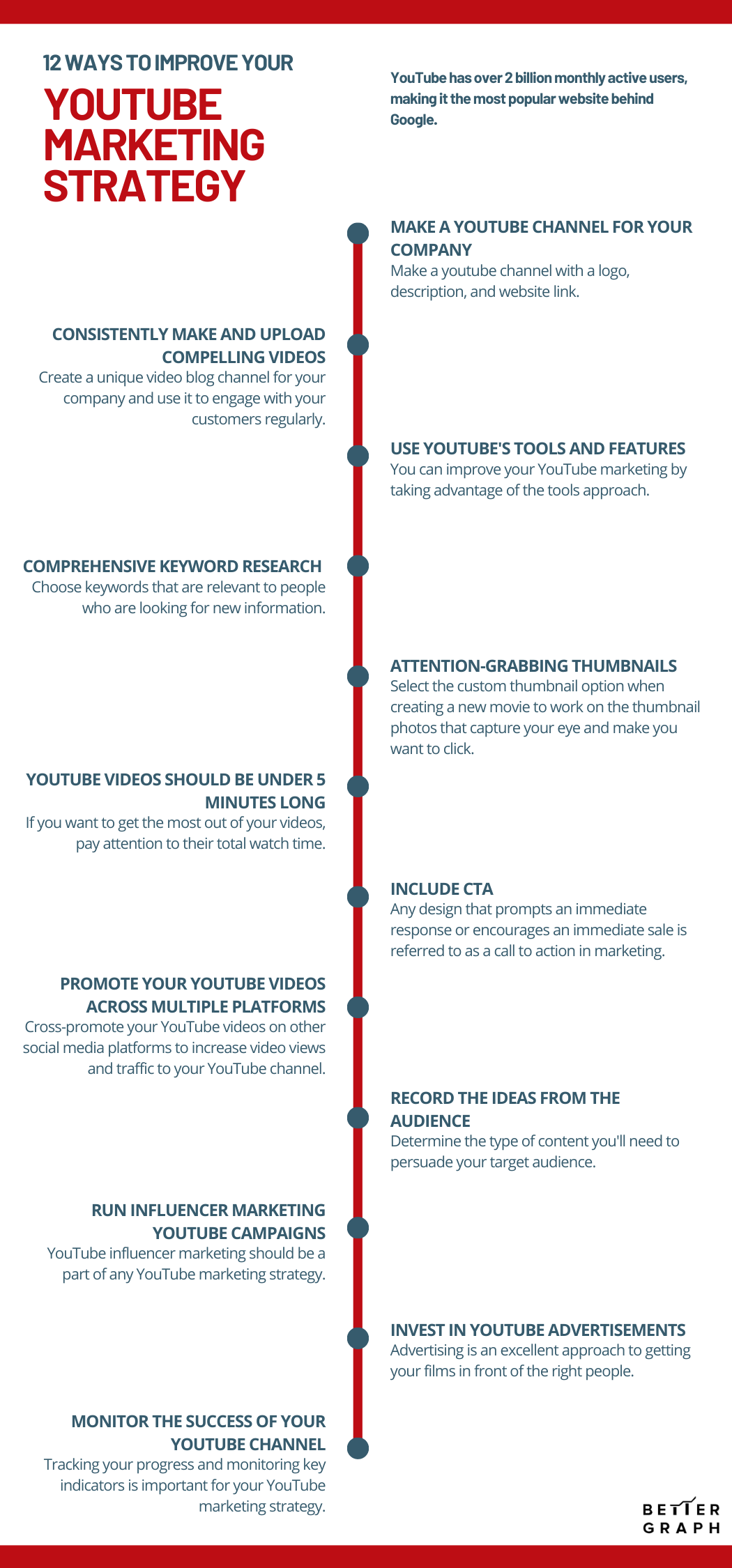 1. Make A YouTube Channel For Your Company
Your YouTube account should provide information about your firm to the general audience. Everything on your channel should reflect your company's personality, from the logo to the description. Use your company's logo to create a YouTube channel icon. On all platforms, provide a customized YouTube banner with social media icons that drive visitors to your social media profile.
Your YouTube channel's 'About' section should include a brief description of your company. You should introduce your brand to every new visitor to your website, and your description should reflect your brand voice. You should place calls to action on your website and any other sites you want your audience to visit.
Finally, separate your videos into various playlists. You can create customized playlists with company-specific names. Sort playlists by webinars, behind the scenes, and so on.
2. Consistently Make And Upload Compelling Videos To Your YouTube Channel
Create video content that gets people talking. Above all, use YouTube videos to tell the story of your firm.
You can create YouTube videos as an accompaniment to your blog or website. Invite your consumers to write quick brand reviews for you. To take your YouTube marketing strategy to the next level, get people to talk about their experiences using your products, working with your firm, etc. Create a unique video blog channel for your company and use it to engage with your customers regularly.
One of the prominent types of video content is educational. Interview professionals in the sector and seniors and subject matter experts: post video tutorials and step-by-step instructions on using your products or services.
Make appropriate video additions to your channel. Find out when the best moment is to post material when the platform's audience is most active. As you upload videos to your channel, continue to do so simultaneously.
3. Use YouTube's Tools And Features
YouTube offers a variety of tools and features to assist you in improving your marketing on YouTube approach. Add your preferred calls to action to end screens and cards. Direct your viewers to other videos demonstrating how to utilize the product and other comparable content in your playlists.
You can add transcripts to your videos. To make your movie more global, add closed captioning. It removes the language barrier, allowing your content to be consumed by audiences worldwide. You may also utilize this YouTube video function to reach out to the visually handicapped. A keyword-optimized video transcript can also assist you in improving your YouTube marketing. These fantastic tools are included with your YouTube channel. You can improve your YouTube marketing by taking advantage of these opportunities approach.
4. Comprehensive Keyword Research 
Marketers sometimes overlook the need to tailor communications to a potential consumer's stage in the purchasing process. Most users on YouTube are in the early stages of product discovery and preliminary research, which should be reflected in your keywords. Keep the following guidelines in mind:
Choose keywords that are relevant to those looking for new information.

Use the AdWords Display Planner to design the keywords you'll use in your video descriptions.

Choose keywords that receive at least 1,000 monthly impressions.

Distribute your YouTube ad money in tiny increments over prospective keywords at first.
Important Tip: Attempt to comprehend Google's reasoning for displaying video results in the SERPs. Take inspiration from these videos' titles, descriptions, and content if you're doing a comparable campaign. For example, if you Google "interesting Amazon devices," you'll get a page with four YouTube links.
5. Perfect Attention-Grabbing Thumbnails
Your YouTube videos will almost certainly face competition from at least a few comparable videos. Work on the thumbnail images that catch the eye and make you want to click by selecting the custom thumbnail option while creating a new video. Go to the Video Manager, select Edit, then Custom Thumbnail if you have old videos with bad thumbnails.
These are some suggestions that you might note:
A resolution of 1280 x 720 pixels. Low-resolution thumbnails generate far fewer clicks.

Images in PNG, BMP, JPG, and GIF formats can be submitted.

Keep your image under 2 MB in size.

Maintain a 16:9 aspect ratio.

To emphasize the importance of the content in your films, use strong colored lettering.
6. YouTube Videos Should Be Under 5 Minutes Long
People need a compelling reason to watch your YouTube video. Making extended films by simply repeating oneself will not help. As part of our YouTube marketing strategy, we optimize video length. According to a Comscore analysis, most YouTube videos are around 5 minutes long. You should pay attention to the total watch time of your videos if you want to make the most of them. You can experiment with various video lengths to find what works best for maximizing engagement.
These pointers are essential for you: 
In each YouTube video, create high-quality content.

Reduce the length of your videos as much as feasible.

Make them interesting, educational, and succinct.
7. Include CTAs
Calls to action have long been valued by YouTubers: "If you enjoyed this video, please like, comment, and subscribe!"
Plan a recurrent call to action for your viewers. Calls to action have long been valued by YouTubers: "If you enjoyed this video, please like, comment, and subscribe!" You may want to optimize for the following four significant goals for how to grow your youtube channel:
Subscriptions to more channels

Getting visitors to watch more of your channel's videos

Increasing the number of comments, likes, and shares
YouTubers usually include CTAs in their videos in the following ways:
Direct Host Mentions:

Ask your viewers to do something; this is a tactic that most influencers and even casual YouTubers employ because it has proven to be effective over time.

End Cards for Videos:

At the end of the video, display a large card with a clickable button. This video, for example, has a vast Subscribe button:

In the video description:

 You can include links, promotional and explanatory content, or a video transcript.
8. Promote Your YouTube Videos Across Multiple Platforms
Cross-promote your YouTube videos on other social media channels to increase video views and traffic to your YouTube channel.
To enhance viewership for your YouTube videos, you should undoubtedly use your existing web content. Create a curated compilation of your greatest films for your following email newsletter, write a blog article about your most tough video and the lessons you learned, and so on. For promoting youtube channel, you should create accounts on other social media networks and increase your brand's social media exposure this way.
The best way to attract a high-quality audience quickly is to have a social media presence (and you should). Customize YouTube videos for the audience you already have on social media and actively share with them.
9. Record The Ideas From The Audience 
The key to developing an effective YouTube marketing plan is having in-depth information about your target demographic. Determine your target audience to determine the type of content you'll need to persuade them.
To gather essential audience information, use a social media intelligence service. Determine who your target audience is and their demographics. Knowing their gender, age, and location will help you make movies and content that appeal to their tastes.
10. Run Influencer Marketing YouTube Campaigns
Influencer marketing on youtube should be an element of any YouTube marketing plan. Working with an Influencer has three important advantages:
The ability to communicate with a larger audience

Having access to the talents of another creative

Content diversification: All of these benefits contribute to more brand engagement.
11. Invest In YouTube advertisements
Paid content will remain an essential component of any successful YouTube strategy. Advertising is a fantastic way to get your films in front of your target audience.
Skippable TrueView in-stream Ads, 6-second bumper Ads, sponsored cards, overlay Ads, Display Ads, and Trueview Discovery Ads are the six types of YouTube ads that appear on the homepage, beneath search results, and next to related videos.
If you haven't already started using YouTube Ads to advertise your business, do so today to reap the benefits.
12. Monitor The Success Of Your YouTube Channel
Tracking your success and keeping an eye on key metrics is a vital element of your YouTube marketing plan. Obtain information on the success of your YouTube channel by using YouTube analytics tools. This tool can track metrics like view time retention, top videos, video-by-video engagement, etc.
You can create scheduled reports for specific periods. You may also produce reports to see all of your social media analytics over a particular period. Use these data-driven insights to find content with a higher audience interaction and response level. This can inspire you to create better video content strategies.
If you wish to know more about youtube marketing services, read our blog: Everything you need to know about youtube marketing services. 
Final Thoughts
A YouTube marketing strategy begins with great content. Still, many more variables can be tweaked and experimented with to generate an explosive impact for a brand that wants to take its platform to the next level. The techniques listed above are tried-and-true strategies; by following them and paying attention to the results, you'll pave the route to becoming a significant player in whichever sector you choose. 
Instead of just publishing simple promotional videos on YouTube, YouTube Marketing in 2022 will add spice to the famous video culture by providing multiple benefits for brands. YouTube is a beautiful medium for reaching a wide range of people, which you may use.
Create engaging video material for your audience, capture their attention with thumbnails, hook them, keep your word, and follow through on your promises. A crucial aspect is to stay true to your brand and stay honest with yourself. Keep an eye on any changes, evaluate how they affect your audience's behavior, and revise your YouTube strategy as necessary.