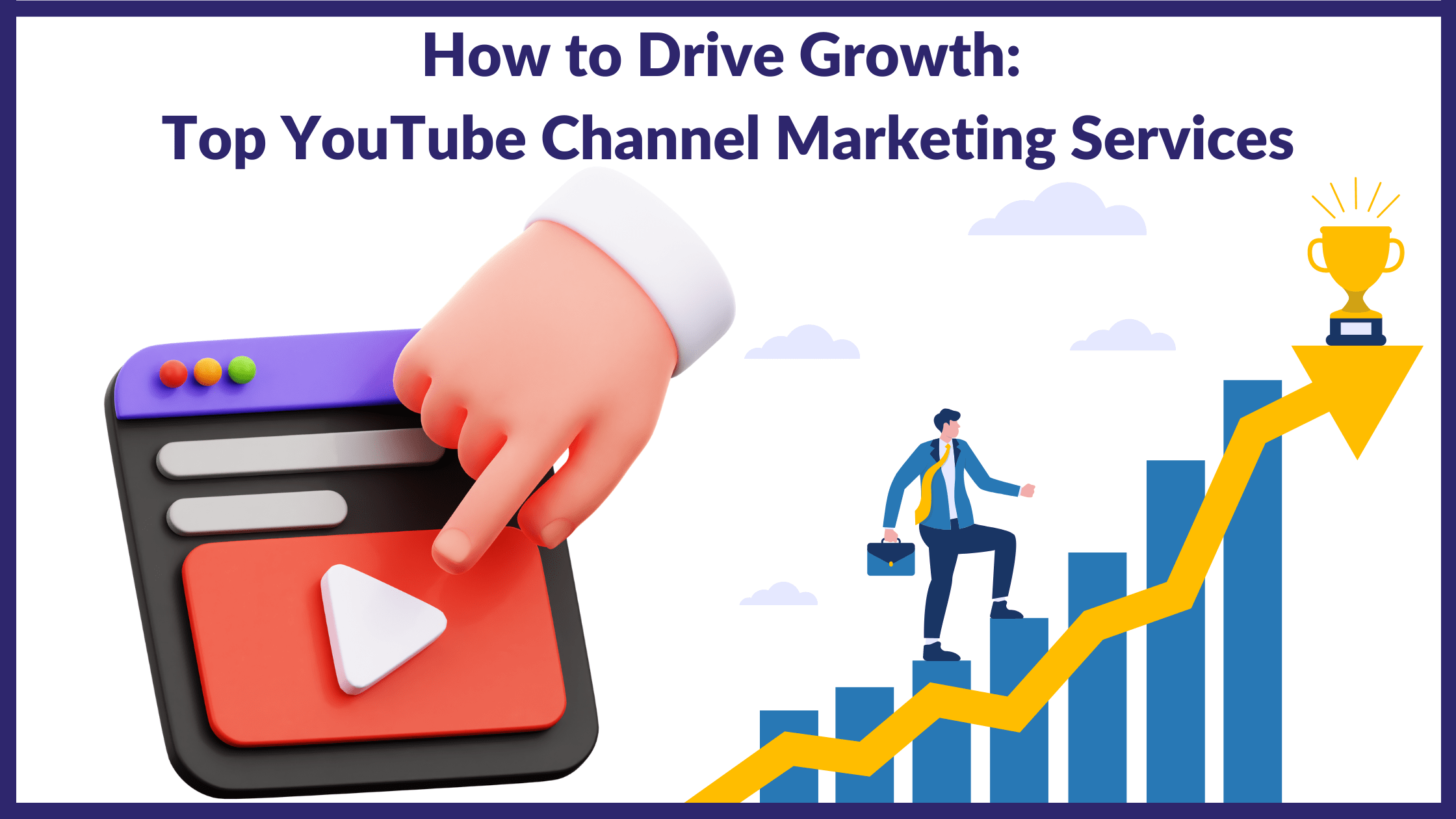 YouTube, my friend, is driving wonders. With over 2 billion active users, it stands to be one of the most used search engines in the world. Wondering how to let's dive into today's blog and learn about youtube channel marketing services.
YouTube is known to be one of the best video marketing services worldwide. Starting in 2005, it has gained billions of people and over 38 million active channels.
Youtube channels????
YouTube channels are accounts set up by people or groups to publish and distribute videos on various themes. They can cover everything from humor to entertainment, learning, vlogging, music, gaming, and more.

When marketing digitally, YouTube plays an important role in every business running its channels to reach its targeted audience. We at BetterGraph also run our own channel with the name  BetterGraphofficial.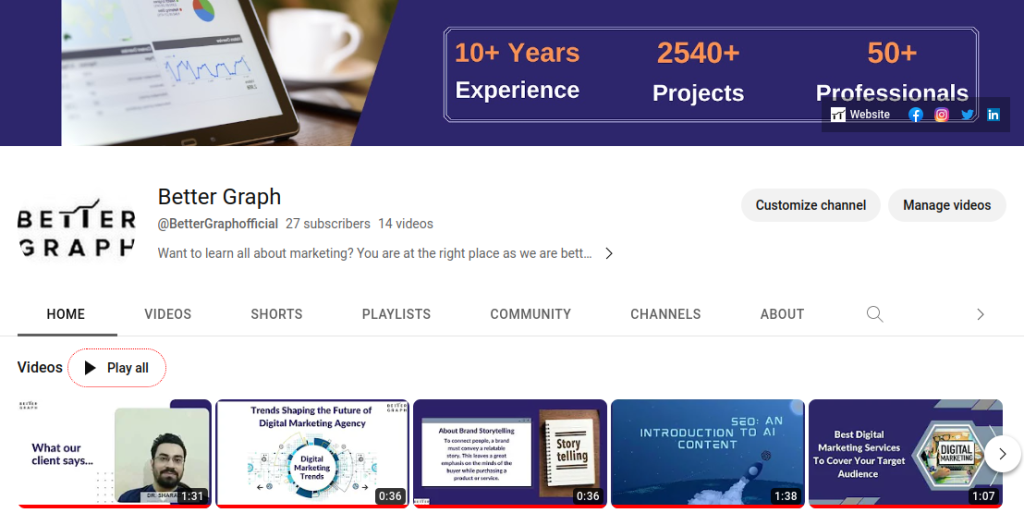 Talking about our channel, we focus on the trends and best practices in the field of digital, covering the latest updates on tools and practices.
Similarly, many businesses use their channels on youtube. The channels create to cater to the essence of the businesses and individuals and also certain their vision.
An Overview: YouTube Channel Marketing Services
Having a YouTube channel is only the first step in online video production's huge and evolving world. You need a thorough YouTube Channel Marketing plan if you want to have an effect, grow your following, and succeed.
YouTube marketing services encompass a wide range of professional services and methods aimed at increasing a YouTube channel's exposure, engagement, and growth. These services are offered by marketing companies or professionals who focus on using YouTube as a marketing platform.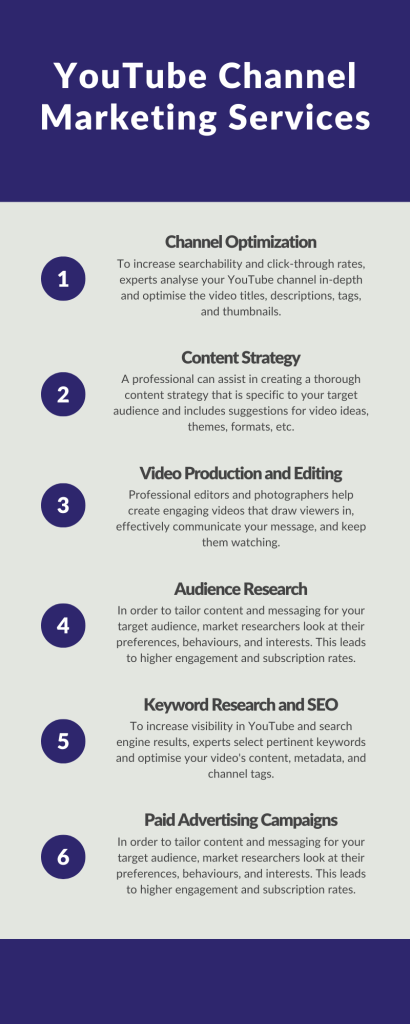 Channel Optimization:

Experts conduct an in-depth analysis of your YouTube channel and optimize video titles, descriptions, tags, and thumbnails to improve searchability and click-through rates. YouTube channel marketing can be a great way to enhance growth.

Content Strategy:

Professionals help develop a comprehensive content strategy tailored to your target audience, including video ideas, themes, formats, and scheduling to increase viewer engagement and retention.

Video Production and Editing:

Skilled videographers and editors assist in producing high-quality videos that capture attention, convey your message effectively, and maintain viewer interest.

Audience Research:

Market researchers analyze your target audience, their preferences, behaviors, and interests to tailor content and messaging, resulting in higher engagement and subscriptions.

Keyword Research and SEO:

Experts identify relevant keywords and optimize your video content, metadata, and channel tags to improve visibility in YouTube and search engine results.

Paid Advertising Campaigns:

Professionals create and manage targeted advertising campaigns on YouTube, utilizing features like TrueView ads, targeting options, and remarketing.
YouTube Channel Marketing Tips
YouTube channel marketing services are specialized products and services created to assist businesses and individuals in maximizing their YouTube presence, increasing exposure, and successfully engaging with their target audience.
These services use a variety of tactics and strategies to propel growth, boost subscriber numbers, and expand the influence and reach of YouTube channels.
Here are some tips that can be beneficial in channel marketing for Youtube:
For your content to resonate with your target audience, you must first understand who they are. Find out about their preferences, hobbies, and demographics. This information will guide your content production and marketing tactics.
The channel must produce high-quality, interesting content to draw in and keep viewers. While researching hot subjects in your specialty, add your distinctive viewpoint and voice to your films. Create a content plan that caters to the needs and interests of your audience.
Engage with your viewers by responding to comments, asking questions, and encouraging them to leave their thoughts. This fosters a sense of community and encourages viewers to consistently return and engage with your content.
Use your online presence on other social media sites to draw attention to your YouTube channel. Share snippets of your videos, behind-the-scenes photos, or teasers on social media sites like Instagram, Twitter, or Facebook. Add a YouTube channel link to your social media accounts and posts to increase traffic and promote engagement across platforms.
Keep updated with your niche's trends and hot subjects. While adhering to the topic of your channel, create content that capitalizes on prevailing trends, difficulties, or events.
Utilise YouTube's powerful analytics tools to learn more about the effectiveness of your channel. Keep track of statistics like views, watch time, audience characteristics, and engagement levels.
Conclusion
You can optimize your channel, engage your audience, and promote growth by implementing these YouTube channel marketing suggestions.
Creating an active community is essential for YouTube's long-term success.
By participating in discussions in the comments section, answering viewers' questions, and encouraging a feeling of community through active engagement, YouTube channel marketing services may help you connect with your audience.
Monitoring important indicators and performance analysis is crucial for evaluating the success of your YouTube channel marketing campaigns.
Additionally, they can help you make the most of YouTube's community tools, including live chats, community posts, and polls, to promote audience interaction and build a devoted fan base. To stay ahead of the competition, keep in mind to be genuine, try out new tactics, and adjust to the YouTube environment as it changes.
Connect With BetterGraph Today!
Don't let people ignore your YouTube channel. With the help of our YouTube Channel Marketing Services, you can unleash the full potential of your channel, develop a closer relationship with your viewers, and experience the development and success you desire.
Allow us to be your dependable partner while you increase your YouTube presence. To begin your path to YouTube success, get in touch with us right away!
We also have experience with sponsored YouTube advertising campaigns. We ensure that every advertising dollar is used wisely to maximize your channel's impact, whether running targeted advertisements. This is done to attract new viewers or create remarketing campaigns to reconnect with your current audience.
We also offer helpful advice and assistance as a part of our YouTube Channel Marketing Services. To assist you in navigating the always-changing YouTube environment, our staff is instantly ready to respond to your inquiries, give insights, and suggest best practices.
---
FAQs
---
What are YouTube Channel Marketing Services?
---
Are comments a good option for YouTube channel engagement?
---
Is Social media marketing (SMM) used for Youtube?