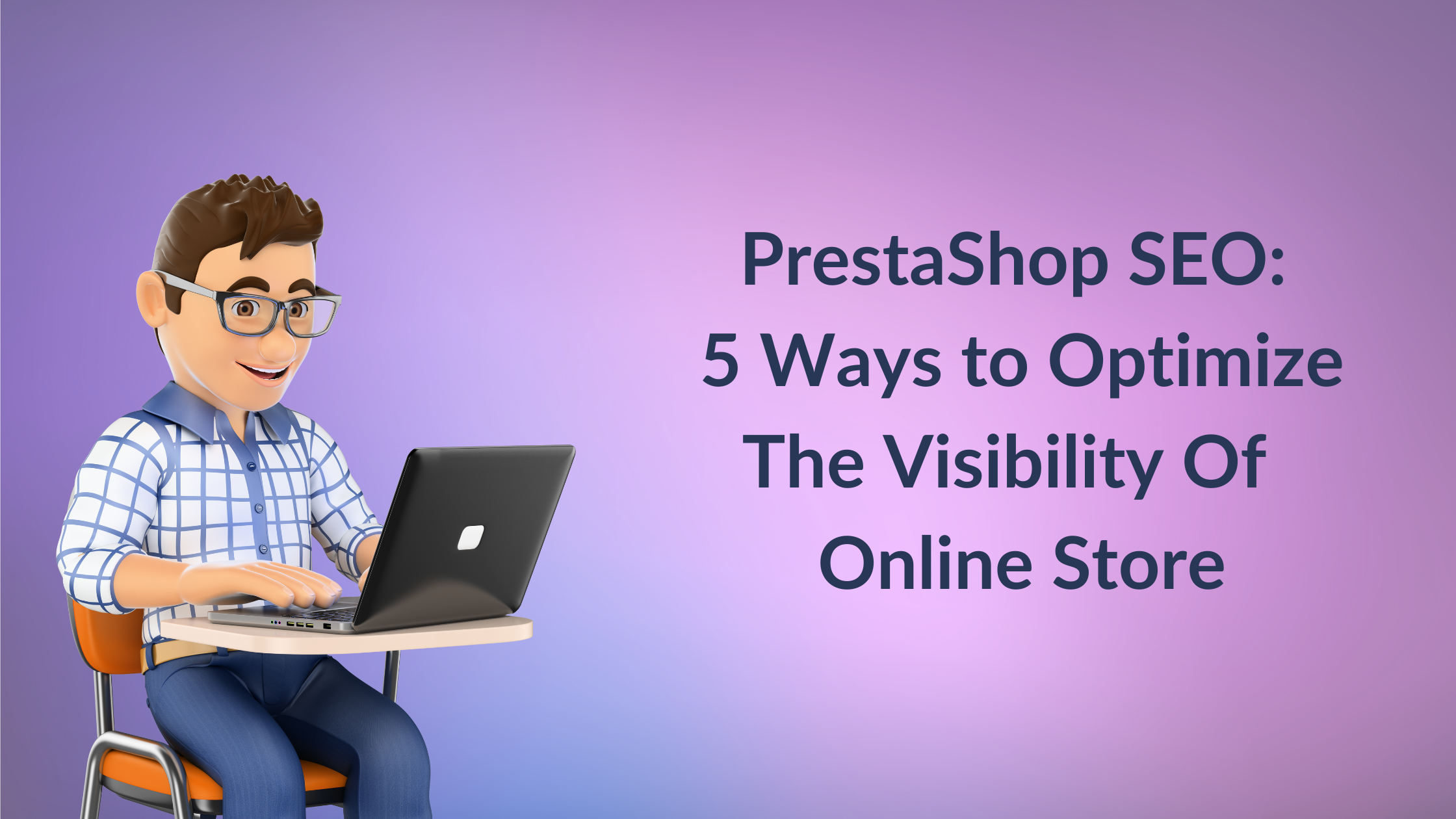 Times have changed, same goes for technology. Technological advancements have made it very clear how digital space has made its existence strong in the market. With the growing popularity of online stores, there are various platforms you can start with.
The same goes for PrestaShop, which is none other than a platform to grow and establish your online store.
Let us understand PrestaShop SEO in detail.
What Is PrestaShop?
PrestaShop is an open-source e-commerce platform. It is recognized as a user-friendly platform with a wide range of customizable features. PrestaShop also meets the requirements for the "freemium" business model, which entails providing customers free access to essential functions in exchange for a fee for more or more sophisticated features.
In our previously published blog, E-COMMERCE SEO: The Definitive Guide 2022, we mentioned how for any E-Commerce online store, it is very crucial to carry SEO tactics to grow better. SEO is vital if you want to get the most out of PrestaShop and achieve exceptional results.
It is clear that for better growth of the PrestaShop store, it is essential to growing with search engine optimization.
Understanding PrestaShop SEO?
PrestaShop SEO (search engine optimization) refers to a group of advertising strategies used to boost the visibility of PrestaShop websites on search engine results pages (SERPs). Search engine traffic is more likely to come from your page the higher it ranks in SERPs. 
Various tactics are used by PrestaShop SEO, such as thorough keyword research, link building, and content marketing. You can use these techniques to improve a website's position in search engine rankings. Unlike other marketing tactics like pay-per-click (PPC) advertising, SEO improves and maintains your website's ranking positions, allowing you to continue receiving free visitors indefinitely. PPC yields result quickly but offer no long-term benefits. Because of this, a lot of individuals think SEO is a more successful marketing strategy. Your company can rank higher in search engine results pages (SERPs) by optimizing your website, which may also help to boost traffic and revenues.
The importance of employing PrestaShop SEO tactics clearly shows a better and optimized online store with opportunities to grow. With the developing significance of PrestaShop SEO, businesses look for PrestaShop SEO Agency in India to perform better online.
So with the essence, let's get started with the 5 ways to optimize the PrestaShop store for visibility of the online store.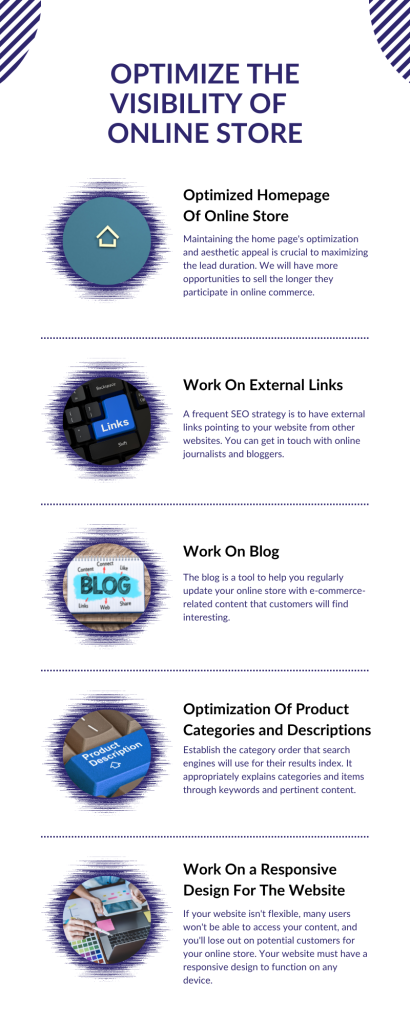 Here we are with a detailed explanation of the above-mentioned ways.
1. Optimized Homepage Of Online Store
You very well understand that the very first interaction of a potential customer is your homepage. It is essential to keep your homepage well-set and optimized. There, the user will pick whether to stay on that website or go on to another. Maintaining the home page's optimization and aesthetic appeal is crucial to maximizing the lead duration. We will have more opportunities to sell the longer they participate in online commerce.
To take care of the site, you can provide accurate information and a unique web design, add product descriptions, optimize keywords, and convey values. Remember that the main objective is for potential clients to distinguish your online store from competitors easily.
2. Work On External Links
A frequent SEO strategy is to have links pointing to your website from other websites. You can get in touch with online journalists and bloggers. Bloggers might consent to write an article on your product and link to your website. This will improve the likelihood that your site will receive traffic from these links and aid in developing external links. Additionally, you may distribute your press releases on other websites, which is a great way to drive traffic to your website. Writing guest blogs is an additional method of obtaining external links. In these posts, you can receive a referral to your website. Another option is to search for websites that have referenced your website without including a link. You could urge them to include a link to your site.
3. Work On Blog
The blog is a tool to help you regularly update your online store with e-commerce-related content that customers will find interesting. To increase visibility, you must utilize the blog as an addition to your online store, not its sole component.
Search engines will place you better and boost traffic to your online store if you include keywords and pertinent information. Additionally, you must not ignore the importance of having concise, descriptive URLs that contain the names of the products in the domain.
You can increase your PrestaShop's SEO by updating your blog and using specific URLs.
4. Optimization Of Product Categories and Descriptions
Establish the category order that search engines will use for their results index. It appropriately explains categories and items through keywords and pertinent content. There must be a specific order in the online store.
Your category and product descriptions will be improved, and you'll give your potential buyers information they can use. It also includes internal text, graphics, and connections that reroute from one category to another to improve the content and increase internal traffic on the site.
Make yourself stand out from the competition by optimizing your content in a clear, unique style and encouraging customers to browse your online store for extended periods.
5. Work On a Responsive Design For The Website
Today, mobile devices account for more than 50% of the web traffic to your online store. Many users can only access your content if your website is flexible, and you'll lose out on prospective clients for your online store.
Because of this, your website must have a responsive design to work on any device. With this feature, you can give visitors to your online business a positive shopping experience and make it simpler for them to learn more about you and order your goods.
Make yourself stand out from the competition by optimizing your content in a clear, unique style and encouraging customers to browse your online store for a more extended time.
Final Thoughts
Few people deny the importance of SEO today, but many are hesitant to take autonomous steps to improve their search engine rankings. Since they don't take any action to raise their website's position in the search results because they think it would be too challenging, their businesses suffer.
Although improving a project's SEO performance is challenging, you may raise your online store's visibility and provide better results if you have the correct information. You must invest some effort and time.
Similar to other websites, PrestaShop websites have SEO. One must exercise prudence from the very beginning to the very finish.
With the ways mentioned above to improve visibility, you can reach a prominent audience more effectively. For any doubts, you can just comment below.