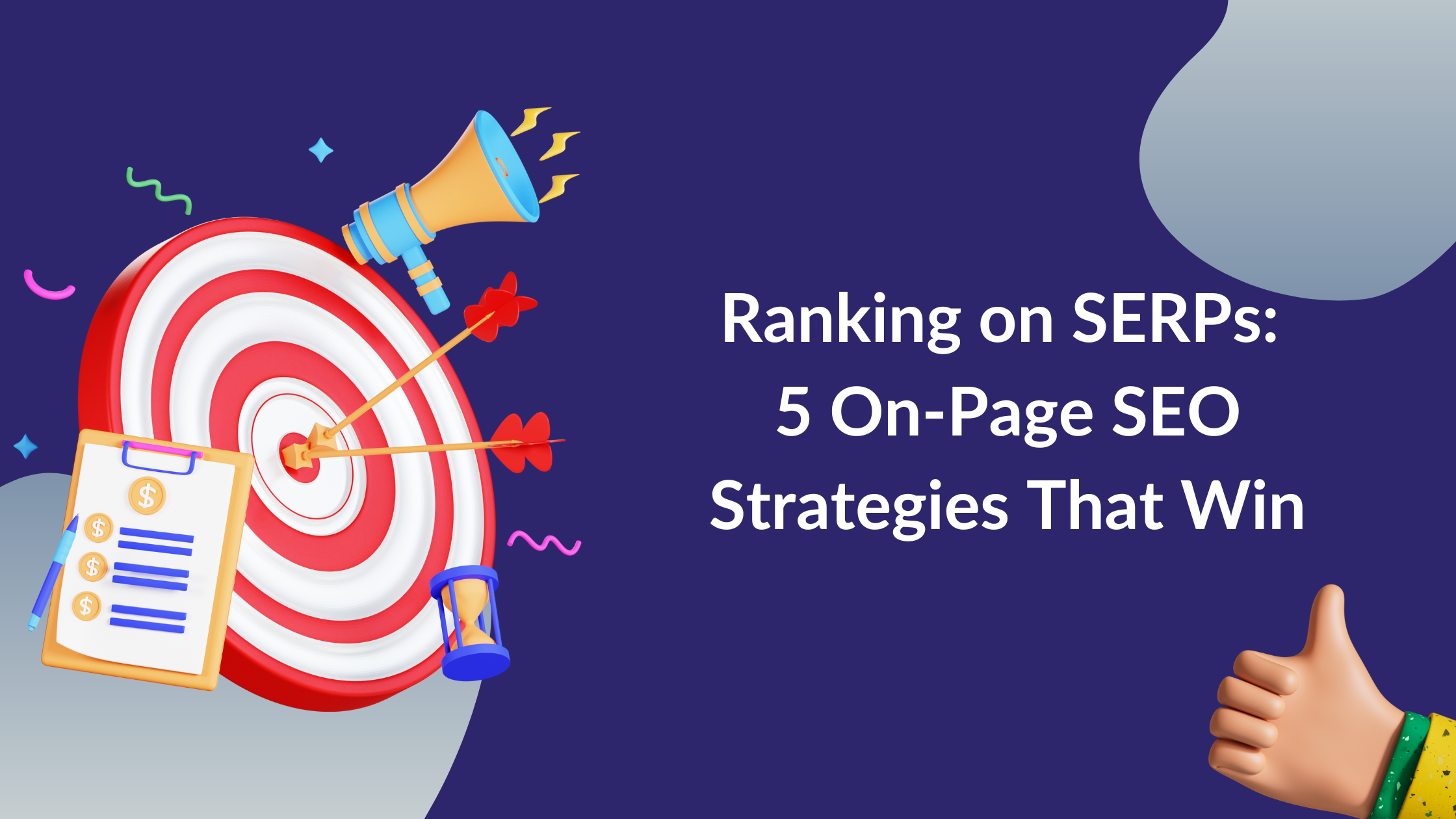 Hello Fam!
You know what? As the game of 🍭 Candy Crush 🍭 goes on and on!
SEO is the same practice you are into, my friend. But if you keep reading and working, you'll achieve your desired results.
Welcome back to the blog, and we hope you missed us. The point that needed to be added was the previous blog, 6 Off-Page SEO Strategies For Businesses That Can Be A Wise Investment, where we mentioned a click of note to our upcoming blog. So here we are!
The off-page SEO strategies, as mentioned, are techniques, tactics, and efforts you use to promote your content on third-party websites across the internet. 
Having a website with poor on-page optimization is like inviting guests to a banquet and failing to prepare the meal! Faulty on-page SEO is repulsive to more than just online users. In fact, search engine algorithms and crawlers are more challenging at times indexing your page than humans.
Let us learn about On-page SEO.
What Is On-page SEO
On-page SEO is the strategy of addressing the specific needs of web pages to rank higher in search engines and get more relevant traffic. In contrast to off-page SEO, which refers to links and other external signals, it relates to a website's content and HTML source code that can be optimized.
SEO has evolved, so staying current with best practices is critical. We strongly advise people new to on-page SEO to read our What Are the Crucial Benefits of SEO Service? A blog to get to know more about the different aspects of SEO.
Search engines use keywords and other on-page SEO features to determine whether a page matches a user's search intent. The search engine then offers the page to the user if it is relevant and beneficial. In other words, when ranking pages, search engine on-page SEO signals.
Although the algorithm is constantly changing, Google continues prioritizing user experience. Google suggests concentrating on "people-first content." Creating meaningful content that meets user intent is, therefore, more critical than ever.
Key Note: The helpful content upgrade intends to reward better content where visitors believe they've had a gratifying experience, whereas content that fails to match a visitor's expectations will not work well.
Let's examine how you can alter your content to reflect best practices for on-page SEO with the 5 strategies that can win you big bait.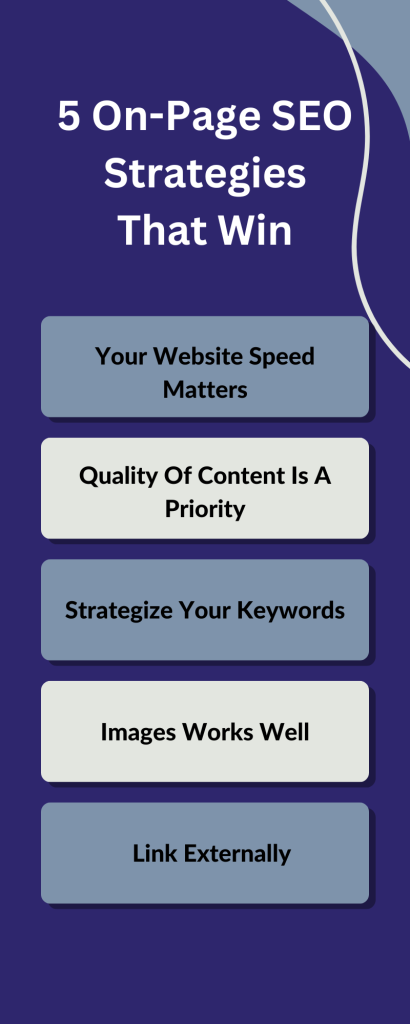 1. Your Website Speed Matters 🏃
Let's start with the most basic. We have discussed the rise of mobile searches. With these searches nearly double and even dwarfing PC searches, your website's uploading speed must be razor-sharp. There is a direct relationship between the speed of your website and its ranking on search engines. This is primarily due to rewarding search websites that deliver a better user experience.
In today's hectic environment, speed is unquestionably an essential component of user experience, particularly in an increasingly mobile-friendly world.
Slow websites are abandoned even faster on mobile than on PCs! So you know where you need to pull your socks up.
2. Quality Of Content Is A Priority
You should have thoroughly studied the content and made it manageable. The content length can range between 2000 and 10,000 words, with a hybrid format that includes text, photos, videos, podcasts, ppt/pdf, and so on. You should concentrate on relevant information with clear headers, subheadings, and a page menu.
The adding up of pictures and different media makes your content more presentable and reader friendly too. Always ensure to add small paragraphs in addition to writing in the content.
3. Strategize Your Keywords
Google Analytics, Google Ads, and other classic techniques for determining the best keywords are still very effective. Different catchphrases, rather than generic keywords, are working well for brands. When catchphrases join the picture, there will be infinite permutations and combinations.
This leads us to an essential recommendation for on-page SEO today: related keywords. 
Your keywords should not dominate you. Expand the net by including relevant keywords and subjects. This will assist you in capturing a broader range of queries and directing them to the site. Furthermore, your website will serve as an information repository for a specific domain. That is an excellent example.
4. Images Work Well
Images help to break up the monotony of writing long-form text.
Alt text (Alternative Text) descriptions assist search engine bots in better understanding your images. People should be able to understand alt text effortlessly since it provides context.
Images are also the most responsible for slowing down your website. To reduce your photos, we recommend using magnified or short pixels. It must be compressed in order to load quickly.
If your website contains many photos, we recommend you submit an image sitemap using Google Search Console.
5. Link Externally 🔗
An external link leads to a page not on your website but on a separate domain. It's an external link for the website that links out and a backlink for the website that receives the connection.
Backlinks are essential for SEO, but what about external links?
External links to linked pages assist Google in determining the topic of your page. It also shows Google that your page is a good source of information.
Adding external links to your content will not help you with SEO directly because it is not a ranking criterion but will benefit you indirectly. You can utilize external links to link to other websites and then notify them via email. 
Web admins will be glad you have linked to them, which is an excellent way to initiate a dialogue. As many web admins will be more likely to return the favor, you may gradually build on this relationship and finally gain backlinks to your website.
Let's discuss the best techniques for rapidly integrating external links to your content.
Only link out when it adds value to the reader.
Only link to websites you trust and in your niche.
Only link to related websites with unique and original content.
For external links to websites, you don't completely trust, use the 'no follow' tag.
The Show Goes On!
At the end of the day, search engine optimization falls down to one thing: 
Determining the best strategy to deliver meaningful information to searchers and ensuring your website ranks at the top of search engine results pages (SERPs).
Your goal is to deliver richer user experiences while showcasing your worth to search engines. Fortunately, these two complement each other. They begin with on-page optimization. Businesses can reach into SEO services in India to get the best out of content and other advantages SEO delivers.
Begin with what you can control, carefully examining your current site for flaws and development potential.
When you have all of your on-site ducks in a row, you will begin to see benefits, including an organic improvement in off-site factors.
See you soon in the next blog.