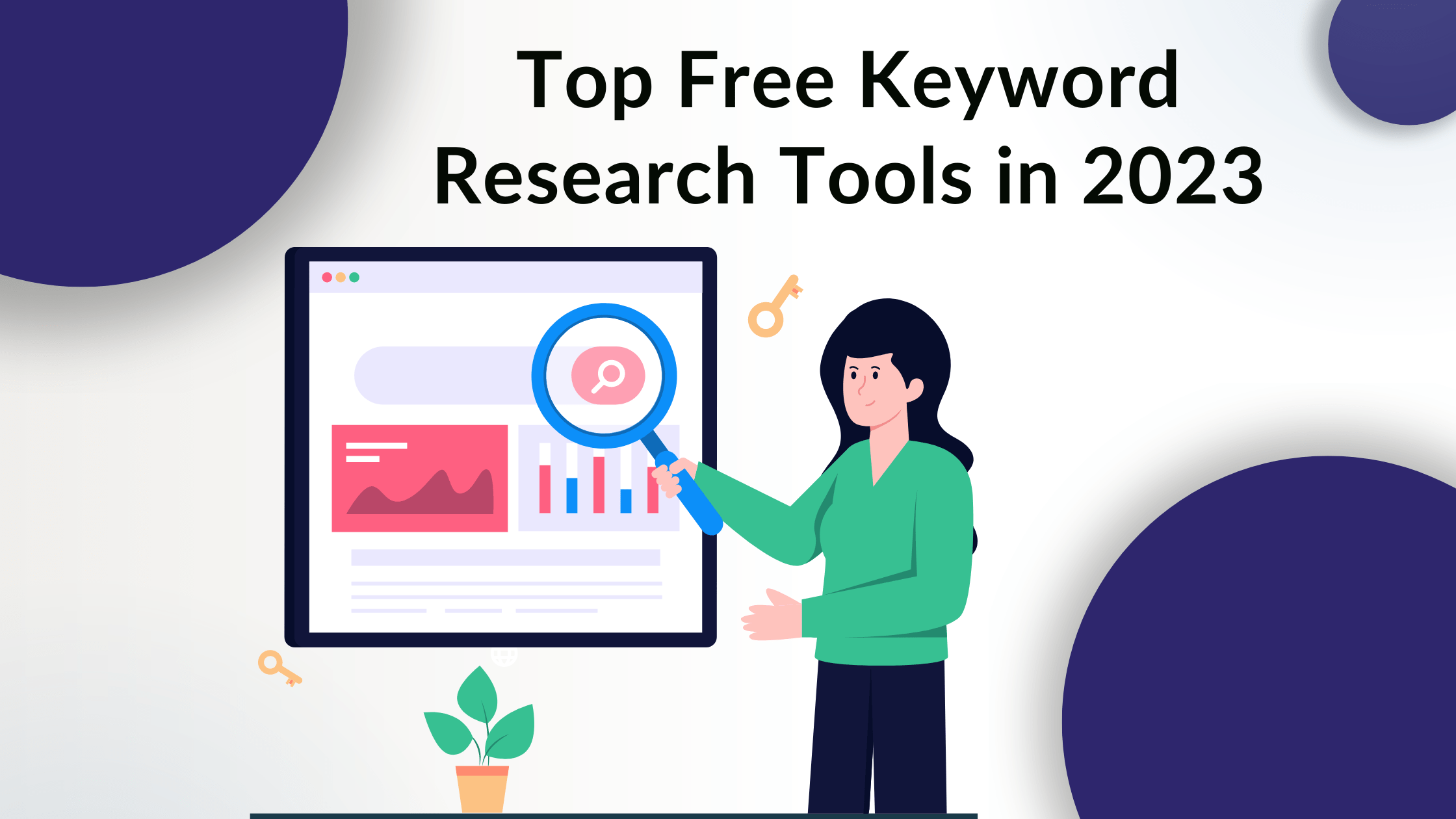 Tune into our blog to know the best keyword research tools in 2023 that can be used for the right keyword research.
In our previous blog "How To Find Right Keywords: Top Tips", we discussed finding the right keywords for your content to help your website rank in SERPs. We know how keyword research is essential for growing traffic to your website. It helps to write the perfect content presentation to get the target audience to search.

The major challenge is finding the right keyword research tool, specifically looking forward to seo practices. In today's blog, we have gathered some of the best keyword research tools you can look forward to in 2023.
At A Glance: Keyword Research Tools
Identifying and analyzing the search keywords that people enter into search engines is the process of doing keyword research. By assisting website owners, content producers, and marketers in gaining an understanding of user intent, preferences, and behavior, it serves as the cornerstone of SEO. Effective keyword research offers the following main benefits:
Relevance:

By selecting the appropriate keywords, you can ensure that your content reflects user intent and will thus be more likely to rank well in search results and draw in targeted visitors.

Competitive Advantage:

By knowing the keywords your rivals are using, you may see any weaknesses or areas where you can exceed them.

Content optimization:

Using keywords in content development and optimization helps you create blog posts, articles, and other materials that appeal to your target audience.

ROI Booster:

Concentrating your efforts on high-value keywords can result in more conversions, sales, and money made.
Top Keyword Research Tools:
An excellent keyword research tool's qualities are simple: you search for a specific term, and the tool informs you about it. But because there are so many ways to use keyword data, we also wanted to mention a few tools specifically made for some of the most common applications.

Here are some of the top keyword research tools that can help your business to find the perfect key phrases.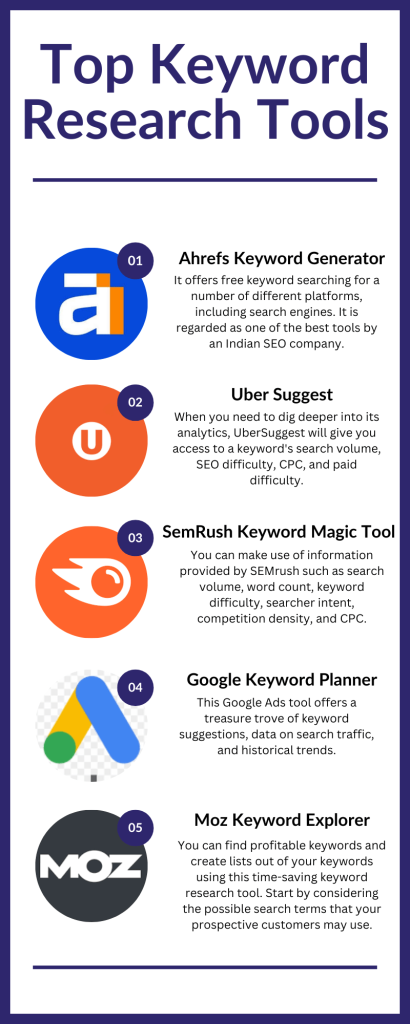 1. Ahrefs Keyword Generator:
Ahrefs Keyword Generator provides a free keyword search for search engines and various other platforms. It is considered one of the best tools by SEO agency in India. You can trust the search results since they provide helpful details like keyword difficulty, volume over the previous 12 months, and the most recent time Ahref examined search engines for their list of terms. 
In-depth data from Ahref, such as long-tail variants and subtopics, will assist you in improving the rankings for related queries. Once you have chosen the most effective keywords, you can save them, make a list of them, and export the list so you can use it again in the future. 
2. SemRush Keyword Magic Tool:
SEMRush is one of the most trusted brands in the SEO community. The first step is to select a keyword from a list of suggestions. You may explore the keyword data further after choosing a keyword. 
You can use data like Search volume, word count, keyword difficulty, searcher intent, competition density, and CPC that SEMrush offers. Also, you may make an exportable list for convenience once you have located your term and examined its data.
Additional keyword tools from SEMrush, such as Keyword Overview, Keyword Manager, and Keyword Gap, give precise temporal data on keywords, changes to SERPs, and competition performance. Additionally, you can compare up to five rival keyword profiles to uncover similar phrases to build really successful ads.
3. Google Keyword Planner:
In the search for perfection, Google Keyword Planner comes up with its prominent spot. This tool, which is a component of Google Ads, provides a goldmine of keyword suggestions, search traffic information, and historical patterns. Although it was first created for marketers, it is a valuable tool for anybody looking for keyword information. You may fine-tune your content strategy by entering a seed keyword, examining search traffic, and finding similar phrases.
4. Moz Keyword Explorer:
Moz's SEO platform provides a number of keyword research tools. In my perspective, it's a bonus that Moz doesn't offer as many data points as some of the other fully comprehensive SEO tools (such as SERP position history or the total number of keywords a competitor's result ranks for). It makes it possible for users who have never used search before to have a less frightening experience without compromising the data they care about.
You can look up any term using the Keyword Explorer tool and learn its monthly volume, level of difficulty, and organic clickthrough rate (CTR). From there, scroll down to obtain an analysis of its current results ranking and recommendations for related keywords.
After that, scroll down to see an analysis of its current search ranking and recommendations for related keywords. After that, scroll down to analyze its current search ranking and recommendations for associated keywords.
5. UberSuggest
Ubersuggest offers a variety of keywords kinds, including related keywords, keywords that are questions, or keywords that are compared. 
It will provide you access to a keyword's search volume, SEO difficulty, CPC, and paid difficulty when you need to go deeper into its analytics. It will provide you with the necessary number of backlinks to appear on a search engine's first results page.
With the help of a Chrome plugin, Ubersuggest offers real-time keyword information right on the results page of well-known search engines like Google, social media sites like YouTube, and e-commerce websites like Amazon. 
If you manage many websites, Ubersuggest includes a function that lets you import data from Google Search Console to create PDF reports of your clients' organic traffic. 
Ending Thought
Utilizing the power of cutting-edge tools is essential for keeping ahead in the always-changing world of digital marketing. These top keyword research tools will be your compass as you traverse the world of keyword research. Their insights and innovation empower your ability to decipher the complexities of search intent and maximize your reach. Keyword research for a business aims to provide a perfect ranking score. Not only this, if planned well, you can receive good results. While launching a website, always hold SEO services to get better insights.
---
FAQs
---
What are Keyword Research Tools?
---
What is about Uber Suggest?