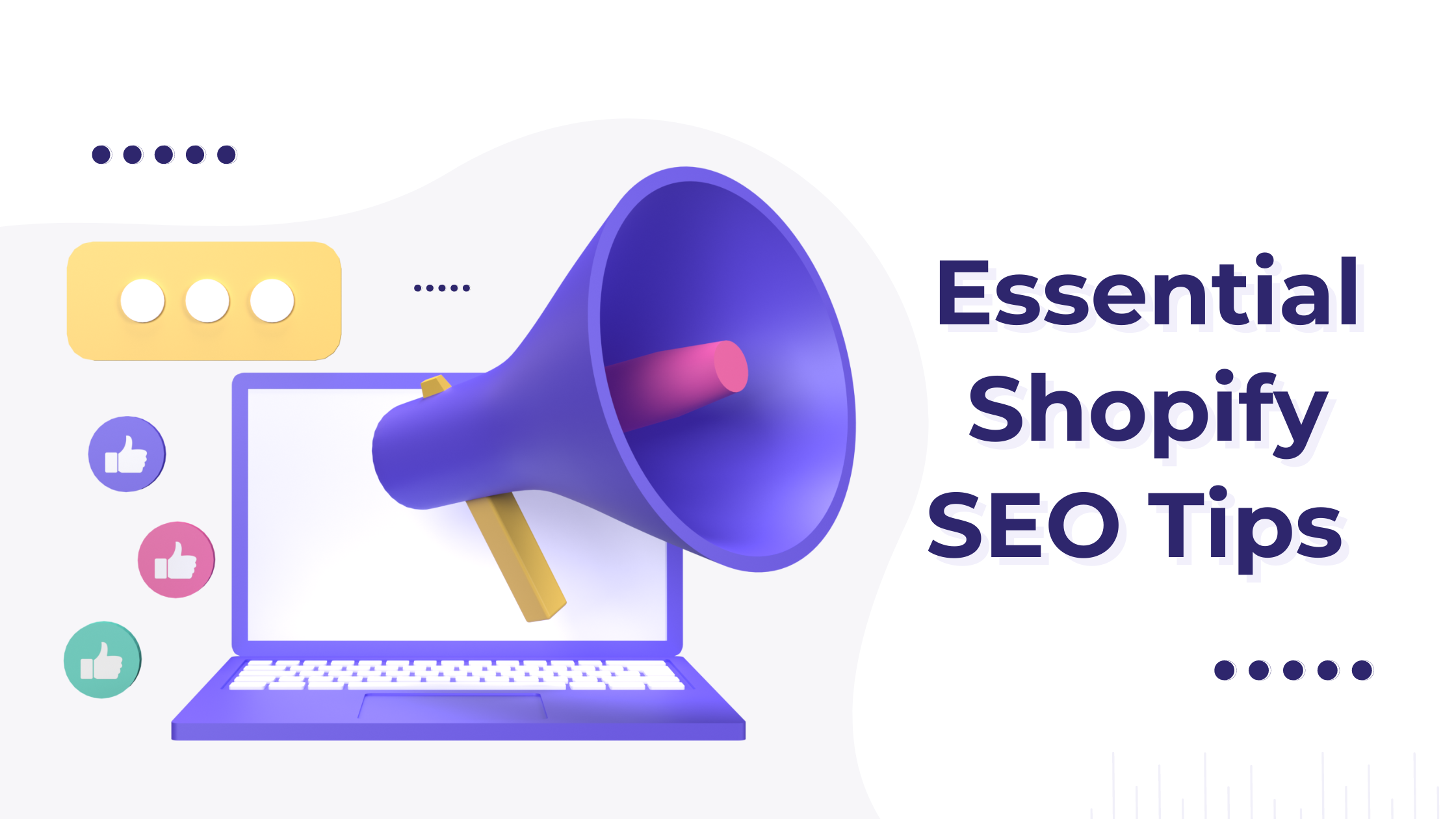 One of the E-commerce systems that online merchants most frequently suggest using to launch their online retail operations is Shopify. It speeds up and simplifies things, but if you want your Shopify store to perform at its peak in search results, you still need to do some Search Engine Optimization (SEO) entailed with Shopify known as Shopify SEO.
Our previous weblog starring Shopify SEO Guide: 6 Practical Suggestions for Enhancing SEO in 2023, clearly collectively states Shopify's essence.
With much appreciation received, we are back with the following web blog in the series with the essential Shopify SEO tips for 2023.
Let's begin with a small recap of Shopify SEO,
Simply put, Shopify SEO entails optimizing the platform for search. Now, Shopify SEO isn't all that dissimilar from the standard search engine optimization you perform on WordPress; there are only a few unique aspects.
Being an essential aspect of growing a Shopify store, businesses can look to find a perfect Shopify SEO agency in India to get the best assistance for developing and working on a Shopify store.
One of Shopify's most economical methods to improve your rankings and conversions is SEO. If you want to find the best E-commerce platform for SEO, learn about the SEO areas to improve your online shop utilizing E-commerce web design, and make Shopify SEO services beneficial for you, you've come to the right place. 
Why do SEO for Shopify?
Online sales are rising quickly and show no signs of slowing down. If you want to get your Shopify store discovered and compete with these behemoths, SEO is more crucial than ever, given that Amazon and Walmart receive the majority of this online shopping money.
You already know that making your E-commerce site SEO-friendly may increase traffic. The most recent statistics reveal that for every given search, the top organic positions on Google continue to provide the majority of traffic.
How? By utilizing Shopify's cutting-edge SEO capabilities, which include mobile-responsive themes, built-in testing, and simple metadata editing.
Shopify includes built-in SEO tools to make managing your store more straightforward. They produce the sitemap.xml and robots.txt files for your website automatically. Additionally, themes create title tags with your store name in them.
Keeping this in mind, SEO is a tried-and-true technique for driving consistent traffic to Shopify businesses.
Your website is the heart and soul of your E-commerce store. You earn more sales the more qualified visitors you receive to your website. And organic search is one of the most economical and valuable strategies to direct traffic to your website.
So here are the essential Shopify SEO tips that would greatly help you enrich your Shopify store.
1. Establish the Site Hierarchy
2. Utilizing Data Driven Keywords
4. Begin A blog
5. Use Video And Engaging Media

1. Establish the Site Hierarchy
By structuring your store, you make it simpler for visitors to navigate and for Google to crawl each page and identify the most crucial ones.
Make backward-linked categories and subcategories. This will tell the search engine which pages to prioritize and provide background information for each subcategory. Consider it a store map directing clients to the merchandise they are looking for.
2. Utilizing Data-Driven Keywords
You can optimize your sites for the real search phrases users are entering by putting keyword research into practice. This draws customers ready to purchase and informs Google of your store's focus.
To master keyword research, write down a list of pertinent keywords for each product to start, then use these strategies to add more:
Consider looking at Google's "People Also Search For" and "People Also Asked" boxes. View Google's autofill recommendations
Finally, run your extensive list of keywords through a keyword research tool to determine which ones perform the best and have a high number of searches with little competition—conduct competitor research to identify the keywords they are employing.
3. Optimizing Metadata
Once you have a variety of keywords available, you can start strategically placing them throughout your store. Your page's meta descriptions, title tags, and URLs are among the components to pay attention to.
When you include keywords and improve your metadata, the search engine can rapidly understand the subject of each page and assess whether it is pertinent to searches. SEO in Shopify is a crucial element for your online store's success.
4. Begin a Blog
Target consumers who are still getting ready to make a purchase and guide them toward a transaction with helpful and engaging content. Although it may seem intimidating, blogging increases your chances of being found by clients and raises your likelihood of ranking well in search engines. Your chances of appearing in searches increase as your website grows in the number of pages.
On Shopify, backlink chances (links from other websites to your website) are also created via blogging and content marketing. Since backlinks are one of Google's top three ranking indicators, the more you have, the better.
5. Use Video And Engaging Media
With video, 360-degree images, and customer feedback, create dynamic and captivating product pages. These engaging resources increase visitors' time on your website but make sure your media is pertinent. You can improve your SEO by cross-publishing your YouTube videos on other websites.
The search engine will consider your product pages to be more relevant the more attractive they are. Your store will move up in the search engine's results as a result.
The above-mentioned Shopify SEO tips will undoubtedly bring in the best and optimize your store.
Get Better With Shopify SEO Tips
While higher rankings and more traffic are great, targeted and relevant traffic that can be quickly converted into revenue is more crucial.
Hopefully, after reading these Shopify SEO tips, you're closer than you were. Feel free to connect if you still have questions about Shopify SEO or current developments in digital marketing.