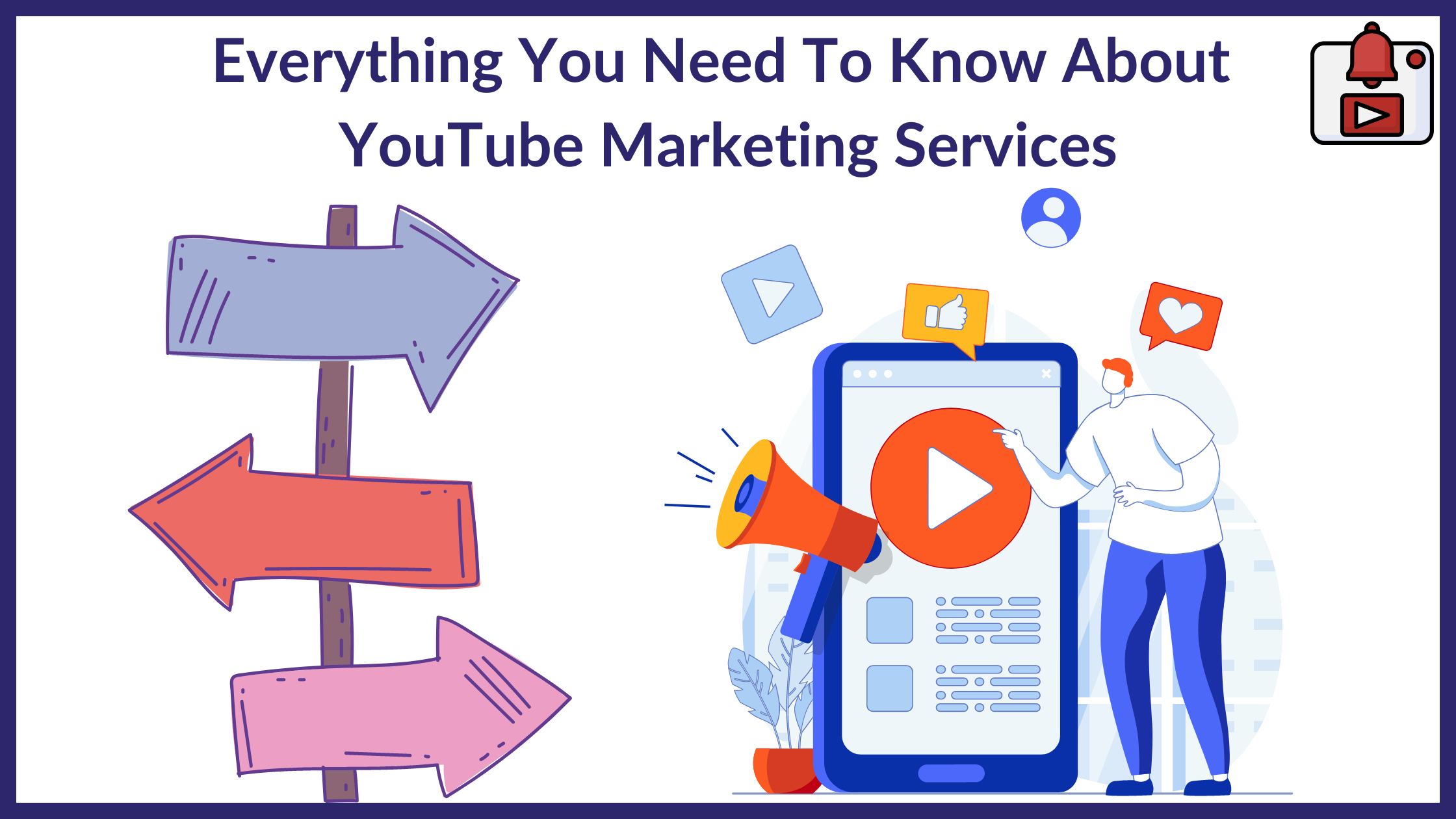 YouTube has emerged as a sought-after platform for marketing and brand promotion. Your audience will appreciate you as well as you will get incredible benefits for your business if you use YouTube videos to reach out to them. The average person says 74% of the time they were convinced to purchase a product after watching a video. If you are looking for YouTube marketing services, you need to build a good YouTube strategy for your digital marketing objectives.
It makes sense to consider Video as part of your marketing strategy when people love videos as much as you do. There are several reasons why you should hire a YouTube marketing company including their expertise and professional teams. But, before anything, let us first clear ourselves with the meaning of YouTube marketing. 
What Is YouTube Marketing? 
YouTube Marketing refers to the act of promoting a business or product on YouTube's platform by posting valuable videos on a company's channel or using YouTube ads.
Through YouTube marketing services, you can promote your business on YouTube. Even though Video is a powerful medium, YouTube grows faster than any other website. After Google, YouTube is known to be the second most visited website on the planet. The app has been active globally for nearly 2 billion months since its inception. Thus, YouTube marketing is the answer if you want to diversify your traffic sources or just take a glance in front of your target audience.
Let us now look at the advantages of YouTube marketing services.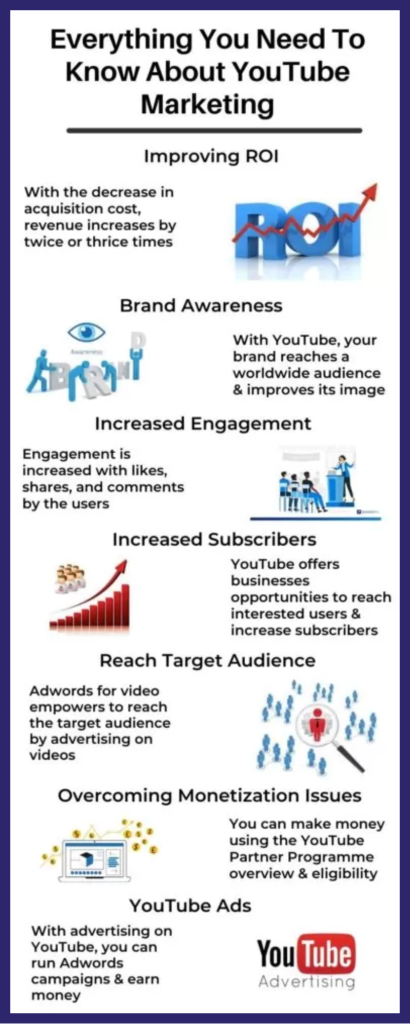 The Advantages Of Getting YouTube Marketing Services
Improves The Return On Investment (ROI)
If you use YouTube or another platform for influencer marketing, you want to maximize every dollar. Thus, it is possible to increase the conversion rate by 80 percent with this entertaining and engaging content. Additionally, they help establish trust and authority among people uniquely.
Furthermore, you want to see a return on the effort and money you put into the campaign. As your cost of acquisition decreases, you will see an increase in the revenue up to twice or thrice the original revenue, depending on the type of channel you own. This implies a higher return on investment from YouTube marketing. 
Brand Awareness
When you constantly create video content, it opens the door for new visitors who won't get attracted to your brand any other way. With YouTube, your brand can reach a worldwide audience no matter which niche you follow, which product you manufacture, or which language you speak. 
You can use YouTube to enhance your business image with color and movement. For example, coffee suppliers can post videos of tasting events and videos, tutorials and videos from the origin point of beans, and interviews with people who prefer different varieties. 
Increased Engagement On Videos
Engagement on YouTube occurs when your audience takes action on your YouTube page or one of your videos. One of the important actions is to leave a comment. Depending on their sentiment, these can be a good or bad indicator of how emotionally engaging a video is for viewers.
These are the most important actions:
Comments

.

The comments can reveal whether a video strikes an emotional chord with viewers, which can either be good or bad according to the meaning of the comments.

Likes And Dislikes.

This tells you whether viewers enjoyed your Video or not. This information can also assist you in determining whether a specific video format or content direction resonates with your audience (or not).

Shares

. This shows how many times and where the Video has been shared. There are a variety of social platforms (Facebook, Twitter, etc.) and messaging platforms (email, WhatsApp, etc.) through which you can share content. The number of views is arguably one of the most critical metrics for YouTube engagement. It indicates whether or not your Video was engaging enough to encourage people to share it.
YouTube can share and engage with customers through businesses that have a following or belong to a community.
Increased Number Of Subscribers
YouTube allows creators to see whether their Video attracted new followers or turned off current followers (enough to cause them to unsubscribe). This metric can effectively gauge the quality of a video. 
YouTube offers small businesses and enterprise businesses the opportunity to reach more interested users than ever before – very simply because it has such a large user base. There are more than 2 billion active users. You'll still reach more people with ads if you specifically target an audience unless you have 2 billion email subscribers.
Reach Target Audience
AdWords for Video allows you to target your audience by advertising on videos they are more likely to watch and search for. AdWords for Videos' most significant advantage is that you only pay for engaged viewers. When someone watches your ad for at least 30 seconds, it is considered an engaged view. In other words, you won't have to pay for skipped video ads.
AdWords for Video offers the most significant benefit of growing your audience through earned views. Views are free and are made when someone chooses to watch the video and then another video on your YouTube channel within seven days. People are more likely to subscribe to your YouTube channel after watching 2-4 videos on it.
Helps In Overcoming The Monetization Issues
In the digital age, video content is becoming more popular than ever. Online video watching reached more than 12 billion minutes in 2020 – and users want more. It's possible to monetize your YouTube videos using YouTube's features. Now is an excellent time to create video content for businesses and content creators alike.
Making money from YouTube videos is called YouTube monetization. To monetize on YouTube, you must meet specific requirements and join the YouTube Partner Program (YPP).  You need to follow a specific criterion for eligibility for the YouTube Partner Program. Check out the benchmark on the YouTube Partner Program overview & eligibility. 
YouTube Ads 
Producing regular video content allows you to earn some money directly from your videos through the Google AdSense for Video program. About 1 million content creators are earning just with YouTube videos. Thousands of channels are also making whooping six-figure money in just one year. 
Thus, advertising on your videos allows you to run AdWords campaigns and earn money from other advertisers. When you invest the time to learn the main components of this platform, YouTube will prove to be a valuable addition to growing your business.
Types Of YouTube Marketing
With its wide audience and effective targeting options, YouTube is an unquestionably valuable platform for businesses at every stage of the customer journey.YouTube marketing can be of various types. Some of them are given as follows.
Paid Marketing  
Paid marketing on YouTube works differently than the organic method. Let us discuss the different types of ads on YouTube. 
Skippable In-Stream Video Ads
In-stream video ads can either be served before or during videos. The first option on the list is skippable in-stream videos. There is a minimum of 5-second advertisements that viewers can skip. As a general rule, the video ad should be no longer than 3 minutes and no shorter than 12 seconds. The benefit of this type of YouTube advertisement is that you will only be charged if someone watches at least 30 seconds, the whole ad (for ads under 30 seconds), or clicks on it.
Non-Skippable In-Stream Video Ads
Although there is no skip button, these ads can also play before or during a video. The only difference is that they don't play during video playback. Considering that 76% of people skip the ads served in YouTube videos, the non-skippable ad is best when a brand needs to raise awareness and doesn't want to risk hundreds or thousands of ad skips. Advertisers are charged differently for these ads; they are charged per impression, i.e., per 1,000 views (CPM). 
Bumper Ads
Before a video is played, bumper ads and non-skippable video ads play for six seconds. You can use these ads to convey a simple message and don't need the total production of a minutes-long video. This is another excellent place for awareness efforts to promote an event or increase brand visibility and frequency. While a 6-second spot might seem too short to leave an impression, a Google study of 300 bumper ads found that 90% increased ad recall.
Discovery Ads
In contrast to the previous three ad types, discovery ads are entirely different. They are similar to Google search ads, appearing among the results in a semi-organic fashion. Each discovery ad comprises three lines of text and a thumbnail image. You can therefore think of YouTube as a search engine. A box next to YouTube's Discovery Ads lets users know that they are being paid for results, similar to Google text ads. Also interesting is that these ads can appear on the search results page, video watch page, and YouTube homepage, giving them quite a bit of visibility.
Non-Video Ads
The video-sharing giant also offers non-video ads for brands that aren't looking to spend a lot. The first option is to place a video ad on the right-hand side of the results page while a video is playing. There is an image, some text to its right, and a link to your website in this ad. In addition, you can serve ads that pop up during videos from channels that want to monetize. A cost-per-click model is used for these non-video ads.
Organic 
Organic YouTube marketing is an excellent way to get your Video seen by thousands and increase brand awareness. The goal of organic marketing is to grow the views organically to create a compounding VIRAL effect for the video to attract a broader base and earn money from YouTube. 
Because of the Google universal search, mixed media can show up on the SERPs. Several images, videos, news, books, and local searches are shown on the result pages for an in-depth set of answers to what people are searching for. But today, videos are showing up more often at the top of SERPs. 
Apart from YouTube's search engine, YouTube video marketing is also a tool for boosting search engine optimization (SEO) efforts and performing very well on Google search engine result pages. 
The Objective Of Youtube Marketing
Saving Money
PPC is a highly cost-effective advertising strategy if you're familiar with it. The payments need to be done only in case someone clicks your ad, so PPC is incredibly lucrative even if you have never used it before.
In addition to that, you decide exactly how much you're willing to pay for every click. Due to these two characteristics, you'll never waste money on PPC ads, and you'll never overspend.
Boosting Traffic
The YouTube platform is growing exponentially, with over 5 billion videos watched every day! More videos are watched on YouTube every day than on any other platform. You can still reach an audience even if you don't create any videos yourself. You can advertise your content in other people's videos. Since so many people use YouTube, you are guaranteed to find potential customers as long as you cater to their needs. The following YouTube statistics are worth knowing:
30 million people visit YouTube every day

Every minute, YouTube receives 300 hours of Video

According to YouTube users, videos help them make purchasing decisions 68 percent of the time

Several small and medium businesses' advertising on YouTube has doubled in recent years
Attracting Visitors
YouTube marketing can be beneficial for attracting traffic to your business website. You can stay for a long time in people's minds when you include slogans or catchy phrases in the Video. When they search for your company online, they'll find your video. In addition to a link to your website in the video description, you should provide contact information, such as an email address, business address, or phone number. 
Establishing A Relationship
Create a video that makes your customers feel like you are one of them by evaluating the relationship you want with them. Take advantage of your images, music, and narration to reflect the customer's perspective so that it is clear that you are experiencing the same emotions as the customer. You can convey a sense of trust, lightheartedness, sophistication, down-to-earth values, or even anger to start a relationship.
Concluding Thoughts
Businesses get an incredible opportunity to drive more traffic to their sites and attract more customers from YouTube. At the same time, it is also a highly competitive environment. In other words, you can't just upload videos and expect results right away. The lack of views and subscribers shows up when large businesses jump into YouTube marketing without a strategy. A YouTube video to be successful requires more than great content. Understanding how to optimize those videos around keywords that people search on YouTube.
YouTube Marketing adds spice to the popular video culture by bringing numerous benefits for brands instead of just sharing simple promotional videos on YouTube. YouTube is an excellent platform to reach a wide range of audiences that you leverage for the benefit of your business. 
---
FAQs
---
What are YouTube Marketing Services?
---
What is YouTube Marketing?