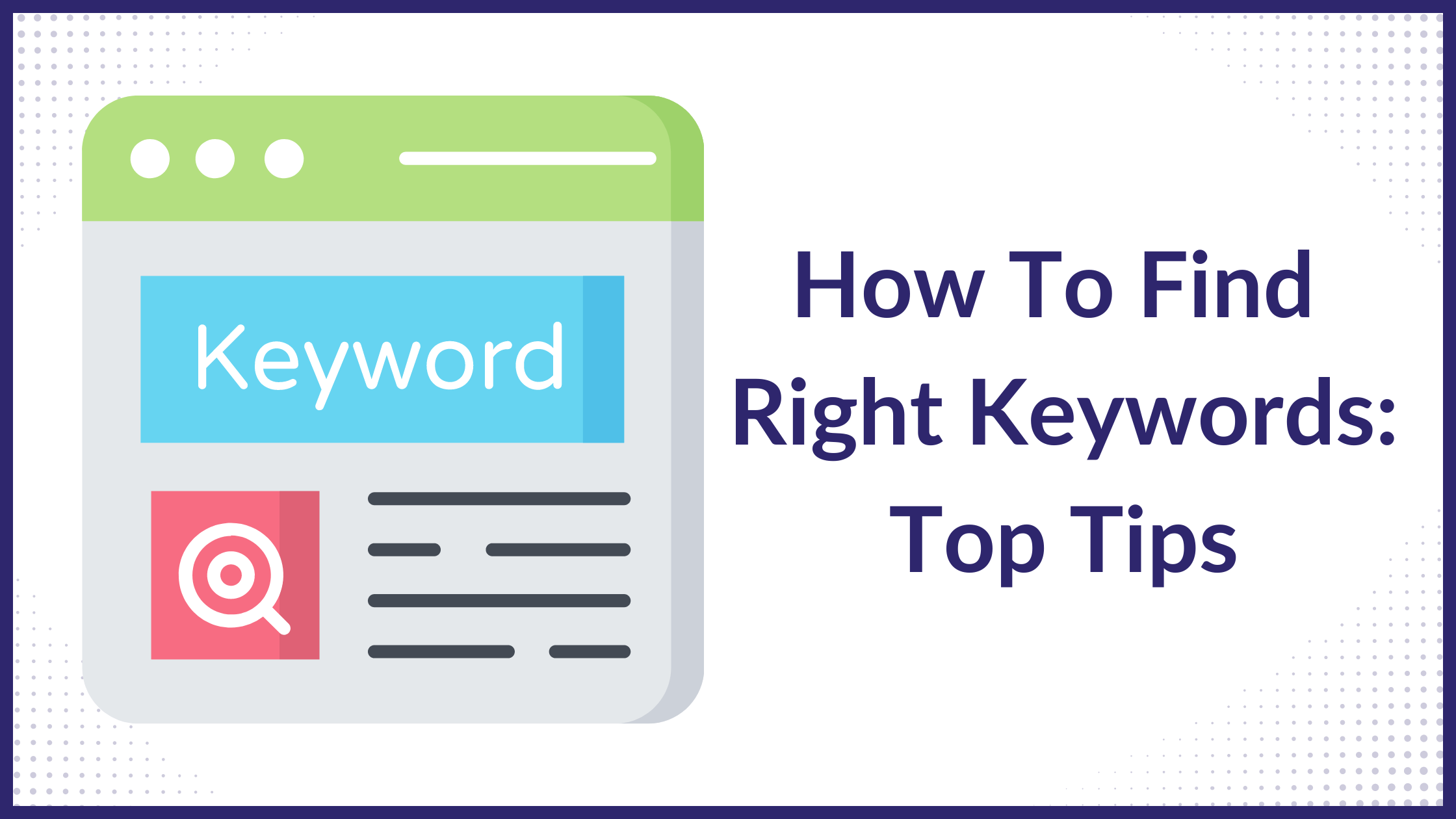 Connect to the blog to know how to find the right keywords that can bring in better rankings on SERPs.
In the world of SEO, who rules the market?
The answer is Keywords.
Keywords are used in webpages and their content as a medium to rank at the top of Google's results for the exact search. Any term that is used, whether a single word or a long phrase, can be considered a keyword.
Take an example:
The word "Digital Marketing" is a keyword. Also, "Digital Marketing Agency in India" is a multi-word phrase (Long Tail Keyword).
Keywords are a great way to enhance your content and get good rankings. Not only this, you can easily target the right audience with keywords. Let us understand the art of getting the right keywords and what are the best options for keyword research tools that can give you better and more accurate results.
Understanding The Right Keywords
The best keyword for your website is one that appeals to your target market and enables you to accomplish your particular goal. This implies that even if they are a rival in the same market, the correct keywords for someone else may not always be the same for you. The perfect keyword is one that you can score highly for and pertains to a subject that interests your target market.
Choosing the appropriate keywords and phrases is one of the most crucial phases in effective search engine optimization (SEO). Attracting the right audience to your website for a better perspective and offerings is good. It may take some time and study to select the keywords that will help you connect with your target market, but the effort will be worthwhile.
Keyword research gives you the perfect match of keywords that can help you with content.
It also helps you choose the best keywords to target and informs you about the Google searches your potential clients are conducting.
Your more comprehensive marketing plan and content strategy can benefit from the knowledge you can gain about these absolute search phrases.
Why Is Choosing the Right Keywords Essential For Search Engine Marketing?
In many aspects, keywords are the foundation of both PPC and SEO campaigns. Regarding SEO, ranking at the top of Google for your target keyword can bring in quality and targeted traffic. Read our SEO Tips to get better results.
If you have the budget for advertising, you can use PPC to get your website position great and at the top of organic results. The work of Google Ads is straightforward;
Advertiser bid in to appear at the top of the search-based results for specific keywords targeted.
Top Tips To Choose The Right Keywords
Although selecting keywords for SEO isn't difficult, you must consider the advantages to your company and inbound marketing while keeping an eye on the competition. Ideally, it would be best if you prioritized consumers' needs over phrases that increase traffic.
Choosing the correct keywords for your blog depends on your keyword strategy, but a smart place to start is by writing phrases that will be helpful to your target audience and connected to your industry. 
Choosing the right keywords is not an easy task. Here are some tips to help you find the perfect keyword for your content.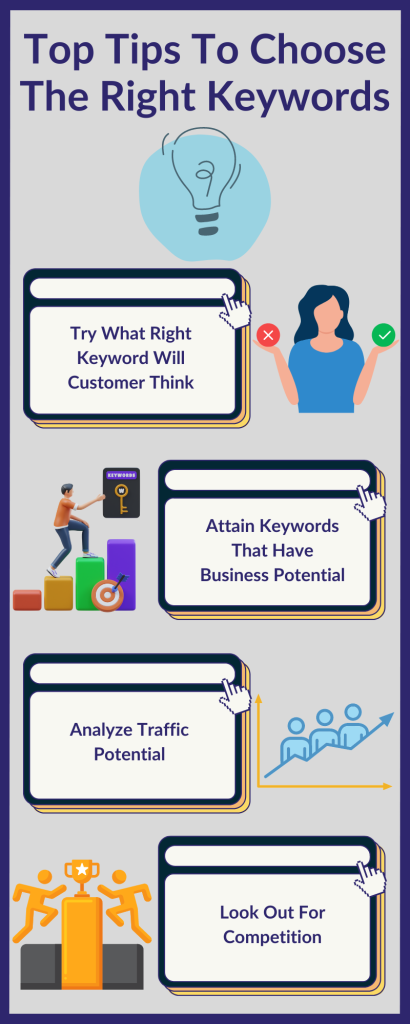 1. Try What Right Keyword Will Customer Think
The first and foremost step is to understand what your target audience will search for. Try to ask yourself.

What would you search for if you were the customer?

What would you type on Google?
You can also take help from Google search queries. It is a great way to look at what people are searching for. 
What a user writes into the search box of a search engine is known as a search query or phrase. You can think of a search query as the actual use of a term; it might be identical to the phrase, misspelled, in the wrong order, have other words added to it, or any combination.
2. Attain Keywords That Have Business Potential
Business potential in keyword research is all about what people are looking around to find your products and services.
The solution is relatively simple if the search goal is for an e-commerce product or category page. It is not rocket science over. Just ask yourself what you will look or type. If the response is affirmative, the keyword has commercial potential.
The issue becomes slightly more complex if the searcher aims to find a blog post or other informative material. This is because you need to consider whether you can organically promote your goods or services in that content.
3. Analyze Traffic Potential
The most traffic to your web pages doesn't necessarily result from the keywords with the most significant search volumes. Several features in Google search results provide short answers to search queries, sometimes known as zero-click searches.
4. Look Out For Competition
More than searching for keywords related to your brand on Google alone is required. Additionally, you must be aware of what your rivals are doing. Your SEO will benefit more if you have a deeper understanding of the content environment in your sector.
Knowing how competitive various phrases are can also help you spot search terms that could be too challenging to rank for. However, the most crucial ability is the discovery of keyword opportunity gaps. These possibilities arise when you discover relevant keywords with low to medium competition connected to your brand or business.
Ending Thought
You now have a list of keywords that will direct your attention to the appropriate business-related issues and help you achieve short-term and long-term success. SEO services in India are a great way to attain the ideal match of the keywords list for your brand. You can connect them with your brand objectives, and they can help you with the appropriate results.
Make sure to review these keywords every few months; once every three months is a reasonable benchmark, but other companies prefer to check them even more frequently. You'll discover that if you work to retain your present presence and then expand in different areas on top of that, you can add more and more keywords to your lists as you achieve even more authority in the SERPs.
In the next blog, we will discuss the best keyword research tools to help attain better results and audience insights.
---
FAQs
---
What is Keyword Strategy?
---
How long does it take to do keyword research?