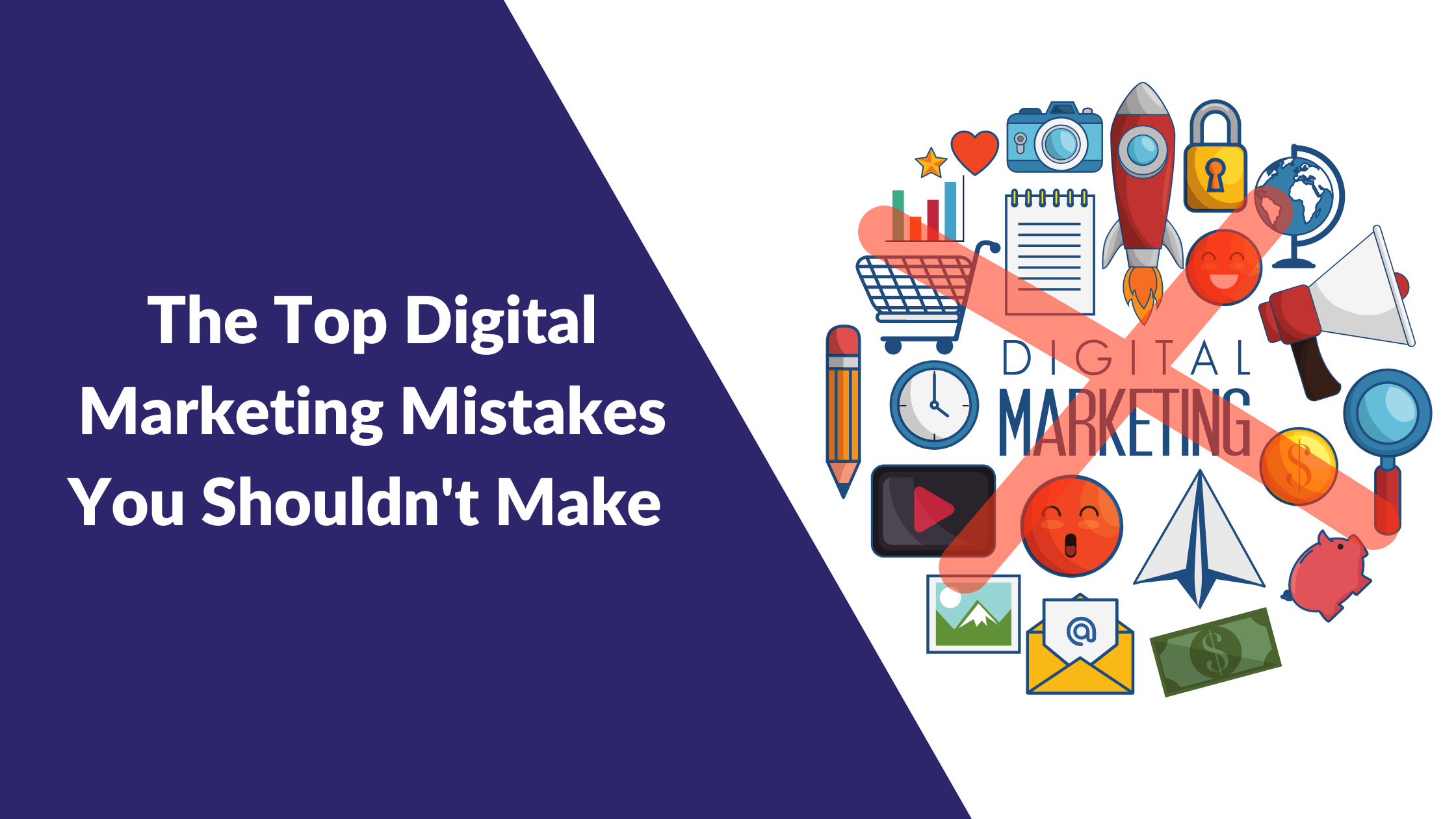 In the year 2023, keep safe from the top digital marketing mistakes and outshine your digital marketing game.
One thing never changes in the ever-changing world of digital marketing: the possibility of success or failure. When we talk about the algorithms, they are like seasons. 
Every business, large or small, aspires to harness the power of digital marketing to elevate its brand to new heights in this age of hyper-connectivity and digital domination. But in haste to dominate the online world, many people fall into perilous traps. This thwarts their marketing initiatives and leaves them trapped in lost chances.
We welcome you to our blog, which will take you on an instructive trip. The trip will explore the top digital marketing errors you should not commit in 2023. As a digital marketing service provider, We will share strategies to avoid these common mistakes.
Digital Marketing Mistakes" At a Glance
Let's imagine a situation. A business spends large amounts of money on developing an innovative marketing plan, painstakingly selecting exciting content, and launching enticing campaigns. They only discover that their efforts have failed in the digital wasteland.
What went wrong, one would wonder? 
Or
Was it a mistake to choose the wrong audience to target? 
Or 
Was it an inability to adjust to the always-evolving algorithms that control our online existence?
Digital marketing is a potent instrument that has revolutionized how companies connect with and interact with their target market. However, making typical errors that might thwart marketing efforts and prevent desirable results while pursuing digital success is simple.
The Top Digital Marketing Mistakes To Avoid
Your ability to succeed online can be greatly improved by avoiding typical digital marketing errors. Neglecting your target audience is one of the worst blunders to avoid. Effective marketing strategy must take into account the demands, tastes, and demographics of your target audience. Inconsistency throughout your digital platforms is another trap to avoid. Building trust and awareness via maintaining a consistent brand image, tone, and message across channels. Furthermore, it might be harmful to downplay the significance of data analysis. Wasted resources and opportunities might result from failing to analyze and optimize your efforts using data-driven insights.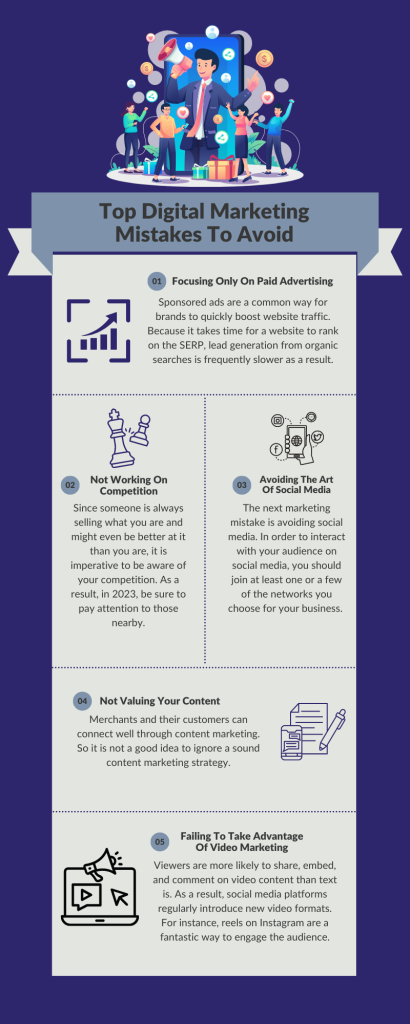 Now let's see the common digital marketing mistakes that should be avoided.
Focusing Only On Paid Advertising
In our previous blog, Going Beyond Google: Touring Alternative PPC Services Platforms, we discussed the different paid platforms for marketing your business.
Brands typically spend money on sponsored advertisements to quickly increase website traffic sites. This is a result of the fact that lead creation from organic searches is often slower since it takes time for a website to rank on the SERP.
However, focusing solely on paid advertisements for lead generation, such as pay-per-click (PPC) or social media marketing (SMM), may be quite difficult because the success of these campaigns depends on external variables like competitors' strategy, keyword research, and other things. Paid advertisements are much more expensive than other digital marketing tactics.
Not Working On Competition
It's critical to be aware of your competition since someone is constantly selling what you are and could even be better at it. As a result, be sure to pay attention to those around you in 2023. Instead, pay close attention to their marketing initiatives and learn how your brand differs from theirs.
Determine what makes your brand distinctive, then emphasize it in your marketing strategy. You will be able to outperform your competition thanks to this. We recommend you look around the competition and take preventive measures over threats and first mover choice on the opportunities existing in the market.
Avoiding The Art Of Social Media
In today's world, social media is a place where you can find every type of audience. Avoiding social media is the next marketing error on our list. While you may choose which social media networks your company joins, you should join at least one or a few of them in order to connect with and engage your audience.

If you post about your content, like articles or newsletters, social media can be a great place to generate traffic to your website. Not only this, products and services can also gain huge audience insights from social media.

Our blog, Golden Time Slots For Postings On Social Media Platforms, has noted some of the best time slots to post on media platforms to gain audience insights and earn a valuable customer base for your business.
Not Valuing Your Content
Content marketing is a strong link between merchants and their customers. So ignoring a solid content marketing plan is not a smart idea. People from all over the world visit websites to read a lot of content, where they learn about various industries and are impacted by them. 
Do not cut corners while writing for your website or social media marketing platforms.

Quality entails the inclusion of specific details, the use of plain language, and the preservation of originality and caliber.

Include infographics and engaging pictures together with text to keep readers from becoming bored by reading too much.
Failing To Take Advantage Of Video Marketing
Video-based content is likelier to be shared, embedded, and commented on by viewers than text. Because of this, new video formats are being added to social media sites on a daily basis. Reels on Instagram, for instance, are a terrific method to interact with the audience.
Due to its reputation as a more expensive digital marketing channel, businesses across sectors generally avoid engaging in video marketing. Companies must employ a producer, director, cinematographer, and performers in order to develop a video, which can drastically raise the cost. 
Create engaging and attention-grabbing thumbnails to increase click-through rates.

Keep your videos concise and focused to maintain viewer interest.

Incorporate storytelling techniques to captivate your audience and make a lasting impression.

Use high-quality visuals, clear audio, and professional editing to enhance the overall production value.

Optimize your video titles, descriptions, and tags with relevant keywords to improve search engine visibility.
However, the advantages of video marketing far outweigh the expenses. It assists in keeping your user's interest, which other marketing channels occasionally struggle to achieve. Future predictions indicate that video marketing will overtake audio and display to become the dominant form of advertising.
Ending Thought
In the year 2023, the stakes will be higher than ever in the quickly changing world of digital marketing. Avoiding frequent errors has become crucial as organizations work to remain ahead of the competition and connect with their target audience. The voyage through the top digital marketing blunders to avoid in 2023 has highlighted significant difficulties that may obstruct achievement in this digital sphere.
By developing a clear and thorough digital marketing plan, businesses can build a solid basis for their campaigns and guarantee that every effort aligns with their aims. Connecting with the target audience and adjusting marketing messaging to fit their needs and preferences might improve outcomes.
---
FAQs
---
What are digital marketing mistakes?
---
Should we focus on paid marketing?
---
What are social media marketing services?