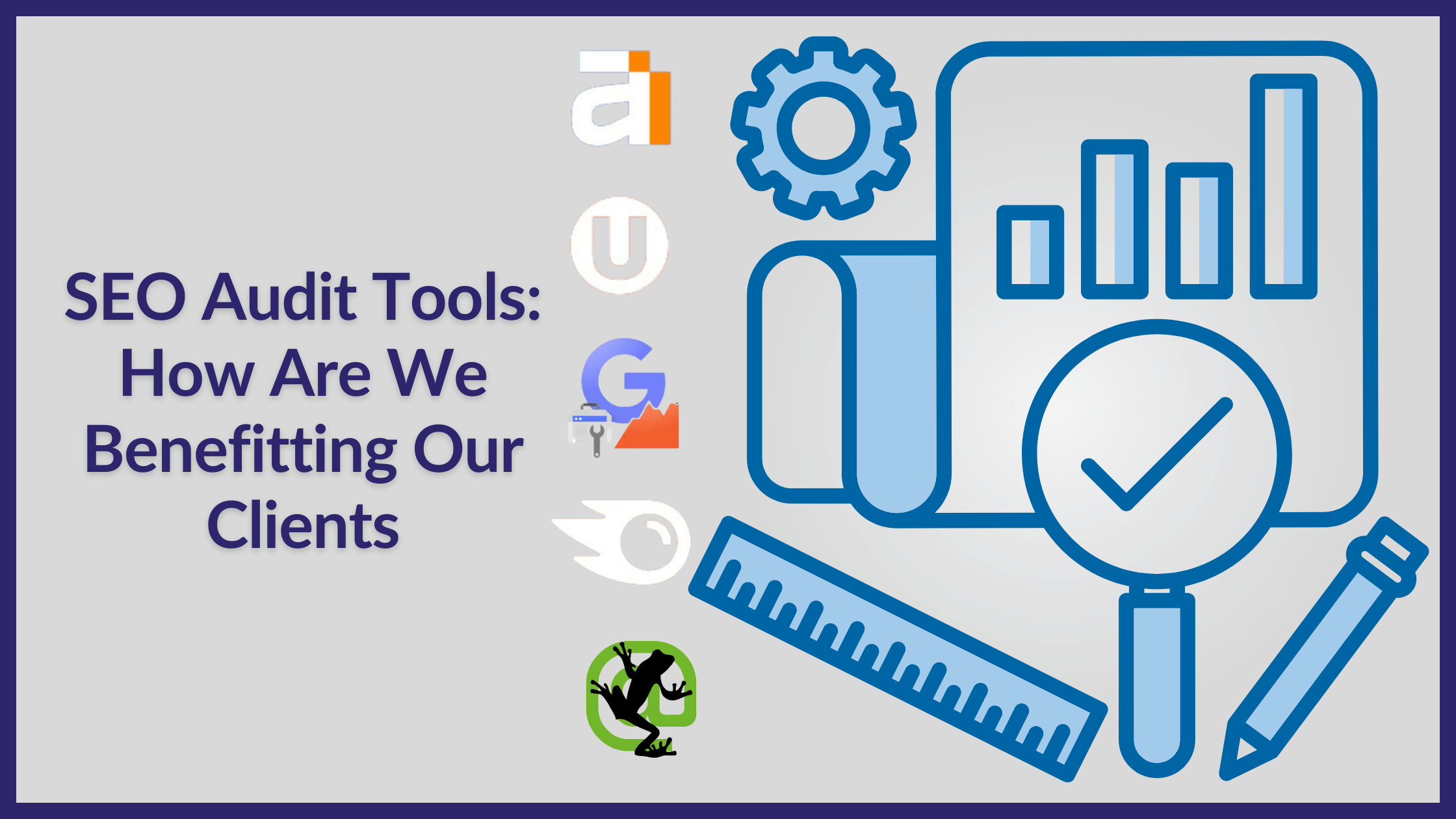 With today's blog, let us check how SEO Audit Tools can be beneficial for businesses to grow.
Auditing your SEO takes a lot of time and effort for an individual. However, ensuring your website is stable and operating at its peak potential is worthwhile. Several SEO audit tools available may greatly simplify your SEO assessment. We're going to discuss the top SEO audit tools in this blog.
An SEO audit analyzes your website's content, layout, and off-page factors that influence its search engine ranking. The good news is that you don't have to spend days or weeks trying to figure out what is working and where there is room for improvement on your website.  
Understanding SEO Audit Tools
An audit reviews a certain process or a specific aspect of it. During an SEO audit, professionals conduct in-depth analyses of website components that impact search engine rankings. If a product is located on the final rack in the rear row of the store shelf, selling it will be considerably more challenging. The same is true of any items purchased online. Internet surfers will locate your website on one of the distant search result pages if it is not properly optimized for SEO.
Most of us just search the first page after typing in the term we're looking for. You could believe that if a website isn't visible to customers who use this search engine to find services or products, it isn't on the first page of Google for key terms crucial to that business. You will lose a lot of prospective customers if your website is in a low rank for an extended period of time.

SEO audit tools are the softwares or platforms designed to analyze and access various aspects of a website's SEO performance. These tools assist digital marketers and website owners in optimizing their online presence and raising their search engine ranks by offering insightful information about the website's strengths, shortcomings, and potential development areas. 
Benefits Of SEO Audit
An SEO audit can be a great way to enhance a website's performance. There are many SEO tools online that can provide great results.

Do you constantly lose ground to a grating competitor in search engine rankings? Would you like additional information about the search terms they are ranking for?
Run an audit on a competition or two in addition to conducting your own SEO analysis. It's a fantastic tool to research your competitors and get data for your SEO strategy. Analyzing competitive SEO is absolutely appropriate and definitely worthwhile.

Some benefits are:

An SEO audit will highlight any problems with your website, such as slow loading times or site-map problems. It could also raise any security vulnerabilities that your website may have.

The field of search engine optimization is always changing. A few years ago, purchasing links that go to your page was a typical SEO strategy. Although link development is still a crucial component of any SEO plan today, these harmful connections might hurt your search engine results.


When we reveal to customers which keywords they are truly ranking for, they are frequently taken aback. An SEO audit provides priceless insight into your natural presence in search results. You may tailor your content in accordance with what you're ranking for (or what you're not) once you know.



It's crucial to continue this procedure frequently after you've conducted an SEO audit and made the necessary modifications.

This allows you to monitor your progress in enhancing your online visibility and offers you a better notion of what to do next. After all, SEO is an ongoing kind of digital marketing. To learn the search keywords and types that your target audience uses, conduct an SEO audit.

Top SEO Audit Tools
Here are some of the most used SEO audit tools for optimization and audit of websites.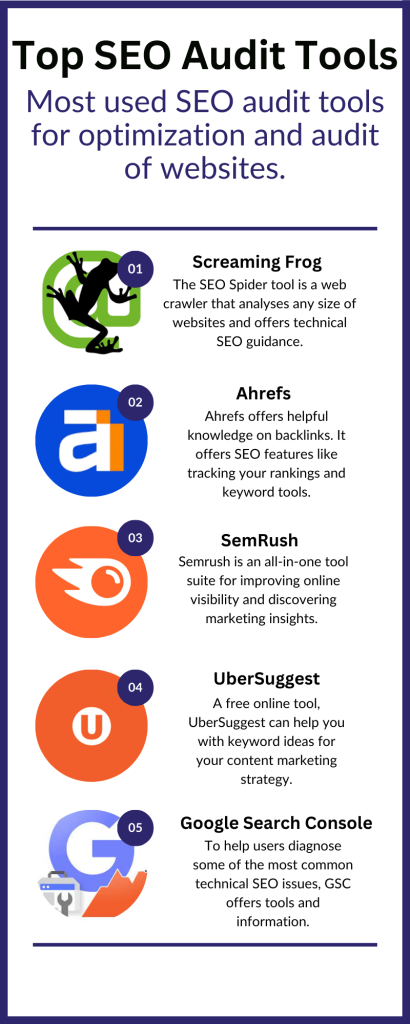 1. Screaming Frog:
With clients like Google, Apple, Amazon, and Disney, Screaming Frog is a market leader in technical SEO audits. A website crawler developed by the firm, the SEO Spider tool quickly analyses websites of any size and provides users with technical SEO advice.

A better question to ask regarding SEO Spider in terms of technical SEO audits would be: What can't it do? Ensure to create precise XML sitemaps that get your sites indexed quickly, locate pages with poor optimization or missing information, find duplicate pages, diagnose faulty redirect chains, and more with the help of SEO spider.
2. Ahrefs:
Despite being primarily known as a backlink authority checker, Ahrefs has much more to offer. This digital marketing tool provides useful information about backlinks and SEO. It offers SEO features, including keyword tools and ranking tracking.
Ahrefs is known for one of the largest databases of live links and a well-known tool for its backlink checker. It recreates your website as a search engine sees it using the tools for crawling. This aids in your ability to comprehend your website better and make it search engine-friendly.
3. SemRush:
Semrush is a comprehensive toolset for increasing web presence and learning about marketing trends. SEO, PPC, SMM, Keyword Research, Competitive Research, PR, Content Marketing, Marketing Insights, and Campaign Management are all services that our tools and reports can assist marketers with.
4. UberSuggest:
Ubersuggest is a free online tool that can assist you in coming up with keyword suggestions for your content marketing plan. It provides the resources to aid you in your endeavors, whether you're creating blog entries or trying to duplicate the achievements of your competition.
5. Google Search Console:
Google Search Console provides tools and information to assist users in diagnosing some of the most frequent technical SEO issues. You can use the interface to check that Google's web crawlers can see all of your website's pages, make sure that new pages are being indexed when anticipated, and get notifications when Google finds indexing or spam concerns. The console gives marketers access to more than just technical SEO functions; it also lets them browse their website's whole backlink profile and monitor every keyword's SERP position.
SEO Audits With BetterGraph
Some businesses that conduct these studies also provide improved implementation. Either you or a team of professionals from outside the company can do the task. You could rank among the top-listed websites in your field on the first page of search results by using website optimization techniques and heeding the advice. You can take the help of a digital marketing agency, BetterGraph, for your website's best services.
---
FAQs
---
What is the benefit of SEO Audit?