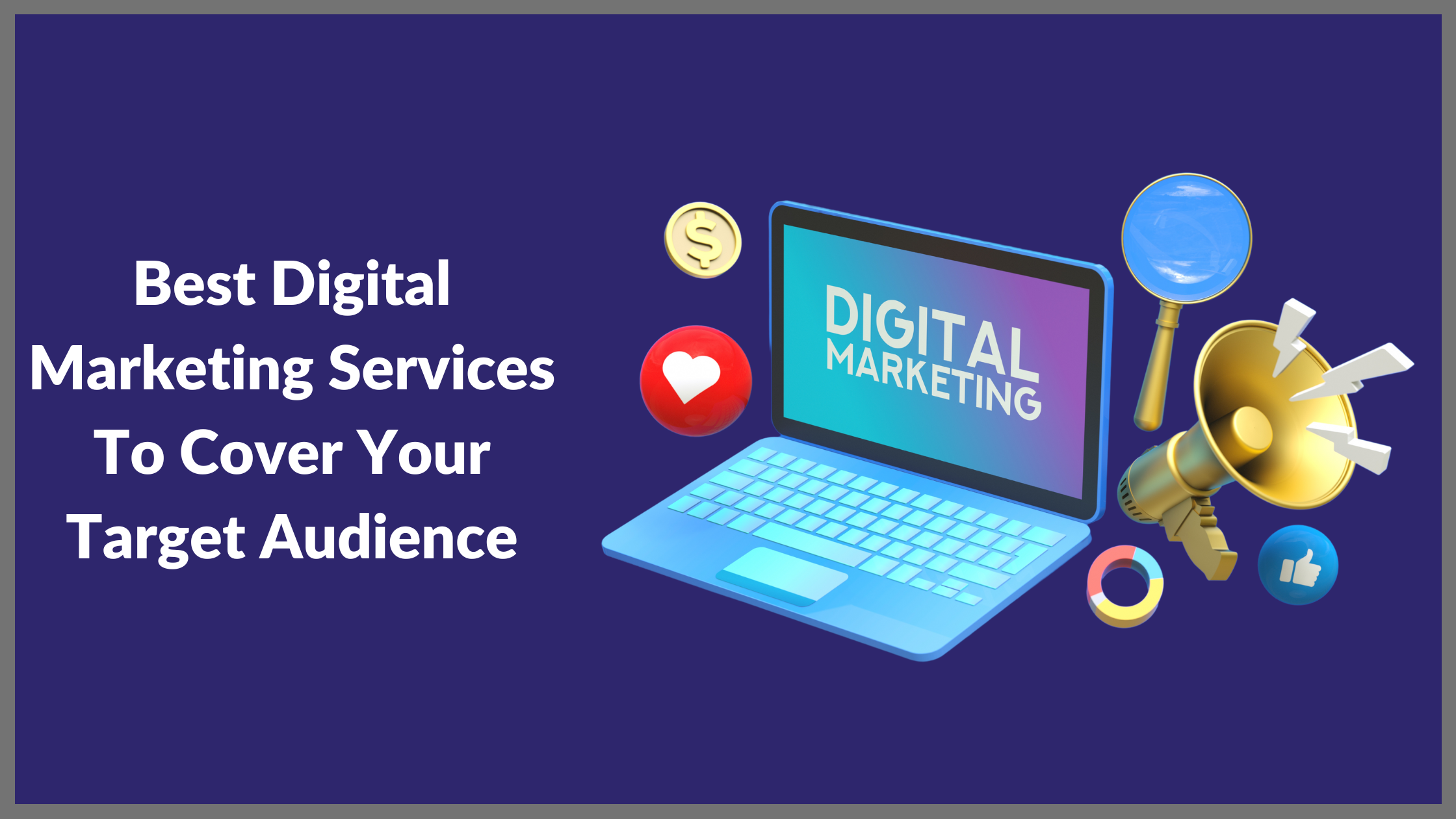 Many trends are to come and go, but digital marketing is here to stay for a long. The world of digital marketing is growing at a faster pace.
Due to the growing popularity of the digital world, it is now essential for businesses to establish themselves there. To stay abreast of the digital world, businesses need to employ digital marketing strategies.
Assuring business continuity in the current market appears attainable with the critical digital transformation the organizations must undergo. Even though only some companies use digital services for marketing, the results must catch up to expectations.
The first marketing rule is making the right offer at the appropriate time and place. Today, your customers are online, using social media, reading blogs and news websites, and looking for things when needed.
Digital Marketing Services
Digital marketing services are specialized products that promote or advertise your company on the internet through paid and unpaid channels like search engines and social media. Instead of conventional marketing channels like print or television, they only concentrate on digital ones.
Today, digital marketing is more essential than ever. Take immediate action to create, streamline, or improve your digital marketing strategy to safeguard your business against inflation .
Digital marketing is essential if you want your company to stay competitive and relevant. Our previous weblog, 10 Reasons To Hire A Digital Marketing Agency, also showcased the essence of hiring a digital marketing agency for businesses to cast out the real power of digital marketing. If your business has a digital or online presence, you take advantage of numerous chances to interact with your target audience.
Because it connects your business with customers when they are online and works across all industry verticals, digital marketing is essential. Companies that appear in search results can contact potential customers using SEO, PPC, social media marketing, and email marketing.
Simply put, digital marketing enables you to interact with your target audience online and through various channels. Digital marketing strategies include online presence, social media marketing, content marketing, SEO, and PPC.
You may communicate with current and potential consumers using digital channels like social media, pay-per-click advertising, search engine optimization, and email marketing. As a result, you might create a strong brand, offer excellent customer service, attract new clients, and more. 
Let us check out the top 5 best digital marketing services in 2023.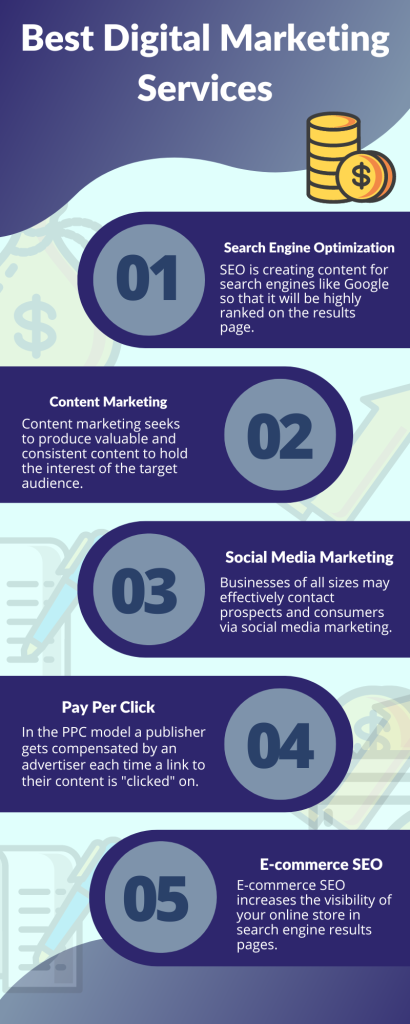 1. Search Engine Optimization
Search engine optimization is creating content for search engines like Google so that it will be highly ranked on the results page (SEO). Algorithms used by the search engine determine the relevancy of your page to the user's search keywords. Since these algorithms are continually updated, SEO strategies must be frequently changed to remain effective.
Search engine optimization (SEO) frequently entails making minor adjustments to various elements of your website. When paired with additional optimizations, these adjustments could considerably affect your site's user experience and speed in organic search results, even though they may appear as incremental gains when evaluated separately.
2. Content Marketing
There is a massive demand for information to help people solve their problems or achieve their goals. You will build people's trust if your brand communicates confidence to them through distinctive and helpful content.
Content marketing services seek to produce and disseminate valuable, timely, and consistent content to hold the interest of a target audience and, eventually, to drive lucrative consumer action. This strategy entails answering queries from your audience. Blogs, social media, emails, and other platforms can all be used for it. Blogging posts are one of several different content formats.
Content marketing is a tactic that makes use of blog posts, videos, guides, and other media to draw customers in, increase brand recognition, reduce sales cycles, and eventually encourage customers to purchase your goods and services.
Particularly when it comes to developing content that fosters strong business-customer relationships — where your customers are so pleased they not only make repeat purchases from you but also promote your business.
3. Social Media Marketing
Businesses of all sizes can effectively contact prospects and consumers via social media marketing. You are passing on the chance to learn about, follow, and transact with brands if you need to start using social media platforms like Facebook, Instagram, and LinkedIn. A dynamic approach with quantifiable objectives is required for social media marketing and includes the following:
Preserve and improve your profiles.

Posting content that promotes your company and draws in the right audience, such as images, videos, tales, and live videos.

Addressing remarks, shares, and likes while keeping an eye on your reputation.

To create a brand community, follow and interact with your followers, clients, and influencers.
Paid social media advertising is another form of marketing where you can pay to get individuals specifically interested in your business to see your brand.
4. Pay Per Click (PPC)
In the pay-per-click (PPC) model of online advertising, a publisher gets compensated by an advertiser each time a link to their content is "clicked" on. The primary suppliers of pay-per-click business are social media platforms and search engines like Google (e.g., Facebook). The three most popular PPC ad platforms Google Ads, Facebook Ads, and Twitter Ads are the three most popular PPC ad platforms.
PPC is seen favorably by advertisers and publications alike. The idea helps marketers since it enables businesses to promote products or services to a target population actively seeking similar material. Because each visit (click) from a prospective customer is worth more than the price of the click given to a publisher, an advertiser can save a lot of money with an intelligent PPC advertising campaign.
The pay-per-click business model offers publishers their primary source of income. Consider the free services that Google and Facebook offer their users (free web searches and social networking). Online advertising, especially the PPC model, allows businesses to make money from their free products.
5. E-commerce SEO
E-commerce SEO increases the visibility of your online store in search engine results pages (SERPs). To get as many visitors as you can for the products you sell, you have to be at search results.
While paid search might get you visitors, SEO is much more affordable. Although ad blockers and ad blindness may reduce the efficiency of sponsored search, you should still optimize for search.
E-commerce SEO frequently involves optimizing your headlines, product descriptions, metadata, internal link structure, and navigational structure for search and user experience. Every product you sell should have a page created expressly to get people from search results.
To Wrap Things Up
Today's generation spends more time on screens than ever before. Digital marketing uses this reality to promote business products and services online. Businesses may boost the likelihood that their marketing initiatives will be successful by concentrating on the areas of the consumer base where they spend the most time.
Both startups and established businesses can benefit greatly from a broad digital marketing approach. Several strategies, including content creation, social media management, search engine optimization, and online advertising, are combined in a successful digital marketing strategy.