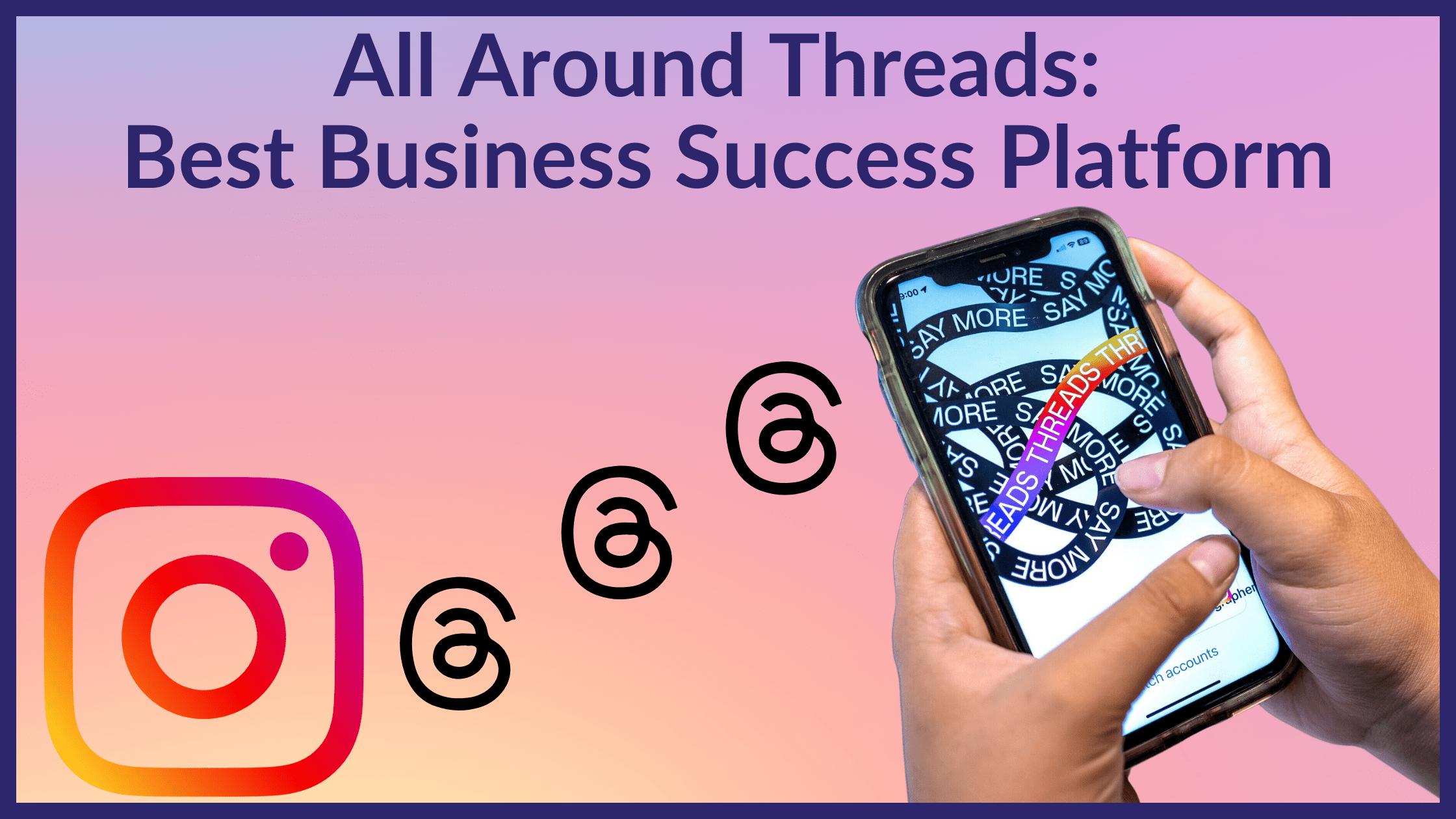 Zuckerberg's machine gun is dragged straight to Elon Musk's Twitter. Grab your gram as you are dealing with a business revolution. Dive in to get more leads and business through The new giant "Threads."

On 5th July 2023, the social media market encountered a new platform launch. Yes, you are right; we are talking about threads. Launched by Meta, threads have gained much popularity in the business market and a great deal for social media marketing services to reach out and utilize the most.

For a budding casual poster or a creator, threads provide an all-new, distinct place for at the time updates and open to dialogue. We are striving to integrate Threads with the open, interoperable social networks that we think can influence how the internet develops in the future.

As a digital marketing agency, BetterGraph takes up Threads as a social media platform developed for businesses to outshine. Let's see how we can use threads.
Understanding Threads 
Threads, an Instagram microblogging app, is dubbed as "Twitter Killer" due to how plainly Twitter has inspired it. By capitalizing on the controversy around it, Meta plans to use the opportunity to provide a "sanely moderated" alternative to Twitter, the industry leader in the microblogging space.
Users of Instagram, which is referred to be a conversational app, may upload text-based messages of up to 500 characters in length as well as pictures and videos that are up to five minutes long. The program has a basic UI with the ability to like, comment, repost, and share threads, and it has a style that is somewhat reminiscent of Twitter.
As a Social Media Platform: Threads
Threads is a social media platform working as a messaging platform. The platform resembles Twitter in that it features a stream of mostly text updates, while users may also upload photographs and videos and engage in real-time chats.
According to Meta, a 500-character limit will apply to posts posted to Threads. Users may respond to, repost, and quote other people's messages on Threads, just as on Twitter. The program incorporates Instagram's current UI and functionality, enabling users to share content from Threads to Stories. Taking from Instagram's Blog Update, 
"The vision for Threads is to create an option and friendly public space for conversation," Meta CEO Mark Zuckerberg said in a Threads post following the launch. "We hope to take what Instagram does best and create a new experience around text, ideas, and discussing what's on your mind."
Though this is to be expected when millions of people are simultaneously joining and utilizing an app, some users occasionally suffer bugs and problems getting material to load in the early hours after Threads started.
Signing Up Threads
To sign up for the app
Users can change their bio to make it specific to Threads after signing up through their Instagram accounts, keeping their login, password, and account name the same. Users can begin using the program very quickly since they can import the list of profiles they follow directly.
The business does note in its privacy policy that "your Threads profile can only be deleted by deleting your Instagram account." Through the app's settings section, users can temporarily disable their accounts.  Some users have expressed worry over the vast amount of data that Threads and Instagram may collect about users, including location, contacts, search history, browsing history, contact information, and other data.
What Can Businesses Gain With Threads
Threads are built with the tools to enable positive and productive discussions. You have fuller control over how and whom you mention or reply within Threads. Like Instagram, you can add hidden words to your threads to exclude comments that include particular phrases. By pressing the three-dot menu, you may unfollow, ban, restrict, or report a profile on Threads. Any profiles you've blocked on Instagram will also be blocked on Threads.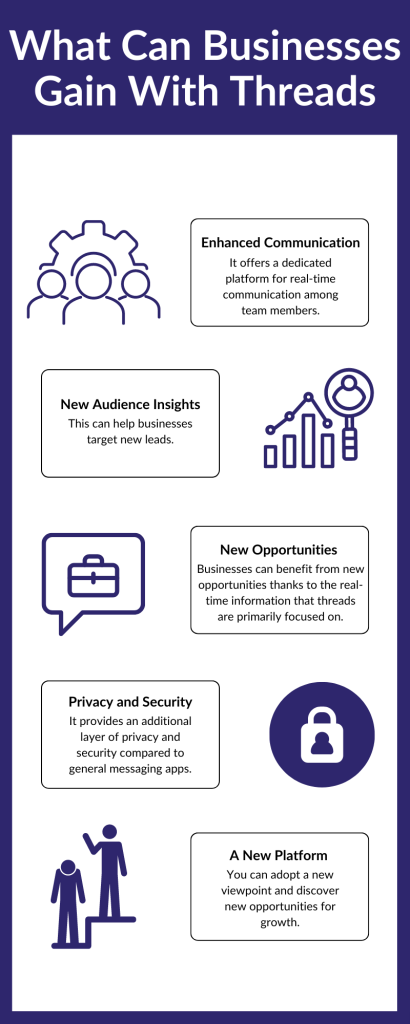 Businesses can gain great results from threads. One can:
Businesses can gain new audience insights with Threads. This can help businesses target new leads.

Businesses can gain new opportunities with the real-time information that is the main focus of threads.

With a new platform, you can start a fresh perspective and gain new growth aspects.
Postings On Threads
Similar to Instagram, you can post up images and videos on the platform. You do have options to post links in text messages and animated GIFs.

Text Length – up to 500 characters

Carousels

Images and videos – Upto 10

Videos upto 5 minutes

GIFs
What To Avoid On Threads?
To date, awaiting future results, which may surely be on the way as of now, some following features are not available on Threads,
Hashtags For Postings

Direct Messages (DM)

Pinned Posts

Advertisements
As a digital marketing agency, we recommend businesses jump on early as there is so much buzz in and around the launch. Businesses have a great opportunity to grow into new media platforms. But take note that the business's Instagram account decides your Threads handle before switching from Instagram to Threads. Because you already own your Threads handle on Instagram, companies shouldn't have to fear an internet squatter seizing it. You don't have to join Threads right away.
Ending Thought
With our previous blog Instagram Marketing: That's How You Slay Your Competition!, it is already known that Instagram holds billions of people around the globe connecting over photos and videos. Meta's vision is to sew around what is best in Instagram and expand the range to text which can further create an expression of ideas. Threads, like Instagram, will let you follow and connect with your friends and creators who are in the same interest. This will include people you follow on the gram and beyond it.

With the growing social media craze, businesses have a great opportunity to attract new customers. This will further help businesses stay up to date-and capture real-time trends. Not only this but with threads, your business can outshine opportunities in the digital world.
---
FAQs
---
Is Threads helpful for businesses?