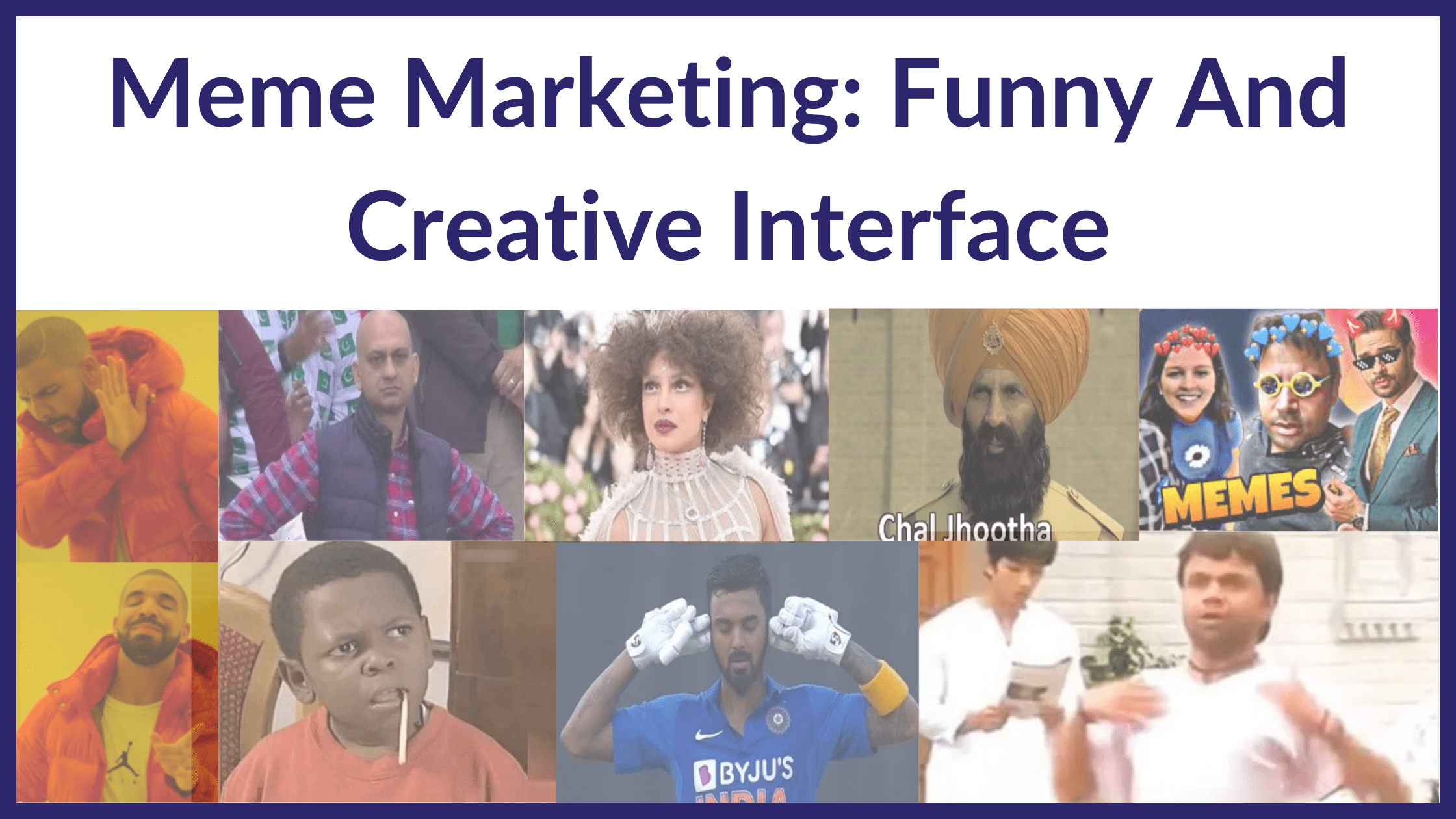 Let us dive into a funny world of memes and understand how meme marketing affects the world around us.


Today, memes are the voice of social media and are used extensively in marketing by numerous companies. Memes are used in practically every branding and marketing plan since individuals and businesses are aware of their marketing potential.

A YPulse survey found that almost 75% of millennials post memes, and at least 38% follow meme accounts on social media. Memes can be found anywhere. Memes may be found on various social media sites, including Facebook, Twitter, Instagram, YouTube, and others. Meme advertising has developed beyond a fad in 2019 to become the main information source for millennials, and Generation Z. Memes can keep a conversation going. A greater return on investment is the consequence as visibility and interaction rise.
Everyone is seeking an efficient meme marketing plan as social media usage grows. You're at the correct spot, then!
At A Glance: Meme Marketing
Utilizing well-known online memes and cultural allusions in advertising and marketing initiatives is known as meme marketing. This strategy boosts brand identification and audience engagement via humor and sympathetic content.
Meme marketing is to provide shareable, memorable matter that is consistent with the tastes and values of the target demographic. Memes are an important aspect of social media marketing.
Meme marketing is significant because it enables businesses to have a more intimate and emotional connection with their target consumer.
Meme marketing fosters a sense of relatability and inclusivity through humor and pop culture allusions. These elements promote the brand's excellent reputation and boost client loyalty. Memes also have the potential to become viral and are very shareable, which increases brand exposure and reach.
Meme marketing enables firms to stand out and attract the attention of their target audience in a hectic and crowded digital environment. They may also use it to humanize their marketing efforts and demonstrate the personality and values of their business.
Meme marketing is a powerful strategy for increasing brand recognition, attracting leads, and increasing conversion rates.
Top Reasons To Take Meme Marketing Seriously For Your Business
Social media is not a subject that can be avoided today. Even the advanced AI features support media creations. Our previous blog, The Positive Impact of AI on Social Media Content Creation, clearly shows the impact of media creation on businesses.
Memes are always taking action. As a part of working on your marketing strategy, memes are the best way out. These are indirect and subtle ways of promoting your brand. If memes are the future of marketing, You need to invest in them. They are not just for getting up a good chuckle for viewers. Memes are powerful enough to drive engagement to the brand's digital channels.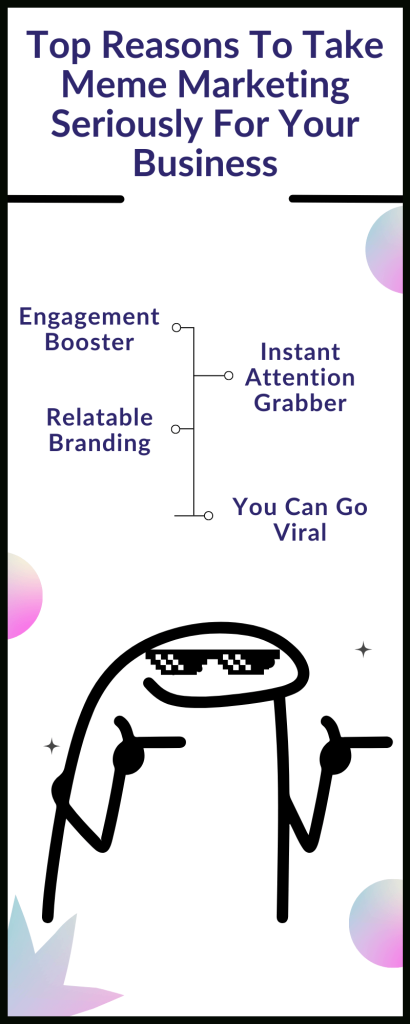 We have mentioned the top reasons to start meme-ing around your market as a part of your marketing campaign.
1. Engagement Booster
You need to know that people follow business pages to avail of discounts and coupons.
How many discount codes do you believe you can publish each day to generate activity if that is the case? That many daily, right? Not too much? However, by using memes, you can keep your company's social media profile active and trending!
When you utilize memes for social media marketing, you help your company connect with clients who may not yet be familiar with your brand. Be prepared to accept online engagements and impressions, such as shares, likes, reposts, retweets, and other actions, if the memes you publish as part of your brand marketing campaign are good. Your brand may interact through meme marketing without being overly aggressive.
2. Instant Attention Grabber
In comparison to text content, people do connect more with visual content.
Compared to text content, people connect to visual content more quickly. But even with visual content or graphics, the time to capture the viewers' attention is very little. As per studies, the average attention span of users today is shorter than that of a goldfish, which is less than 9 seconds. But when it comes to memes, as per meme marketing research, they catch the attention within a second, even before the users can move on to the next thing.
For example, promoting your brand or services through trendy memes such as Spiderman memes, Spongebob memes, etc., can help you grab people's attention immediately.
3. Relatable Branding
Memes are forms of visual humor that may amuse a crowd. Now, your audience can relate to your brand more readily when you make them laugh. Because your audience can easily identify the circumstances you depict in your memes, you may establish a sense of community and a sense of belonging in them by using meme marketing in 2022. Memes' humorous quality allows your business to stand out.
We are all aware of the positive social and conversational effects of humor. That's what memes, which are essentially visual marketing techniques, do. Instigating fun and humor is as important to them as creating a relationship.
4. You Can Go Viral
Unquestionably, being viral is the golden grail of brand marketing. For any brand or company, producing and distributing content that quickly goes viral and establishes its brand across all screens is more of a pipe dream. Regrettably, accomplishing this objective through regular social media updates proves to be quite difficult.

It's a very different scenario with memes, though! Your company has the ideal opportunity to go viral with meme marketing.
Memes All-Around
In conclusion, meme marketing has become a highly successful and entertaining strategy for reaching out to contemporary audiences. Brands may tap into the cultural zeitgeist and produce shareable content that connects with their target audience by utilizing humor and inventiveness. Businesses may use meme marketing to cut through the clutter, grab customers' attention, and build sincere relationships with their customers.
But it's crucial to approach meme marketing sensibly and with prudence. Not every meme fits every brand or demographic, and making the wrong determination about a meme's context or appropriateness might have unfavorable results. Therefore, before utilizing memes in their marketing campaigns, firms should thoroughly investigate and comprehend the cultural importance of memes. You can connect to BetterGraph, a digital marketing agency in Noida, to get started with the art of social media and dig into meme marketing.
---
FAQs
---
Is meme marketing helpful?