Let's tune into GA-4 and get started with the top tips that can give you real insights into the new change.
Are you listening!!!!

Universal Analytics and GA360 UA assets will stop processing new hits on July 1, 2023, and July 1, 2024, respectively. In June 2023, the company said Google would stop supporting Universal Analytics. This indicates the time is running out for you to upgrade to Google Analytics 4.

With Google Analytics 4 (GA4), you can gather, monitor, and calculate traffic and engagement data across websites and applications. Digital marketing services are definitely gaining an edge in learning. GA4 is the latest version of Google's analytics monitoring software. Website owners have extensively used the current Google Analytics platform, Universal Analytics (UA), for the past 10 years.

We've heard from many marketers and company owners who are not thrilled about the change. Although change is never easy, we believe this change will be beneficial. You can track what matters to you instead of merely what Google believes could be important to you because it offers a tonne more data and is more configurable.
In today's blog, let's learn about GA-4.
GA-4: At a Glance
Google Analytics 4, or GA-4, is the most recent version of Google's renowned web analytics software. It provides sophisticated features and capabilities for tracking and analyzing user interaction and behavior on websites and mobile apps. GA-4 offers insightful statistics on user acquisition, retention, and conversion that organizations can utilize to optimize their online presence.
From Google's perspective, GA has been built to be the analytics software of the future, focusing on two main things: machine learning and data visualization. GA4 has more predictive analytics, insights, and data visualizations than UA. The blog by Google specifies the details for google analytics 4 migration.
GA4 is also focused on ease of tracking; instead of having multiple views, all related properties now have aggregated data streams, helping companies get a clearer picture of visitor behavior. As people move fluidly from browsing on devices to desktops and in apps, then back to desktops, it probably, GA4 provides an overall value of a visitors' online presence.
Google Analytics 4 tracks the entire customer path across multiple platforms and leverages AI and machine learning to provide more detailed insights into how users interact with your website and app.
GA4 is also focused on customer privacy. This comes in the face of some of the latest privacy laws, such as GDPR and CCPA. With privacy-first tracking, cross-channel data measurement, and AI-driven predictive analytics, GA4 is an advanced tool that provides unparalleled insights.
What Is Different In Google Analytics-4
The difference between universal analytics and Google analytics is that when it's about GA-4, it enables you to report on the activity that occurs on both the application and the website.
Google Analytics 4 uses AI and machine learning to deliver more in-depth insights into how customers engage with your website and app while tracking the complete customer journey across various platforms.
GA4 emphasizes consumer privacy as well. This runs counter to several of the most recent privacy rules, including GDPR and CCPA. GA4 is a cutting-edge technology that offers unmatched insights thanks to privacy-first tracking, cross-channel data measurement, and AI-driven predictive analytics.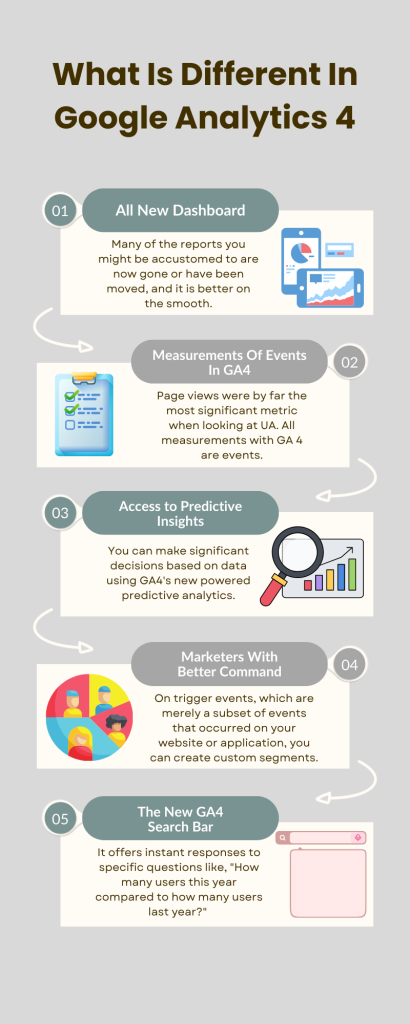 All New Dashboard
The very biggest change you will notice is the all-new dashboard. It is better on the smooth, and many reports you may be used to are now gone or have been moved. The navigation bar to the right includes buttons specifically for reports, home, explore, advertising, configure, and library. At the bottom, you can also find predictive analysis based on Google AI.
Measurements Of Events In GA4
Looking at universal analytics, page views were majorly the most important metric. With Google Analytics 4, all the measurements are events. Instead of checking generalized data, you can now easily gain a fuller understanding of how users are interacting with your website and application.

How does this affect you? Although you may still examine session-level reporting, being able to segment it by interaction results in more insightful reports and data.
There are several new metrics in GA4. These include measurements for engagement like:
Engaged sessions

Engagement rate

Engagement time
Other aspects that are tracked by it include attribution, demographics, events, and so on. Although this is a significant change, it will actually make it simpler to follow clients as they travel. Page views were once thought to be the most significant measure by GA. However, that is no longer the case. Although there may be a learning curve for the additional parameters, you will have access to more data.
Access to Predictive Insights With Google Analytics 4
Past behaviors are helpful for understanding your audience better, it does not help you make proactive decisions. With GA4's new powered predictive analytics, you can make data-driven decisions on a large scale.
How does this appear? Predictive analytics may have a substantial influence on retargeting marketing for the majority of firms. AI metrics consist of the following:
Purchase Probability

Churn probability

Revenue Prediction
You can create audiences based on their expected behaviors using the data mentioned above. For instance, customers who want to buy anything in the next week will undoubtedly shell out more than $1,000 all at once.
Then, these audiences may be targeted using social media or Google Ads campaigns.
The performance of websites can be enhanced using these indicators. You may design unique funnels for various audiences based on their behaviors and requirements. As more information is gathered, the recommendations will keep becoming better.
Marketers With Better Command
You can customize the dashboard in GA4 so that you can view the reports that are most important to your company. It even integrates nicely with Google Data Studio so that you can design unique visualizations of the gathered data.
You can build custom segments on trigger events, which are simply a subset of events that happened on your website or application. You can track client interactions more precisely as a result of this.
One may, for instance, establish segments based on all conversion events that happened in a specific area. You may now observe your users and their behaviors at a more detailed level thanks to these features.
The New GA4 Search Bar
The search bar in GA 4 will let you access more. This includes instant answers for specific queries like how many users this year V/S how many users there were last year. The specific reports or insights. configuration of property or to access the help content.
We Are Growing:
Google Analytics 4 is a potent analytics program that offers priceless information about your audience. GA4 offers several advantages, such as cross-platform monitoring, increased data management, and AI-driven insights.
Luckily, creating a GA4 property on your website or application is simple. There is no need to put off the changeover because the procedures described above should take you less than 10 minutes to complete.
---
FAQs
---
What Is Google Analytics 4?
---
How is GA4 different from Universal Analytics?