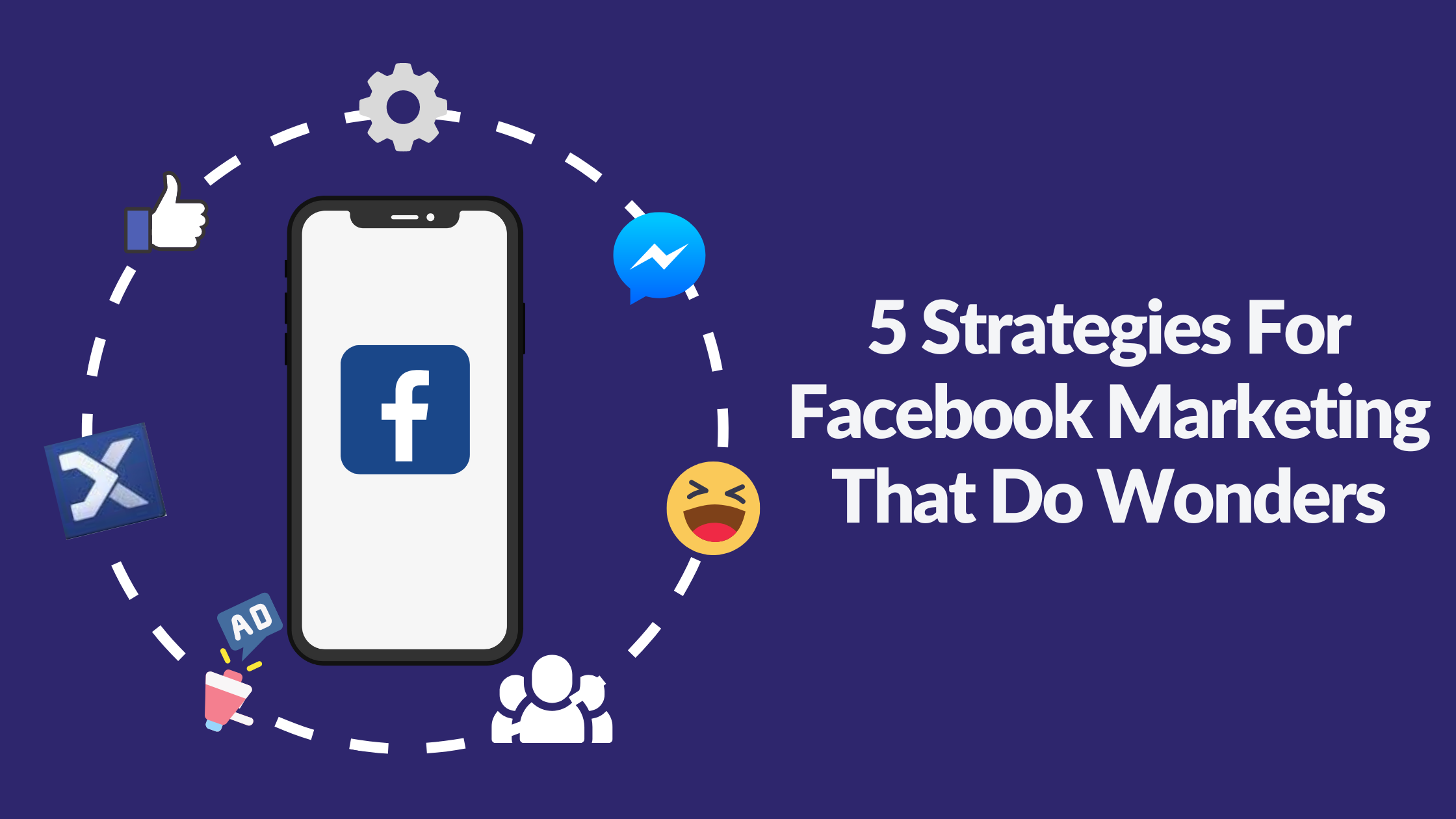 Many to come, many to go! But Facebook, my friend, is staying in for a long time.
Facebook continues to lead social media platforms as the most used platform for interacting with friends online and sharing content. Our previous blog, 7 Proven Facebook Marketing Strategies That Work In 2022, mentioned the strategies to do Facebook marketing in the right way, and with the arrival of 2023, we are with some new strategies further.
Facebook has changed from just a platform for friends to hang out to a channel for businesses to interact with clients and promote. The following blog is about the 5 Facebook marketing strategies and their utilization.
Before this, let us begin with understanding Facebook marketing.
All Over Facebook Marketing
The act of promoting a company or brand on a social media platform is known as Facebook marketing. Businesses can use it to increase consumer brand awareness, develop an online audience, acquire leads, and boost sales. It is a well-known marketing specialty; therefore, you should always work with a qualified Facebook marketing company to handle your advertising campaigns and maximize your Facebook presence.
If you want to build your company's reputation on Facebook, you must have Facebook marketing strategies and a plan that gives high-quality content promoting your business. This concept is recognized as "organic," which indicates that nothing was added to the mix to encourage growth, similar to the idea of organic fruits and vegetables. Any traffic generated was organic because the company didn't pay for advertising or post boosting.
A Facebook business page must first be created, which may be done quickly with a personal account. Facebook provides comprehensive step-by-step instructions if you need assistance creating or setting up your page. This video also offers a valuable introduction to setting up your social media accounts.
Now let us study the 5 strategies of Facebook marketing creating wonders.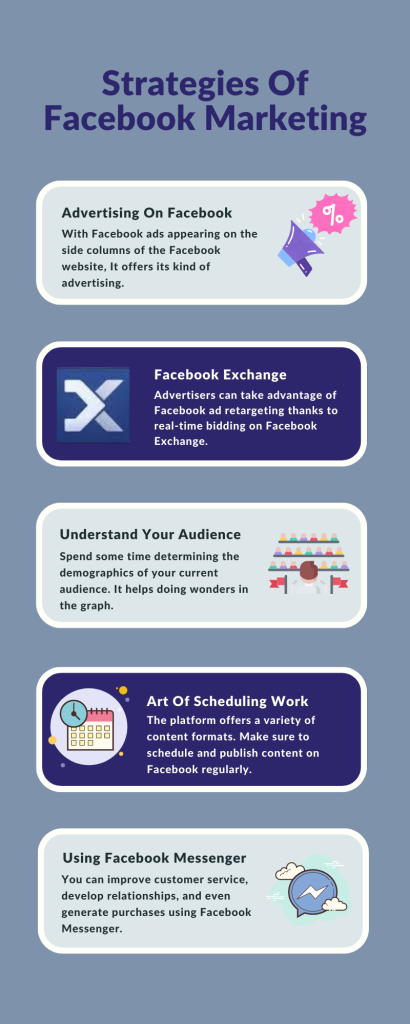 1. Advertising On Facebook
With Facebook ads appearing on the side columns of the website, it offers its kind of advertising. These conventional adverts are more precisely referred to as Marketplace Ads. They contain an image, a click-through link to a Facebook page, an app, an external website, and a headline with a copy.
One method for boosting likes or generating website clicks is integrating Facebook advertising into your marketing strategy.
Features of Facebook advertising include
Leveraging Facebook user data on age, geography, education, and interests in demographic targeting.

Budgeting for advertising.

To compare ad structure and layout, various ad versions can be tested concurrently.

Built-in capabilities for evaluating the performance of advertisements.
The capacity to market to your specific area is excellent for nearby firms. It is challenging to determine the true success of Facebook's advertising, given that the social media platform withholds information on its ad CTRs. 
Comparing Facebook ads to Google display ads, it is seen that they typically have a CTR of 0.051% and an average CPC of $0.80. But depending on the targeting choices and the competition level, the price of Facebook advertising for a business can vary significantly.
2. Facebook Exchange
Advertisers can take advantage of Facebook ad retargeting thanks to real-time bidding on Facebook Exchange. The company can then employ FBX to display an ad for that exact item on Facebook when a customer views a product page on a merchant's website but doesn't buy it. Based on site histories, advertisers can target specific audiences.
Previously restricted to the side columns, Facebook retargeting ads can display the most valuable Facebook real estate in news feeds. It's fantastic news for FBX advertisers that reaction rates for news feed advertising are 10 to 50 times higher than those for ad placements in the right column.
3. Understand The Audience You Are Into
Do you fully comprehend who your Facebook audience is? If not, you might want to spend some time determining the demographics of your current audience because this will be critical in determining the marketing approach you should take to reach them effectively. 
Get a comprehensive understanding of your audience's demographics using Facebook Page Insights.
4. The Art Of Scheduling Works
Any social media plan must include creating and posting content. You don't have many restrictions on the kinds of content you can share on Facebook. The platform offers a variety of content formats, including polling on your Facebook page, publishing user-generated material, and streaming live videos. Make sure to schedule and publish content on Facebook regularly. An innovative strategy to improve your internet presence is to keep a regular posting schedule.
5. Using Facebook Messenger
You can improve customer service, develop relationships, and even generate purchases using Facebook Messenger. One of the numerous types of media you can include in a Facebook post is a button that allows someone to send you a direct message. Additionally, you may use the CTA button at the top of your company page to promote your brand.
Then, you can quickly set up an automatic Facebook Messenger bot or have your social media team member manage the inbox. You may promptly add prefabricated questions and answers, allow users to shop over Messenger, and more if you build up a bot.
Facebook Messenger can aid connection development, sales, and better customer service. One of the numerous types of media you can include in a Facebook post is a button allowing people to reach you directly. You may also use the CTA button at the top of your company page to send a brand-related message.
After that, it will be simple to assign a social media team member to manage the Messenger inbox or build up an automated Facebook Messenger bot. If you create a bot, you can quickly add ready-made questions and answers, let consumers make purchases using Messenger, and more.
The Shining Star
From a marketing standpoint, using social media is quite profitable. Organizations will make the most of their efforts if they are on Facebook. Businesses that make use of Facebook marketing services providers will maximize their results. Instead of attempting to sell their content to consumers, brands should focus on developing original content with a compelling narrative.