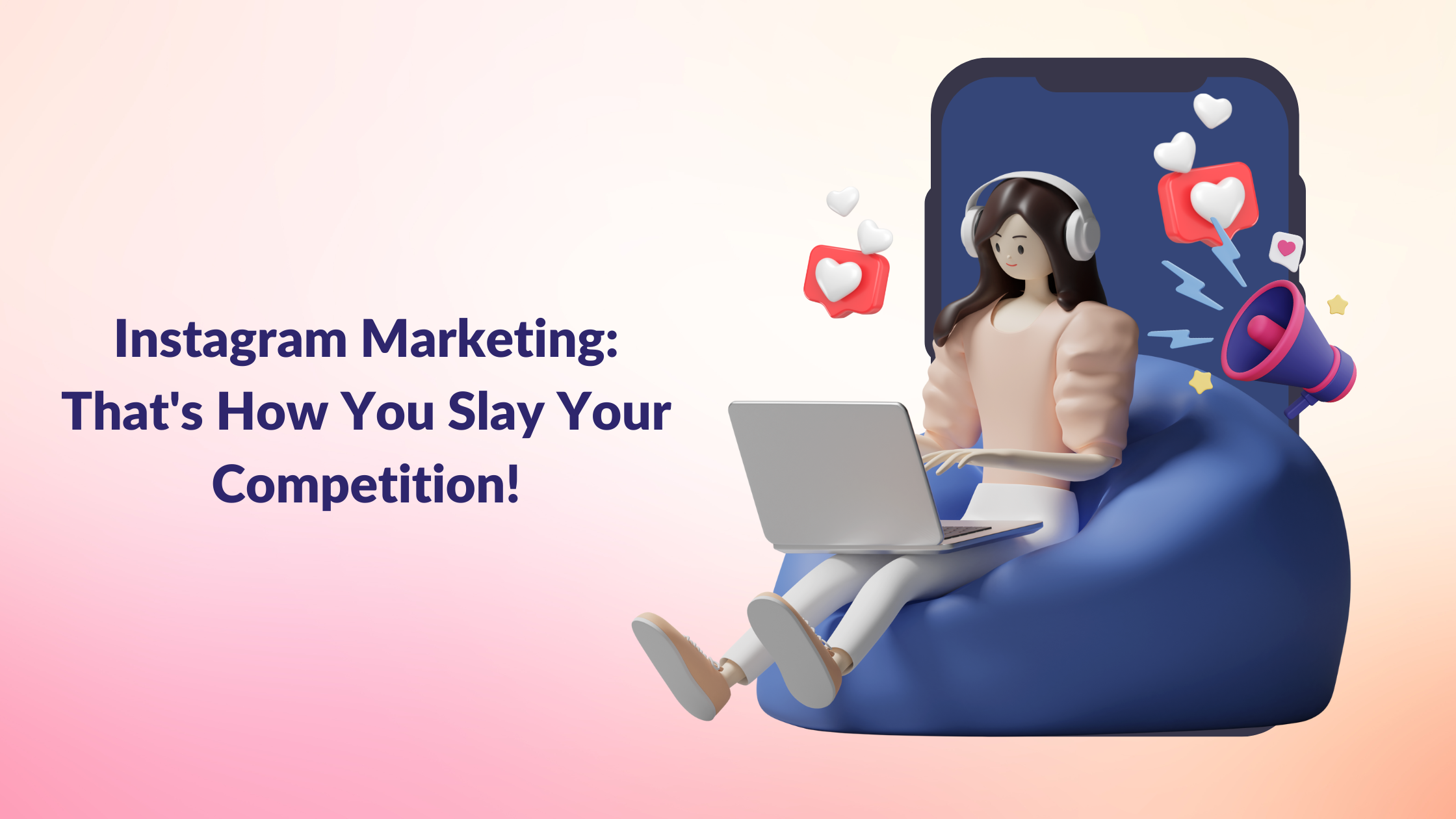 Hello, businesses and brands around; in the age of digital marketing, if you are not using social media, you are missing out on a vast audience base to target. Today, almost everyone is on social media and finding a DM stuck. Welcome to Instagram!
Instagram is one of the most popular social networking sites, with over 1 billion members.
But is it the best social networking site available?
We do not know about you, but the statistics and popularity of the platform certainly make us agree that Instagram is a fantastic platform for businesses to target a highly interested customer base aged 25 to 34.
But before starting on Instagram, it is essential to be power-packed with a strategy that will bring out the best of your business, serving as a magnet to the target audience around the site.
So here we are with our today's blog starring Instagram marketing: That's how you slay your competition.
Let's begin with a basic understanding of the platform.
All About Instagram"
When Instagram first debuted on the scene in 2010, it was like any other social networking site: it was full of selfies, pictures of pets, and gourmet shots.
Instagram has nearly transitioned from a necessary photo-sharing app to a full-fledged marketing tool by 2022.
Take a look at some of the most recent platform enhancements! In the last year alone, Instagram has launched dozens of new business tools, including expanded analytics, shoppable Instagram posts, new techniques for using Instagram Stories as a traffic source, and the brand-new standalone video platform IGTV.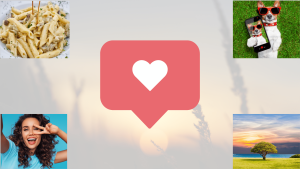 Instagram is a social media platform that is rapidly growing in popularity. Businesses have effectively used social media as a marketing tool.
Marketing on Instagram is all about using perfect tools and tactics to present the best and target the correct audience base. Instagram marketing is a type of social media advertising that involves the promotion of brands on the platform. This social networking platform enables businesses to communicate with a big audience, raise brand awareness, and enhance sales.
It's critical to consider the possibility of increased Instagram sales. Instagram makes staying in touch with present and new clients much more accessible. The fact that 90% of Instagram users follow at least one company demonstrates how much users enjoy connecting with marketers on this network.
So, with the mentioned above, brands can look forward to Instagram, and in case of looking for full-fledged competency, they can look for a trusted Instagram marketing agency in India. Instagram is one such social media channel that has grown in popularity over the last five years and is now used by nearly all small and large businesses as part of their social media strategy. 
When you hire an Instagram marketing agency, you hire a team of pros to lead your social media marketing plan. You can be confident that your business will be handled online by Instagram business advertising professionals. You may be overburdened with administrative duties and have little spare time to run campaigns, or you may believe you need more competence.
Now, to slay the competition, we have the following tips that can benefit your business's Instagram marketing strategy and make you a shining star on Instagram.
Content Should Be 100%
Before anything is over, it is essential to manage excellent and valuable content. Google's update over helpful content points to how search engines are ranking you better with the audience finding valuable content. 
Basically, people who use Instagram are constantly looking for relevant and engaging information. An effective content plan allows you to carve your own path through the Instagram marketing woods.
Furthermore, it provides you with the necessary clarity to generate visual material that your target audience would like. When you browse Instagram and specific accounts maintained by large and small firms, you'll notice that not all content shared on the platform is equal.
Comments And Reply= Engagement
Engage your audience! Respond to their comments and messages.
Because a higher engagement rate looks good in your analytics statistics, right? No! Respond to your fans because it's the correct thing to do.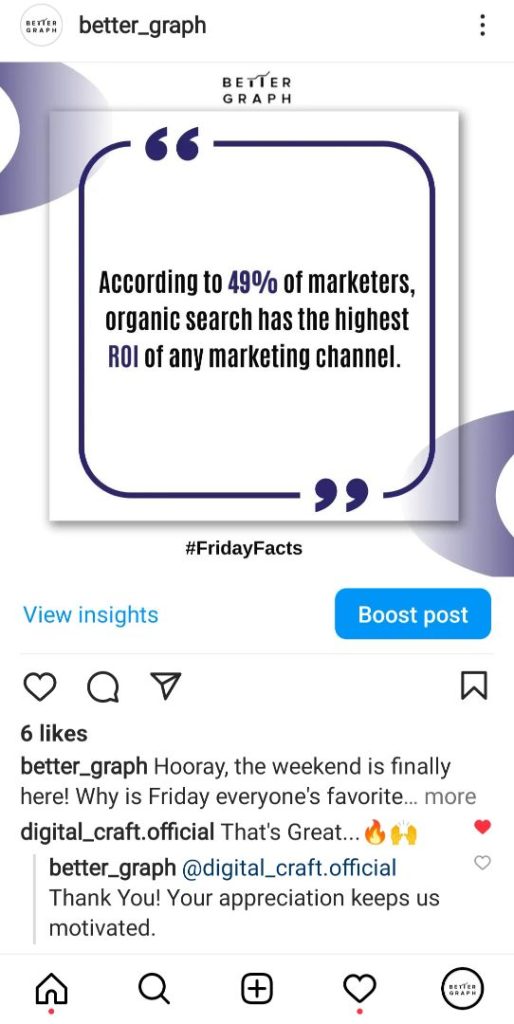 Yes, it improves your engagement rate. More significantly, it encourages potential clients to initiate contact with you. Those dialogues, over time, create the cornerstone of their perception of your brand and dramatically affect purchasing decisions.
Aesthetics! My Friend Wins 
Have a sense of style. It is what will win you more likes!
We have been happening on Instagram over aesthetics; believe me, it works wonders.
While your audience is unlikely to part with their money just because of your attractive looks, make an effort to establish a cohesive-looking profile.
Why? Because people will recognize one of your pictures in their Instagram feed before seeing the account name. They'll remember your style. That is branding at work.
Alright, having a recognizable appearance will help you attract the right audience, but style without content isn't a strategy. 58% of Instagram users prefer it when marketers upload raw, unrefined content.
Don't be deterred by the concern that your content will not be "beautiful" enough. Anyway, post it.
Look at what we at BetterGraph work on over our posts.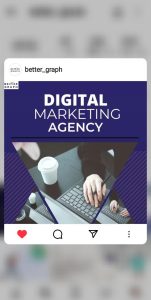 Just Reel It
When you open Instagram these days, reels appear to take up the entire screen, and there's a good reason for that: they drive interaction. We experimented and noticed a substantial correlation between publishing a Reel and an increase in total engagement rate.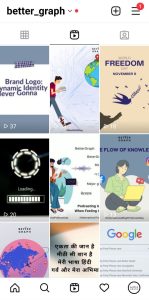 Reels are an effective way to broaden your audience beyond your current fan base. 50% of Instagram users look for reels on the explore page. You may highlight videos on the explore page to reach a new audience. Current research shows that reels attract 22% more interaction than ordinary videos.
Post a Story With Highlights
Although reels are more recent, Instagram Stories are here to stay. Stories, which are famous for more informal content, allow you to create relationships with your audience uniquely.
It also doesn't take much more effort to notice a significant impact. A year-long study discovered that businesses with one Story daily had a 100% retention rate. You can see how we on our page ensure to add in our daily post as a story to check out.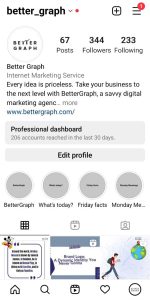 In addition, 500 million individuals utilize Stories every day. I could improve at arithmetic, but with a potential reach of 500 million people, can 100% of your audience recall your content? That is an obvious choice.
Stories only endure 24 hours, but your Story highlights live on indefinitely.
Highlights are excellent for rapidly conveying a large amount of information in the manner that most people prefer these days.
In addition, adding Stories highlights allows you to adapt your Story material and keep it working for you. Consider including a brief highlight for a new product launch or event.
#TrendingWithHashtags
This is one of the most successful Instagram marketing strategies that any brand or marketer should employ. Running branded hashtag Instagram marketing campaigns elevates and improves the effectiveness of your Instagram marketing.
How?
There are numerous benefits to using hashtags. Here are a few examples:
It increases the number of people who see your posts.

It allows you to reach out to the targeted audience in a better way.

It makes your posts more visible.

It makes tracking all the content associated with a certain Instagram marketing campaign easier.

You can use hashtags to promote a specific marketing campaign or develop a customized hashtag to promote all of your marketing endeavors.
Are you looking for ideas To hashtag or not to hashtag? Look at the post below.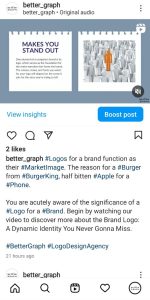 Insta! Here We Are
Using unique Instagram marketing services is always the greatest way to achieve the best results. You can increase your Instagram success with a few basic yet powerful marketing methods. Consider using one (or all) of the five Instagram marketing tactics if you want to develop on Instagram rather than just exist there.
It's also a good idea to post at strategic times to guarantee that your content reaches and engages the most number of individuals.
Are you ready to master the art of Instagram marketing?
Use the Instagram marketing tips we've discussed making the most of your marketing efforts.
With this, we wish you a lot of DMs, mentions, followers, and share around bringing your business to the best.