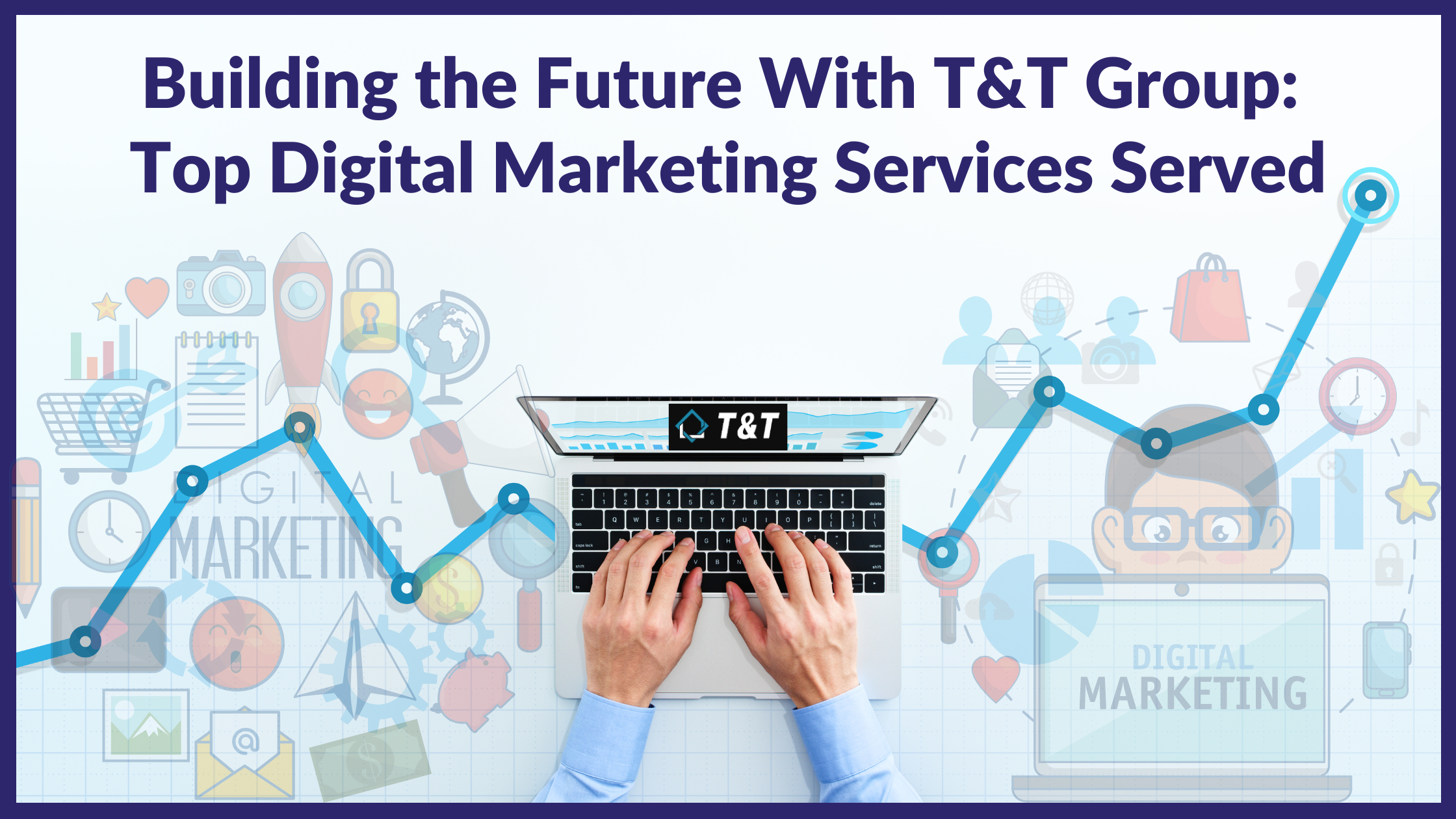 Get your bags on and shift up to the most influential architectural interface with the T&T group. Learn how we serve the best digital marketing services and create a perfect see-through in the digital paradigm.
Digital marketing has evolved into a crucial tool for businesses looking to survive in the digital era. Businesses must use efficient digital marketing tactics to build their brand presence, engage customers, and promote sustainable growth in the face of a growing online audience and strong competition. 
Our previous blog, Digital Marketing Services To Cover Your Target Audience in 2023, clearly mentioned how digital marketing could be a great way to connect to the right audience.
In Today's blog, we will study some tips that can shape your business with digital marketing and how our client T&T group succeeds with our expert advice.
Recap, Digital Marketing Services
Digital marketing services are a trending topic in the market today. With over 4.9 billion internet users around the globe, for any business, it becomes important to grab good visibility online.

The services encompass a wide range of strategies and techniques aimed at promoting businesses, products, and services in the digital realm. With the ever-increasing prevalence of online platforms and consumer behavior shifting towards digital channels, businesses are leveraging digital marketing to effectively reach and engage their target audiences. 
Digital Marketing Tips For Architectural SEO
Remember that SEO is a continuous process and that seeing results requires patience and regular work. You can increase your online exposure, draw in more targeted visitors, and position your architecture business for success in the digital sphere by putting these digital marketing strategies designed particularly for architectural SEO into practice.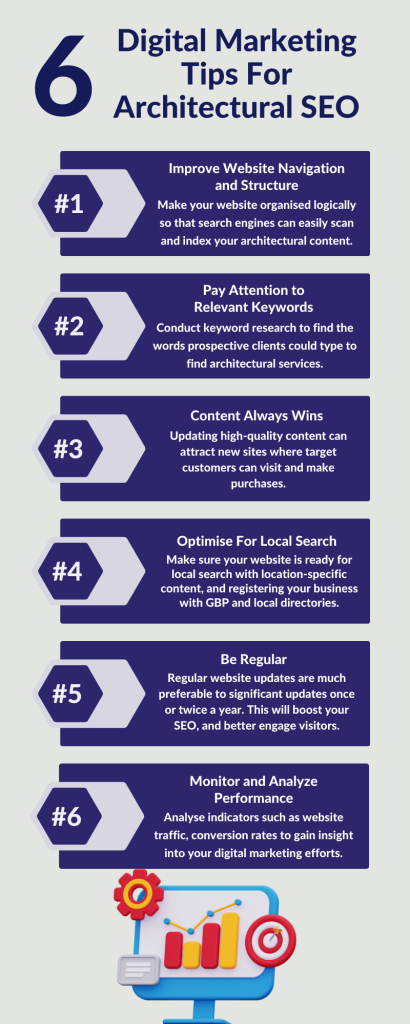 Here are some of the digital marketing tips that can be followed to achieve great success.
1. Improve Website Navigation and Structure: 
Ensure your website has a logical layout that makes it simple for search engines to scan and index your architectural material. For a user-friendly experience, employ logical categories, subcategories, and navigation menus.
2. Pay Attention to Relevant Keywords: 
Conduct keyword research to find the words and phrases prospective clients could type to find architectural services. Include these keywords in your website's page names, headers, meta descriptions, and image alt tags.
3. Content Always Wins:
For a brand to outshine in the market, content plays an important role. Updating high-quality content can bring in new sites for target people to visit the site and coin a buy. Create insightful and engaging content. It should demonstrate your architectural skills while also addressing the requirements and interests of your target audience. This may be done through blog posts, case studies, project portfolios, and instructional manuals. 
4. Optimise for local search:
Local customer targeting is frequently crucial for architecture firms. By adding location-specific keywords, developing location-specific landing pages, and registering your company with Google Business Profile and local directories, you can ensure your website is prepared for local search.
5. Be Regular
Google recognizes websites that regularly provide fresh material and stay current. However, this does not imply that you should simply publish for the sake of posting since quality almost always prevails over quantity. But regular website updates are far better than major improvements once or twice a year. This will improve your SEO and give your website a more lively vibe and engage users better.
Revisit projects

Create a content plan that includes regularly adding new initiatives, establishing deadlines, and following them.

Freshen up the blog

If you have a blog or news section, set a target, such as publishing one article every month or every two weeks.
Use visual information, such as high-resolution photos, films, and 3D renderings, to promote your architectural work as the discipline of architecture is mostly visual. To make these visual components more discoverable in search engines, give them informative file names, alt tags, and captions. 
6. Monitor and Analyze Performance: 
Utilise tools like Google Analytics to often check the effectiveness of your website. To obtain insight into your digital marketing activities, analyze indicators. It can be website traffic, conversion rates, bounce rates, and keyword rankings. Utilize this information to improve the performance of your website by adjusting your methods.
About T&T Group: The Client Building Homes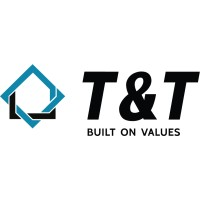 A "Techno-Real Estate Company" penetrating the Indian real estate market with a vision for revolutionizing the sector with innovation and transparency, T&T is one of the prominent service providers based in the Delhi-NCR area. T&T Homes offer India's first digital housing provider with smart homes. Their project, T Homes in Siddharth Vihar, Ghaziabad, offers smart bathrooms with pre-heated water, a shower panel, etc. It also offers a comprehensive kitchen with hazardous gas monitoring.
Benefits Of Digital Marketing For Real- Estate
Real estate SEO (Search Engine Optimization) can provide a number of benefits for those in the real estate industry, including:
Increased website traffic: SEO can help improve the visibility of a real estate website in search engine results, which can lead to more website traffic and potential leads.
Better lead generation: With a higher ranking in search engine results, real estate agents and brokers can attract more leads. SEO can help target specific audiences looking for properties in a particular location or with specific features.
Improved brand awareness: With a strong online presence, real estate companies and agents can increase brand awareness and become more recognizable to potential clients.
Cost-effective marketing: SEO can be a cost-effective marketing strategy compared to other methods, such as paid advertising or print media.
Increased credibility: A high ranking in search engine results can increase a real estate agent or broker's credibility with potential clients.
Greater user engagement: SEO can help improve the user experience on a real estate website, making it easier for visitors to find what they're looking for and potentially leading to longer site visits and greater engagement.
Long-term benefits: Unlike some forms of marketing with short-term benefits, SEO can provide long-term benefits for a real estate website, leading to ongoing traffic and leads.
Building Future With BetterGraph
Various factors are bringing a revolution in digital marketing. Looking around cutting-edge technologies like artificial intelligence, machine learning, and big data analytics have enabled marketers to create highly specialized and targeted marketing campaigns by giving them access to powerful tools for collecting and analyzing massive volumes of consumer data. 
Thanks to the increasing usage of social media platforms, mobile technology, and IOT, brands can now interact with their audience. This can be done engagingly.
Additionally, the development of blockchain technology can potentially transform digital advertising by fostering greater transparency and customer confidence. Marketers must remain flexible, embrace innovation, and modify tactics to take advantage of these trends as the digital world changes. 
Digital marketers can seize new possibilities, improve consumer experiences, and spur business growth. It can be done in the dynamic future of digital marketing by comprehending and using the potential technology.

---
FAQs
---
What is Architectural SEO?