We have promptly covered various social media networking platforms in this weblog creation.
With our previous blog, Instagram Marketing: That's How You Slay Your Competition! 
We were picture-perfect in the zone of Instagram, and yes, we all appreciate the efforts of readers showering us with lots of comments and likes around.
This time, the queries came over to a platform that is gaining excellent professional connectivity. 
So today, with this blog, we welcome you to the world of

Let us begin with LinkedIn.
LinkedIn is a social networking platform geared toward the corporate community. The site's goal is for registered users to build and document professional networks of people they trust completely. It is also a great place for professionals to locate employment, investigate companies, and stay up to date on industry and business news.
Is your business utilizing LinkedIn to its maximum potential in order to increase brand exposure, network, leads and conversions, and revenue?
With new social networks popping up all the time, LinkedIn is a site that needs to be more utilized. It can be a valuable asset to your social media content strategy that can work well with the results. And yes, as we say, marketing stays in the space you like term LinkedIn marketing exists.
LinkedIn marketing is the activity of using LinkedIn to connect with people, attract new clients, form business relationships and collaborations, promote content, and drive traffic to your website. LinkedIn is becoming an integral component of many successful marketing initiatives due to its efficacy in developing professional networks.
Businesses utilizing LinkedIn can appeal to potential consumers and partners by producing compelling content and participating in industry discussions. Business owners can utilize LinkedIn to grow their email marketing list by using their professional connections and network.
From our core of marketing insights, diving into the pool of marketing with LinkedIn is a great way businesses can do good with performance.
LinkedIn is a strong family of more than 875 million users in 200 countries and territories around. That is an absolute winning figure any business would love to achieve.
This figure gives an actual image of why hiring a professional social media marketing agency is an essence that can help the brand build and work wonders.
The growing popularity has made it possible for businesses to reach their target audience and develop professional connections.
So, get ready to get into the deep LinkedIn marketing secrets that can help you in getting it all.
LinkedIn Marketing Secrets That Can Make You LinkedIn Market King!
LinkedIn is less about selling or marketing your products and services than other social media.
On LinkedIn, overtly promoting your company, spamming, and evident hard-selling are all frowned upon. This is why having a platform-specific marketing approach and strategy is essential. 
Because the network has an entirely different audience, LinkedIn marketing demands a different technique to achieve the desired outcomes. So we are ready to reveal the secrets to make your LinkedIn a blast of success.
1. Never Underestimate the Power of #Hashtags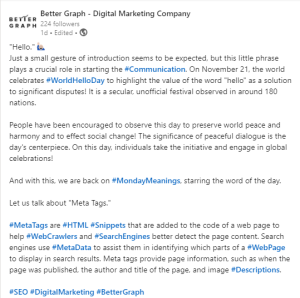 Hashtags are used in every marketing platform, regardless of whether it is Instagram or Facebook. Similarly, LinkedIn also uses hashtags. It is essential to use relevant and popular hashtags in your posts so that you can connect with your target audience and base.
Only sometimes run behind the famous and most recommended hashtags, as they can reduce engagement and even narrow your customer base.
2. Advertisements on LinkedIn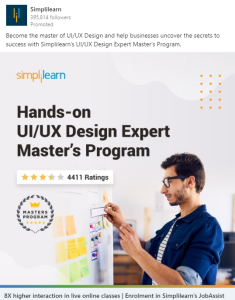 There are different LinkedIn ad formats to pick up from as per the need, such as:
Text advertising that is sponsored

Sponsored postings (which are similar to "boosting" an existing Page post)

Sponsored messaging (to a LinkedIn user's inbox)

Dynamic advertisements can include a user's details in the ad, such as name, profile photo, and employer.

Job postings that have been sponsored

Ads with a photo carousel
You can develop, manage, and analyze the performance of all your social media marketing services and campaigns across LinkedIn, Instagram, and Facebook in one dashboard with Hootsuite Social Advertising. By displaying the implementation of both sponsored and organic initiatives across all three channels, Hootsuite's unique analytics provide fresh insights.
3. Work on Email Marketing 📨  List
We advise everyone on LinkedIn to create a personalized message [to each connection] thanking them for connecting on LinkedIn and inviting them to join your email marketing list. Please accept my apologies for the lack of customization in the communication. This method allows you to message up to 50 individuals at once on LinkedIn. 
Using this strategy, I gained roughly 300 people to my email list. You can add a direct link to the email signup form in your email. You must include reciprocity in your message: tell them what they will receive by signing up for the email list and offer to look at something of theirs, which is a very evasive way to gain goodwill.
4. Be Active With Postings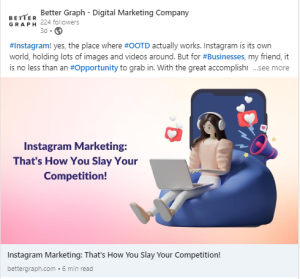 The most effective tool accessible on LinkedIn today is direct posting. If a post gains traction, LinkedIn will highlight it in one of its categories, potentially attracting tens of thousands of readers (or more). This is an excellent approach to increase your visibility while reaching readers in ways that your own website or blog, or even publishing an article link on LinkedIn, would not have allowed.
5. Company Page Needs To Matter
Your company page is a shining star that will bring you wonders. It's also critical to keep your brand's presence up to date and consistent with its own company profile page. This page's imagery, colors, and content should be compatible with your website and any other company's social media pages.
The page should be updated on a regular basis so that the brand looks to be active and in operation. We've all seen a company's social media presence that is only updated once a month or has yet to be updated in months. Creating a LinkedIn presence and then failing to manage it is worse than having one at all.
InMailing The Market Rhythm
That's all. LinkedIn does not have the reputation of being the most significant or trendiest social network. Nonetheless, it is home to some of the most profitable outcomes in various businesses.
That characteristic makes it ideal for B2B enterprises, especially when attempting to reach high management.
The least approachable people in a company become friendly again, and marketing on LinkedIn with a well-thought-out strategy might be your secret weapon for breaking through.
How are you using LinkedIn at your firm to generate leads and increase your marketing ROI? 
Let us know with your comments below ✍️