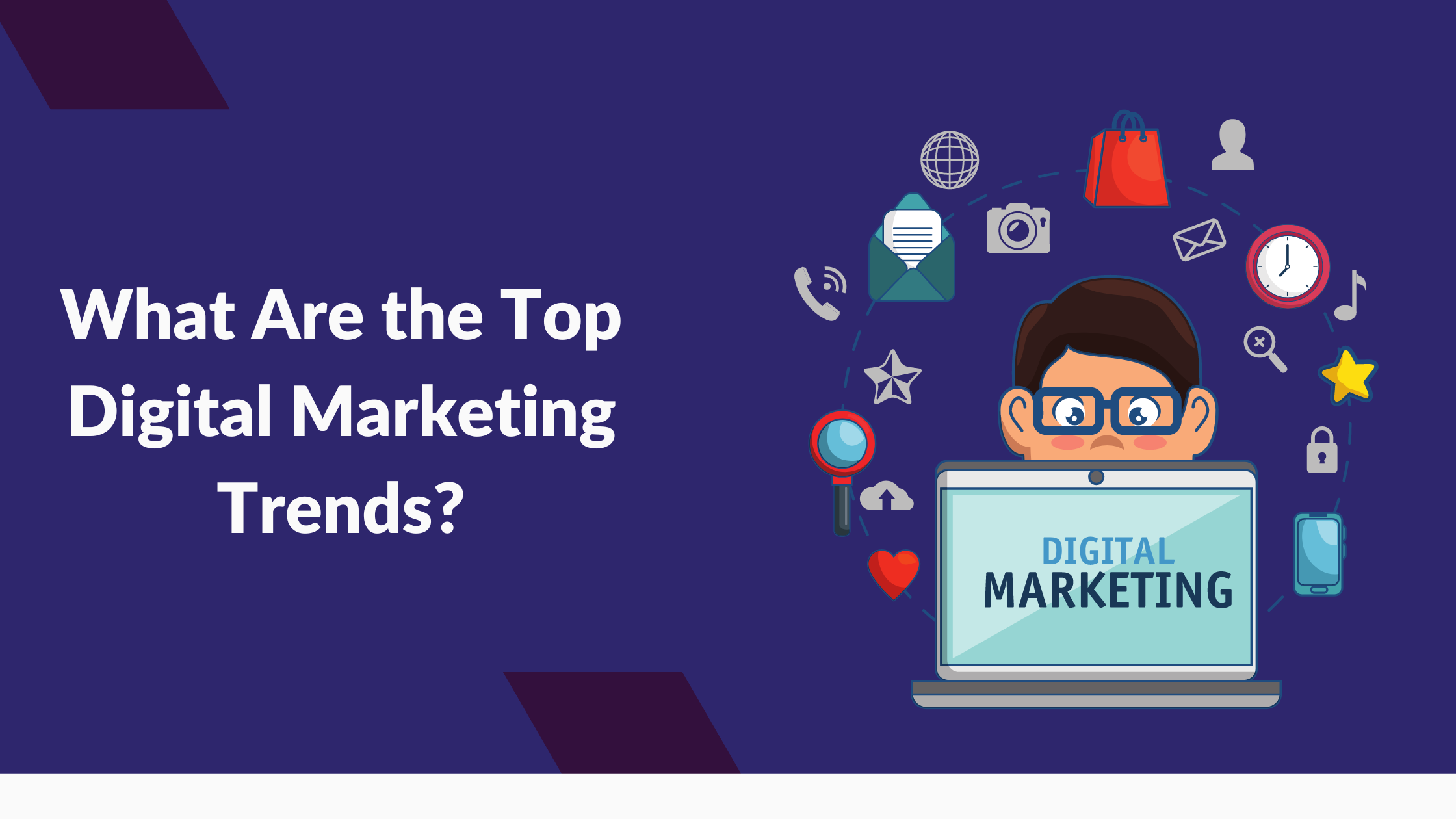 The end of the year is a great time to look for digital marketing trends. And now, as 2023 unfolds, the discussions around these trends have become more intense. Undoubtedly, digital marketing has become essential for every business today to stay competitive and drive more revenue. The trends in this field provide companies with more varied opportunities to thrive and evolve digitally.  
The Covid-19 pandemic hit every business badly, impacting their marketing budgets. As per the report by Gartner State of marketing budget 2021, there has been a significant fall in the marketing budget of organizations. The cuts in the budget are consistent across business sectors and affect every size of business. Hence, marketers are now looking for cost-effective methods to meet their marketing objectives. 
Regardless of changes in this field, digital marketing services will remain the backbone of every successful business. This is the time for understanding novel trends and implementing them in your marketing strategy prudently to gain a competitive advantage. 
The following are the top digital marketing trends for 2023:
It's critical to stay current with the most recent trends in digital marketing because the industry is constantly changing. The growing use of chatbots and conversational marketing, the usage of influencer marketing, the expanded use of video content, and the increased relevance of mobile optimisation are just a few of the current trends in digital marketing. Data protection and the use of first-party data are also becoming more crucial than ever as privacy concerns persist. Businesses may successfully connect and engage with their target audience in a continuously evolving digital landscape by keeping up with these developments and altering strategies accordingly.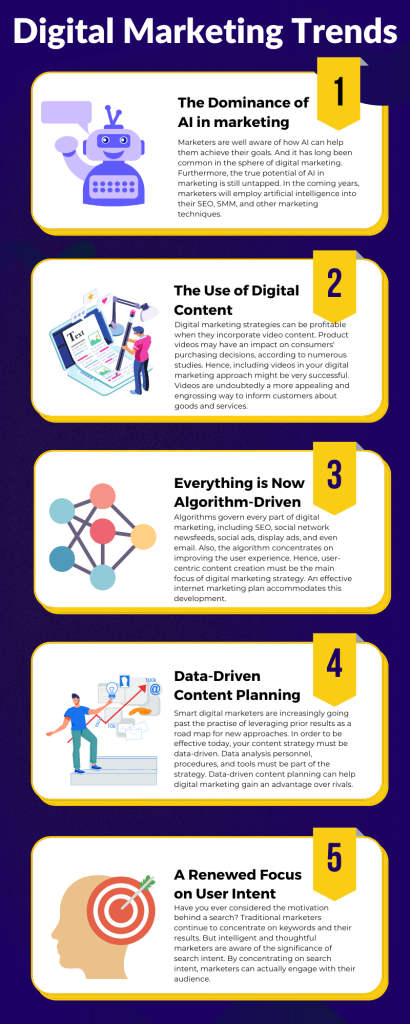 The dominance of AI in marketing 
Marketers already understand the potential of AI to meet their objectives. And it has been prevalent in digital marketing for some time now. Moreover, AI's real marketing power has yet to be realized. In the upcoming years, marketers will incorporate artificial intelligence in their SEO, SMM, and other marketing strategies. AI can assist companies in business forecasting and predictions. As a result, they can build a results-driven approach to achieve their goals. 
For example, firms can analyze massive matrixes with AI to derive a proper demand and growth estimation for forecasting. Further, finance, healthcare, and other industries can utilize AI-enabled tools to build strategies to attract and retain customers. Moreover, there is a lot of usage of AI in digital marketing. For example, marketers can use AI for SEO to get real-time information on links, keywords, and more. 
Companies will rely heavily on AI for digital process automation in the upcoming years. For instance, they can use robotic process automation and conversational AI for automated responses to customer queries. Further, marketers can also use AI for content planning and optimization.
The use of digital content
The use of video content in digital marketing campaigns can deliver profitable results. Many types of research suggest that product videos can influence buyers' decisions. Hence, using videos in a digital marketing strategy can yield great results. It is self-evident that videos are a more engaging and appealing means to educate buyers about products and services. Therefore, video marketing can help build engaging, informative, attractive content to improve website traffic.
Everything is now algorithm-driven
Every aspect of digital marketing – SEO, social media newsfeeds, social ads, display ads, and even email- is algorithm-driven. And the algorithm optimizes for one thing, i.e., user experience. Hence, digital marketing strategies need to focus on creating user-centric content. A successful online marketing strategy adapts to this change. 
Data-driven content planning
Savvy digital marketers are now moving forward from using past performances as a roadmap for fresh strategies. You need a data-driven approach for your content strategy today. The plan must include people, processes, and tools to analyze and work on data. Content planning with data insights can aid digital marketing in getting an edge over competitors.  
A renewed focus on user intent
Have you ever thought about the intent behind a search? Old-school marketers are still focusing on keywords and their performance. But forward-thinking marketers know the importance of search intent. Concentrating on search intent enables marketers to connect with their audience in a meaningful way truly. Hence, it is essential to understand searchers' intent and create the content accordingly to speak to that need. 
Wrapping up!
Creating the right digital marketing strategy is crucial to beating the competition and maximizing ROI. Like any other field, new trends in digital marketing take things to a new level. Implementing the trends in your marketing strategy gives you an edge as they offer better chances of success. 
We at BetterGraph are eager to work with you. We are a reputed digital marketing company with an excellent team of professionals. We can build the right strategy to help you drive more revenue.