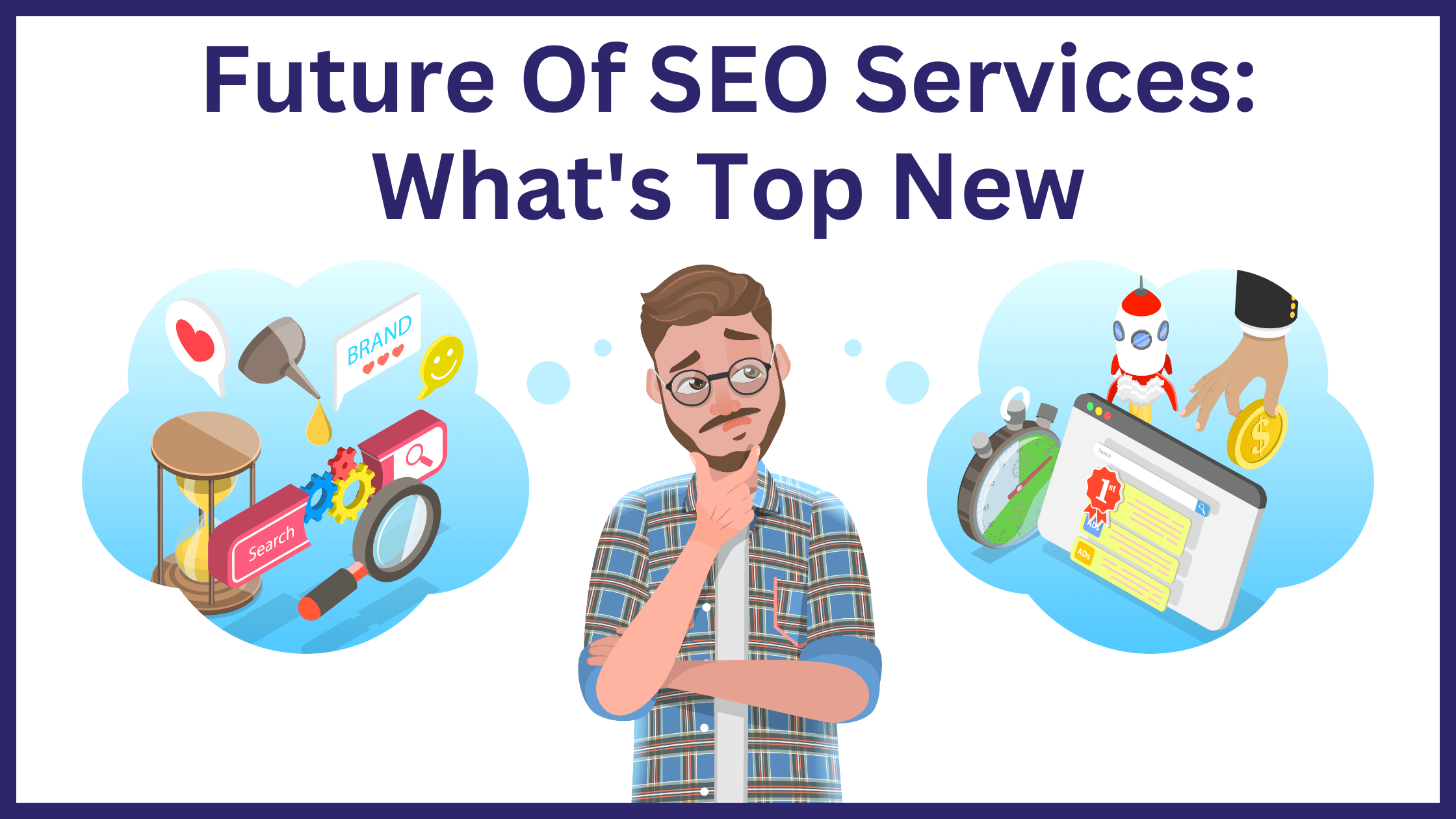 SEO is a tremendous support your business can use to leverage its existence in the digital world. Tune in to find out what SEO services have been built in 2023.

"Search Engine Optimization" or "SEO" is not a new concept in the market. Google and SEO tune in together when you are talking about results.

However, the method of search engine optimization that we now refer to as SEO existed before. Even before Larry Page and Sergey Brin's most well-known search engine.

Yes, we are talking about Google.
Although it could be claimed that SEO and all things search engine marketing started with the introduction of the first website in 1991 or even with the debut of the first web search engine, the history of SEO "officially" started a little later, around 1997.

Since then, it is been more than two decades since we have been into SEO. It has evolved significantly since it first emerged a few years ago. So, how will SEO look in the future?  In today's blog, we are unrevealing some of the top trends for SEO in 2023 that can bring great news for your business.

So why wait? Let us begin.
SEO Services At a Glance"
It's been a while since we are talking about SEO services. Our previous blog, What Are the Crucial Benefits of SEO Service? Connects you with the basics of SEO and how to gain the first-hand benefit it holds.

SEO is evolving. Anyone in the digital sector has to think about how they may utilize strategy more creatively and collaborate with others to improve websites and raise long-term user engagement.

The ever-changing online search behaviors in the Web 3 have put the SEO industry in a bit of a dilemma. In the past, all you needed to rule the hill was a few keywords and a few backlinks, but these days, everything is more intricate than a maths problem. You must have the necessary talents to support yourself, including a solid grasp of algorithms, user behavior, and content development. 
Impact Of AI On SEO Services
The way we handle SEO is evolving thanks to AI technologies. AI simplifies website optimization for search engines, from keyword research to content generation. The capacity of AI in SEO to swiftly analyze massive volumes of data is one of its most important benefits. AI systems can assist in seeing trends and insights that people would overlook, allowing us to make better judgments.

AI tools are also assisting us in producing higher-quality content. We can more effectively provide material that responds to consumers' inquiries thanks to natural language processing, which is used by tools like OpenAI's ChatGPT to analyze the context and purpose of search searches. 
To make sure that our information is organized in a way that is simple for search engines to grasp, AI techniques may also assist with content optimization. Tools like Surfer SEO use AI to help create well-written, high-ranking articles. 
Lastly, let's be sincere. It takes work to produce content that is both conversations and SEO optimized. Doing it correctly requires a lot of time, effort, and study. Here are where our reliable AI tools come in.
Enhanced Voice Search
One of the most important developments in SEO right now is voice search. Google reports that 41% of adults and 55% of teens regularly use voice search.
Users prefer to use more conversational language when doing voice searches, affecting how we approach SEO. Consider this: have you ever argued with Alexa or Siri? Our brains occasionally interpret "conversations" from smart speakers in the same way that we would a genuine, live conversation, which is significantly different from searching for "pizza near me." 
According to certain research, when given voice-based recommendations, users investigate less. This means that we must improve the content's natural language query performance. We need to concentrate on long-tail keywords and queries to optimize for voice search. 
Additionally, we must ensure that how our material is organized directly responds to user inquiries. As most voice searches are done on mobile devices, we must also ensure that our sites are mobile-friendly.
The Public gathers information straight from Google's autocomplete recommendations and other features, providing you quick, unrestricted access to hundreds of queries that actual people have about any subject. 
Paying Attention to User Search Intent
Focusing on user search intent comes first on our list of current SEO trends. This pattern has gained popularity throughout time and will continue to do so in 2023. Success in SEO in 2023 will mostly depend on creating pages driven by user search intent.
User search intent, or the purpose behind someone's search, is crucial for determining where you will appear in search results. People do searches in an effort to find specific information. You won't appear high in search results if your page lacks the details users need.
Content That Lives Ever
The creation of evergreen content will continue to be important in 2023. If you want to thrive with SEO in 2023, content is a crucial element. You won't have anything to rank for in search results if you don't produce content.
You must optimize your content for search engines if you want it to appear in search results. As a result, you must produce evergreen content that endures over time to stay on top of the most recent SEO trends. News articles, for example, are not evergreen since they get outdated quickly.

You should produce various types of content that will still be applicable six months, a year, or even longer after its release. You have more time to optimize your content to rank in search results when it remains relevant. Consider essential issues in your sector or typical queries from your audience to start creating evergreen content.
Preparing A Better Future
Keeping up with the latest trends and technology is crucial because they are developing every day. We may position ourselves for success in the constantly shifting SEO services landscape by producing high-quality content, optimizing for user experience, and utilizing AI technologies to advance our websites. 
You can make sure that your websites continue to be competitive in the future. It can be done by keeping up with recent trends and advancements and utilizing tools to monitor our progress. Get your hands on the best SEO services around the zone with BetterGraph.
---
FAQs
---
Is the future of SEO promising?