Let us dive into the world of AI and find out what a digital marketing agency has gained all around.
AI is a growing field. With the enhancement of technology, AI has captured a vast market space. Digital marketing has also been a part. According to the Statista Report in 2021, Artificial intelligence (AI) in marketing was predicted to have a 15.84 billion USD industry. By 2028, the value, according to the estimate, will surpass 107.5 billion. 
Now, that's a whopping amount.
Artificial intelligence (AI) as a tool for demand forecasting, customer service, and blog post writing has drastically changed the landscape of digital marketing.
Are you seeking approaches to advance your digital marketing plan? 
AI could be the ideal tool to personalize your marketing campaigns, boost the ROI of your content, and optimize your ROI. In the blog below, let's find out how beneficial AI in digital marketing is in developing the outlook.
As A Digital Marketing Agency: What Are The Views
As an agency providing digital marketing services, AI is such a transformation. With the growth of techno space, things are getting bigger. Almost every aspect of digital marketing, from social media marketing to content marketing, has been transformed by AI. 
Although artificial intelligence (AI) technologies have been included in marketing tactics for over ten years, the latest generation of natural language processing tools, such as ChatGPT, has made AI technology more prominent.
By analyzing a lot of data, an AI marketing tool would often utilize machine learning to comprehend repeated activities like article creation for blogs or social media postings. By enhancing your productivity and expanding your client base, automating jobs of this nature can help you improve your return on investment.
You can improve the total consumer experience by using AI in marketing. You may connect with your target audience with an AI marketing tool.
AI In Marketing: At A Glance
Have you ever seen an option of what to eat on Swiggy or play something on Netflix? This all comes under AI. 
Adding artificial intelligence can significantly create better opportunities for objectives and improve customer experience.
AI is already used in several well-known firms' products. AI technology is used by companies like Netflix, Amazon, and Google to forecast user behavior. They can better serve their audience by only suggesting goods or services that fit them well. Using consumer data effectively is a crucial component of AI marketing. You can do this to foresee what your consumer would do next. It enables you to give your visitors a better experience, improving your website's functionality. It instantly sifts through huge data sets to find relevant information, bridging the gap between data and execution.
Digital Marketing Agency With AI
A digital marketing agency is taking up the approach of AI to provide better services and quality to their work. Let's dive into some of the major sectors that are taking their approach to the next level with AI.
AI In CRM

AI In Advertising

AI In Content Marketing

AI And User Experience

AI And Chatbots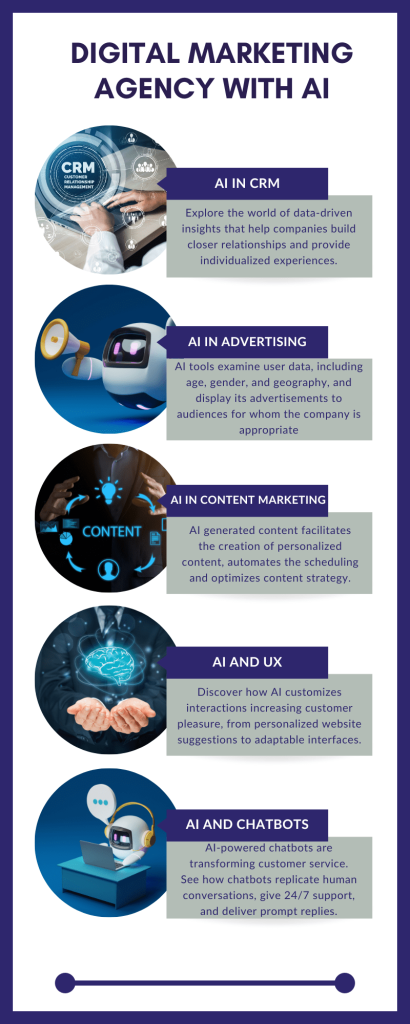 AI In CRM
Companies can now comprehend customer behavioral data, including which goods or services they are interested in, how much they would want to spend on those goods, and more when CRM and AI are combined. Additionally, AI-based tools and CRM platforms enable businesses to access their marketing data 95% quicker.
AI In Advertising Digitally
Advertising has grown at a great level with AI. Companies like Facebook and Google employ artificial intelligence in their advertising networks to provide the best possible user experience. 
It examines user data, including age, gender, interest categories, and geography, and displays its advertisements to individuals or audiences for whom the company is appropriate. As a result, advertising generates a better return on investment (ROI). Try out the different PPC platforms and read the blog "Going Beyond Google: Touring Alternative PPC Services Platforms" here.
AI In Content Marketing
AI has certainly shown a great impact on content marketing as well. With AI in digital marketing, audience targeting is becoming simpler. These insights allow marketers to reach consumers more effectively, draw in more potential clients, and generate digital revolutions.
AI And User Experience
For optimal outcomes, a well-established UX involves human involvement. Although artificial intelligence is now resolving specific optimization issues for certain types of subject matter, it doesn't appear to be prepared to replace people in all capacities. 
AI will continue to combine the human mind and creativity with the useful solutions of the virtual world in UX design. By streamlining the technological process, this developing discipline can aid in the development of fresh concepts. Since AI will speed up the application process, marketing teams will have more time for human-based abilities. 
AI And Chatbots
With advances in semantic definition, such as language processing by artificial intelligence and subject matching for inquiries, chatbot applications have begun to provide various benefits to enhancing customer experience and customer services. For instance, chatbots may handle several consumers simultaneously, but customer service agents only interact with one individual at a time.
It can offer 24-hour service, which is an additional benefit. As a consequence, you may start a constant dialogue with your clients. 
We Are Growing
As we conclude this journey into AI-powered marketing, remember that AI is not a static solution. It's a dynamic force continuously evolving, demanding ongoing attention and adaptation. Staying up-to-date with AI advancements ensures your continued success in the rapidly changing digital landscape.
It's also essential to know that AI's impact is tangible, in fact. Integrating AI into your plan lays the foundation for transformative possibilities that can elevate your business to new heights. With the use of different AI tools in marketing, you can easily create a perfect data-driven campaign leading to success.
So, let's embrace the power of AI, adapt to its evolution, and unlock endless possibilities for your business. As a digital marketing agency, empower your team, delight customers, and drive remarkable success in this AI-driven era. 
---
FAQs
---
How is AI used in Marketing?
---
How is AI In marketing worth?