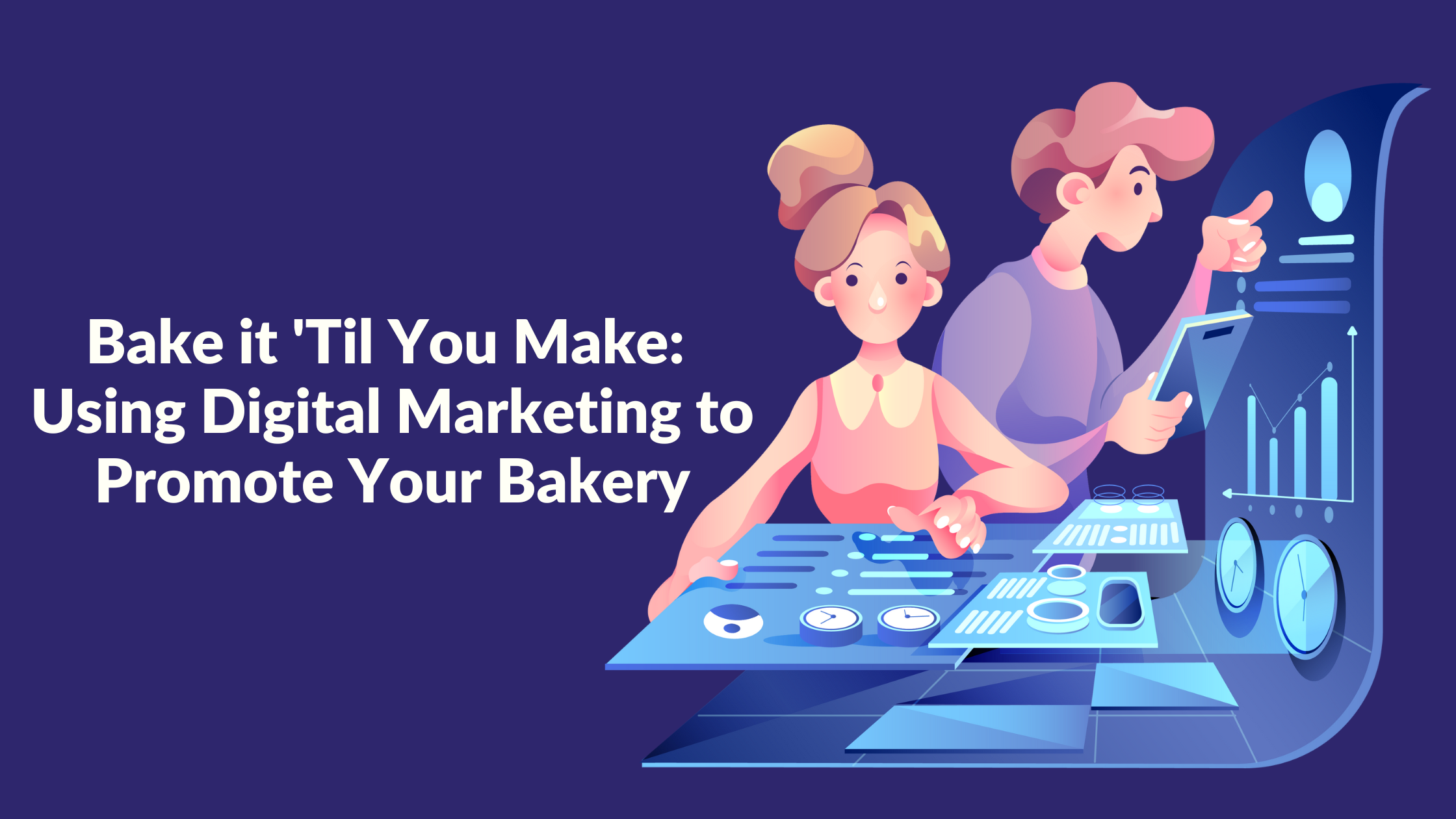 A slice of cake or a sweetened bun always brings a smile to every face. Be it a party or a celebration, everything is a fade without a cake.
Bakery products have become indispensable in today's lifestyle. Today, several bakeries are opening up on several streets at the same time, creating an intense and complex level of competition. For the baking sector to prosper in the modern world, digital marketing methods are essential.
Nowadays, people are accustomed to using online resources to browse, make decisions, and buy nearly anything they require. So, it goes without saying that if you manage a small retail bakery or a well-known baking company, you must choose the digital route to get your products in front of customers.
Bake It Online
Modern baking has given rise to corporate powerhouses with a vast distribution network. Due to this, business owners in the bakery industry must use the most cutting-edge marketing strategies to maintain the brand value of their retail bakeries and major bakery chains.
This highlights the need to implement a sensible digital marketing approach that aids in achieving and maintaining success. Every business can benefit greatly from inventive digital marketing. This is also true for the baking sector. Today, it is a basic requirement to allow customers to browse the many categories and options and quickly select what they want.
With a vast range of products in various colors and flavors, the bakery industry needs to prioritize effective digital marketing campaigns as its main business strategy. For less money than traditional advertising, effective online marketing could significantly expand your bakery's clientele.
Worth money and time is ensured by using the proper online strategies. For a bakery business to succeed, several factors must be coordinated.
Marketing On Instagram
Instagram Marketing Services can be a very effective marketing tool for connecting with potential consumers and showcasing your delectable goods. Here are some pointers to enhance your Instagram presence. First, share mouthwatering images of your baked products on social media that will make your fans hungry. To help people find your posts, use hashtags like #bakery, #desserts, and #foodie. Repost user-generated material, reply to comments and direct messages, and interact with your followers. If you want to encourage fans to interact with your page and spread the word about your brand, consider offering promotions or giveaways. Lastly, maintain a regular posting schedule and make sure your Instagram profile appropriately represents your company's image and core principles.
Marketing On Facebook
For bakeries wishing to sell to a large audience, Facebook marketing services can be a tremendous tool. Make a Facebook page for your bakery first, and then upload detailed pictures of your baked goods there, along with descriptions and prices. You can interact with your audience by sharing baking advice and recipes. Target specific demographics with Facebook's advertising features, such as local consumers or those who enjoy baking. Encourage people to come to your bakery with special offers or discounts, and ask them to submit reviews on your page to boost your authority. Finally, interact with your fans by posting new content frequently and quickly reacting to comments and messages.
Digital Marketing Strategies For A Bakery
Bakeries are an important element of any community because they provide delectable baked goods that satisfy people's wants for something sweet or savory. Yet, many brick-and-mortar businesses, including bakeries, are finding it difficult to get customers to their physical sites due to the growth of online purchasing. Digital marketing can help with that. You may enhance sales and foot traffic at your bakery using digital marketing strategies.
You can utilize digital marketing to your bakery's advantage by using the following strategies: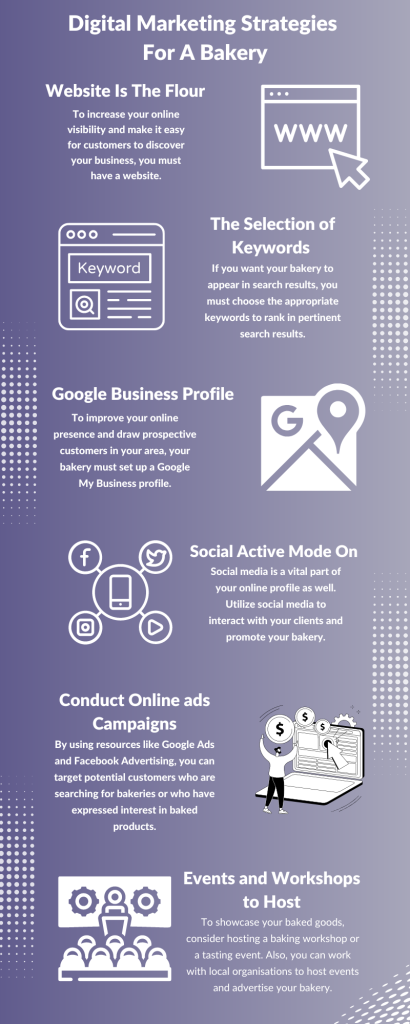 1. Website Is The Flour
Modern businesses, especially those operating in the digital age, need websites. You must have a website to gain high online visibility and make it simple for customers to find your business. A fresh, appealing website will be a powerful marketing tool that helps spread exposure and awareness.
A company's website serves as its public face and helps build its brand by showcasing its products and expertise. Your business will function much more smoothly and attract a larger consumer base when your website has been developed effectively and is accessible to both new and current customers. Website Design Services can be considered for creating a perfect website for your bakery.
2. The Selection of Keywords Has a Big Role
You must select the appropriate key terms to rank in relevant search results if you want your bakery to show up in those results. People conduct specific searches, therefore, you should optimize your website for related keywords to make it easier for them to find you.
Consider the scenario where you want to rank in local searches and are looking for keywords associated with the term "bakery in Noida." You can find keywords like "cake shop near me" and "Bakery in Noida" when you enter these keywords into a keyword research tool.
3. Google Business Profile For Your Bakery
Creating a Google My Business profile for your bakery is essential to increase your online visibility and attract potential customers in your local area. Here are a few ways to make the most of your Google Business Profile:
Accurate information:

Ensure that your business information, such as your address, phone number, and hours of operation, is accurate and up-to-date.

Photos:

Add high-quality photos of your bakery and baked goods to showcase your offerings and entice customers to visit.

Reviews:

Encourage customers to leave reviews on your Google My Business page, and respond to all reviews, positive or negative, to show that you value customer feedback.

Posts:

Use the Posts feature to share promotions, events, and new menu items to keep customers engaged and informed.

Q&A:

Respond to customer questions and inquiries in the Q&A section to build trust and provide helpful information.
Utilizing your Google My Business profile effectively can improve your online presence, attract new customers, and strengthen your brand reputation in your local community. Listing your bakery on well-known web directories like Yelp, Google My Business, and TripAdvisor is important. When people look for bakeries in your area, this will make it easier for them to find your bakery.
4. Social Active Mode On
Another crucial component of your internet presence is social media. Connect with your customers and advertise your bakery through social media sites like Facebook, Instagram, and Twitter. To interact with your followers on social media, post pictures of your baked goods, announce new menu items, and hold contests.
5. Conduct Online ads Campaigns
Doing digital ad campaigns is another technique to get people to visit your bakery in person. You can target prospective consumers looking for bakeries or who have shown an interest in baked goods using tools like Google Ads and Facebook Advertising.
You could, for instance, make a Facebook advertisement that features your bakery's best-selling products and provides a promotion, like a discount for new customers. Also, you can use Google Ads to target people looking for terms like "best cupcakes nearby" or "fresh bread bakery" associated with your bakery.
6. Events and Workshops to Host
Having workshops and events is a fantastic way to draw consumers to your bakery. Think about holding a baking workshop or a tasting event to show off your baked goods. Also, you can collaborate with neighborhood institutions like schools or community organizations to hold events and promote your bakery.
Use your online platforms to spread the word when promoting your activities. To reach a larger audience, promote your event on your website and social media profiles and think about launching digital advertising campaigns.
Let's Bake It Together!
Digital marketing can be a powerful tool for driving foot traffic to your bakery. You can attract new customers and increase sales by establishing an online presence, offering online ordering and delivery, running digital ad campaigns, and hosting events and workshops. Remember to track your results and adjust your strategies as needed to optimize your digital marketing efforts.
With BetterGraph, give your bakery a revamp of online space and see your bakery reach every house in just a click!
---
FAQs
---
What are digital marketing services for a bakery?
---
Can a bakery gain more audience from digital marketing services?