A business's inception is thrilling. Sadly, the "build it, and they will come" adage isn't very accurate, and the overnight successes you hear about are frequently the product of years of laborious effort behind the scenes. Customers are the business advisors that bring the brand to life. Startup marketing presents a particular problem, often due to scarce resources, including time, money, and talent.
No matter how modest, every effort must be carefully planned and carried out. Standard marketing techniques don't always succeed, making it that much harder.
What Is a Startup Marketing Plan?
A marketing plan for a startup consists of tactics for promoting the goods and services of a company. Although there isn't a standard structure, it typically comprises a checklist that serves as the foundation for the marketing process.
By using a marketing plan, startups can discover potential clients, distribution channels, and ways to target them with marketing. A strong startup marketing plan is essential for the company's expansion and calls for prompt planning.
Why Hire A Marketing Agency?
Many business owners have a "Do It Yourself" (DIY) mentality instilled in them. Thus they attempt to execute these duties without the assistance of paid professionals. 
The learning curve for someone with no marketing experience is daunting, and it would be difficult for a busy business owner to develop a comprehensive marketing strategy. Even if the owner invested the time required to study each of these marketing components, there would still be little time left for the owner to manage the business.
Making your marketing content is not a viable option because marketing technology and methods are constantly evolving. You probably already have other urgent issues that are more within the scope of your expertise. Not only this, being a rigid hand on budgets, investing in a digital marketing agency would rather be worthy of investment. The last thing you want is to be personable but use unsuccessful marketing techniques. You can get the best of both worlds by working with experts in digital marketing. 
A marketing agency can determine your priorities by looking at where you are now with your objectives. You will have clear directives for the future, whether producing a successful website, a thorough link-building plan, or greater efforts to provide multimedia content. They allow you the flexibility to focus solely on what you do best while adhering to their well-thought-out strategy for an increased internet presence.
Definitive Guide To Startup Marketing
Once your startup is up and running, a marketing plan is just as critical as your business model. If you don't have any customers, it doesn't matter if you have a fantastic idea or product or if your business has unlimited cash. To attract and retain customers, you need a marketing strategy.
So let's jump right into developing the best marketing strategy for your startup in 2022 by following the given steps.
3. Define and Search Out Your Target Audience
7. Developing The Marketing Strategy
Let us study the pointers together to get the absolute meaning of the guide and get started with the marketing of startups.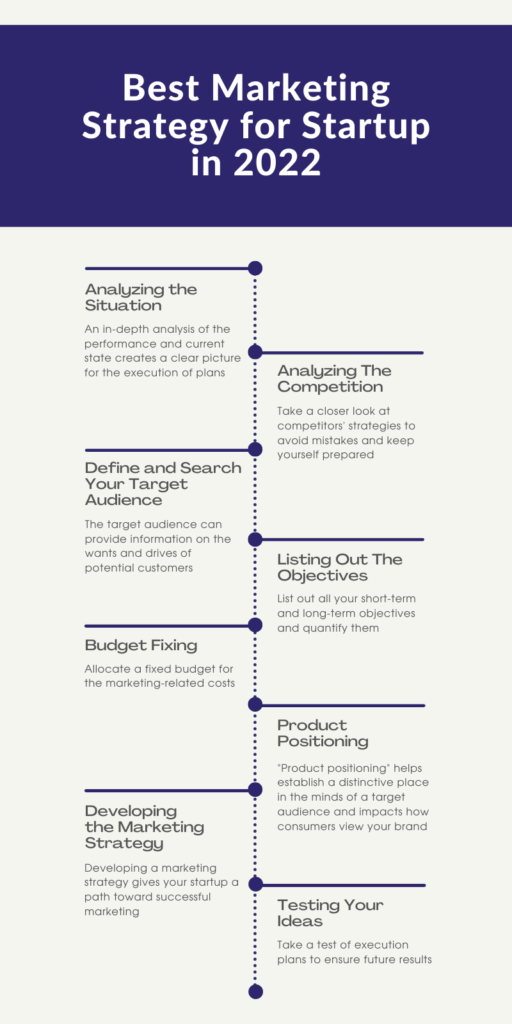 1. Analyzing the Situation
You must start by performing an in-depth analysis of the existing state of your organization. Only with a clear and exact understanding of your target market can the right positioning of your product be achieved. Analyze your chances and dangers, as well as your strengths and weaknesses, in detail. You will be able to gain an understanding of how to take advantage of your product and the market environment.
2. Analyzing The Competition
Understanding your product's features is essential, but sometimes it's even more crucial to know and comprehend what your competitors provide. Then, and only then, can you distinguish your product and choose where it will be positioned in the market. Give a brief description of your USP. Your product can be superior in terms of value or caliber. The value of what you are delivering must ultimately outweigh that of your competitors.
3. Define and Search Out Your Target Audience
Target audiences have quite definite demands and desires in the modern world. Since the groups are distinct, it is crucial to investigate your target market thoroughly. Use primary research techniques, including focus groups and secondary research techniques, to learn as much as possible about your target audience. Telephone surveys, emails, and one-on-one interviews. Numerous secondary data sources are also available and may be used. Create buyer personas that represent your target audience in all its aspects.
4. Listing Out The Objectives
Take a list of all your objectives, including short-term and long-term, and quantify them, so you can assess your success in achieving them at the end of the day. What goals do you have for your business? Are you more interested in mind-share than in making money? Can you compromise short-term profitability to experience significant long-term growth?  Your objectives must be SMART (specific, measurable, attainable, relevant, and time-bound).
5. Budget Fixing
Your budget should be fixed at a set percentage for marketing costs. Setting up a sizeable sum for various channels can be smart because marketing can be a young company's lifeline. With so many options for reaching your target audience available today, even if your budget is limited, changing your marketing strategies can work wonders for your start-up while staying well within your means.
6. Product Positioning
Although conventional theory holds that segmentation and targeting come before positioning, many brands position their products and themselves before settling on their target demographic. Simply putting yourself in the consumer's consciousness is positioning. The present market state, your product, its USP, your competitors, its products, and its USPs are just a few of the variables that affect positioning strategies. The marketing team's vision for how customers will see their product in the future is crucial in determining the kind of positioning approach to use.
While there are several position techniques available in marketing. The goal for marketers is to match their promise to the features of the products they have offered.
7. Developing The Marketing Strategy
When you've settled on your marketing goals, budget, target audience, and positioning, it's time to get to the heart of your marketing strategy, which is the means and tactics you'll use to reach your prospects and achieve your goals, whether it's advertising, social media marketing, public relations, or something else. There should be different tactics to meet each step of the sales cycle because there are different stages, and each stage has different requirements. By fine-tuning your plan, aim to contact your target audience when they are most receptive.
8. Testing Your Ideas
Before deciding to put your strategy into action, your marketing strategy should be tested, just like your product. If the idea succeeds, you can scale it up; if it fails, you can learn from it and make improvements without blowing your entire budget. Keep what works; discard what doesn't work well, and look for alternatives for the failed plans.
Getting Your Startup Onboard
The science of startup marketing is intricate. Due to a lack of awareness in public and media attention, some truly brilliant ideas have fallen flat. Others have failed as a result of bad management. Other brilliant concepts have also achieved billion-dollar fame! Now all founders can stop looking for the elusive formula for effective and efficient startup marketing. It is merely the ideal balance between PR and content marketing. Get started with the content marketing trends to follow.
Branding For Startups
Most businesses are more concerned about how to reach the audience, meet their demands, and produce the product quickly during the early phases of business development than they are with the product itself. This tactic is acceptable. If you're a new business owner, you likely don't have the resources or time to do everything at once. 
Startups differ from established companies in that they are more adaptable. Not only this, startups are characterized by the following good fits.
A concept is original and unheard of.

Resources-production, monetary, and human are scarce.

The processes for advancement and development move quickly.
The target market and the purpose of the product can change multiple times when looking for a workable business strategy. Many startups would instead replicate their competitors' branding or the most recent online trends than invest time and money in developing their own.
That doesn't work.
If you don't have a robust brand identity system, you won't be able to advertise a good or service in the long run successfully. It hurts to see a startup create lightweight visuals and hollow text for their advertising just to have their business overlooked because a rival is already doing everything far, far better. Everyone is in a state of fear as advertising money disappears.
Your brand identity system can be a money-making machine if done correctly. Not only this, but it also has the power to evoke strong feelings in large audiences of admirers. If you leave it to chance, you'll probably run into the brick wall of unsuccessful marketing.
However, you still have time to take action before your marketing fails. What should you do immediately to prevent lost ad revenue, poor marketing, and restless nights?
Stay connected to our upcoming blog to get the perfect strategy for branding your startup.