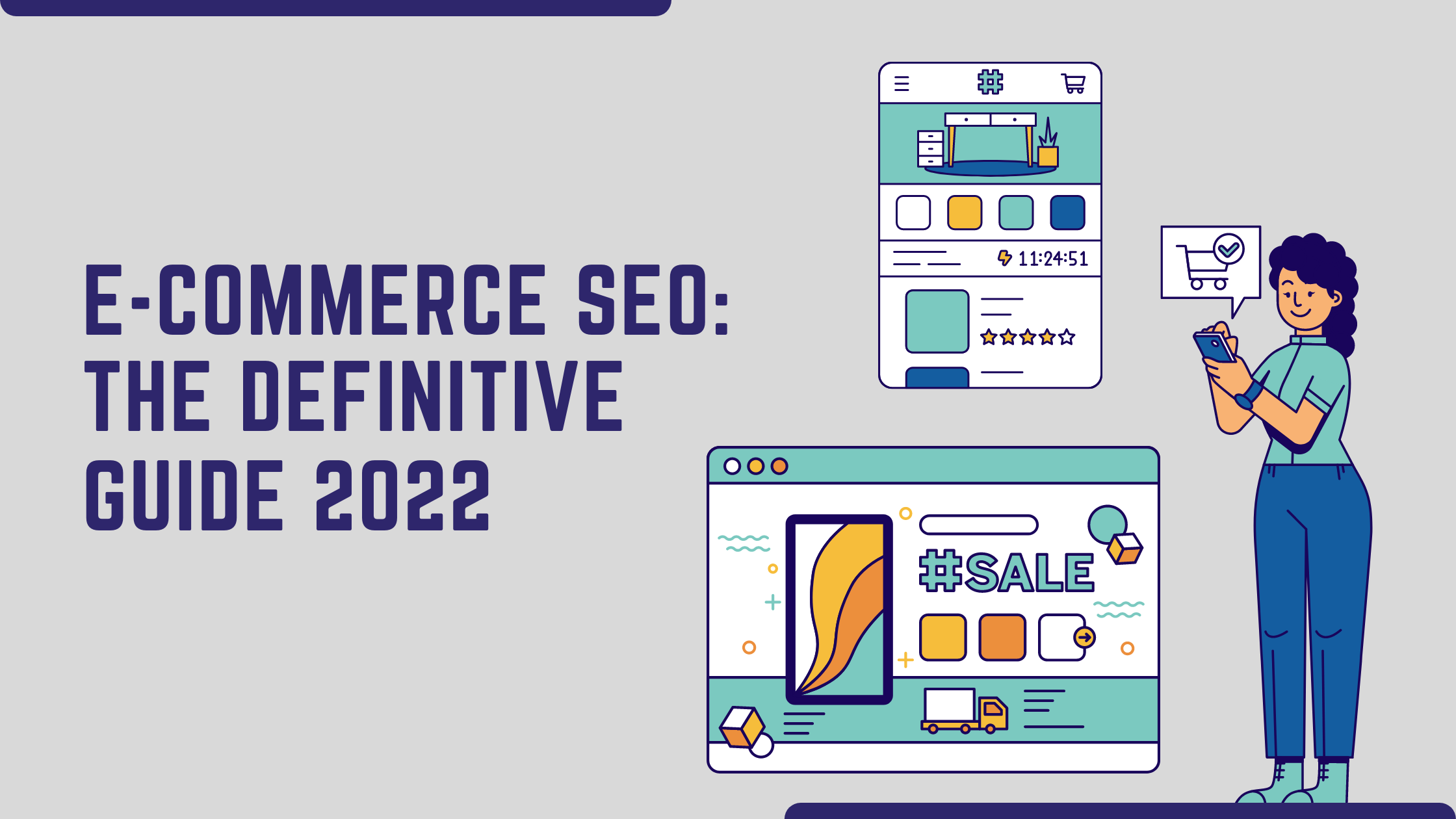 The top search engine rankings are a primary objective for any E-commerce website. You need to rank high, and E-commerce SEO may assist you. While sponsored search can reach the peak of the SERPs, the investment to stay there over the long run might not be feasible.
Even small businesses that had previously mainly catered to offline customers knew the value of SEO in 2022 E-commerce. Making a website, adding things, and then waiting for sales is insufficient. Without proper optimization, the shop won't appear in Google searches, making it unknown to potential consumers. 
E-commerce companies must have a good SEO strategy. It is vital that your website be visible to search engines to promote sales. Once you have visitors, you need to keep them interested, give them helpful information, and persuade them to make purchases. Increased website traffic and high conversion rates are beneficial. 
In this blog, we'll discuss the implementation of E-commerce SEO Services in India and how to apply E-commerce SEO tactics to improve your website's ranking and boost revenue or conversions.
What is E-commerce SEO?
E-commerce SEO is an organic way of increasing traffic to your website by increasing its visibility on search engine result pages (SERPs). The higher ranked a page is, the more traffic it will receive. 
One of Google's primary ranking factors is providing consumers with an excellent experience. If you want your web pages to show up higher in search engine results pages, you must ensure that your website is search engine optimized.
Google views your website as a provider of good user experience if it targets the appropriate keywords for your target demographic and responds to any questions visitors may have. As a result, your ranking will improve. However, if customers who visit click on it and leave immediately, Google will perceive it as a bad user experience and reduce your rating.
Guide To E-commerce SEO
The optimization of E-commerce websites, from keyword research to technical SEO to building links, is mentioned in this guide. We have created some steps to keep in mind while working on E-commerce SEO. Let's have a look below.
1. E-commerce Keyword Research
3. On-Page SEO for E-commerce Websites
5. Content Marketing for E-commerce Websites
6. Link Building for E-commerce Websites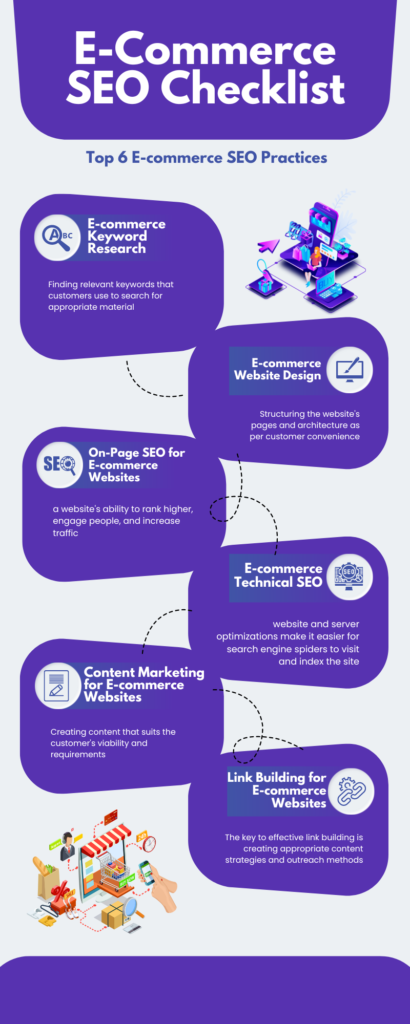 1. E-commerce Keyword Research
An efficient SEO plan must include both keyword research and application. Search engines use keywords to recognize a webpage's product category and rank it accordingly. But take caution since using the wrong keywords or misusing them may affect your rankings, hurting your exposure and sales.
Finding relevant keywords that website visitors use to search for appropriate material or to locate goods and services is known as keyword research. Commercial keywords that are important and relevant to your website's goods or services are used in E-commerce website SEO.
The most effective keyword tools that are used for the search for the right keyword are as follows
I. Google Keyword Planner
The Google Keyword Planner presents the keyword competitiveness. It assists you in finding the keywords and competitiveness of your product niche. It will display how much advertisers have spent on pay-per-click advertisements at the top of the page. You may locate the desired long-tail keywords with the aid of Google Suggest. Use autocomplete to examine the top search results after entering the query. The extra keywords connected to your core term may also be seen at the bottom of search results pages.
II. Amazon Suggest
One should learn from an expert If looking to be great at something, they should learn from an expert. Amazon is the leader in internet shopping. Consider using keywords. When you tap your query or product type in the Amazon search window, you will see many terms linked to your query.
III. Wikipedia
Wikipedia is a never-ending source for keyword research. A range of keywords for your product category can be found on Wikipedia, which you can also use for E-commerce SEO purposes. To find the right keywords for your goods and services, scroll down the search results and look at the bottom of the page. Fill out the search bar with your inquiry.
IV. SemRush
Finding the keywords that your competitors or industry leaders use on SEMRush is an obvious advantage. It may also be used to locate websites in your niche's competition. You must type the URL of the rival's website into the search bar before selecting "organic search." All of the competitors' keywords will be eliminated. Additionally, you can use SEMRush to evaluate your keywords and estimate the search volume of each phrase to determine how competitive it is.
2. E-commerce website design
Site architecture, or how your site's pages are placed and organized, is a crucial SEO factor for any location. But for E-commerce websites, it's much more critical. That's because an average E-commerce site often has many more pages than an average blog or neighborhood pizzeria website. Your site architecture must make it simple for visitors and search engines to locate all your pages, given the number of pages you have.
The Two Golden Rules Of Site Architecture
While creating a website, it is essential to follow the rules for creating an effective site architecture. Here are the following golden rules for website architecture.
Golden Rule No. 1: Maintain simplicity and scalability.
Golden Rule No 2: Make sure every page is three clicks(or a few) away from your homepage.
The top E-commerce website building platforms are as follows.
I. Shopify – It's challenging to find a better alternative for the majority of small businesses wanting to launch an online store faster than Shopify, which has more than 15 years of experience and has been used to build more than two million stores. The Shopify SEO agency has targeted the best business ideas that have flourished through their platform.
II. Magneto – One of the top E-commerce systems is Magneto. It was developed by its designers using open-source software. This allows customers to alter their online store's appearance, features, and content without affecting the purchasing experience. Additionally, Magento SEO services offer consumers a wide range of functional tools and capabilities for marketing, SEO, and catalog management.
III. WordPress- The most used E-commerce plugin for WordPress is WooCommerce. With WordPress Woocommerce Marketing Services, you can add a shopping cart and checkout process, accept payments, keep track of inventory, and do anything else you need to run an online business. Any WordPress website that supports plugins can have the plugin installed here.
3. On-Page SEO for E-commerce Websites
Most people use a search engine to begin their product investigation (usually Google). They typically compare features and costs to make an educated purchasing decision. Your E-commerce website will benefit from on-page SEO by making it rank better, attracting more visitors, and converting more leads.
Research and optimization of keywords
Finding and analyzing search terms that people type into search engines to utilize that information for a specific purpose, frequently for search engine optimization (SEO) or general marketing, is the practice of keyword research.
What are On-Page Ranking Factors for SEO?
Optimized appropriately, on-page ranking criteria can significantly influence how well your page ranks. To keep your pages optimal, keep an eye on the following essential metrics:
The ratio of sales to website visits is known as the conversion rate.

The time visitors spend on a website is a measure of their engagement. People are more inclined to buy from you if they view your content for longer.

Transitions from category pages to product pages with a high click-through rate.

The ratio of your income to the number of visitors is called revenue per visitor. Even more crucial than the conversion rate is this measure. Fewer customers purchasing expensive goods are preferable to numerous people purchasing cheap goods.
What's on the Page?
A page is deserving of a search result rank based on its content. It is crucial to search engines since it is what the user intends to see. As a result, producing quality material is vital. So what makes for good content? Every good piece of content has two characteristics from an SEO standpoint. A need must be filled with good material, and it must be clickable.
(a) Product-Based Pages
It's crucial to adapt your E-commerce website to satisfy user demands. Start analyzing your competitor's websites. Your analysis might help clarify which elements need to be taken into consideration. Search for:
Multilingual websites.

Colors are used in the design of product pages.

Characteristics of the goods or services.

The quantity and arrangement of calls to action (CTAs).
(b) Category Pages
E-commerce website owners frequently neglect the category pages in their catalog since they directly impact conversions and search rankings. Instead, they focus more on their website's homepage, landing pages, and product pages.
4. E-commerce technical SEO
Technical SEO is the area of SEO that is primarily concerned with the structure and design of your website. Technical SEO is one of those elements crucial for every website but is much more critical for E-commerce sites. This is because E-commerce websites sometimes consist of many pages. Additionally, any of those pages may have technical SEO concerns rooted in them. The code-base clutter hides behind page layouts and load times, regularly going unnoticed while slowly destroying your page rankings and organic visitors.
Additionally, the majority of E-commerce pages have few backlinks going to them. Consequently, the "tiebreaker" on Google's first page is frequently technical SEO. For instance, if you and your competitor are evenly matched, a technical SEO issue might be the difference between a desired ranking and position. Regular technical SEO site audits are essential because of this.
5. Content Marketing for E-commerce Websites
An intelligent marketing tactic is known as "content marketing" involves producing and sharing various materials, most often online. Content marketers want to attract, engage, amuse, inform, and convert prospects by giving them valuable, pertinent material. Additionally, effective content marketing enhances client retention and loyalty.
The Benefits Of Content Marketing
Businesses of various sizes and industries can benefit from content marketing differently. The key advantages of content marketing are listed below.
Raises brand recognition and exposure.

Enhances trust and loyalty.

Increases search engine rankings and bring high-quality traffic to your website.

Helpful for developing enduring relationships with customers.

It allows you to respond to inquiries, offer insightful and practical information, and overcome sales obstacles.

It helps establish your brand as trustworthy, an authority in its industry, and a thought leader.

Aids in guiding consumers through the sales process.

Provides your community and consumers with real value.
The step guide for content marketing for an E-commerce website is as follows.
Explore where your target audience is active.

Find out which phrases and Words Customers Use

Make a standout piece of content centered on that keyword.
The step guide for content marketing for an E-commerce website is as follows.
1. Explore where your target audience is online.
Spending time with your customers lets you get in-depth information about their ideas, hopes, worries, and preferences. It is advisable to visit the websites where clients frequently hang out because it's not always possible to meet them in person.
2. Find out which phrases and Words Customers Use
It's time to stalk your target market now that you've identified it. This isn't as spooky as it sounds, so don't be alarmed.
Simply keep an eye out for the language people choose to explain their challenges and difficulties. These words and phrases describe your target market's search terms while not shopping for products. This can be used as the basis of the blog posts.
3. Make a standout piece of content centered on that keyword.
In your content strategy, you should focus on the terms and phrases your target audience uses to search for information. In order to increase organic traffic to your website, keyword-focused content is created to fill in any keyword gaps in your plan. By developing keyword-focused pages, you can increase the contextual credibility of your website by indicating to search engines that you are an expert in your subject. These pages are made to rank for specific terms and phrases related to keyword themes that are important to your business.
Businesses produce informative content for their audience and publish it on their website or blog. Then, this content is promoted via social media, email, sponsored media, and other channels to reach the target audience. By including specific terms and phrases in their material, marketers may gain more visibility on search engines. Additionally, your target audience will value the relevant information on your website. Through social media shares and other mentions, this value aids in creating backlinks or links that point to the website.
The best CMS for content marketing is WordPress Woocommerce Marketing Services. Content marketing is in its DNA because it was first developed as a blogging tool. It has been enhanced over time and is now among some of the best offerings for uploading and updating website content. 
6. Link Building for E-commerce Websites
While link building is one of SEO's trickiest tasks, it can also be among the most rewarding too. The key to effective link building is to create the appropriate content strategies, and outreach methods since doing so will make it easier for you to get high-quality links and increase the exposure of your landing pages and site. 
Let's examine some of the most successful E-commerce link-building strategies and how you may use them to grow your online business.
Video Marketing At Best-Using walkthroughs, narratives, and in-depth instructional videos, video content can help you bring your brand's products (and their stories) to life. You may produce a variety of material for your target audience using this medium, including hilarious tales, slapstick comedy, and instructional how-tos.

Stock and Promote-Another tactic to gain links and spark interest in your business is to stock and promote extreme items (either as part of a seasonal range or a new segment of your business). This approach has the opportunity to appeal to a wide audience by eschewing traditional demographics.

With the use of influencers, the content building is aided. According to research, the younger generation, currently dominating the consumer demographic, is becoming more critical of significant brands and sponsored messages, which makes link development even more challenging for E-commerce firms.
Down The Lane
Making people visit your website is just half the battle stayed. It is critical to hold their interest, offer relevant data, and encourage them to make a purchase. Users aren't accustomed to spending a lot of time on platforms that aren't tailored to their requirements. Effective SEO can assist you in generating consistent traffic and reasonable conversion rates.
Although developing an SEO strategy for an E-commerce website can be challenging and time-consuming, if you're using the advice in this E-commerce blog, it will be well worth the effort. You can get far greater click-through rates and sales with detailed and properly applied optimization than with sponsored search.