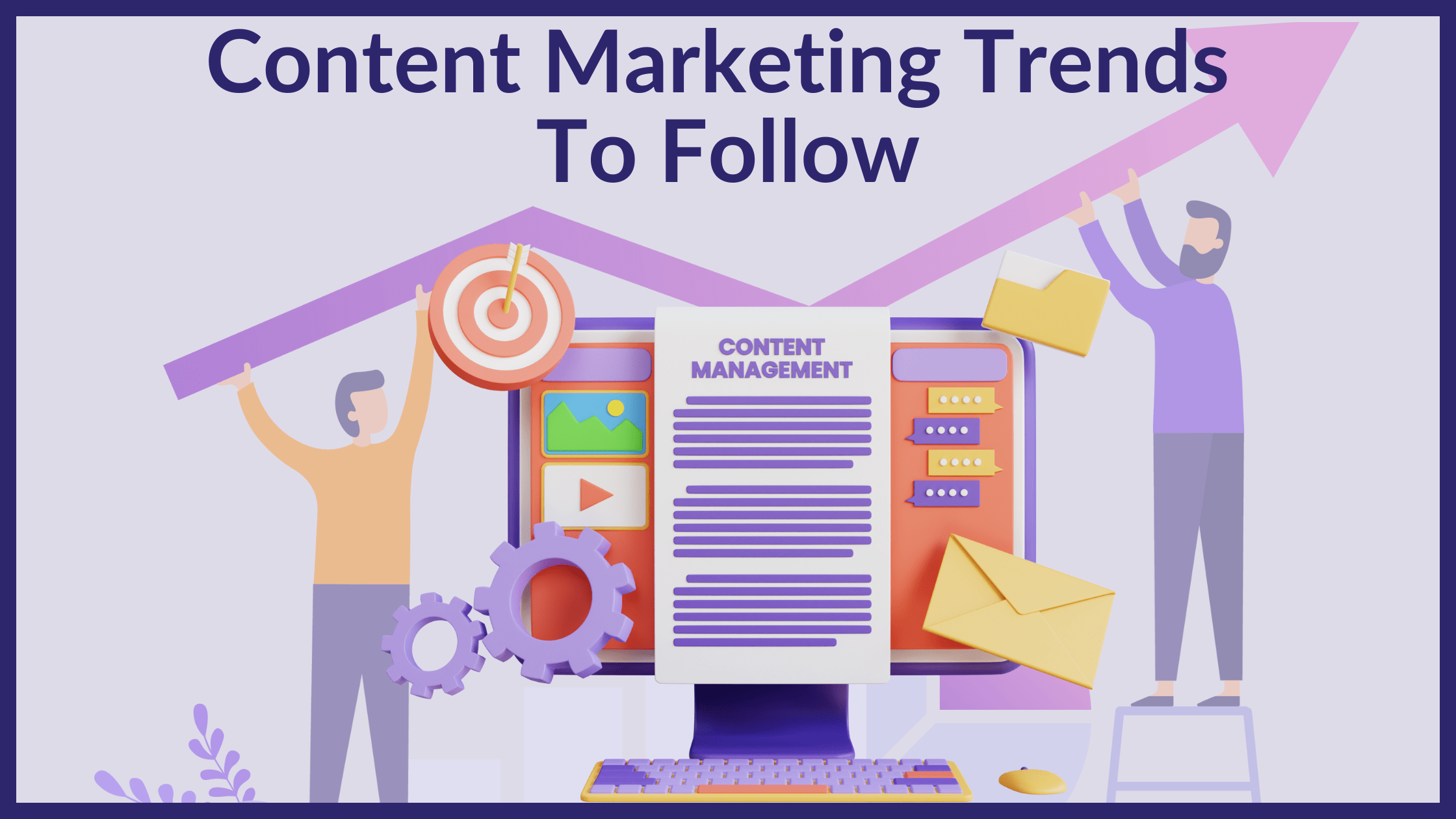 Follow these content marketing trends to get started with business success today.
Content, ads, and messages surround us throughout our digital lives. So how do you create valuable content that stays in our minds? Is it possible to scale it to grow?
There are clear content marketing trends on the horizon for 2023. Let us look at some of the best ones with the blog.
Content Marketing Trends: At A Glance
Here are some of the trends that can be followed in 2023 to create the perfect content marketing strategy for your brand to shine.
Create A Personalized Content Strategy
As the digital landscape becomes increasingly noisy, personalizing and humanizing your content will be crucial to success. Readers are seeking more and more authentic, unique content as artificial intelligence (AI) becomes more prevalent, along with the ever-growing availability of mediocre content every day.
What are your methods? Researchers state that original research and finding your voice are two factors that ensure thoughtful, inspiring content that resonates with your audience. 
Your competitor's algorithm is not the only thing you need to consider. Create buyer personas by commissioning surveys, conducting interviews with your customers, and identifying who you want to reach. 
The best way to stand out in the digital sphere is to carve out a niche where you can speak with unique insights, even if you are in a large and highly competitive field. Your target audience will be able to see your humanity when you share real-life stories or case studies with them. Your audience will immediately recognize your thought leadership and can become loyal to your brand as a result, unlike a search engine.
You can build trust by defining your brand's voice when creating content, or you can sound like any other competitor in your market. The right content marketing company can assist you in defining the voice of your brand.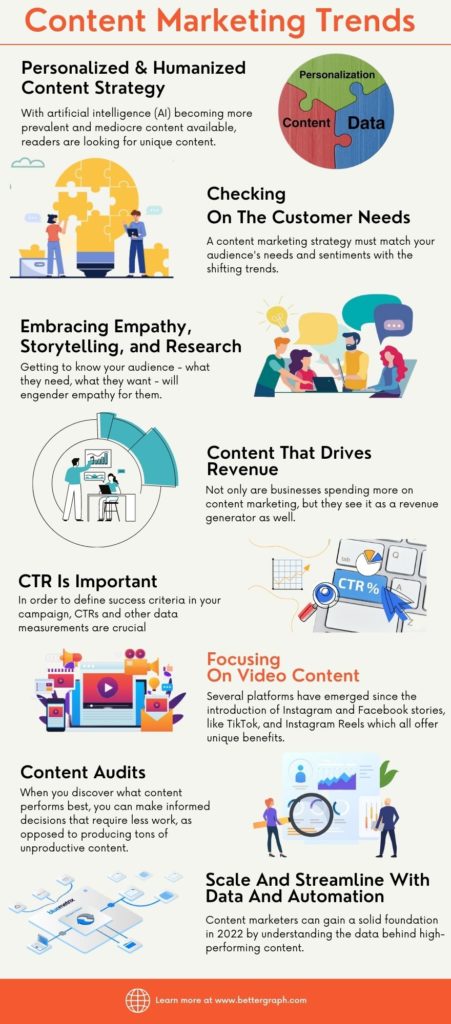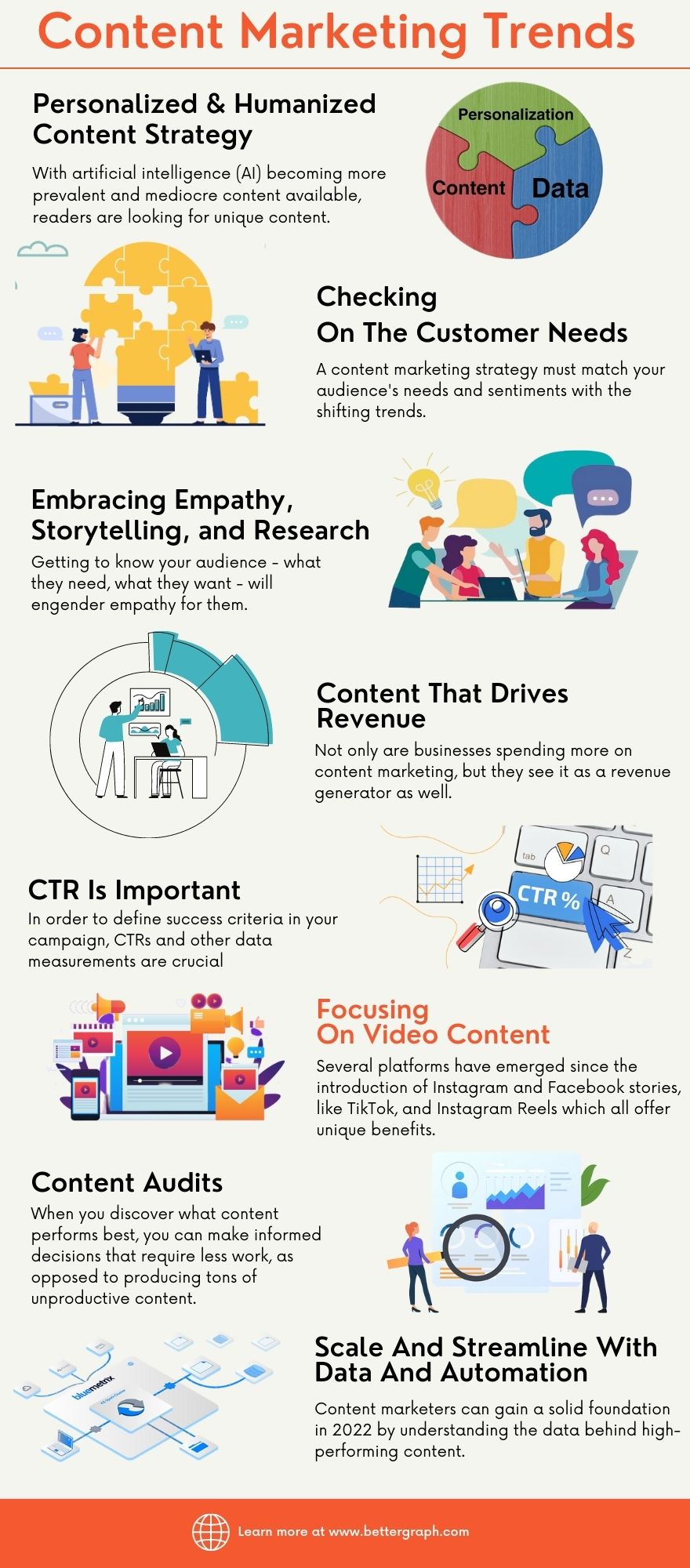 Be Aware Of The Changing Needs Of Your Audience 
This is one of the best content marketing trends, creating a big change in the market. We now read about the pandemic almost everywhere. It may seem like we can go a day without hearing about it, but it has forever changed how we work and interact with others online.
In light of this, it remains an integral part of our global conversation, and your content marketing strategy needs to match these shifting trends with the needs and sentiments of your audience. 
Take these content marketing tips into account when creating content in 2023:
Conduct a content audit for COVID-19. Your content should be reviewed if it's outdated or in an outdated tone if your audience is experiencing pandemic fatigue. To give your company's channels a fresh look, replace your content and refine your messaging.

Get in touch with your customers. You can gain a snapshot of what matters to your customers by interviewing or surveying them. Will they soon return to work? Are they looking for products or services that make remote work easier? Knowing your audience can help you develop winning content ideas.

You may want to consider voice-to-text material. The increasing number of people working from home may lead to greater use of smart home devices to do their shopping. Adapt your content for this channel to reach more people. 

It is important to note that optimizing your content for voice is different from traditional search engine optimization. Consider using longer phrases longtail keywords and composing your content in a conversational tone that anticipates your audience's needs.
Your content marketing strategy should always include these concepts. You can continue to achieve success beyond 2023 by adopting these best practices as the pandemic evolves.
Storytelling, Empathy, And Research Should Be Embraced
You should consider the career, lifestyle, hobbies, interests, and personality of your potential market. As well as finding out if they are the final decision-makers, if not, who is the final decision-maker, and what level of authority your customer avatar has, you must also learn whether or not they are the final decision-makers. 
Isn't it always about the customer when creating content? You should build empathy for your audience by getting to know who they are, what they need, and what they want.
First, you need to understand your customers, build empathy for their situation, and provide them with value-added stories that match their needs. Content marketing services & strategies that elevate the business instead of the customer are too common in B2B industries. 5% of successful content marketing professionals attributed personalization to enhanced conversion rates and growth. 
You can accomplish this in several ways:
Research your target audience as a priority. It may seem counterintuitive for a content marketer to conduct customer research directly, but it is incredibly useful. What kind of content will resonate with your audience without knowing their needs and interests? That's impossible. Conduct audience research before coming up with content ideas. Thus, you will know your target customer objectively.

Collect insights from the audience. There are several ways to learn about your customers. Start by conducting thorough interviews and surveys. Create processes for regular communication between content marketing and customer-facing teams. Furthermore, analyzing user analytics, trending topics, industry resources, and keyword data can help you develop more targeted content strategies. 

Personas for buyers and audiences should be defined. Describe both types of personas, focusing on their pain points and the specifics of their buying behaviors, and how they may influence your ideal customer. Take into account that your readership may extend beyond your direct customers. In addition to users and influencers, brand advocates could also be considered.

With intention and purpose, create quality content. With the Writing Assistant, you can get instant feedback on the quality of your content based on targeted keywords, readability, voice, engagement, and even optimal length for a specific topic.

Whenever you plan or create a piece of content, think about who it will serve and why they should care about it.
Using Content To Drive Revenue
What is content marketing? Did you know that 8.1 million people asked this question in 2021? In other words, it's a strong indicator that more, and more businesses are looking to break into content marketing to meet their business objectives.
The success of this marketing strategy is proliferating. According to our survey, ninety-one percent of companies had some level of success with content marketing in 2021. Companies that found success in content marketing are planning to increase their budgets for it in 2021 by 71%, and their content teams are planning to grow by 58%. Companies are not only spending more on their content marketing budgets, but they are also viewing it as a revenue generator worth investing in. 
Measurement and optimization of content marketing can be challenging. It's not impossible, though. It may be the essential step for you to take in 2023 to add end-to-end analytics so that you can track the impact your organic traffic and content have on your bottom line.
Here are a few tips for managing your budget and resources in 2023:
Build your content strategy first. Among content marketing-related keywords, "content marketing strategy" was the second most popular in 2021. That's not surprising since creating one remains a challenge for many companies. You can make your content efforts less complicated and more effective by zooming out and looking at the big picture. Analyze your existing content and the result of organic traffic to determine what you can do. Learn what type of content and format is working best for you. Assess historical performance, establish benchmarks, and set primary goals, like generating revenue through content marketing.

Establish KPIs and track them. Consider the specific metrics you will use to track the performance of each content type once you've established high-level goals. 

Consider multitouch attribution and watch the data. You shouldn't design your content to maximize conversions or sales for every piece. Keep an eye on other metrics on your website, such as traffic and events, which indicate engagement on these levels. Through the various stages of their journey, especially in B2B content marketing, someone may have to take dozens of steps to convert. Therefore, you can track and measure the impact of content pieces even if the user doesn't convert immediately by adding an extended attribution window and a multitouch approach. 

Make adjustments and optimize. Every piece of content you post will not be successful. Learning from mistakes is the best thing you can do. Use your data to determine the best content pieces you're publishing, such as videos, blogs, articles, landing pages, etc.
Consider Your Click-Through Rates (CTRs) In Search
If you don't define your success criteria, you can't measure the success of your content marketing strategy. Therefore, setting CTRs, among other data benchmarks, is a crucial element of your campaign's strategy. The importance of ranking well is unquestionable, but wouldn't you rather attract more clicks and traffic on an upward trajectory?
Assume that you have published an article that claims to rank on the first page of the search engine results pages (SERPs) for a keyword that you are passionate about. Is it getting fewer clicks despite its top ranking in search?
Here are a few tips for increasing CTR in 2023:
Take a look at your content and consider how it can be repurposed to attract clicks for different SERP features. You can repurpose it into other media. Google also displays videos, images, and news results. Similarly, landing pages and blog posts can be reused. Tip: You'll already be winning if you put video content on YouTube and then embed it into pages attracting visitors!

Focus on big questions rather than snippets. A snippet won't necessarily get you clicks. Instead, you should create content around related questions that go deeper and offer more value to your target audience. For example, if you win a snippet that answers "how many countries are in Europe," that snippet is unlikely to be clicked. Instead, provide content with a greater level of depth. 
Produce More Short-Form Video Content
Four out of five respondents to our survey considered the video a successful tactic for their content strategy in 2021. 
The short-form video has become increasingly popular, especially in the last few years. According to research, 35% of companies plan to make video a key component of their content strategy by 2023. Many platforms have emerged since the emergence of Instagram and Facebook stories, such as TikTok, Instagram Reels, and TikTok Stories, which have a particular benefit: they deliver content to viewers within a brief period. 
Professional video production may come with a high price tag, but it isn't always expensive. Adding more videos to your marketing mix in 2023 can be as easy as trying some of these ideas:
Make a video or a series of videos if your brand gets many of them. It also puts a face on your brand.

You can get exposure and build trust by partnering with influencers in video ads if you work with them.

Customer testimonials: Do you want to spotlight one of your clients? Let them tell their stories or share their video testimonials with you.

Whether your company is in B2B or not, short-form videos can quickly and easily be created by your subject matter experts (SMEs). You could, for example, ask your SMEs to record a few clips summarizing their ideas rather than another webinar.
Invest In Content Audits
According to the report, almost seventy-five percent of companies surveyed conduct a full content audit every year, and 65 percent of companies that succeed in content marketing run them at least twice a year. Despite not seeming like one of the fun content marketing trends as storyboarding your next creative campaign, conducting a content audit is an essential practice that can benefit content marketers.
If you discover what content performs best, you can make informed decisions that don't involve heavy lifting, unlike creating a ton of new content that's not necessarily good. Moreover, you have the opportunity to uncover old content that can be spruced up and revitalized for future use. Metrics that are regularly audited lead to success. Performing content audits more frequently leads to stronger results across the board for content marketing teams. 
How can you tell if a piece of content needs an update? According to experts:
In 44% of cases, the content was outdated

Content with high search rankings will be protected from fluctuations by 29%

Content resuscitation to increase rankings and traffic by 28%
Eighty-two percent of our respondents engage in some type of active content auditing, proving that this strategy works. In response to content updates, 45% of participants reported improved engagement, and 43% reported ranking and traffic improvements, indicating a strong correlation between updating content and improving key metrics. 
Scale And Streamline With Data And Automation
No matter what industry you're in, you may find thousands of articles published daily that are in direct competition with your brand. It creates a challenging digital landscape where companies are competing for top SERP placements. One silver lining is that it allows you to create winning content and utilize data to inform your content marketing strategy.
Research shows "content marketing tools" are once again one of the most popular topics globally, indicating a strong need for automation since content managers often handle labor-intensive tasks. Understanding the data behind high-performing content can give your content marketing strategy a solid foundation for making gains in 2023, just as we discussed the importance of performing content audits.
In 2023, content marketers who want to achieve data-driven results will find it helpful to rely on tools to identify opportunities, plan, execute, and automate content marketing campaigns. These content marketing trends help improve and optimize your content strategy for SEO gains and enhance user engagement, enabling many content managers to streamline their processes.
Final Thought!
Staying aware of the potential of upgraded, new, and increasingly unique content marketing trends in 2023 can make a tremendous impact on how you reach your present and potential clients.
---
FAQs
---
What Is Content Marketing?
---
Is it beneficial to connect a content marketing agency?