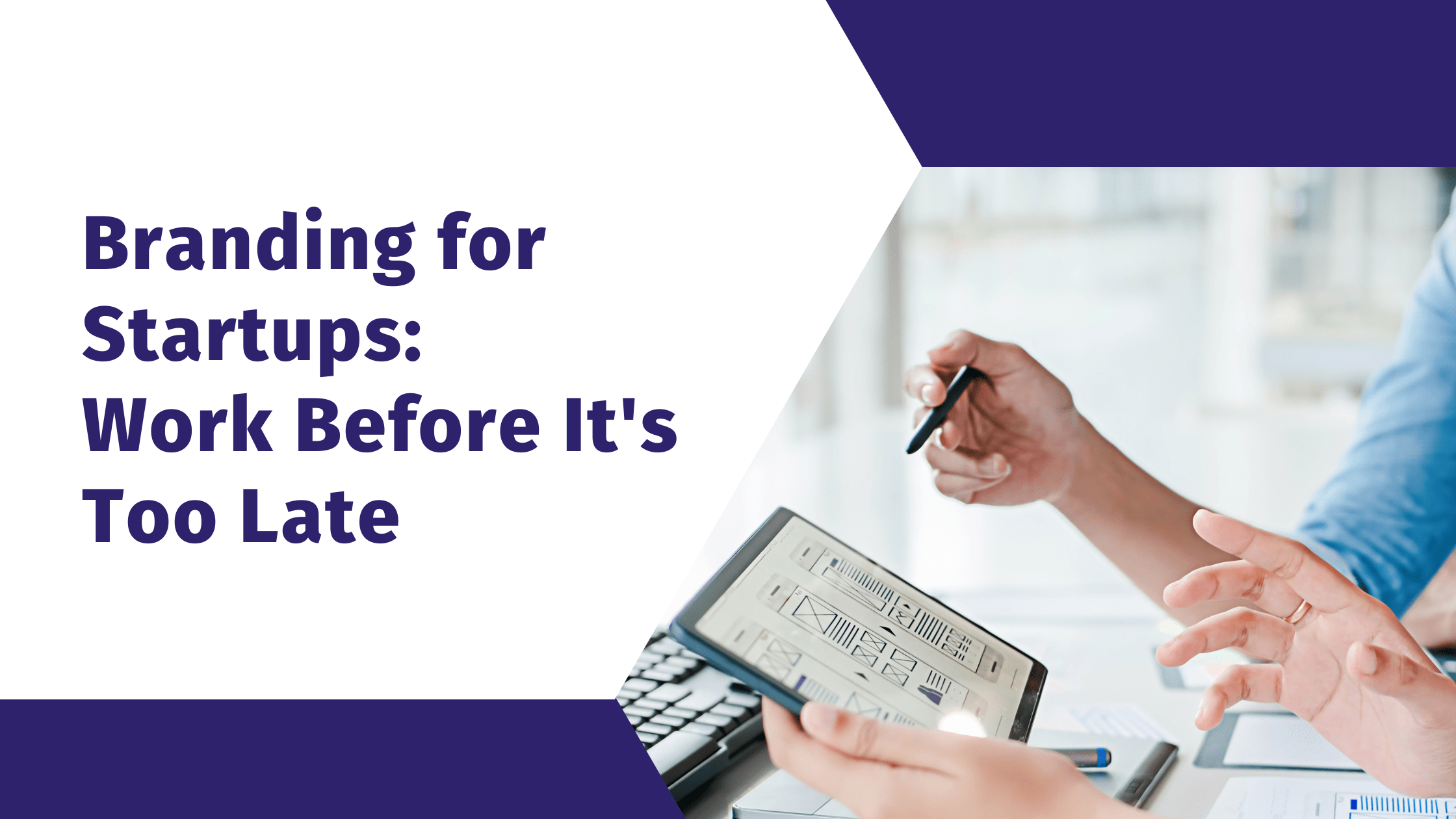 A brand is how people view your business; it's more than just your logo and color scheme. You create a brand identity in this way to set yourself out from the competition in the minds of your target market.
The two things that small business owners need to care about are their products and their brand. It's not enough for the client to like your product; they also need to be able to believe in the business that created it. Building a lasting relationship with clients is the key to branding.
With our previous web blog, we covered the Definitive Guide To Startup Marketing in 2022, which covered the strategy to work on the marketing of startups. And as we promised, we are presenting the next web blog of the startup series with the aspects of branding before it is too late.
Young businesses frequently struggle to create their distinctive personality, much like many young people do. This is because ideas that seem fantastic on paper often need to be modified to work in practice. Startups frequently need to adapt their thoughts a little bit to the market, their target market, and other circumstances.
Many entrepreneurs may find it challenging to understand how their startup branding should look as a result. It makes it challenging to develop a cohesive brand identity and business culture.
You will eventually need to establish a brand identity to draw in potential customers and investors. Due to the intense rivalry, it should also be done much earlier than it used to be. Branding aids in spreading awareness of your goods. Don't miss the opportunity to showcase your product effectively. Never say, "We'll do it later." 
Why You Need A Digital Marketing Agency
It's crucial for a business to cover the areas that will take care of everything because branding for companies is more difficult than it first appears. And if you are not able to manage it,
Leave It to Professionals
It is true that in the initial stages of a startup, a shorthand in the budget is an excellent factor in working on its own, but with a digital marketing agency, this is sure that the money invested is worth it. With a digital marketing agency, you can keep the best efforts of branding the startups with the experts on board, working solely for your brand to get a position in customers' minds.
You can market your company online to bring in more clients, raise sales, and improve your brand's reputation with the assistance of a digital marketing agency. For this, they just need extensive knowledge of you, your company, and your rivals in order to accomplish this. Additionally, they will be experts in website design, pay-per-click (PPC) advertising, search engine optimization (SEO), and other digital marketing strategies. With the above-mentioned reasons to hire a digital marketing agency, we have also mentioned others in our blog, 10 Reasons To Hire A Digital Marketing Agency.
What Exactly Is Branding, And Why Is It Vital For Startups?
Startups differ from larger businesses in that they are more versatile. The target market and the purpose of the product may change multiple times when looking for a workable business strategy. You are aware of how frequently startups lack appropriate strategy and funding. Due to this, 1 in 3 startups fails within the first 2 years of operation. However, there is a technique to improve the circumstance and increase the likelihood of success.
Branding, It is!
The process of branding for startups involves researching many different aspects of the market, consumers, market segments, and product features that can attract customers. It's a legitimate business tactic for certain business owners. However, you want other people to care about your creation if you care about it. The goal is to create a startup that has a complete life cycle as a product. To prevent wasting money on marketing, it's a good idea to plan ahead and consider startup branding. 
You might find the advice below helpful in that regard.
Fundamental Brand Strategy Advice For Startups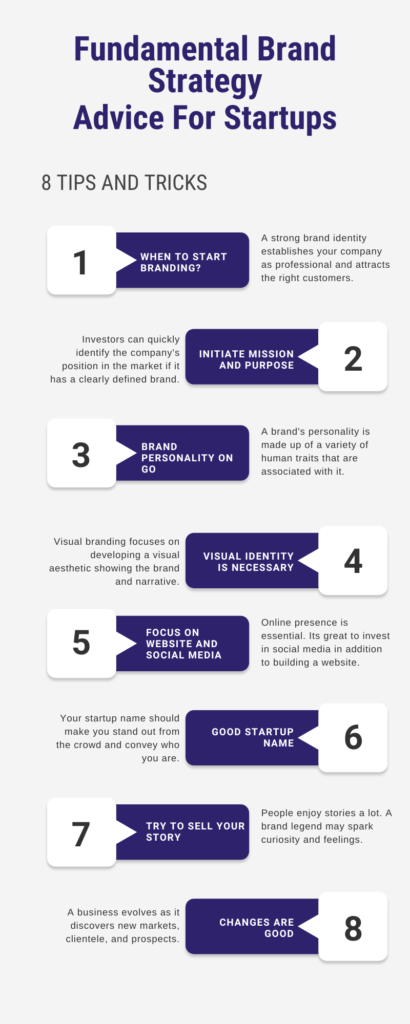 Businesses that don't invest the necessary time in developing a solid brand miss out on a significant chance for development and success. 
Read out the branding advice clearly to ensure you perform proper branding techniques before it is too late!
When To Start Branding?
The game of play is precisely in question. While it's true that branding for a startup could not be a priority in the early phases of development, it's time to brand a startup following the formation stage and the first successful sales.
In addition to increasing product/company awareness and defending it from competitor attacks, it will safeguard the market sector.
Initiate With Mission And Purpose
The brand's mission should guide your strategy and choices. Investors can easily identify the company's identity and position in the market if it has a clearly defined brand. The company's culture and ideals are just as influential as the product as they are. The ideal strategy is to identify a product's essential identity in how it addresses people's concerns. What makes your product unique? Include this in your goal.
In addition to using branding agency services generally, you should perform customer surveys and ask your customers why they choose your product over your competitors. An MVP will come in handy here. In most circumstances, without product or client feedback, it's impossible to determine the true purpose of your startup.
Brand Personality On Go
A brand is a personal character that demands respect. A brand's personality is made up of a variety of human traits that are associated with it. In other words, every brand is similar to an individual. A brand needs to have a personality or a unique combination of traits that make it stand out in areas like communications and customer relationships. It gives a better way of introducing new properties or items and helps define a brand.
A brand with a distinct personality finds it easier to compete for the consumer's interest. Your company's personality provides it with a distinctive voice. Otherwise, it's an inability to connect that results in starts that crash. Without an effort, the business would be perceived as a faceless blob, and individuals would be all too eager to give it the traits of their choosing.
Visual Identity For Startup Is Necessary
Visual branding promotes both the brand and the product. Many inexperienced businesspeople incorrectly believe that a brand and a logo are interchangeable. At the same time, visual identity focuses on developing a visual aesthetic that represents your brand, business, and narrative. It's a system that creates an image of a business or item.
Offering a distinctive graphic approach and the physical representation of your startup branding logo's typeface, color, and graphic design will heavily influence your company's overall visual identity, corporate identity, interior design, package design, and other aspects of your organization.
You must design matching stationery, print items, and social media branding after the logo is finished. To aid in visualizing it, a brand book is produced. Make sure it makes clear how your logo and other visual components are shown in various settings. A disorganized visual identity is the definition of unprofessionalism.
Focus On Website And Social Media
Imagine that you have a product and that 20 have ordered it this month. How can you go further? Whatever your intentions, it might be challenging to advertise a product without a website presence. Nowadays, having a quality website is a requirement for any type of business, but startups need it the most. A solid online presence is essential; otherwise, potential investors won't think highly of your business.
The key goal is to get the message out. People usually search for the website when learning about a new startup. Otherwise, how would they be able to learn more about who you are and what you do? You must get leads by directing potential buyers to your website.
It makes sense to invest in social media in addition to building a website. Social networks are the perfect platform for brand and business growth since they allow for the creation of enduring connections with clients and future customers. Create an organized plan and approach. You must comprehend and specify the aims and purposes of your social media presence. As a result, finding the ideal platform to target your audience is crucial. Facebook and Instagram have undoubtedly been essential in bringing in new customers for businesses. Maintaining the platforms with brand elements and daily related happenings produces an excellent working environment. Take a look at the examples below.
A Good Startup Name
While founders have been gravitating toward less bizarre-sounding options in recent years, the list of odd or improper startup names continues to expand. Think carefully and come up with a name that is memorable, concise, and doesn't have a lot of syllables. Your startup name should make you stand out from the crowd, convey who you are to the world, and leave an impression.
If you are the startup's creator, and you tell me the name of your business, I should be able to remember it, spell it, and the title shouldn't sound, for instance, like "services." Because the search engine will slam me with a thousand links if I google anything like that, but not the one towards the correct website.
Try To Sell Your Story
Once, while returning from the office, I really felt how small businesses face the challenging world of marketing themselves digitally. After a thought process of about six months, here with…..
This is a small instance story of how we, "Bettergraph," started in the league of marketing the brands digitally.
Use a story as your starting point. A brand legend may spark curiosity and feelings. People enjoy stories a lot. However, they are absolutely great being sold.
According to research, our brains need tales. Stories of all kinds stimulate the brain as well as our senses. The clients you draw with the aid of an account will stick with you for a very long time.
Changes Are the Truth Of Dynamic Environment
While perfecting your brand, message, and story is essential, you must also be flexible. Start small; your tale can be relatively straightforward. Be prepared to modify it as you receive feedback from your customers. Over time, you'll discover that exposure to customers and their comments gives your identity depth.
Be ready to conduct an audit and make changes. A corporation evolves along with it as it discovers new markets, clientele, and prospects. Rebranding happens naturally. The fundamental concept is to start with something to rebrand.
Branding Is Set Asset, Not An Liability!
It's unfortunate when a successful startup fails, and the marketing investment is wasted due to the negative brand perception. Being quick won't cut it anymore because every popular product on the market will eventually be duplicated. The goal is to develop a startup product into a mass-market item. You could benefit from startup branding in this regard.
How you present what you do to the market is the foundation of your branding. How you express yourself. How you appear. Branding is a product of both what you do and how other people perceive what you do.
As from the diary of a tech entrepreneur, innovator, and visionary Elon Musk, CEO of Tesla Motors and space exploration venture SpaceX.
"Branding is just a perception, and perception will match reality over time."