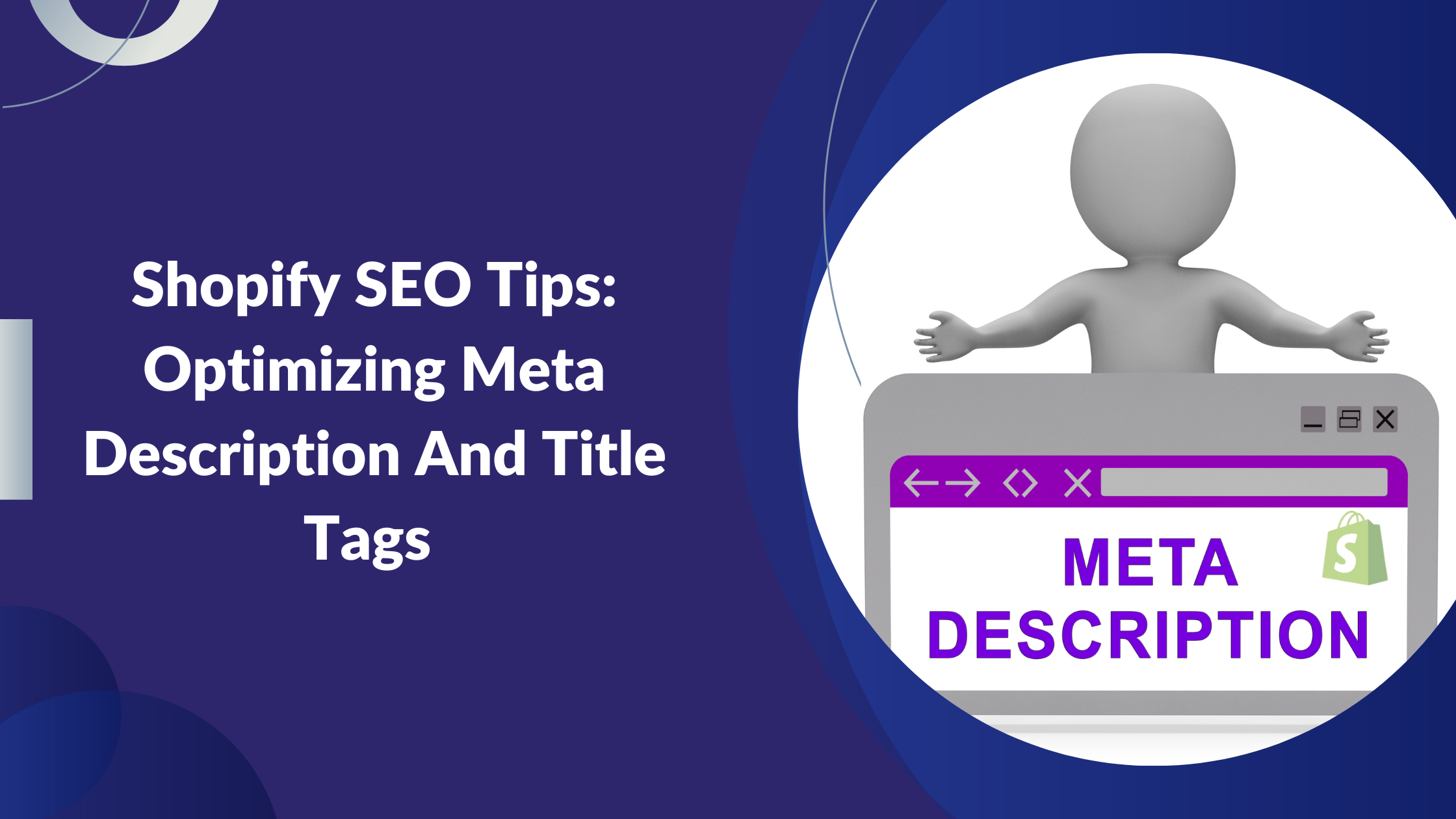 Shopify is a comprehensive, specialized global eCommerce platform that has assisted companies of all sizes in launching, expanding, and publicizing their online stores. It has experienced rapid growth in recent years and outperformed its competitors in terms of growth in 2020. Due to the fact that more than half of Shopify merchants receive repeat business, brand loyalty has increased. Shopify SEO can help you improve your Shopify experience by increasing sales, clients, and search engine rankings.
You can increase the amount of money you make from your online store by using the best eCommerce marketing tools. Your business may receive the boost it needs to generate sales and rank higher in search results. You can hire a Shopify SEO agency to work on your campaigns.
What Is It All About?
Shopify's meta descriptions and titles can enhance your store in several ways. Such as achieving high SERPs ranks and demonstrating to a potential customer what your store is all about. You can improve impressions and your store's click-through rate by using well-written, understandable, and eye-catching meta titles and descriptions.
A title and meta description not optimized for SEO only receive a single-digit click-through rate. Better organic SEO ranks have depended on solid title tags and meta descriptions. You receive more hits straight away from the same search traffic immediately when you develop engaging material that appeals to them.
Our previous guide, Essential Shopify SEO Tips for 2023, covered some tips that can bring in new doors for successful SEO for Shopify. You'll discover how to do keyword research with your target audience in mind, change the theme file for SEO, and create titles and meta descriptions that invite traffic from organic searches in this blog.
So, Let us get started.
Importance of Perfect Meta Description and Title Tags
One of a web page's most important components is its title. Your title appears as the most significant part of a search result. Search engines consider "title tags" essential information when categorizing and ranking your content. Make sure the titles of your blog posts and Shopify pages are consistently precise and start with the targeted keyword.
To decide whether the page title accurately describes what the page is about, search engines compare the title tag with the content of your page. Search engine results display the title as a link that can be clicked. There are several strategies to improve the title tag for search engines:
 Use a unique, evocative title.

 For each item, collection, webpage, or blog post, place your most crucial target keywords towards the start of the title.

 Because the majority of search engines will abbreviate longer titles, enter a title that is 70 characters or fewer.

 Make sure your title tag can be read.
The short paragraph of text that follows the title tag in search engine results is known as a meta description. For websites, product pages, collection pages, and blog entries in Shopify, the meta description can be customized. Make sure each page has a distinct meta description that is written straightforwardly. More visitors will click the link to your store when it has a compelling description.
The title tag and meta description are Shopify's most crucial SEO factors. People who are looking for things relevant to your products might learn more about them by viewing them in search engine results. Customers are more likely to click your store's link in search results if the title and description are compelling.
How To Change The Title Tags And Meta Descriptions On Shopify
First, ensure your theme works with Shopify's built-in SEO elements on the homepage, collection, product, and general pages. To increase their search visibility, you should optimize each of these pages for SEO. Each offers the potential to attract organic traffic.
Homepage
 Go to: for the homepage.

 Online Store > Preferences.

 Put a title and meta description for your homepage.

 Visit the homepage's URL. To verify that your modifications were made exactly how you wanted them to be, right-click and then look at the page's source code. If you still need to, you must modify the template.
Pages      
 Visit these general pages:

 Shop online > Pages.

 Choose a page.

 Next to "Search engine listing," at the bottom, select "Edit." After clicking edit.

 A page title and meta description should be entered.

 Visit the page's URL. Check your modifications to check if they were modified precisely how you wanted by viewing the page's source code. If you still need to, you must modify the template.
Products
Access all goods at:
 Products.

 Toggle a product.

 Next to "Search engine listing," at the bottom, select "Edit." Fill up the page title and meta description fields.

 Visit the product's URL. Check your modifications to check if they were modified exactly how you wanted by viewing the page's source code. If you still need to, you must modify the template.

 You are fortunate to have a theme developed with the opportunity to customize these SEO variables if your modifications display on the homepage, pages, collections, and items. 
Writing SEO-Friendly Title
The second most crucial on-page aspect of SEO is title tags. The most critical factors are exceptional value offered in a terrific product or service, information, graphics, and a fantastic user experience—everything that makes your store unique.
 Describe your keywords from the keyword research and search query analysis you completed before.

 55 to 60 characters maximum (sometimes you can get away with 35-60 characters). If there are too few, opportunities are lost. Google modifies the title if there are too many.

 Be comprehensible.

 Display the response to the user's search query.

 Match the page's content. When your keywords are included in the title, this ought to occur.

 Be distinct from other web pages on your site.

 Make yourself appealing or intriguing in some way to get others to click. This makes it interesting, and users would click it.
Writing SEO-Friendly Meta Description
You might be wondering: what are the best methods to apply this information to your business now that we've discussed meta descriptions?
Prioritize what would make a searcher click on your title tag in the first place. That necessitates responding to two inquiries:
 What do you have to offer?

 How come I should buy from you?
The first question for product pages has a straightforward answer: you're selling your product. Because you are the one selling the product, the second issue will be resolved.
Your homepage's meta descriptions are a little difficult. The best course of action is consistently highlighting your brand. They should shop there since it's the one item you offer throughout the establishment.
Because the meta description isn't the right place for delicacy, be explicit about what you do and your unique selling proposition. It's advisable to be patient and give your brand some serious thought if you're having trouble coming up with a compelling meta description for your home page.
What do devoted patrons of your long-standing company have to say about it? Why did you assume this company would attract customers if you're new?
As you speak to people, describe your company in an elevator pitch-like manner. Most likely, you should read through a few drafts. Since many clients will encounter you and your brand for the first time through this, it's crucial to do everything perfectly.
Modern On-Page Optimization Techniques
The text the search engine shows may not be the same as what you wrote. You miss out on a few easy improvements that can improve ranks and CTR if you stop your on-page SEO after setting up title tags and meta descriptions once. Let us check the steps that follow.
 Give search engines two weeks to re-crawl your website. For most stores, this is sufficient time for engines to pick up the adjustments.

 Find out what data the search engine modifies for its search results. Fill out the spreadsheet with the URL of your website. The program will evaluate each page's snippet that appears in the search results against the HTML code that you have on all of those pages.

 For pages whose titles and meta descriptions are changed in ways you don't like, rewrite them. Go through the spreadsheet one by one.
Google Search Console is the second favorite SEO tactic for meta optimization. It helps you find quick SEO wins. Pages with a high ranking and a low CTR or deep impressions and a low ranking are what you want to see.
 If you recently changed your website's title or meta description, give Google two weeks to re-crawl it.

 Go to "Search Results" after logging into Google Search Console.

 Check the boxes next to "Total clicks," "Total impressions," "Average CTR," and "Average position."

 Because what you are about to accomplish needs to be assessed page by page, click the "Pages" tab:

 By selecting the "Impressions" column, you can arrange the pages with the most impressions at the top. Check to verify if the meta description follows all seven phases for pages with significant impressions (compared to your other sites), an average position over 20, and a poor CTR (5%). To increase CTR, think about rewriting the meta description.
At The End
While Shopify meta descriptions might persuade a potential user to visit your website, titles are crucial for ranking highly on search engine results pages (SERPs).
You will be successful if you employ pertinent keywords, adhere to character restrictions, and make sure that the titles and descriptions of each page are distinct, detailed, and aligned with its content. This is the reason why Shopify SEO services are taken into consideration to enhance the technical detailing for a successful SEO for a website.
---
FAQs
---
How can I write a Meta Description for SEO?
---
What is the importance of a perfect title tag?
---
How to write an SEO-friendly title?