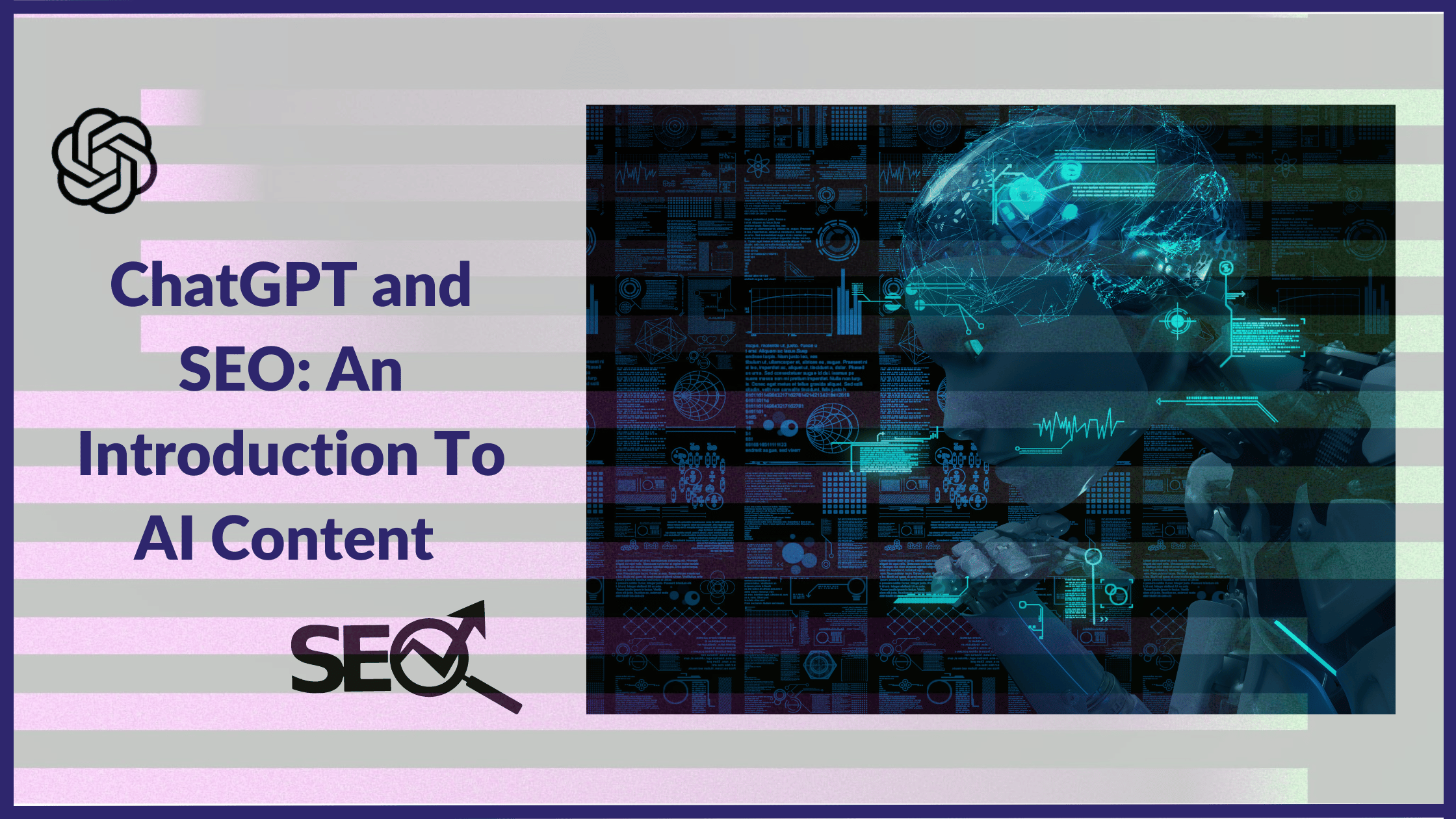 30 November was a day well matters in 2022.
OpenAI's ChatGPT launched as a shocker, and the waves have also been covered through the content marketing and SEO community. The chatbot with artificial intelligence can create some pretty unique content and has once again brought up the changing role of content in digital marketing.
We are also getting comments and messages about our stand on ChatGPT, and we are readily using it. As a digital marketing agency, we've had the last few weeks to experiment with the most recent version of Chat GPT's AI and gain a feel for the AI text generator (in between sporadic outages due to heavy demand).
Note-
Before starting this, we want to ensure that the content we deliver you is friendly to the human touch. We are using ChatGPT as an advancement and a guiding tool. The content generated is well-structured and written by our content writers.
About ChatGPT: An Overview
What Is ChatGPT?
We asked this question to ChatGPT, and this was the answer.

ChatGPT is an artificial intelligence-powered text generator developed by OpenAI. It can generate content on a different range of subjects, including both informative and creative, with a human touch. It is based on OpenAI's GPT-3.5 language model, an improved version of the 2020s GPT-3 language model.
ChatGPT analyzes vast amounts of text data using machine learning methods. The program then generates coherent text that exactly fits the input commands after that data has been evaluated (in a couple of microseconds).
The tool may perform the essential functions of a chatbot, and it can respond to queries using previously learned information. When you inquire about subjects that call for irrational cognitive processes, ChatGPT can become unwieldy.
Primary Functions That ChatGPT Holds
The primary function of ChatGPT is to produce logical and cohesive content that seems like it was authored by humans. A significant step forward for AI text generators, GPT-3.5 technology, can assist with various tedious writing chores, including translation, summaries, online chatbots, and topical research.
To produce text with a natural flow, vocabulary, and sentence structure, GPT writing technology consults vast collections of data.
Is Google Capable Of Identifying AI-generated Text?
We tried AI content on Google, and it's a yes. 
Google is capable of identifying and detecting the content generated by AI. AI is not a new board in the market. Although technology is still developing rapidly, Google (and other search engines) are acting quickly to make sure that information created by AI does not clog up the search results.
Advantages Of ChatGPT For SEO
ChatGPT has been developed using vast amounts of text data. It can produce very cohesive text that seems like it was written by a person. As a result, various content, such as blog posts, articles, and product descriptions, can be produced using it.
Here comes the main point "text that seems like a person wrote it." It only seems like a person, but actually, it is not like that of human written content
The ability to swiftly create a lot of content is one of the main benefits of using ChatGPT for SEO. This is especially helpful when writing a lot of blog entries or product descriptions, which can raise a website's search engine visibility. Additionally, ChatGPT is easily customizable to include particular terms and phrases, which might enhance the content's relevancy to search engine algorithms.
The ability to ensure consistency in the tone and style of the content is another benefit of using ChatGPT for SEO. This is especially crucial as it can be challenging to maintain consistency throughout all the pages of larger websites with a lot of content. A website's content may be produced consistently across the board using ChatGPT, which can enhance user experience overall and make a website more appealing to search engine algorithms.
Should You Write SEO Content With AI?
As a provider of SEO content writing services, We don't support the content being directly written by AI writers but can be taken as a guiding tool.
We asked the same question to the tool, and here is the reply.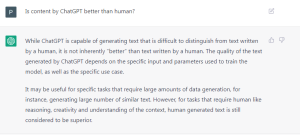 As we mentioned above, AI is not new, and in our previous experiments with AI writers, we found it difficult to index the same on Google, and on the same edge, AI content is not a good performer.
Although ChatGPT and other AI generators are not manually penalized by Google, experts believe that if a website employs AI content, Google may soft-mark it. Because of this, rating human-written content will become more difficult once Google has determined that a website previously published artificial intelligence (AI).
What Matters?
However, it's crucial to remember that ChatGPT-generated content shouldn't be used in place of human-created content because it lacks originality, warmth, and in-depth knowledge of the subject only humans possess. Before being published, a human must check ChatGPT-generated content for accuracy and quality.
Will Google Ever Rank AI Content?
Google is firmly against ranking up AI-featured content, but what holds in the future is still a question. If we talk about the present, Google is a gala against AI-generated content over human-generated content. In the case of the content generated by AI writers.
Typically, one of two things will occur:
It doesn't index. Google will crawl the page, and for this content, you will see the warning "Crawled – Currently Not Indexed" in your  Google Search Console.
The page may index, but it will be volatile and frequently dip in and out of the index.
AI Is Here To Stay
ChatGPT is a powerful tool that can be used to create SEO-friendly content. It has the ability to generate a large amount of content quickly and can be easily fine-tuned to incorporate specific keywords and phrases. However, it is essential to note that ChatGPT-generated content should be reviewed and edited by a human before publishing to ensure that it is high-quality and accurate. Additionally, steps should be taken to mitigate the risk of duplicate content. As AI advances, we can expect to see more and more use cases for ChatGPT and other language models in the realm of SEO and content creation.
At BetterGraph, as providers of SEO services, we have successfully integrated and adapted to every technical advancement, and yes, we are ready to work with ChatGPT too. We are using the tool as a guide, but for content, we strongly stand with content with the experience and touch of humans.
For more updates, stay connected to our blogs; we are here to assist you with every update onboard.
---
FAQs
---
Is Google Able To Recognize Text Written By AI?
---
Should You Write SEO Content With AI?