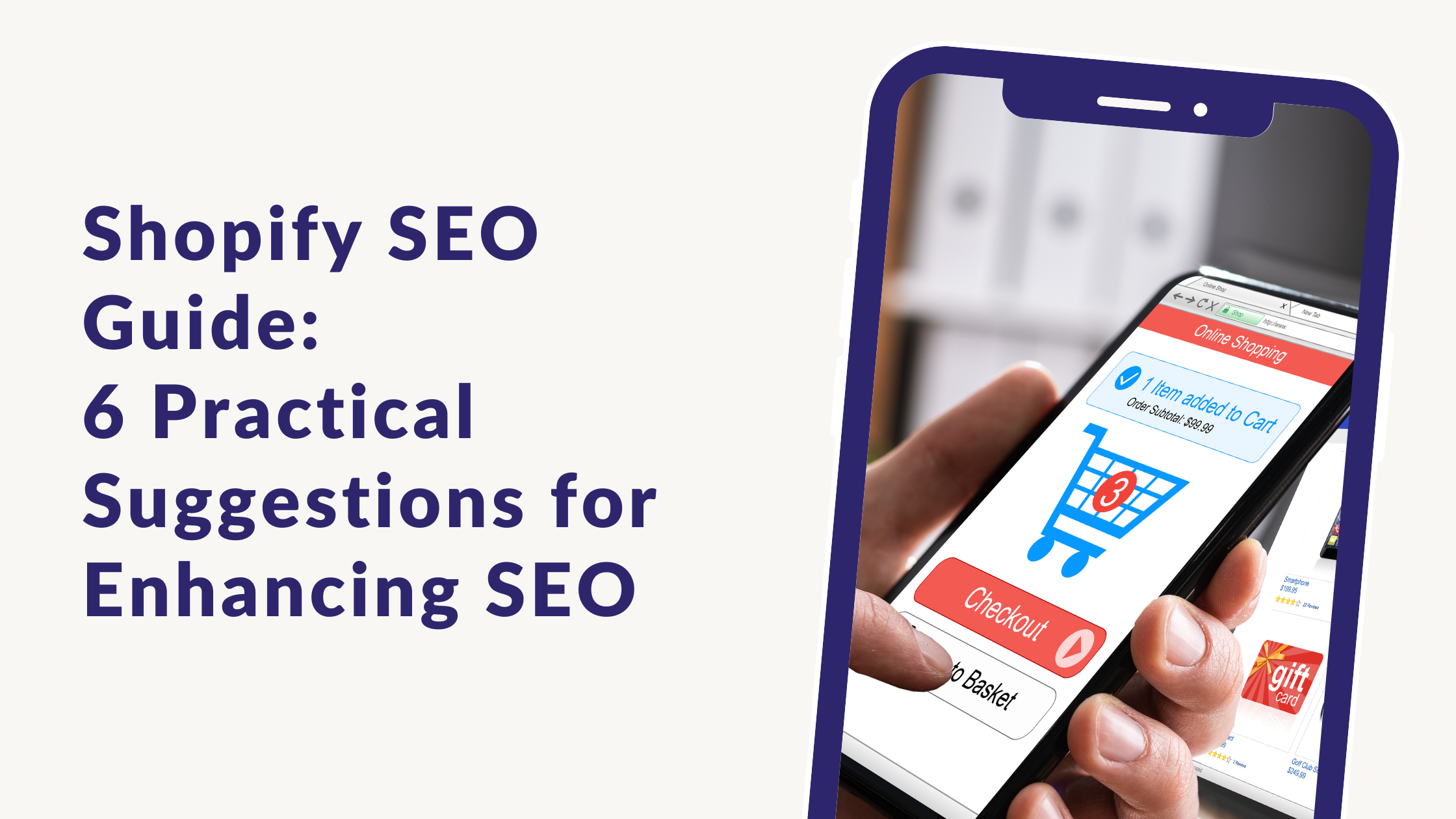 You set up a Shopify store to expand your clientele and increase your company's sales. After a few months of operation, your website isn't generating the number of sales you anticipated.
Why are you missing?
The reason you aren't reaching as many people as you anticipated can be explained if you haven't been using search engine optimization (SEO).
One of the most economical ways to increase your rankings and conversions on Shopify is through SEO. You've come to the correct spot if you want to learn about the SEO areas to optimize your Shopify online store using E-commerce web design and make Shopify SEO work for you.
The most precise E-commerce marketing method you can utilize to increase sales and revenues for your E-commerce store is search engine optimization (SEO), as we mentioned in our previous blog, E-COMMERCE SEO: The Definitive Guide. Therefore, SEO is your best option if you want to boost the functionality of your website, get in the best output with a tight budget and increase organic traffic.
But how exactly do you use Shopify SEO? Start with this Shopify SEO guide, which teaches the fundamentals of Shopify SEO and 7 Practical Suggestions for Enhancing SEO in 2023.
What Actually Shopify Caters?
Technically speaking, Shopify is a subscription-based software-as-a-service (SaaS) sales platform. Starting at $29 per month, Shopify provides four regular store subscription tiers. All standard plans and a branded web store support a comprehensive complement of offline and online selling tools.
Additionally, Shopify has a "Lite" subscription for just $9 a month. It lacks an online store but does offer a Buy Button for selling on other websites, blogs, and email, in addition to supporting mobile POS sales.
Every plan offers a comprehensive set of business management tools. Every Shopify package includes necessities like product sourcing, sales, inventory monitoring, payment processing, shipping, customer accounts, marketing, and reporting. Additionally, there are numerous Shopify Apps that make it simple to increase your toolbox.
Shopify SEO = Successful Integration
Your online sales may be significantly impacted by your Shopify SEO approach. Shopify SEO services are a collection of SEO modifications specific to the Shopify platform. While Shopify stores include a blog and the ability to redirect, these features can potentially lead to SEO problems like duplicate content.
Search engine optimization, or SEO, refers to a set of strategies you employ to persuade search engines to recognize your website as a valuable resource for its users' problems.
These strategies can include everything from improving user experience to producing insightful content. The objective is for users to view your website as a reliable resource, no matter how you approach it. Additionally, the more relevant your website is, the more likely it is to be shared by search engines and the higher it will appear in their lists. These improved ranks are particularly crucial for e-commerce websites. 
A Shopify store that ranks #1 receives almost twice the amount of traffic as one that ranks second. These outcomes provide compelling evidence of the value of a robust Shopify SEO strategy.
However, Shopify SEO services differ slightly from SEO services for other websites.
You're not just optimizing content, after all. You're improving the listings for products. Your search engine rankings may be negatively impacted by these particular issues. Paying close attention to your Shopify SEO is crucial for continuous sales growth.
Why Hiring a Shopify SEO Agency Justifiable?
It is very well said that investing in the best and worst is good to take it underway. So, the answer to the very question is an absolute Yes!
The reason for the yes is pretty simple. It may be challenging to optimize your E-commerce website for search engines, particularly if you don't have much SEO experience. To begin with, you need to conduct the essential keyword research and have a solid content plan in mind if you want to see results truly.
What can a Shopify Agency do for your business?
It might be challenging to run an online business by yourself, even when a few teammates are by your side. For starters, they may assist you in finally gaining traction when it comes to ranking for particular keywords by demystifying the search engine optimization procedure. Your Shopify business can be improved and elevated to new heights with the help of a seasoned Shopify agency.
You may get efficient SEO services from a Shopify SEO agency to help you manage content, track your campaign, and develop more innovative marketing plans. Your online store can gain more clicks and draw in new clients by doing this.
6 Practical Suggestions for Enhancing SEO in 2023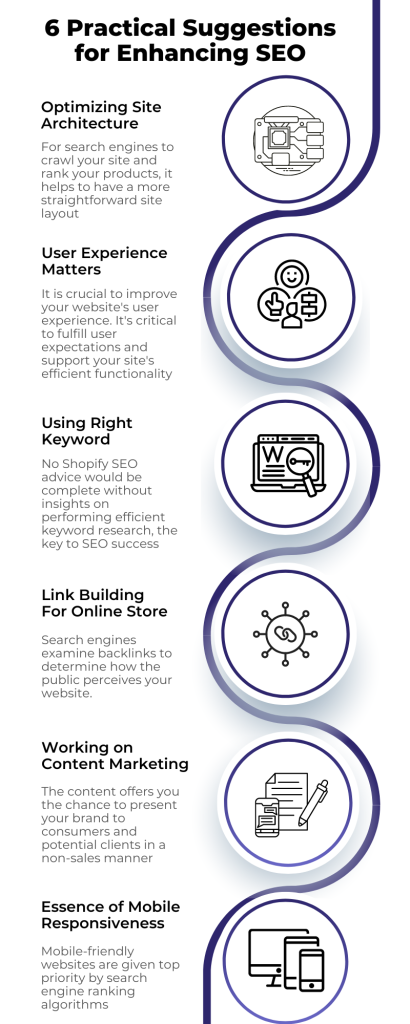 SEO is one of Shopify's most cost-effective ways to raise your rankings and conversions. You've come to the correct spot if you want to learn about the SEO areas to optimize your online store using E-commerce web design, locate the best E-commerce platform for SEO, and make Shopify SEO services beneficial for you.
Here are the top 6 practical suggestions for boosting SEO in 2023.
Why Wait, then? Let's begin.
1. Optimize the Site Architecture on Shopify
The layout of your page's content is crucial to the effectiveness of your SEO efforts. When customers find what they're looking for swiftly and effortlessly, they are more inclined to spend long hours on your website and view more pages.
How can you make it simpler to explore your website?
Simplify. For search engines to crawl your site and rank your products, it helps to have a more straightforward site layout. Avoid using too many categories and subcategories. Remember that your site should be created with the user in mind.
You must have an About page and a contact page on your website in addition to the product and category pages. Don't skip these pages because they show customers and search engines that you are reputable and trustworthy.
Last but not least, add a search box to your page. 
Does it support SEO? Not immediately.
However, it will assist customers in finding what they're looking for, which is a crucial component of E-commerce optimization, so you may profit more from the current traffic.
2. User Experience Matters A Lot
Don't just assume everything works. Put yourself in your customers' shoes and do everything they will do.
It is vital to work on the user experience of your site. Let's examine a few strategies for enhancing the user experience on your website, which will also makes you a better performer on search engine results.
Accessibility is the key to website speed. Visitors won't become irritated when your website is simple to use and goes rapidly. This implies that they'll probably stay on your website longer.
Your Shopify store can run faster if you utilize a quick, responsive theme and smaller, optimized pictures. Not only this, remove any apps you aren't utilizing and stay away from sliders.
Make Use Of Responsive Designs
Thanks to responsive design, your Shopify store will look fantastic on any platform, including desktops, tablets, and smartphones. The user experience can be significantly enhanced and extended by using responsive themes. Because search engines use time spent on a page as a measure of a site's worth, having a site that is simple to use and understand can help with rankings. Recurring traffic and higher conversion rates follow from increased rankings and usability. Fantastic for an e-commerce website.
Since more and more customers are making purchases using their smartphones, it is crucial to ensure that your store is mobile-friendly.
3. The Right Keyword Is The Key To Success
Without advice on conducting effective keyword research, the cornerstone of SEO success, no Shopify SEO services would be complete.
But how can you discover the ideal keywords to drive customers to your store?
Making a list of at least five essential themes that matter to your clients and are directly relevant to your product is the ideal place to start, rather than using fancy tools. Consider yourself to be one of your consumers. What search terms would you enter to find the products you sell?
Additionally, you can get ideas for these subjects from places like:
Own personal buyer personas

Digging up social media hashtags, forums, and reviews linked to your products, as well as titles, meta descriptions, and picture alt-text utilized on competitor websites
4. Link Building For The Online Store
Search engines analyze backlinks to assess how the larger community views your website. Consider it SEO's equivalent of word-of-mouth. It's an off-page optimization tactic that depends on proving your legitimacy and dependability.
How are links to your store obtained? Here are some pointers:
Manufacturer and Supplier Links
They may have a policy that only authorized retailers can obtain a link if you offer goods created or supplied by well-known companies. Email them to request a link to your store.
Influencer and Industry Voices
To create links and content, approach thought leaders and influencers in the sector for interviews.
Mentions
There may already be references to you without any links. To find these mentions, use mention.com. After that, write them an email requesting them to mention your website in a link.
Broken Links
Finding broken connections for goods and services similar to those you provide involves detective work. Once you discover one, get in touch with the website's owner to request that they link to your site instead. They get to restore a broken link, and you receive a backlink, which is a win-win situation for everyone because broken links are bad for SEO.
5. Work Joining Hands With Content Marketing
People visit your website for its content. As an E-commerce website owner, you could be tempted to compromise on content or think that product descriptions are sufficient.
But that is not going to work!
We're sure you'll succeed a lot more if you take the effort to provide unique content that improves your users' entire experience.
Getting the best topic to write about can be daunting, but it doesn't have to be. Keep a record of all the queries you receive from clients and anything else you think they might be curious to know the answers to no product specifications but real improvements.
Your content is an opportunity to introduce your brand to consumers and potential customers in a non-sales approach. Additionally, it's among the simplest ways to rank up for better keywords and more backlinks.
6. Keep An Eye On Mobile Responsiveness
Mobile-friendly websites are given priority in search engines' ranking algorithms. Responsive design was used in the creation of Shopify's main website. 
Even so, you should keep an eye on your Shopify store's mobile-friendliness as you add content and make changes across all browsers and device kinds. Long-term SEO demands persistence, regular attention, and monitoring. You must check your Shopify SEO services to ensure that your Shopify store is driving as many customers and generating sales as feasible.
Shopify Shines Bright!
Understanding the SEO implications of the Shopify platform will become more crucial as usage of the platform rises. We present this blog post hoping that the information will help your Shopify store perform better in search results. Among other crucial elements for every organization, a high-end user experience is recognized to raise your average ticket and keep customers coming back for more. The little-known truth is that Google's helpful content is essential for long-term SEO growth and organic visibility. As a result, if you're just getting started with your Shopify store and lack the funds to implement SEO, your best baby steps choice is to create outstanding page experiences and premium content. After all, as we have repeatedly emphasized throughout the blog post, search engines love it when you provide users with a pleasant experience.