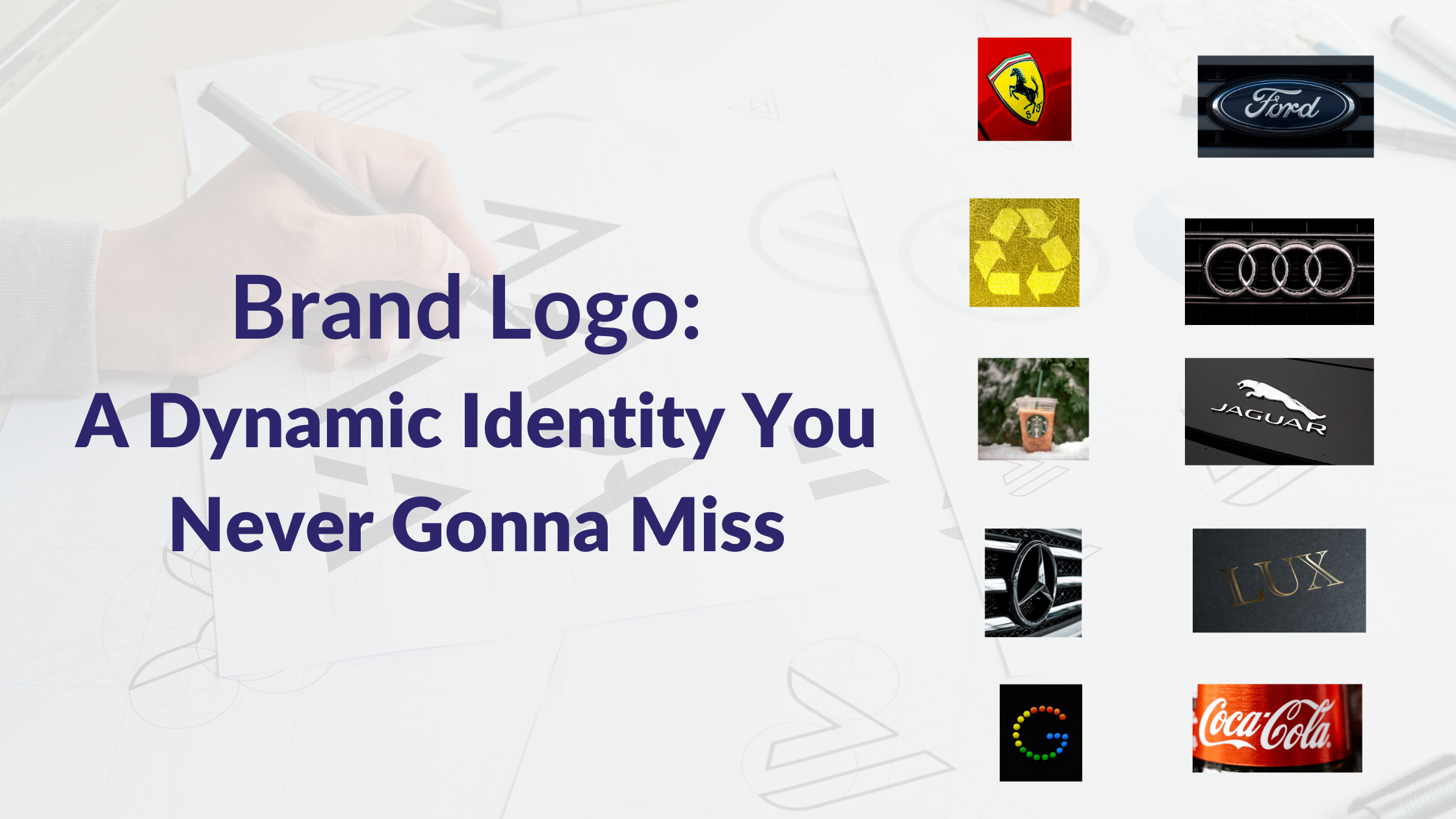 Looking at a yellow 

  makes you crave a McDonald's burger. This magic of the "M" sign has earned the brand its value. In the edge of branding in our previous blog, Branding for Startups in 2022: Work Before It's Too Late, we clearly showed how a logo speaks for a brand.
In today's blog, we will let you know the different aspects of a brand logo and how it can be a roadmap to a brand's success.
Before this, let us understand what a brand logo is,
In the simplest terms, a logo is a marking for a brand made up of letters, numbers, or different types of symbols or other characters that are used to represent a company or a product. There are many different sizes and styles for specific logos, ranging from simple text logotypes to abstract logo markings. 
To see it, you can also check the logo ideas from ancient times. Look at the simple symbols that early humans used in their cave drawings to communicate. Think of the particular themes found in hieroglyphics from Ancient Egypt. While contemporary logos may have a different appearance and feel, the fundamental goal remains that is recognition.
Why Hiring a Logo Design Company in India Justifiable?
You would undoubtedly concur that companies need a distinctive brand, symbol, or insignia to set themselves apart from their competitors and to market their goods and services. Therefore, most firms make it their mission to work tirelessly to create a distinctive and memorable company logo.
Both small businesses and major corporations face intense competition in the corporate world. Therefore, one must make every effort to maintain the brand's prominence and increase its recognition. Investing in a professionally designed logo that corresponds to your business concept is one of the best methods to boost significance and legitimacy.
The concept of "Perceived Value" emerges as a critical component of contemporary society. You might be curious about what "perceived value." People tend to think that the more appealing a product appears from the outside, the higher its worth will be. If you employ a logo design company to create your company's logo, they will mainly present it in a way that stands out and grabs attention right away. However, a firm logo created by a logo design company in India aids in drawing attention to your brand right away.
Benefits of a Brand Logo For Business Success
The corporate world is highly competitive for both small and large firms. In order to keep your brand prominent and broaden its popularity, you need to exert every effort. One of the best ways to improve relevance and credibility is to get a professionally designed logo that complements your business concept. Here are some benefits of opting for a professionally built brand logo.
1. Your Identity Check
✔️
As said in business, A distinctive logo creates a favorable first impression. 
Unlike brands like McDonald's, Nike, Puma, Audi, etc., the brand logos work more like an identity. In terms of branding, the quote "a picture is worth a thousand words" is accurate.
If you have a strong logo for your business, people will recall it more. This will help ensure that your brand survives. Your logo will stand out from the competitors more if it is unique and memorable. Through your logo, you can convey the character of your business. Customers will have a higher opinion of your company as a result. Examples of creativity and originality include the use of vivid colors or a distinctive design.
A logo with a beautiful character or amiable animation can reassure customers and help them develop trust in the firm even before they conduct business with you. Additionally, it will assist you in keeping the clients you do have.
2. Makes You Stand Out
Briefly expressed, the secret to effective branding is telling a story that will appeal to the emotions of your target market.
However, a company's logo is just one component of its brand, forming the basis for the entire story on which the brand is built.
Your logo establishes the scene for the tale you're trying to tell, which will determine the colors, tones, and fonts you choose.
These elements will then be included in your branding items, such as letterheads, business cards, landing pages, and more, building a distinct, marketable brand identity.
3. Builds Brand Loyalty
With the expansion of your business, more people will identify your brand. More people will be aware of who you are and the values you uphold. This will convey the idea that your business is approachable and dependable.
Consider well-known brands. As an illustration, when looking for sportswear and seeing Puma, you are more inclined to choose that brand with a cougar.
This is because you are familiar with the logo and have a positive brand association.
Brand loyalty will undoubtedly follow if you take the time to establish trust with your logo. Customers will continue to seek you out after enjoying your company and services. They'll start by looking for your logo.
4. Magnet To Customers
One of the company's key goals is to expand its customer base through innovative marketing methods. The logo is proudly featured on marketing content and serves as the focal point for all marketing campaigns to attract the target demographic.
This is how it functions. The logo's design, including its colors and aesthetic, is in line with your company's guiding principles and the goods you market.
In contrast, when choosing a specific color theme for a business logo and branding, you would like to evoke a particular atmosphere. Red stands for a loud, energetic, and young brand. Blue implies tranquility, spiritual awareness, etc., while yellow connotes cheer, friendliness, and energy.
Every hue appeals to an identified group of people and draws them to the brand. The typeface and font used in your company's logo convey personality and beliefs. It is directed at the target market you intend to reach. A stately, vintage typeface with a straightforward style communicates a brand with an older customer base. A flowing typeface with smooth curves is better suited for a children's brand since it appears carefree and childlike.
Connecting With A Perfect Logo"
So there you have it! As you can see, developing a successful brand and company comes down to having a logo. But creating a professional logo can be simple. In reality, with BetterGraph Brand Logo design services have simplified the procedure.
All you need to do is provide us with information about your company so that we can create a logo for your brand. Then choose the hues and typefaces that most effectively convey the essence of what your brand is all about. After receiving this information, our team will get to work creating a pixel-perfect logo for you that exactly matches your brand's mission.