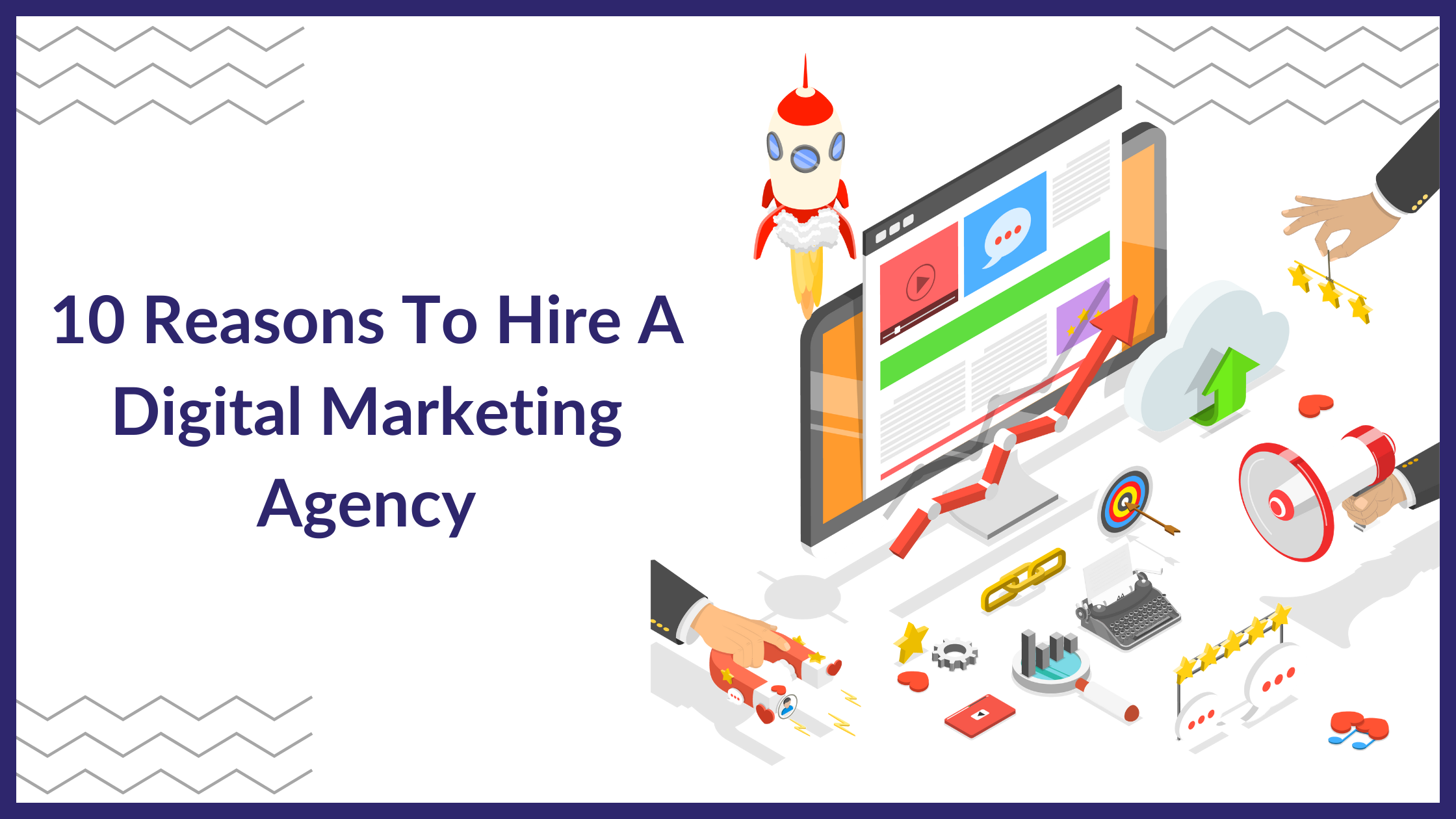 Tune into today's blog to understand why it is essential to hire a digital marketing agency
With the right digital marketing agency, your ROI on the marketing investments made on the digital medium will gradually improve. They will thoroughly analyze the latest marketing trends and your target niche to develop effective marketing strategies. They can help in achieving your goals and creating results-driven strategies, leading you to improved ROI. 
Before understanding the reasons to get digital marketing services, let us get through the purpose of digital marketing.
Understanding Digital Marketing Services
Digital marketing is an umbrella term. There are various other strategies and aspects that together bring in the term. It majorly covers the digital channels that are used to market any product or service. With the growing influence of technology, digital marketing is spreading its wings around.
Digital marketing services are the process where you can hire digital marketing agencies. Not only this, agencies have there specialized and experienced digital marketers who can bring in new scope of development through digital mediums.
The Purpose Of Digital Marketing
You can use it to generate new traffic, leads, and sales for your business by reaching people searching for your products or services. As a whole, web marketing refers to your company's marketing online to prospective customers and high-value leads.
The process of starting a business can be complex and time-consuming. Operations, finance, and advertising are all tasks that need to be handled together. You cannot ignore the role of a digital marketing agency if you aim for high business growth with sizable online traffic. The power of digital marketing can bring your business more exposure in a matter of days.
Let us move on to understand the reasons why you should hire a leading digital marketing company.
Reasons To Hire A Digital Marketing Agency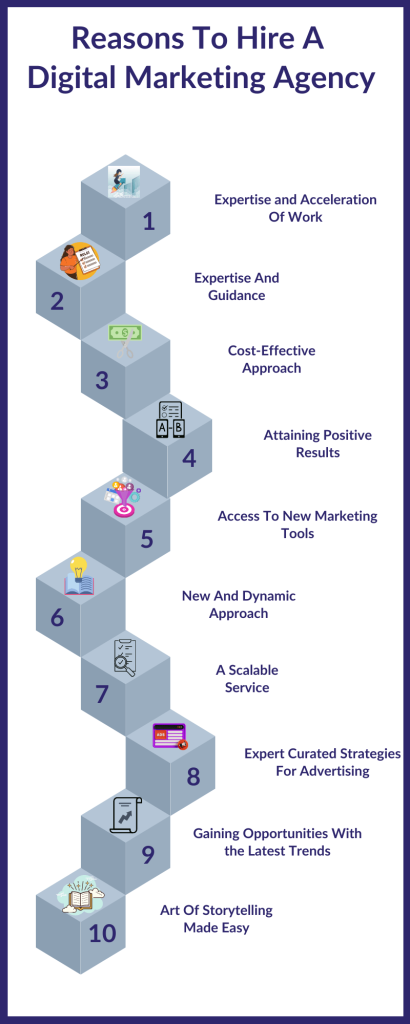 1. Expertise and Acceleration Of Work
If you want an in-house team, online marketing will require hiring new talent to run the campaigns directly. In addition, a team within the company will need your attention, so you will need to devote some time to it. Remember that it will also take time to put together the team and create the campaign.
You can hire an agency to relieve you of the burden of this time-consuming task. You do not have time to train your team for months on end. This time would otherwise be used to grow your business from the inside out. Using an agency is as simple as sharing your goals and their timeline.
2. Expertise And Guidance
It is challenging to hire a digital marketing specialist for their teams for most businesses because of high demand. It requires some thought and effort. Also, knowledge of all aspects of digital marketing programs like SEO strategies, social media marketing, PPC, etc can be tedious for your group. Further, several large organizations pay hefty dollars for the privilege of contracting and retaining top talent, which implies that the price for hiring these individuals can be extremely high.
You will get access to a team of experienced and qualified specialists when hiring a professional digital marketing company. By using these resources, you can do the best for your business.
3. Cost-Effective Approach
Drawing a comparison of the cost of an in-house digital marketing team with a digital marketing agency can give you a better insight into the cost benefits of a digital marketing agency. Over time, you'll be surprised at how much less expensive an agency becomes.
They own the infrastructure and tools for successful campaigns. You are not required to obtain any resources separately. Additionally, you eliminate repetitive expenses of having full-time representatives like monetary benefits, medical services expenses, and compensations.
4. Attaining Positive Results
Investments that don't yield results are not in the interest of any business.
Identifying the true ROI in the digital marketing landscape can be challenging with many marketing methods available. Moreover, an agency has the capability to help you determine the KPIs (Key Performance Indicators). Your marketing campaigns can be measured against these indicators to decide whether or not they are meeting their objectives.
It is typical for a digital marketing agency to offer detailed insights regarding how the keywords will perform, how your potential customers will perform, and how potential customers engage with your content and brand
5. Access To New Marketing Tools
Digital marketing involves utilizing various tools and approaches to streamline each campaign. Unfortunately, there is no such thing as a marketing apparatus that works for all.
Often these resources are available in lieu of fees, and the price increases with the addition or updating of specific features. A few things you'll need are an investigation, catchphrase analysis, a candidate examination paid for by the board, and a computerization setup.
The service provider enables you to take advantage of such resources and tools for your marketing campaigns.
Moreover, these resources are already available with a digital marketing service provider.  You need not worry about repetitive costs that you're likely to incur as a result of their use.
6. New And Dynamic Approach
Not everything must work for you regarding digital marketing. Some methods may end up disillusioning you, while others may be very effective.
An agency with profound expertise in digital marketing can give you excellent advice about what system will provide you with the best results. You'll get a different perspective on many of the things your group just has worked on if you have one. They can evaluate marketing efforts and develop new strategies based on the buyers' perspectives.
7. Creating A Scalable Environment
Digital marketing agencies have the capability to adapt to your marketing needs.
In the case of an in-house team, you will have to grow your team size whenever your business requirements increase. Your business will need to invest in extra resources to support the rising demands.
A marketing agency does not operate that way. Your current team will not be limited, and the available resources will have abundant skills and expertise to fulfill your needs. As your business grows, a reputable organization can meet your needs seamlessly. The company offers several plans and bundles that are tailored to the needs of your business.
8. Expert Curated Strategies For Advertising
Native advertising has increased, and marketers spend a lot of time and resources learning how it works. Thanks to displaying organic ads, customers can now interact with content on multiple media platforms.
Unfortunately, knowing where to place native ads is a difficult task. A digital marketing agency can determine where and how to distribute your content using data-driven solutions, thereby benefiting your business.
9. Gaining Opportunities With the Latest Trends
Marketing practices relevant to the industry are the agency's responsibility. It is their responsibility to research your market and identify your competitors. They also follow the most recent developments in digital marketing to make sure results are quantifiable.
Additionally, they research your target audience to learn about their preferences, behaviors, and interests. They can help build strategies that yield the best results possible and keep you up-to-date on relevant developments while implementing your marketing strategies.
To learn about digital marketing trends, dive into the blog post What are the top digital marketing trends for 2022
10. Art Of Storytelling Made Easy
You have a marketing team that works tirelessly to market your products and services. It allows you to see what needs to be improved and what needs to be eliminated to make your product as appealing and viable as possible.
While all this is happening, your digital marketing agency diligently defines and spreads the brand's message across various channels and platforms online. Their job is to make sure that your products and services generate positive publicity. Positive publicity increases your reputation and brand recognition.
It is ideal for stories to create compelling and engaging messages that resonate with target audiences. Your agency must understand its needs and match the right solutions with them to reach your audience.
Towards New Future
One thing that digital marketing can do for your business is to grow faster than most traditional marketing methods.
You can find several advantages of working with a digital marketing agency like immediately getting started with your campaigns. After creating a strategy, you can see your campaigns live within a few weeks. The learning curve doesn't exist, and you don't need to organize a team.
The first step is to communicate your needs to the agency. Digital campaigns are more successful when all parties are on the same page. Additionally, the agency you hire will make decisions that best suit your interests and budget plan. Hiring a digital marketing agency in Noida is a great help. Connect to BetteerGraph's experienced marketers today to gain the best insights into digital marketing.
---
FAQs
---
What are digital marketing services?
---
Is digital marketing a dynamic process?