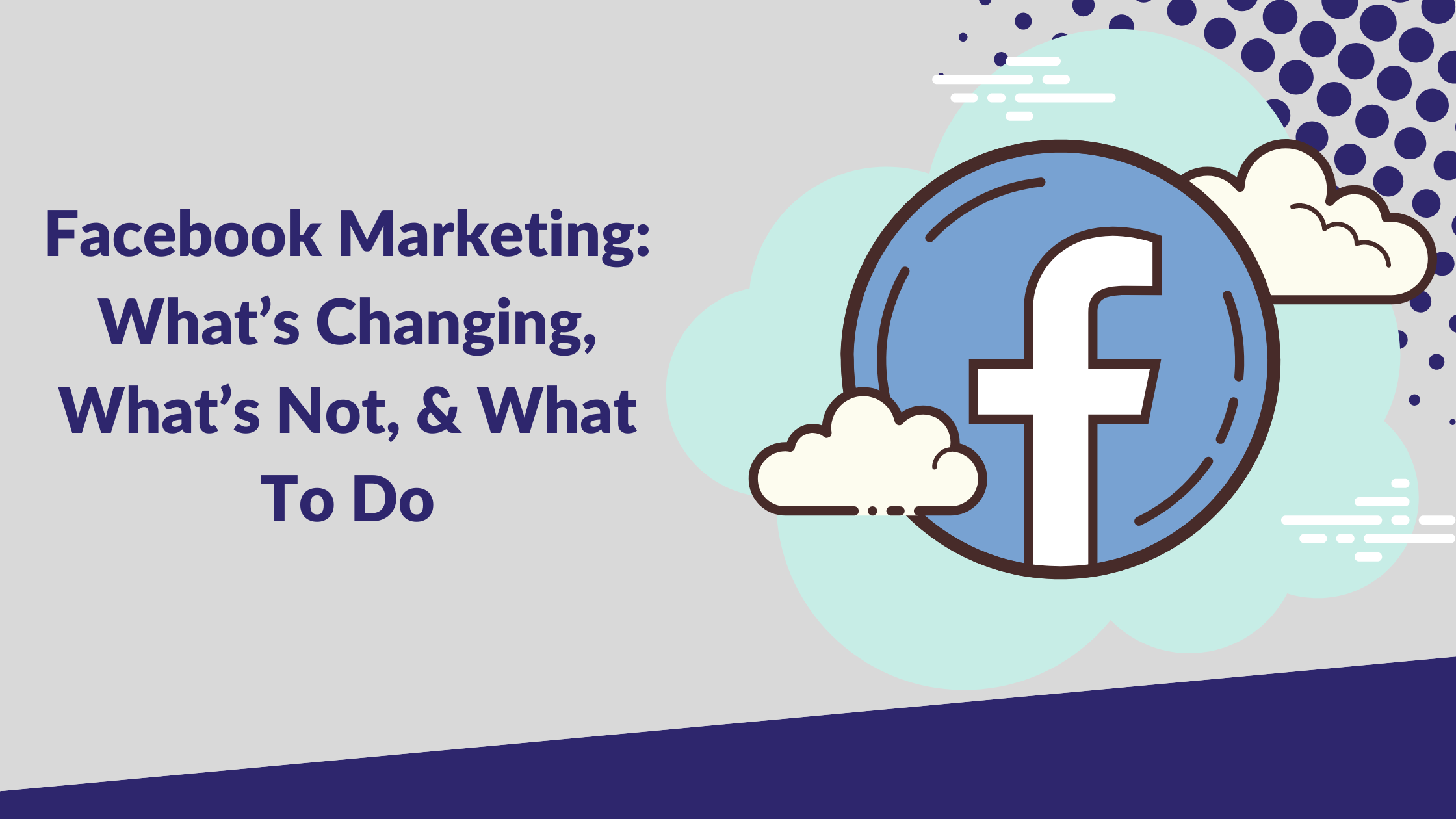 Facebook marketing is a dynamic field that undergoes continuous changes due to algorithm, policy, and user behavior updates. It is an ever-evolving landscape, and while some aspects have changed, others remain constant.
In this blog, we will explore more about Facebook Marketing and its services. 
Facebook Marketing- An Overview
Facebook marketing is using Facebook's advertising platform to promote products, services, or content to users. It involves creating and running ads, targeting specific audiences, and tracking and analyzing the performance of the ads.
It allows businesses to reach a large audience of potential customers and to target specific demographics, interests, and behaviors. Advertisers can create ads in various formats, including text, image, video, and carousel. They can choose from multiple ad placement options, such as in users' news feeds, in the right-hand column, or on Instagram. 
Facebook Marketing Services To Counter
Facebook Marketing Services refer to a range of services and tools provided by Facebook to help businesses advertise and promote their products or services on the social media platform. These services help companies to reach their target audience, increase brand awareness, drive website traffic, and generate leads or sales.
Here are some major Facebook marketing services: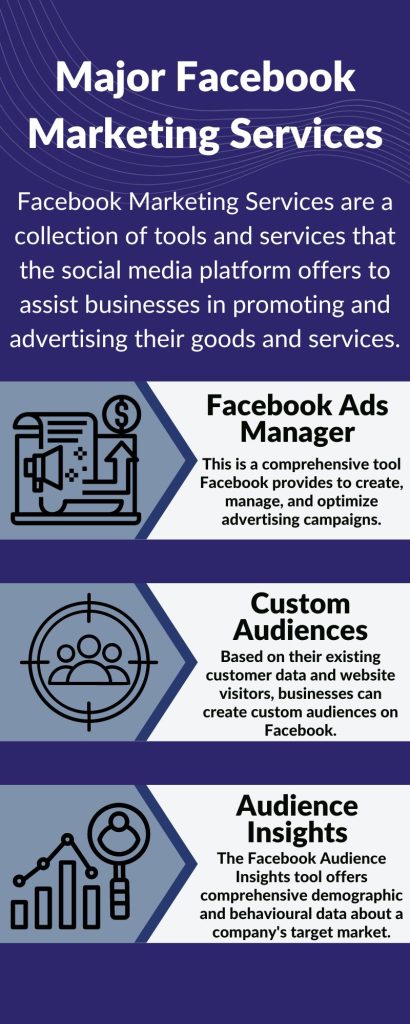 Facebook Ads Manager
This is a comprehensive tool Facebook provides to create, manage, and optimize advertising campaigns. It allows businesses to target specific demographics, interests, and behaviors and choose from various ad formats such as image ads, video ads, carousel ads, and more.
Custom Audiences
Facebook enables businesses to create custom audiences based on their existing customer data, website visitors, or engagement with their Facebook Page. This feature allows for more targeted advertising and remarketing to people who have already shown interest in the business.
Audience Insights
Facebook's Audience Insights tool provides detailed demographic and behavioral information about a business's target audience. This data helps companies better understand their audience's interests, demographics, and online behaviors, enabling them to create more effective and relevant marketing campaigns.
These are just a few examples of Facebook Marketing Services. Facebook continues to innovate and introduce new features and tools to help businesses effectively market their products or services on the platform.
What's Changing, What's Not, & What To Do In Facebook Marketing?
Here's a breakdown of what's changing, what's not, and what you can do to navigate the evolving Facebook marketing environment.
What's Changing:
Privacy Measures
Facebook has been implementing privacy-focused changes in response to growing concerns over data security and user privacy. This includes updates to its API access, restrictions on data sharing, and enhanced user consent requirements. Advertisers may experience limitations in targeting options and access to user data compared to previous practices.
Algorithm Updates
Facebook regularly updates its algorithm to prioritize content that fosters meaningful user interactions and connections. Creating engaging, relevant, and high-quality content that resonates with your target audience is essential to improve visibility in users' news feeds.
Ad Transparency
Facebook is increasing ad transparency, aiming to provide users with more information about the ads they see. This includes labels on political and social issue ads and a searchable Ad Library where users can access information about ads running on the platform.
Video Content
Video continues to be a dominant form of content on Facebook. The platform actively promotes video content, including live videos, as they generate higher engagement. Investing in video creation and incorporating it into your marketing strategy can help capture your audience's attention.
Targeting Options
Facebook continuously refines its targeting options to improve ad relevance and user privacy. Keep an eye on changes in targeting capabilities and ensure your ads reach the right audience by utilizing Facebook's detailed targeting parameters while adhering to privacy guidelines.
What's Not Changing:
Importance Of Content Quality
Despite algorithm updates, high-quality content remains crucial for success on Facebook. Create engaging, informative, and visually appealing content that resonates with your audience. Utilize multimedia elements, storytelling techniques, and calls to action to drive engagement.
Building Relationships
Facebook is a platform for building relationships and fostering communities. Focus on building genuine connections with your audience by actively engaging with them through comments, messages, and user-generated content. Encourage discussions and respond promptly to maintain an active presence.
Tracking And Analytics
Monitoring and analyzing the performance of your Facebook marketing efforts is essential. Track key metrics, such as reach, engagement, click-through rates, conversions, and return on ad spend. Facebook's Ads Manager provides detailed insights to help optimize your campaigns and identify areas for improvement.
What To Do:
Know Your Objectives
Clearly define and align your marketing objectives with Facebook's available advertising options. Whether you aim for brand awareness, lead generation, or sales, choose the right campaign objective that matches your goals.
Understand Your Audience 
Use Facebook's targeting options to reach your desired audience effectively. Utilize features like Custom Audiences, Lookalike Audiences, and detailed targeting to refine your reach and connect with the right people.
Create Compelling Content
Develop engaging and visually appealing content that captivates your audience. Experiment with formats like images, videos, or carousel ads to discover what works best for your brand.
Test And Optimize
Set up A/B tests to evaluate different ad elements, such as headlines, visuals, or calls to action. Optimize your campaigns based on the results and continually refine your strategy to improve performance.
Stay Updated 
Stay informed about Facebook's updates, algorithm changes, and best practices by following official Facebook resources and industry blogs and attending webinars or conferences. This helps you adapt to changes and capitalize on new opportunities.
Diversify Your Marketing Channels
While Facebook is a powerful marketing platform, don't rely solely on it. Diversify your marketing efforts across other channels like Instagram, Twitter, LinkedIn, email marketing, search engines, or influencers to reach a broader audience.
Conclusion
In conclusion, Facebook marketing has undergone significant changes in recent years, with new features and tools being introduced to help businesses effectively advertise on the platform. While some aspects of Facebook marketing remain the same, such as targeting the right audience and creating engaging content, businesses must also adapt to new trends and developments, such as the rise of video content and the increasing importance of mobile optimization. A Social Media Marketing Company can help companies build a solid Facebook marketing strategy.
To stay competitive in the ever-evolving world of Facebook marketing, businesses must stay up to date on the latest features and tools available and constantly monitor and adjust their strategies based on the changing landscape.
---
FAQs
---
What Is Facebook Marketing?
---
What Are Audience Insights?
---
What Are Facebook Marketing Services?