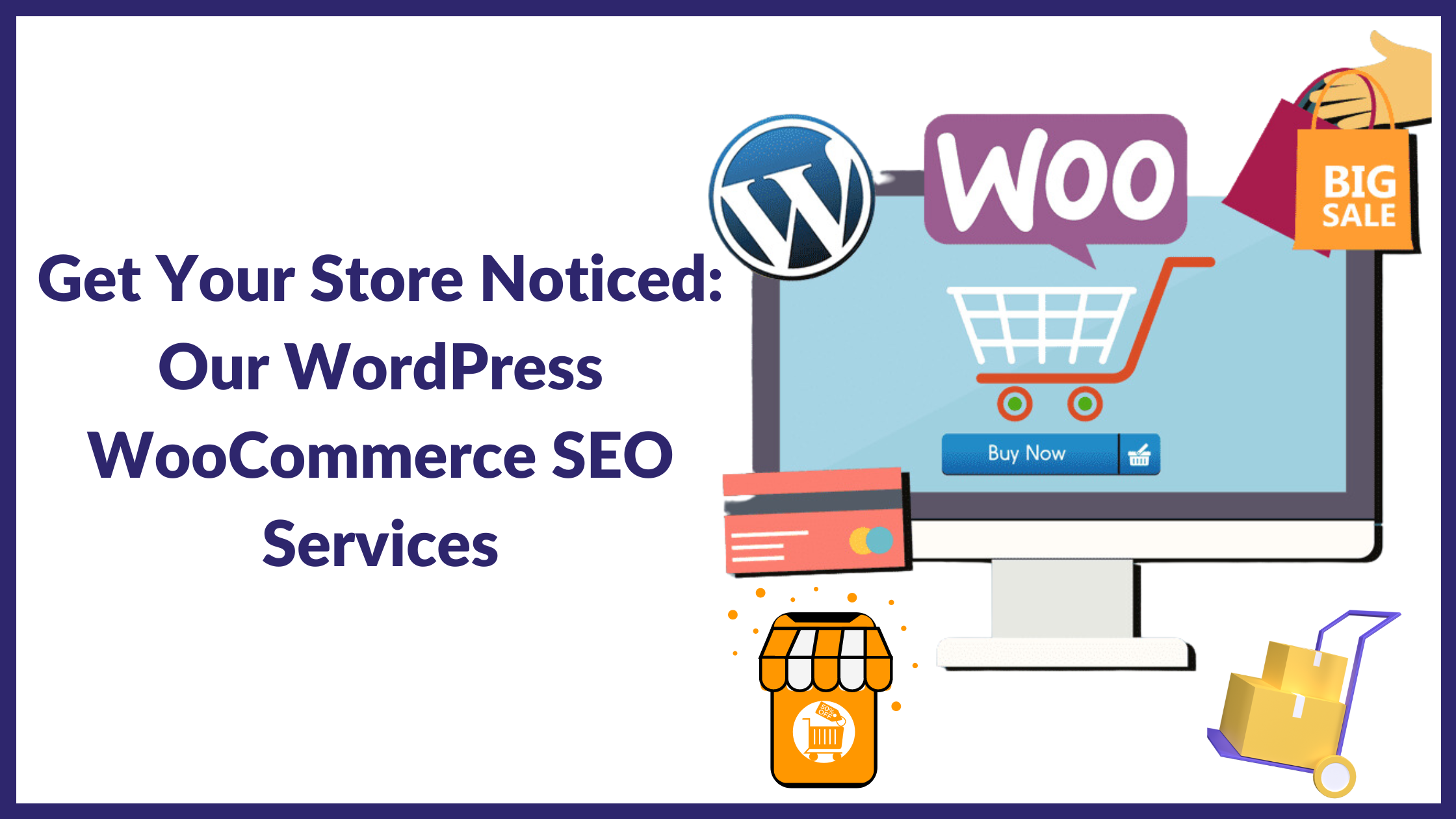 Long gone are times when you certainly visited stores for any kind of products. In this world, the digital era is growing, and for a business, it's mandatory to be in digital marketing. If you're running an eCommerce store, you must ensure your website is optimized for search engines (SEO). This will help you to attract more visitors to your store and, ultimately, more sales.
If you're serious about growing your eCommerce business, then you need to invest in WordPress WooCommerce SEO Services. Here are some additional benefits of using SEO services for your website:
Increased Traffic:

When your website is optimized for search engines, it will appear higher in search results pages (SERPs). This can make your store visible to potential customers.

Improved Conversions:

Customers are more likely to purchase when your website is easy to use and navigate, and your content is relevant and informative.

Enhanced Brand Awareness:

When your website is visible in SERPs, it helps to build brand awareness. This means more people will know about your store and what you offer.
One of the best ways to improve your eCommerce store's SEO is to use WordPress WooCommerce SEO services. These services can help you to:
Optimize your website's content for relevant keywords

Improve your website's structure and navigation

Use other high-quality websites to build backlinks.

It is essential to build quality content.
With the help of a professional WordPress Woocommerce SEO Agency, you can get your store noticed and start driving more sales.
Why BetterGraph For WordPress WooCommerce SEO Services?
BetterGraph is a professional digital marketing company with years of expertise offering excellent SEO services for WordPress WooCommerce websites. Consider BetterGraph for your WordPress WooCommerce SEO requirements for the following reasons:
Knowledge: The SEO professionals at BetterGraph are highly qualified and knowledgeable about the most recent SEO tactics and best practices. They can assist in increasing your website's exposure and ranks because they have a lot of expertise in optimizing WooCommerce websites for search engines.
Customized Approach: BetterGraph is aware that every firm is distinct and, as a result, has varied SEO requirements. They provide individualized SEO plans to meet your particular company's demands and objectives.
Outcomes-Oriented: We are committed to providing our clients with quantifiable outcomes. They utilize sophisticated analytics tools to monitor and analyze website traffic, conversion rates, and other important performance indicators to ensure their SEO techniques produce the expected results.
Competitive Pricing: We offer SEO services at an affordable price for companies of all sizes. Here you can choose from a range of affordable plans for your website.
Customer Service: BetterGraph offers first-rate customer service and communication throughout the SEO process. They are constantly ready to respond to inquiries and provide you with information on how your SEO strategy is doing.
Benefits: SEO In WordPress Website
SEO is essential to any website, and WordPress is no exception. WordPress is one of the most popular and powerful CMS that makes optimizing your site for search engines easy. One of the main advantages of SEO on a WordPress website is more visibility and traffic. SEO practices will help your website rank higher in the search engine results pages. This will result in more organic traffic and more potential customers. 
SEO can also improve the user experience of your website. Optimizing your site for search engines can help improve the user experience by making it faster, more mobile-friendly, and more user-friendly. In addition to improving the user experience, SEO can improve your brand awareness and reputation online. This can lead to more conversions and sales.
WordPress With Woocommerce
WordPress and WooCommerce are a strong combo that lets you quickly set up an online store. Over 40% of all websites on the internet are powered by the well-liked content management system (CMS). It is versatile, easy to use, and provides many customization choices.
With the help of the free WooCommerce plugin for WordPress, you can convert your website into an effective online store. You may make product listings, control orders, inventory, and collect client payments using WooCommerce. Additionally, it provides a huge selection of add-ons and extensions that let you expand its functionality and alter your online store to suit your particular requirements.
Does WordPress Woocommerce SEO Services Guarantees Success?
Our previous blog, Scrutinizing WordPress WooCommerce SEO Services, clearly showcases how WordPress SEO services can bring in new insights of leads for an ecommerce store.
A WordPress WooCommerce SEO service provider can improve their chances of success in the following ways:
Website Analysis:

Analyzing your website thoroughly can help you find technical SEO problems, such as slow page loads, incompatibilities with mobile devices, and broken links. These issues may be solved to improve the user experience and raise your search engine results.

Keyword Research:

Targeting the right keywords is essential for SEO success. A professional SEO agency can research and incorporate your business's most relevant and profitable keywords into your website content.

On-Page Optimization:

You may increase the visibility of your website in search results by optimizing the on-page components of your website, such as the meta tags, header tags, and content.

Link Building:

Increasing the authority and credibility of your website via the creation of high-quality backlinks will help it rank better in search results.

Content Creation:

For a website, producing useful, entertaining, and high-quality content can increase visitors to your website and raise its search engine results.

Monitoring And Analysing:

Monitoring and analyzing the performance of your website on a regular basis may help you find areas for development and ensure that your SEO techniques have the desired effects.
Conclusion
Your WordPress WooCommerce store's full potential could be unlocked through SEO. You can increase traffic, lead generation, and sales by optimizing your website for search engines. Our team of professionals can assist you in developing a successful SEO plan that will draw attention to your shop. We, as a WordPress Woocommerce SEO Agency, will collaborate with you to determine your target market, investigate your keyword options, and create a content plan to raise your search engine ranking. In order for Google to crawl and index your website, we'll also assist you in strengthening your technical SEO.
---
FAQs
---
Why BetterGraph For WordPress WooCommerce SEO Services?