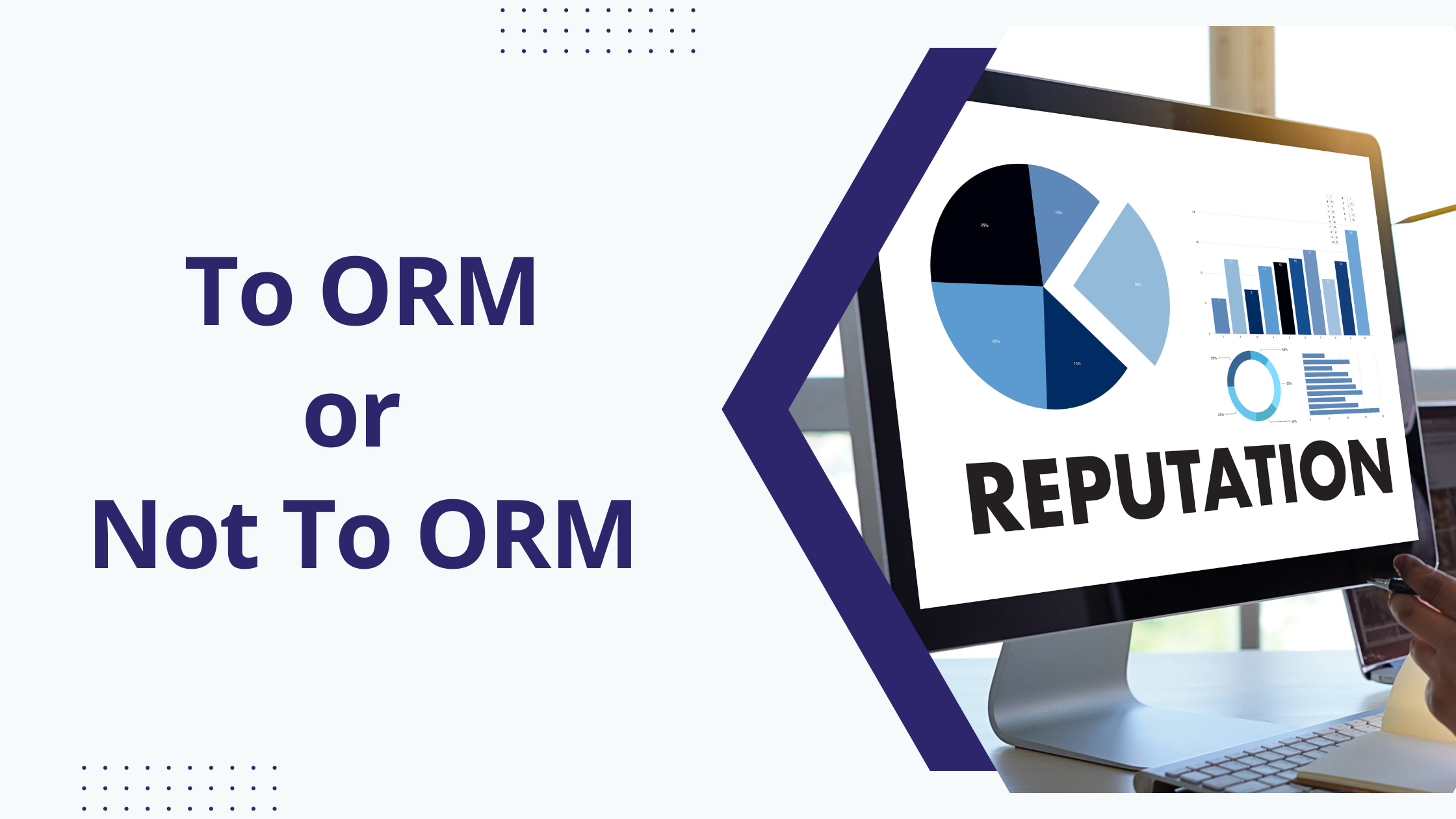 Your company puts a lot of effort into keeping customers satisfied. You build personal relationships with clients and work relentlessly to create new features and products that satisfy their needs.
But even with the best customer service, a company's reputation will always suffer from time to time.
An unhappy consumer publishes a negative review on the internet. Or a less-than-flattering media story gains much wider circulation than you anticipated. You are worried and getting your market down the edge.
Do not worry, as ORM can help with that.
You can reduce negative customer feedback and maintain the best possible online presence by actively managing your reputation. We'll go through the what, why, and how of managing your internet reputation and some tactics you may employ for your company to help you get started.
So Why Wait? Let us get started.
Today's Scenario
Only a few years ago, the internet looked very different. Instead of interacting with customers, businesses sold (or tried to sell) to a receptive audience. The general communication environment was controlled by "top-down" communication, and people struggled to express themselves adequately.
A tremendous change in the scenario had also happened. Websites are no longer merely static online brochures. The inclusion of user-generated content is essential. Regular social media engagement is critical to any business's success.
Regardless of the size of your business, people are talking about you, including prospects, clients, and friends. They're sharing their Facebook status about their interactions with customer care, tweeting about your new product, commenting on your blog, and doing much more.
Understanding Online Reputation Management (ORM)
Online reputation management (ORM) is a combination of public relations, digital marketing, and search engine optimization (SEO) tactics that you can use to protect and preserve your online image. ORM is a fantastic technique to promote good news, statements, and images about you or your company online. Monitoring a person's or a company's online reputation is known as online reputation management. This entails paying attention to social media sites like Facebook, Instagram, and YouTube, addressing potentially negative information, and leveraging consumer input to help solve issues before they damage the brand's or the person's reputation. With the essence of managing the online reputation, the companies are also looking for reputed ORM services in India to work the online image concerning better reach. Managed product and service searches in the digital sphere, focusing on reputation management services.
In the passage mentioned above, we have mentioned how businesses have transformed their existence in the digital space, which has shown the importance of online reputation management, which clears the fact that it is essential to ORM.
Strategies To Manage a Better Online Image With the Help of ORM
A brand can suffer countless online blows, but they are frequently minor assaults—a critical review and a poor star rating.
Although none of these setbacks would merit a comprehensive PR campaign, they soon accumulate. You require online reputation management to put out these minor flames before they cause significant damage.
Although carefully planned PR efforts have their role, customers now also want genuine encounters with brands.
Through online reputation management, your company may battle negative press by answering it honestly and directly.
Our first port of call for everything is the Internet. People trust what they learn on the Internet and regard it as their primary source of knowledge. Furthermore, they make decisions.
Let us learn about some strategies to manage online reputation well.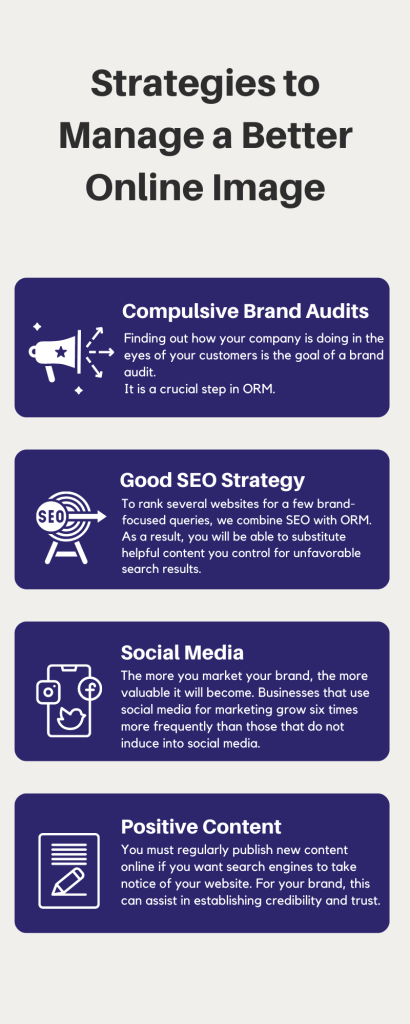 1. Performing Compulsive Brand Audits
A brand audit is a crucial first step in managing your online reputation. Please list everything you have online, including your website, blog, social media accounts, and third-party business profiles, and evaluate it.
Examine the outcomes of your Search engine as well. What comes up when people look up your brand name and associated keywords? Are there any undesirable or off-brand outcomes? Are there too many news stories and insufficient assets that a brand can control? Keep in mind that upbeat stories are fantastic until something negative occurs. 
2. Investing In a Good SEO Strategy
Online reputation management requires SEO, but the approach is slightly different. Most frequently, SEO ranks numerous pages on a single website for various search queries. However, we employ SEO with ORM to place numerous websites for a few brand-focused inquiries. As a result, you'll be able to replace damaging search results with favorable information you manage.
As many controllable web pages as you can be optimized for brand-related keywords as part of your branded SEO plan.
Keep in mind that search engines usually always give authoritative, reliable sources the highest priority regarding SEO for reputation management. This can also be focused on other benefits of SEO mentioned in our blog, What Are the Crucial Benefits of SEO Service?
3. Social Media Is Always a + Point
You may be skeptical after reading this. You have the same level of social media clout as your competitors. However, it doesn't follow that you can't improve. Your brand will become more valuable the more you market it. Companies that use social media for business typically experience six times as much growth as those that don't. That's not all, though. According to the analysis, adopting a company's social media can boost sales.
4. Work On Positive Content
You must regularly publish new content online if you want search engines to take notice of your website. For your brand, this can assist in establishing credibility and trust.
There are several ways to post information, including blogs, videos, tutorials, articles, social network updates, etc. This will boost consumer involvement and promote positive word-of-mouth for your company.
Managing Negative Reviews
As we've already discussed, you should already have a sound plan for handling unfavorable comments. You are aware that your "blacklist" of haters and trolls might not be time well spent. But it would help if you addressed negative comments.
Again, it cannot be emphasized enough: ignoring bad feedback is the worst course of action. Responding to such evaluations demonstrates that you, as a brand, genuinely care about every single consumer and go above and beyond to fix their problems.
Negative reviews of products and services can always be resolved calmly without any counter back. Replying to negative comments shows the brand's loyalty toward managing customers.
Shining Digital Space
"Reputation is an outcome but also a valuable, strategic asset."
Online reputation management is simply an expression of innovative "bottom-up" communication in which your current and potential customers may share their opinions about your company. Therefore, ORM is crucial to any company's business, marketing, and growth plan (including those not yet operating online).
You are being discussed and will be discussed in the future. Your task is to establish a solid online reputation management plan that will help you traverse all the online discussions, make minor corrections here and there, and elicit good feelings. This blog will be a useful starting point for your attempts to control your online reputation.