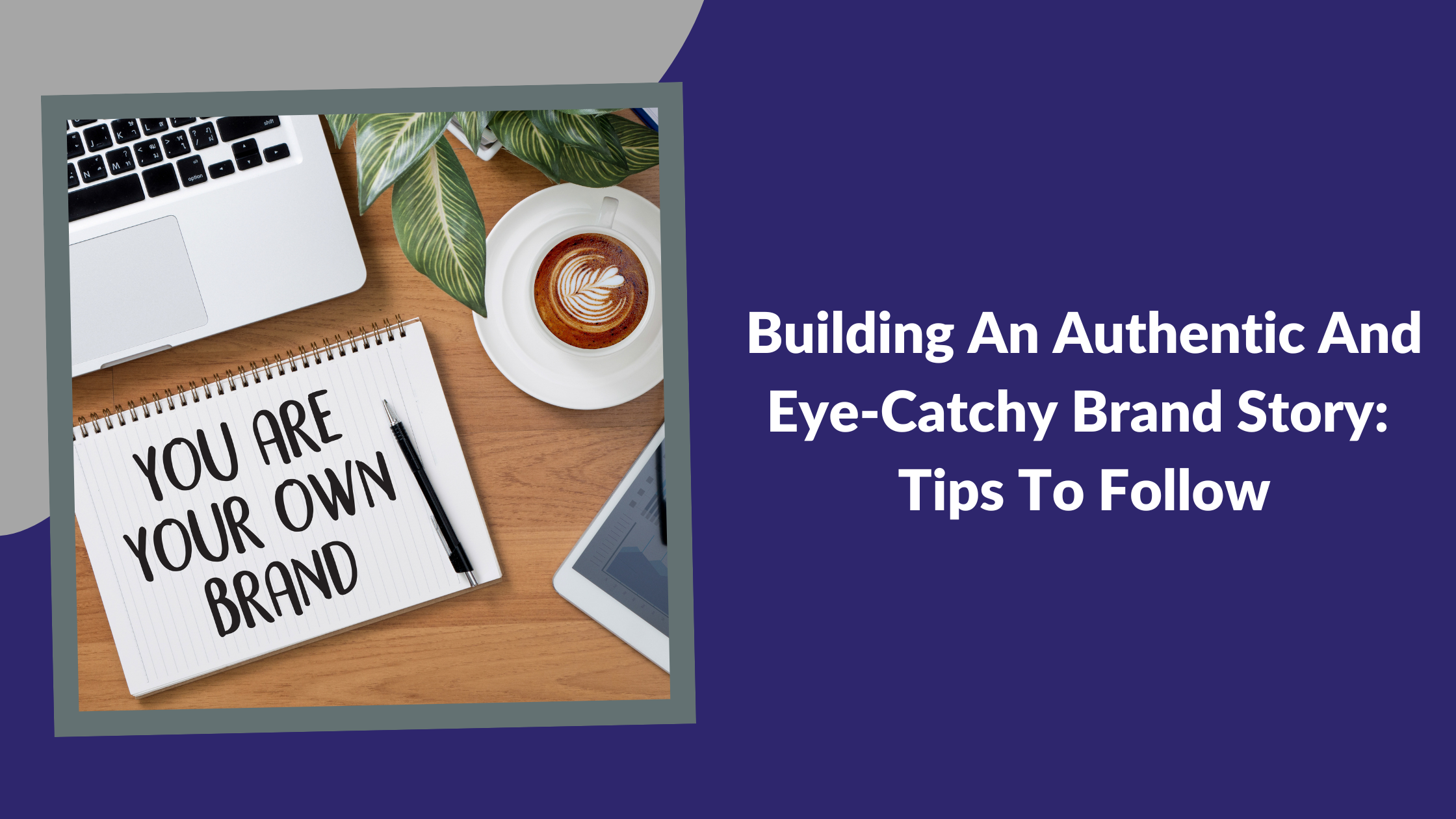 When creating a brand story, it's like painting a picture; you want to ensure that each brushstroke brings the picture to life. 
A successful brand identity is built on an engaging and authentic brand story. It's what makes you stand out from the crowd and draws people to you. Customers pick you above other companies because of it.
How do you create a brand narrative that genuinely engages and resonates with your audience?
We are here to answer your question.
A brand is more than a name or a logo. It includes everything from the goods you sell to the level of customer service you offer, and it represents the overall impression your customers have of your company. 
People become loyal to your company because of your brand, which distinguishes you from your competitors. In our previous blog, The Art Of Brand Storytelling: Into The World Of Successful Brands, we mentioned the essence of brands and the story they portray to customers.
Any company's branding determines its future. In today's cutthroat marketplaces, it will be challenging for you to stand out from the competition with more memorable names or affordable goods. You can boost customer loyalty, stand out from the competitors, and attract new customers with the aid of a strong branding plan.
What Is An Effective Brand Story?
An effective brand narrative identifies a particular issue and presents a strong fix. It also effectively and movingly communicates a company's mission and core principles. The most interesting brand stories are:
Authentic

Centering on the client

Across channels consistent

Simple, concise, and filled with vivid details

Arranged like a story

Authentic to the character and voice of your brand
Effective brand stories go beyond providing the facts; they acknowledge and appeal to the client's humanity and their need for connection and community. The brands that are able to humanize themselves stand out because people are predisposed to relate to one another and their communities via storytelling.
What BetterGraph Says"
As a content marketing agency, brand stories aren't only just promotional materials. They are neither advertisements nor sales pitches. The brand identity and the author's personality should take center stage in brand stories. Readers won't be drawn to or stay with boring stories, but they might with ones that are full of personality.
Around The Era: Digital Storytelling
The art of storytelling has changed in the digital era. Businesses now have the chance to tell their brand narrative to a worldwide audience, thanks to the rise of social media.
Creating content is only one aspect of digital storytelling. It involves developing a video marketing plan and utilizing technology to produce an immersive experience that appeals to the emotions of your target audience. Given that consumers are more inclined to watch a video than read an article or blog post, this makes sense.
The best tool for creating a brand story is video editing software. When creating an explainer video or advertising a new product, you can first develop a character who will lead the viewer through the different features around. Using animations and visuals brings the story of the brand to life.
Tips To Build An Authentic Brand Storytelling
Customers don't want to hear you ramble on and on about the specifics of your product. That is lifeless and dull. They request a narrative. They are curious as to why you care, how you might help them, or how you came to be in your position. Good storytelling may help your business in countless ways. In addition to grabbing attention, sharing stories can help you connect with clients on a deeper level, promote growth, and increase revenue. People will become interested in your company if you start telling captivating stories.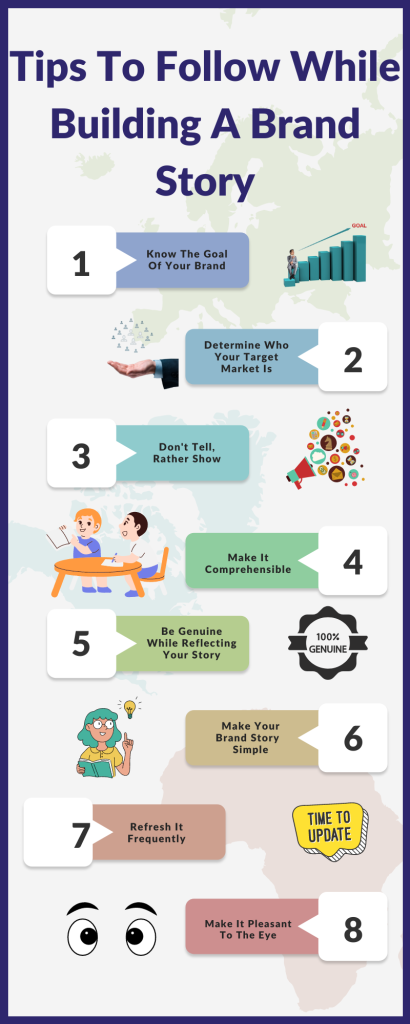 Know The Goal Of Your Brand
Knowing what your brand stands for is the first step in developing a compelling brand story. What are the mission, values, and objectives of your brand? What distinguishes your brand? It will be simpler to connect with your audience and provide a roadmap for your story if you have a clear knowledge of the goal of your brand.
Determine Who Your Target Market Is
To whom are you hoping your brand story would appeal to? 
In order to write a story that appeals to your target audience, you must first understand who they are. When developing your brand story, consider elements such as age, gender, lifestyle, interests, and pain areas.
People enjoy good stories, and brand stories are no exception. Show your audience who your brand is rather than merely telling them. To make your tale more vivid and memorable, incorporate stories, pictures, and videos.
Your target audience is more likely to relate to your brand story if it is more relatable to them. You might find common ground by bringing up commonalities in your audience's difficulties, values, or experiences.
Your brand's personality and ideals should be reflected in your brand story. Don't pretend to be someone you're not or provide a narrative that isn't consistent with your brand. Being genuine will increase your audience's trust in you and your brand.
A brand story has to be simple to comprehend and recall. Focus on the essential components that make your brand distinctive while keeping your tale short and uncomplicated.
A brand story that stirs feelings will be more impactful and memorable. Through your brand story, try to build a deep emotional bond with your audience, whether it be through joy, excitement, or inspiration.
Make It Pleasant To The Eye
If a tale is aesthetically appealing, people are more likely to remember it. Use visuals, photographs, and videos for your brand story to be more engaging and to come to life.
As your brand changes, so should your brand story. Consistently update it to reflect your brand, audience, or industry modifications.
Utilize All Of Your Brand's Touchpoints To Bring It To Life
Every brand element, including your website, social media presence, and customer service, should incorporate your brand story. Make sure your brand's story is integrated and consistent across all of its touchpoints.
The Story Is The New Catcher!
Building a powerful brand identity requires several different steps, one of which is creating an engaging and unique brand story. You can write a tale that connects with your audience, distinguishes you from the competition, and enables you to emotionally engage your audience by using the advice in this article.
We at BetterGraph, as an ORM company, help your business to portray the best narrative for the brand. What are you waiting for, then? 
Start drawing that picture right now!
---
FAQs
---
What Is An Effective Brand Story?
---
What is Digital Storytelling?