'Utterly Butterly Delicious' Amul girl is a product of every house. 
Amul has been successfully running their campaign till now. Amul Girl, the company's longest-running advertising campaign that earned it the Guinness World Record, is still going strong. The brand appeals to consumers because of its intensely personal quality. The marketing campaigns are funny and high current. This is the ideal illustration of a regional brand that excelled while winning over the hearts of its consumers. As buyers, we are frequently inundated with advertisements, catchphrases, and logos that compete for our attention and allegiance. What distinguishes successful brands from the competition, then?
Brand storytelling is the secret to finding the solution.
Our blog, Branding for Startups: Work Before It's Too Late, clearly mentioned how brand storytelling is the essence of a successful branding approach. So today, our blog is all about connecting with the audience through successful brand storytelling.
A brand can establish a strong link that results in enduring customer loyalty and advocacy when communicating its story persuasively and emotionally engages its audience. In this blog, we will investigate the art of brand storytelling and delve into the world of successful brands.
Brand Storytelling: An Overview
Humans are hardwired to connect with stories that conjure up images in our thoughts and evoke feelings in our hearts. Many of us have fond memories of the stories our parents told us when we were little. Our minds are permanently imprinted with the imagery of the people, places, and events. Words and phrases continue to ring true. Plots, twists, and turns bring back fond memories for us. Many of them will be with us forever.
The same should be true for a great brand story, fostering emotional connection and resulting in spectacular, life-changing events. It means everything to a brand.
Brand storytelling is defined as using narrative tactics to connect with a target audience and develop a brand's identity outside conventional marketing strategies. Without utilizing overtly sales-oriented tactics, brand storytelling offers organizations a valuable chance to interact with customers and advance their values and ideals. An ambitious marketer's toolkit must include a brand narrative since today's consumers seek authenticity.
Here To Surprise: They scoffed when I went down to play the piano, but when I started to play, John Caples famously proclaimed in his ad from 1926. This is the first-ever brand story in the world.
Power Of Brand Storytelling
One of the most effective tools you have at your disposal for branding is storytelling. A compelling brand narrative can help you emotionally connect with your audience and leave them with a positive impression that motivates them to conduct business with you.
Our own ideals can be shared, strengthened, and even challenged by stories that emotionally engage us. They can strengthen or weaken our beliefs and shape how we perceive the world.
To achieve the best results, marketing's core objective is to affect people's perceptions and behaviors. Brand stories play a part in this process by strengthening emotional bonds and producing unforgettable experiences based on feelings rather than facts and data.
The most successful brands understand the power of emotion in storytelling. They tap into our deepest desires, hopes, and fears to create a connection that goes beyond a simple transaction. Take, for example, the iconic "Just Do It" campaign by Nike. This campaign doesn't just sell shoes; it inspires people to push their limits and achieve their goals. By tapping into the emotions of determination and grit, Nike has created a powerful brand story that resonates with its audience.
Once a brand story has been created, it is important to bring it to life in a way that resonates with the audience. This can be done through various mediums, such as advertising, social media, events, and packaging.
One brand that has effectively brought its story to life is Coca-Cola. The brand has successfully created a story of happiness and togetherness through its iconic "Share a Coke" campaign. By encouraging people to share a Coke with friends and loved ones, the brand has sold more Coca-Cola and created an emotional connection with its audience.
Tips That Brand Follows For Successful Storytelling
Here are some tips that can be great when planning to get into brand storytelling.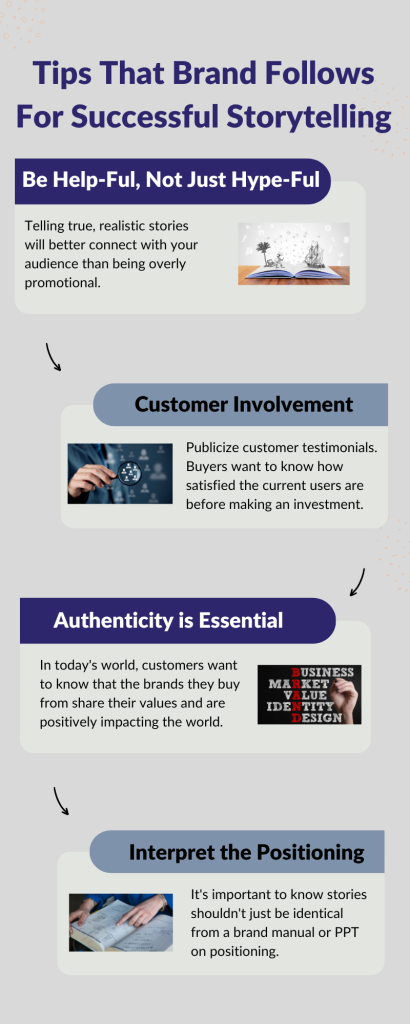 Be Help-Ful, Not Just Hype-Ful
Instead of being overly commercial, telling true, realistic stories will connect with your audience more. Think about the correspondence you get from your preferred brands.
Do they make empty promises? Presenting implausible or impossible goals? Most likely not, as things that seem too good to be true generally are. Find narratives that show your audience how you can assist them. Being human will go a long way in your marketing encounters.
Customer Involvement Is The Key To Success
Publish the narratives of your customers. 92% of shoppers examine internet reviews before making a purchase. Before investing, buyers want to know how happy the present users are. Both B2B and B2C brands can say this. Perhaps even more for B2B brands since the financial and time commitments are frequently fairly large. Your marketing plan will benefit from including quotes, case studies, and review websites to provide potential buyers more assurance when making a purchase.
Authenticity Is an Essential Element
In today's world, consumers are becoming more conscious of the brands they support. They want to know that the brands they buy from share their values and are making a positive impact on the world. This is why authenticity is so important in brand storytelling.
Interpret the Positioning
Stories shouldn't just be taken straight out of a brand book or positioning PowerPoint presentation; it's crucial to note. They must always be created with the customer in mind, not with the brand in mind. They must, therefore, be translated.
There really are numerous things to think about. What will hold people's attention? What connections does the tale have to interests and passions? What will be considered valuable? What emotional factors cause these? 
Building Brands
As a digital marketing agency, BetterGraph views brand storytelling as a powerful tool that can distinguish successful brands from the rest. By tapping into emotions, creating authentic stories, and bringing them to life, a brand can create a powerful connection with its audience. The key is to sell products and create an emotional connection with the audience, leading to long-term customer loyalty and advocacy.
The appropriate narrative can help you engage your audience in ways that statistics, facts, and figures simply cannot. Give your audience a context for your brand, so they can see what you've known all along: that you deserve their loyalty.
In our next blog, we will share with you the top tips for building a perfect brand story for your business to grow to the fullest.