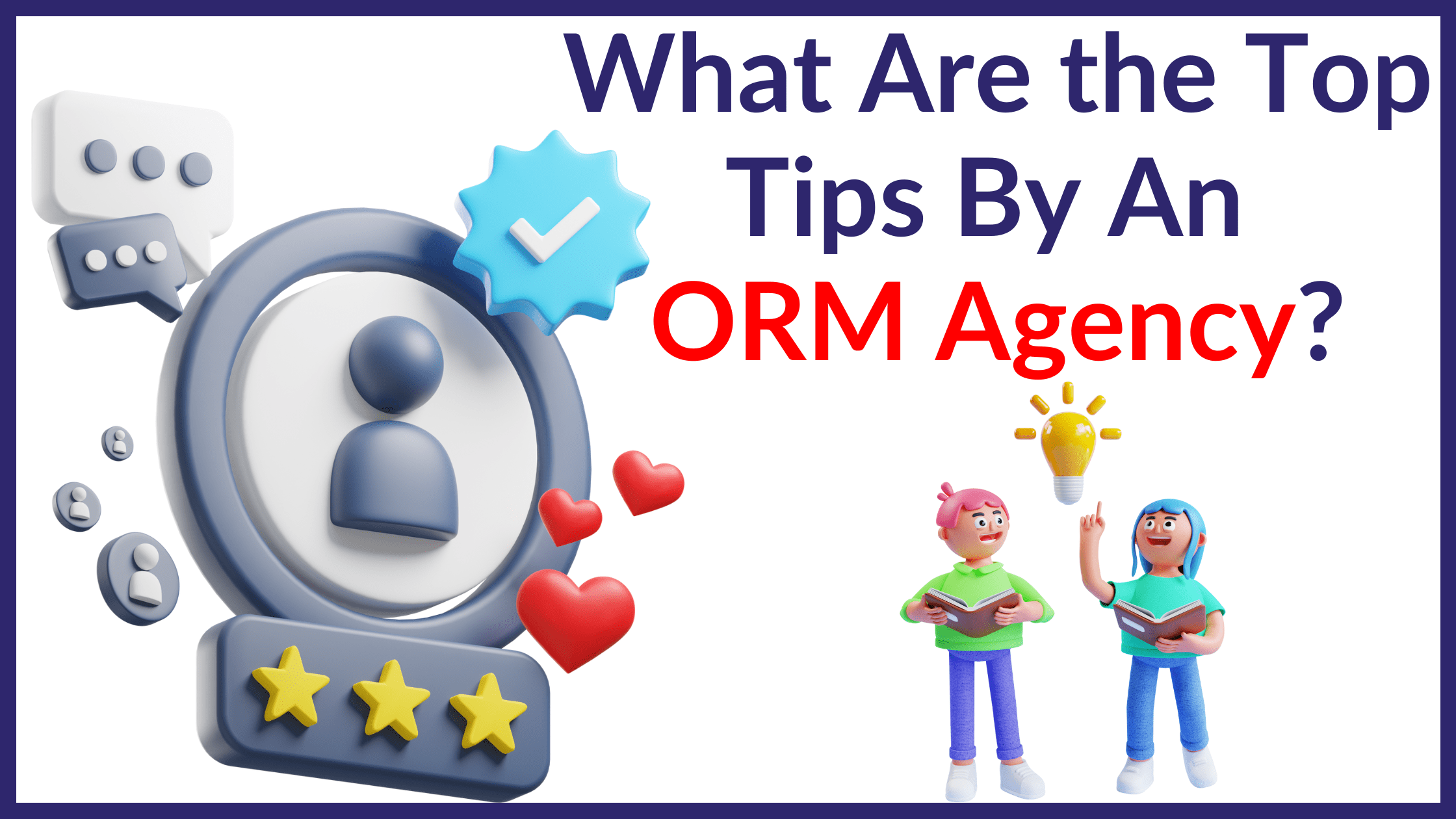 ORM services are gaining popularity these days. Count on the blog to get the top tips on online reputation management.
The days are gone when reputation management was considered to be a royalty-up for highly professional individuals and well-settled brands. According to research, 70% of individuals seek their name, address, phone number, and other information online. 
The online market is changing, and the way in which the audience recognizes a brand is now crucial to creating a well-established online reputation. Millions of businesses and professionals across the globe are hiring reputable online reputation management services to create a positive view in the public.
At A Glance: Online Reputation Management
In our previous blog, To ORM or Not To ORM, we mentioned how Online reputation management plays an important role in today's digital world. The practice of monitoring, influencing, and controlling your online presence and reputation is known as online reputation management (ORM). 
It entails keeping an eye on what people are saying about your company online and taking appropriate action to maintain a favorable brand image. Your brand's online reputation should be favorable in order to enhance client trust, loyalty, and sales. A brand's reputation directly contributes about 25% of its market worth.
Today, the pertinent material that is available online fully determines how we see someone or something. Here comes the Online Reputation Management, or ORM, function in digital marketing.
Thankfully, we can now control our online reputation through a variety of clever tactics. The majority of businesses, however, continue to struggle with the widespread problem of preserving a positive internet reputation.
As a company, you need to be aware of every strategy useful in your endeavor.
ORM Ruling In:
Consumer Trust: A good internet reputation can help you win over new clients. Customers are more inclined to trust your company and buy from you if they see favorable remarks and evaluations about your brand.
Brand Image: Your brand image may be influenced by your internet reputation. Your brand's reputation may be harmed by unfavorable internet reviews and comments, which may also prevent potential consumers from doing business with you.
Sales: Having a good online reputation might result in more sales. The research found that companies with 5-star ratings on review websites like Yelp had a 25% boost in revenue.
Tips To Take Care: By An ORM Company
The people who utilize the internet hold power over it. Everyone has access to every small detail on the internet, and it is available to everybody. They now have instant access to the necessary information as a result. Before creating a picture of anything, we seek for it. Regardless of whether you're heading to a restaurant for dinner, a job interview, or a business meeting.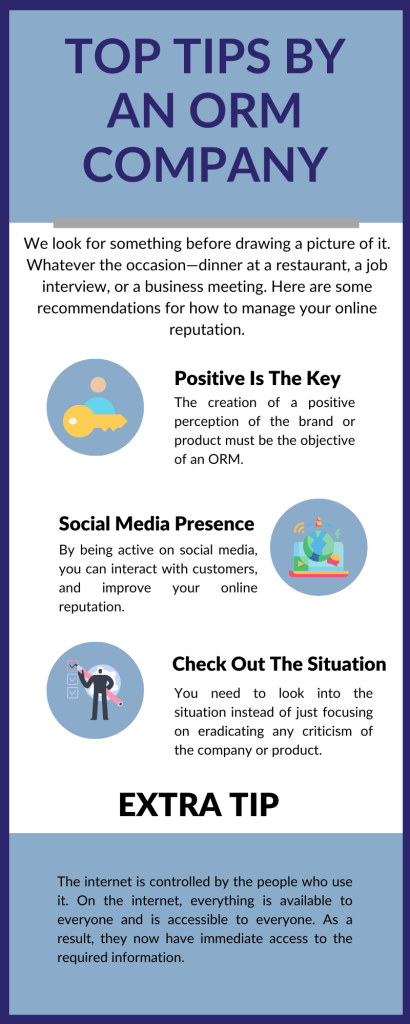 Here are some tips that can be taken care of while managing your online reputation:
Positive Is The Key
The goal of an ORM must be to create a favorable perception of the brand or product. Your diverse behaviors control the perception that develops as a result. The process of managing one's online reputation is actually fairly simple and is not as complicated as it is made out to be. The only thing that is important to realize is that outcomes need time and patience to manifest. It is advised that it be practiced frequently as a result.
Social Media Presence
You can engage with clients, grow your business, and enhance your online reputation by having a strong social media presence. Post interesting stuff frequently, and reply to messages and comments right away.
Use SEO services to your advantage. By making your website and content more search engine friendly, you may move dangerous information lower down the search results pages. This might make it more difficult for potential consumers to see evaluations or comments that are critical of your company.
Check Out The Situation
Instead of concentrating solely on eliminating any negative remarks regarding the brand/product. You need to investigate the situation and determine what led to the online criticism. It is definitely difficult to win over the client who started this or the client who undoubtedly had an unpleasant experience. No matter how excellent your customer service is, there is always a chance that someone may have bad things to say about your company. You must address the root of the issue if you don't want such unfavorable remarks to harm the value of your brand.
Why Is ORM A Trusted Practice?
In the form of reviews and ratings, Google appears to communicate the trustworthiness of a company. According to studies, 90% of individuals check Internet evaluations before making a decision about a company, organization, or even a product.
People may learn a lot about a firm by searching for a common term on the internet, including what it offers, whether those services are excellent or terrible, how it treats customers, how much it pays, and other information.
The answer to the question "why ORM is important" may be summed up by the necessity of communication for brands. A company will establish and sustain a reputation if it is sincere enough to interact with its clients.
Free Tools For Online Reputation Management
Businesses and company owners can track their online reputation across a variety of channels with the use of online reputation management solutions. The most popular kinds of ORM tools keep track of client feedback based on their interactions with the business.
These tools assist companies in locating and responding to both favorable and unfavorable reviews and consumer experiences, as well as inquiring about fresh reviews. We bring you some of the tools you can use for managing your online reputation.
Ubersuggest:

The tool from Übersuggest goes a step further by displaying various iterations of your Autocomplete results and organizing them alphabetically. You can learn a lot from these findings about what customers are saying about your company.

Google Alerts:

With Google Alerts, you can set up notifications to get emails on a regular basis anytime your brand, products, services, rivals, or any other topic of interest is referenced online. Depending on your preferences, you may set up these emails to arrive once a day, once a week, or whenever the keywords are spoken. 

SEMRush:

SEMrush is a software that enables you to track a wide range of indicators, including resource authority, sentiment ratings, and internet mentions. The analytics tools from SEMrush are also excellent for developing an online reputation from the beginning or for mending it after an awful event.
Ending Thought
Every prominent company's success story revolves around reputation. You might reach the targeted success milestones much earlier than anticipated by keeping a good viewpoint toward your brand among potential buyers. These ORM approaches are quite important in the modern day. If you want to stay ahead of the competition, pay close attention to even the smallest details.
In case of any questions coming up in your mind, click here to set up a free consultation right now.
---
FAQs
---
Name some free tools for ORM.
---
What is Online Reputation?
---
What are the benefits of a good online reputation?