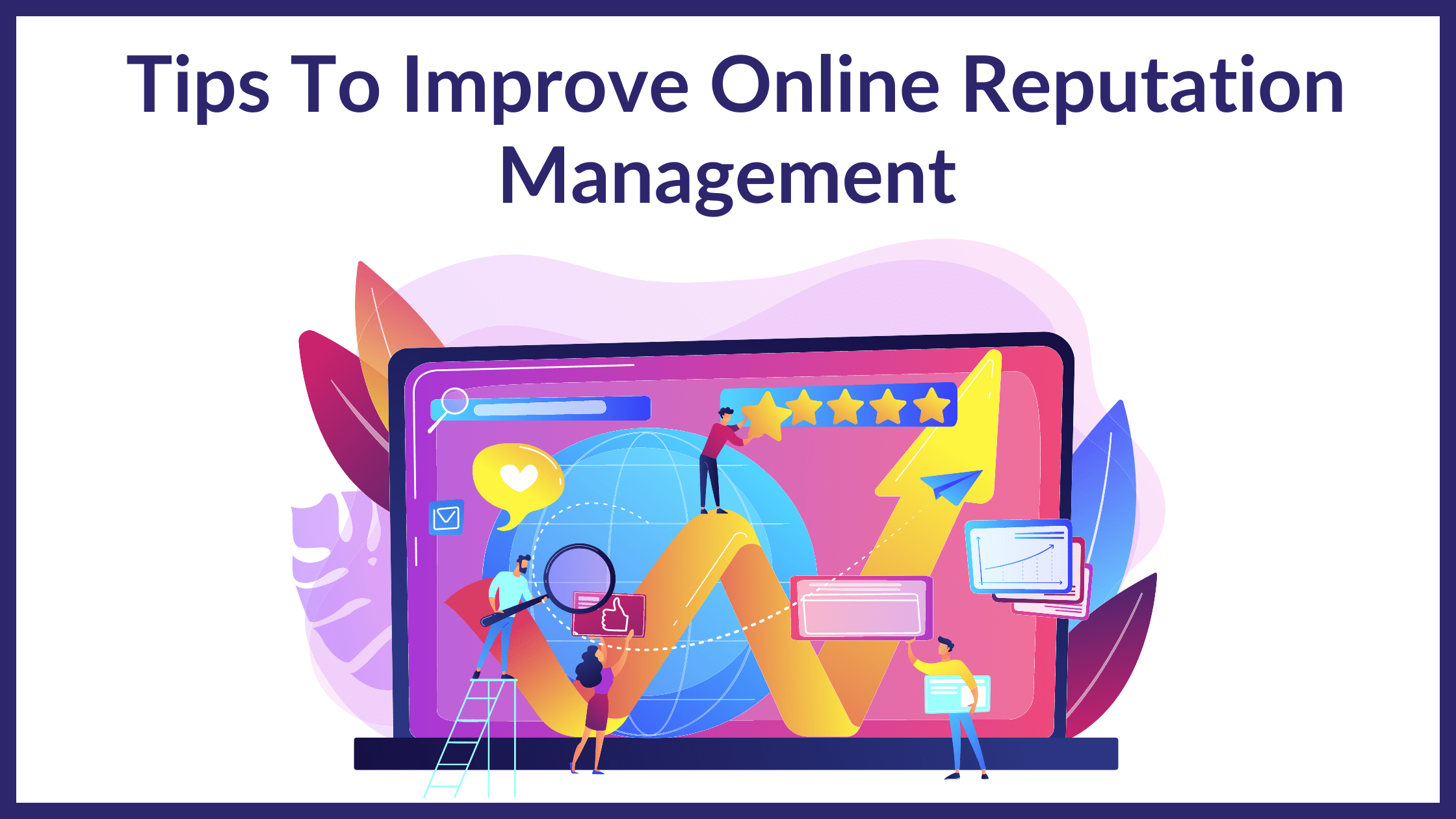 Online reputation management is the art of managing the reputation of an individual or an organization online. Tune in to get the best ways to improve reputation on online medium.


Everything is online today. The market is highly active towards how people react online. With several advantages online access holds, it comes with various drawbacks. A single negative comment can leave a dent in your reputation. It is seen in research that about 99% of searchers won't even look past the first page of Google results for any query. This clearly signifies that your first impression is crucial for image built-up.

Now what to do?

The answer to the question is Online reputation management.

YOUR FIRST IMPRESSION CAN STAY AS EVERLASTING TOO!

By keeping an eye on your online reputation, you can make sure that every time a customer interacts with your company, it comes across as reliable and trustworthy. Given that buyers read an average of 10 internet reviews before developing a sense of trust in a company, your online presence may have a significant influence on purchasing decisions. 
Consider the fact that 79% of people trust internet evaluations as much as personal recommendations if that wasn't enough to persuade you. Let's dive into the blog and get your hands on expert's handpicked tips to create a foolproof plan and tips on online management.
An Overview: Online Reputation Management
Online reputation management is a method in the digital marketing niche that was neglected initially but, when used appropriately, delivered splendid results.  
As an individual or a business, you will need it as there might be several challenges, willingly or unwillingly, when you step into this competitive world. All your competitors might try to smack your image on the internet, and damage can trigger a business. Brand safety and online reputation management are connected since they both fall within the purview of public relations and digital marketing.

In online reputation management, the public's impression of a certain company or organization is controlled. On the other hand, brand safety weighs the advantages and disadvantages of using your brand name and/or advertisements in particular channels. This may require avoiding unsuitable or objectionable information, such as hate speech or explicit content, depending on the sector you work in. 
Tips To Improve Online Reputation Management
Thus, it becomes imperative to improve brand awareness with the help of online reputation management. Below are some tips that you can use to improve your online reputation management:
Boosting The Online Presence Of Your Product
It is best to focus on the product rather than the brand to get an impactful presence. Developing websites, social media profiles, and other forms of SEO-related content of your product that every customer might search by name or any different keyword. This will gradually improve online reputation management. 
Attention To The Social Media Accounts
When you have multiple social media accounts for your brand and product, you can manage your online reputation easily. But, this will happen only when you regularly maintain them to gather an organic following. It is best to connect with an integrated marketing communication agency to boost your online engagement. 
Never Neglect The Online Reviews
You should encourage your happy customers to talk about brands and review various social media platforms. Apart from the collection of reviews, online reputation depends on how you respond to negative reviews. Thus, you should never try to ignore or escape from the negative reviews; instead, you should address them either by apologizing or coming to a mutual solution through phone or e-mail.  
Do Not Indulge In Online Arguments 
Make sure that you are not indulging in any online argument. Regardless of the fact who started the dispute, it is better to understand that getting into an online argument can hamper your brand's image and is quite unprofessional. Being professional and maintaining your cool will help you keep your online reputation and grow your customers. 
In A Nutshell!
Reputation management in digital marketing holds the same importance as SEO, SMO, and other tactics in digital marketing. However, to make reputation management effective for brand awareness, you must implement some management strategies. All the tips mentioned above, if implemented appropriately, will help you in getting a positive image in a hassle-free manner.

With BetterGraph, a digital marketing agency in Noida can help you with their expertise in managing online reputation management tactics.
---
FAQs
---
What is Online Reputation?
---
What is Online Reputation Management?